"G'' Whiz!
In a prime location, Willie G's shows off flashy new environs and flavorful seafood dishes that are both classic and bold.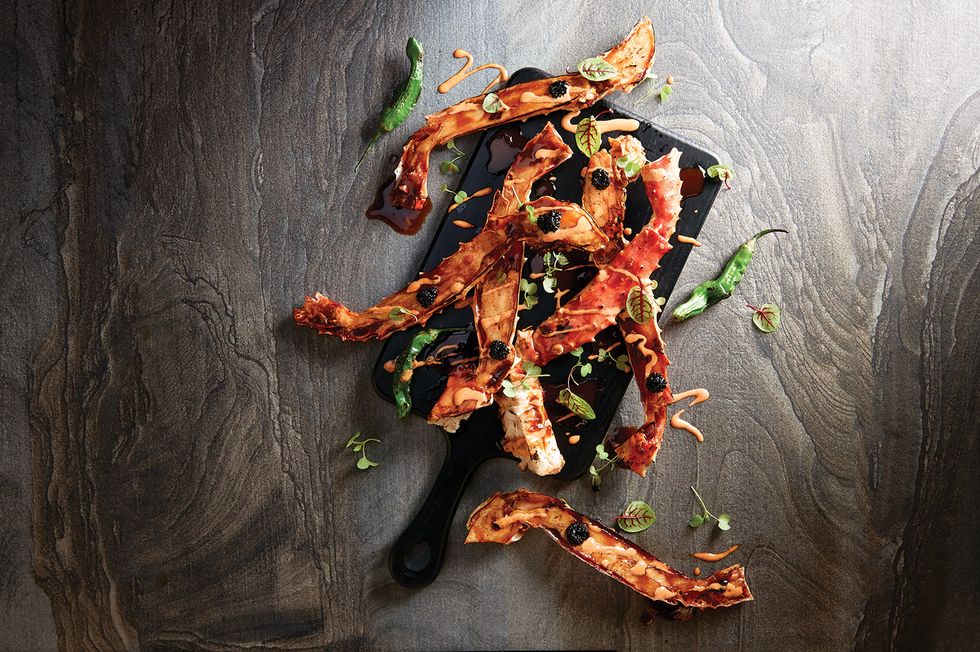 Willie G's isn't your dad's seafood restaurant. Well, maybe it used to be. But the new Willie G's (1640 W. Loop S., 713.840.7190), located on a prime piece of Uptown real estate steps from Tilman Fertitta's new Post Oak Hotel, offers a glam and appropriately modern take on seafood.
---
Upon arrival, it'd be wise to budget 10 minutes for the valet — the scene starts out front, where luxury vehicles idle as crowds of well dressed tipplers come and go. Inside, guests are greeted by an expansive display of seafood on ice. Behind is an oyster bar, and to the left is a bar-bar, with 25 wines, cocktails and beers on tap. An adjoining patio space is bordered by a wall of waterfalls that drown out the noise from nearby 610.
On the other side of the restaurant, there are bold art pieces and modern orb light fixtures. It's a beautiful setting to enjoy the restaurant's seafood, all fresh and much of it rotating daily. There's a menu of specials, including a variety of whole fish — which the chef "insists on serving crispy," according to GM Dave Marquez.
The regular menu is large, serving oysters and lobster and crabmeat and fish in styles inspired by the globe, from the Gulf to Asia. Entrees are divided between "new school" and "classics," the former including chargrilled West African salt prawns, the latter, broiled snapper with crab-lemon beurre blanc. The seared scallops, each topped with a slab of pork belly and drizzled with bourbon syrup, come with Mexican street corn; stack your fork just right to experience an explosion of flavor.
Dessert also strikes a balance between old-school and new-age. The CPMB, which stands for chocolate-peanut-butter-mousse (but with jumbled letters), is like a double-stacked gourmet Snickers, served with caramelized peanuts. It's rich, yes — and rich is in the new Willie G's DNA.
Food+Travel