NEXT MONTH THE Anya Tish Gallery will present a retrospective work dating back to the 1970s of Houston-based arts legend HJ Bott, known for his interesting background — he created propaganda on behalf of the U.S. Army in Europe in the '50s — and for his colorful geometric abstracts, grown out of mathematical exploration of techniques and meant as political commentary.
"He has always been ahead of his time, sketching and melding formulas, challenging the aesthetic foundations of art, and influencing future generations," said a rep for the gallery.
The show, HJ Bott: a Baroque Minimalist, will be Tish's fifth solo exhibition of the Texas artist, who's been making art for more than 60 years. The exhibit will run Oct. 23-Nov. 27.
"Methodical yet intuitive, this body of work, stemming from a self-created system, displays the artist's signature geometrically abstract shapes of rich and textured surfaces," notes the gallery. "Making his own polymer vinyl paints, Bott's use of this industrial material gives the work an arduous layer, while color and movement give a sense of playfulness that speaks to the inventive nature of the work.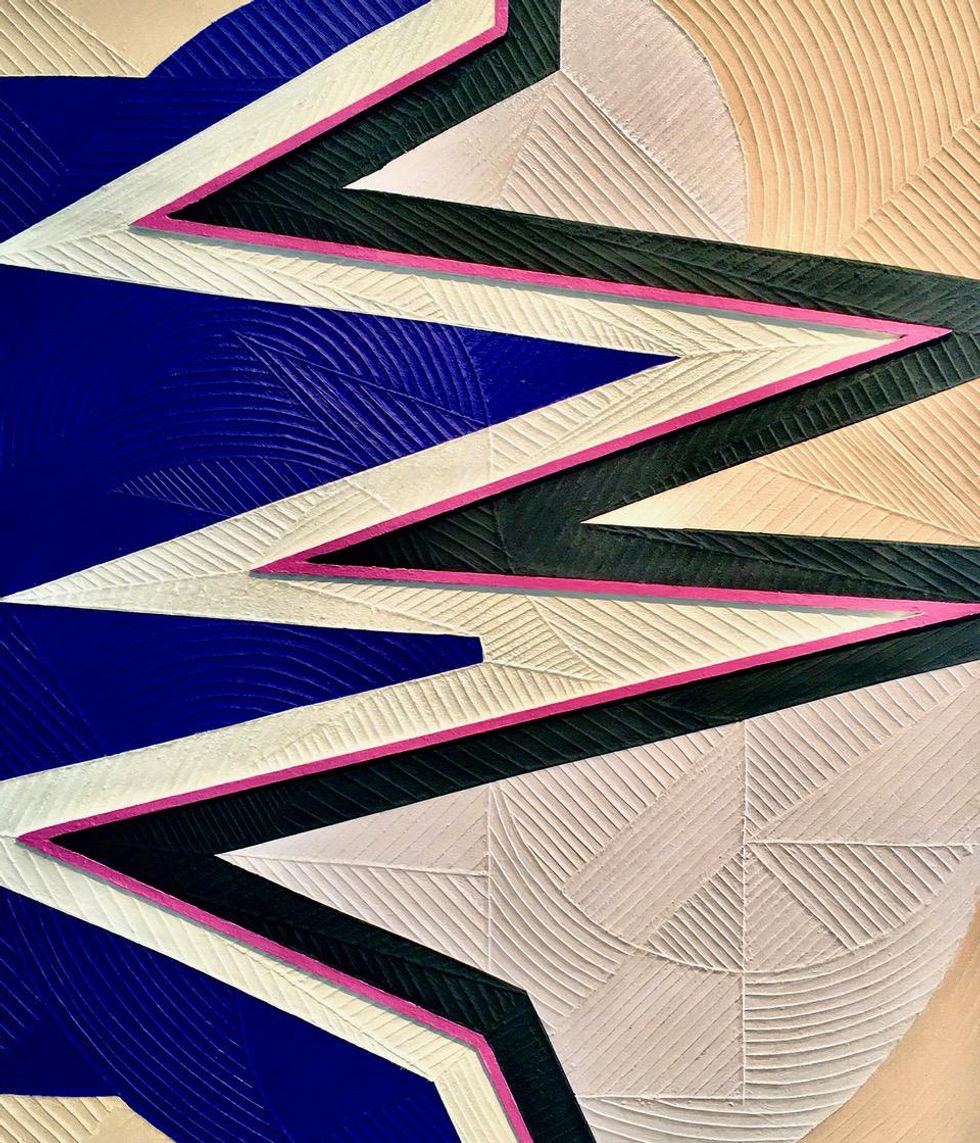 'Candy's Dandy, But…,' 2010
"Throughout his prolific career, Bott has engineered countless combinations of shapes and patterns," the gallery rep adds. "But there has always been an underlying visual system that is based in quadrants, grids, and circles.
"Bott has shown his work in hundreds of exhibitions, ranging from a bus station in Utah in 1952, to major galleries, art centers and museums in New York, Houston, Chicago, Los Angeles, Dallas, Dusseldorf and Mexico City."
In comments last year, Bott, now in his late 80s, explained that calling himself a baroque minimalist "is not a contradiction of terms." The artists noted that the concept goes back to his early days as a young artist "exploring techniques, materials, color, light, textures, and themes, always steeped in political rants."
He said the work ultimately about "making marks, most specifically about our disregard of environmental damages to air, water and the planet."
From Your Site Articles
Related Articles Around the Web
Art + Entertainment
AFTER A PARTICULARLY hot summer with plenty of time spent in the sun, our skin could use a refresh, and Solaya Spa & Salon knows the way to prep you for a cool fall glow.
The new Brighter You Facial will soothe tired skin and smooth away the dullness from environmental damage and stress. The ultra-hydrating treatment is both exfoliating and invigorating as it re-energizes skin — from beloved skin line Natura Bissé.
Perfect for frustrated and congested skin, the power of pure oxygen within the products' ingredients will decongest and brighten a dull complexion, restore clarity and a healthy glow ensuring you enter the fall season with a fresh face forward. A lip serum and concentrated retinol eye treatment add-on target wrinkles and other signs of aging as well as fighting the appearance of dark circles and puffiness.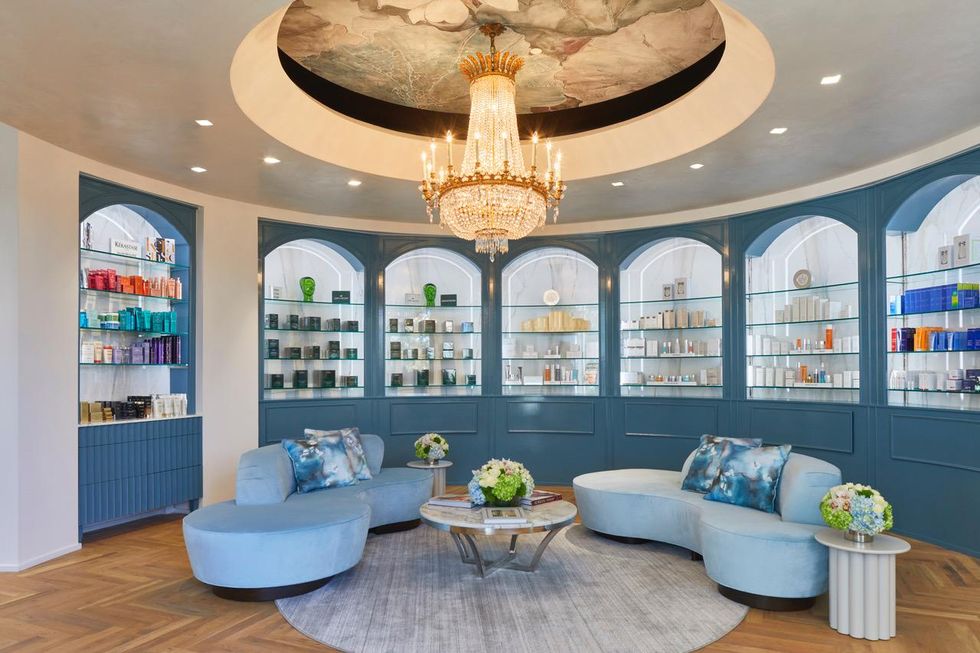 Solaya Spa & Salon knows this facial is a must for their clients after a stressful year, which is why they are offering an unheard of deal: Four Treatments for the Price of Three. The Brighter You Facial will be available in a series of four treatments for just $360 – less than $100 per facial.
Whether you've spent too much time in the sun, or newly resumed plane travel has dried out your skin, the Four for the Price of Three special on the Brighter You facial can't be missed. Redeem before December 31, 2021.
To purchase and book, call Solaya Spa & Salon directly at 713-263-6500 or learn more at www.solayahouston.com.
Food
YOU PROBABLY KNOW that Houston is the world's biggest hub for the energy industry and home to the largest medical center on earth. But did you know we're the — wait for it — the armored truck robbery capital of the United States?
This is how Jake Brennan, host of the hot Disgraceland podcast, describes H-Town in the new podcast Armored. Currently one of the top 10 podcasts in the nation, the show explores the high-stakes robberies of armed trucks — an alarming amount which happen in Houston. "According to the FBI's crime data from 2018," explains Brennan in the shows debut episode, "roughly half of all armored vehicle robberies in the entire nation took place in the Houston region."
Former FBI Director James Comey is quoted in the show explaining that the phenomenon is due to "an expansive network of freeways which provide a sprawling labyrinth of escape routes, allowing thieves to be miles away from a crime scene within minutes." (Anyone who has driven on Houston's freeways might question that thesis.)
The first episode in the 10-part series focuses on Redrick "Red" Batiste who presented himself as an ambitious clean-cut house flipper but ran a shadowy and violent network of criminals who were active from 2015-2016. The group was infamous for turning rental cars into mobile sniper platforms, similar to what the D.C. snipers used in 2002, and ambushing armored vehicles. The case unfolds like the plot of a Hollywood thriller — with wiretapping, codenames, burner phones, car kill-switches and elaborate surveillance schemes — all which play out on the streets of Houston. Armored goes inside the FBI strategy to bring down a ruthless crime ring.
Armored is a part of the Audiochuck network, which also produces the nation's top crime podcast Crime Junkie.
Art + Entertainment