POSTINO WINE CAFE, the beloved, Arizona-headquartered collection of beer and wine-focused restaurants with buzzing Houston outposts in the Heights and Montrose, just rolled out its first-ever cocktail menu. And although all of the cocktails on the refreshingly low alcohol content menu are spirit-free — think cocktails crafted from fortified wines, aperitifs and exotic beers instead of the usual, throw-your-afternoon-off-track fare — the spirited menu is bold in both vision and flavor.
The new menu, which will be offered to the professional brunching crowd on Saturdays and Sundays starting at 9am, features three different riffs on the classic Aperol Spritz, a beer-spiked take on the mimosa, and a bloody Mary made from sherry that won't force you into a midday coma nap like its more liquor-logged cousins are known to do.
"As a beer and wine establishment, we felt we'd done everything we could to showcase the great diversity of those offerings, from proprietary wines and boutique producers to local and nationally beloved craft beers," said Brent Karlicek, Postino's beverage director, in a statement. "But we felt we were leaving a particular guest out to dry and made a commitment to better serve those who are passionate about craft cocktails.
"Launching a brunch cocktail menu built around spritzes and other lower alcohol beverages is a great way to let guests continue to sip and savor and keep the party going, compared to more robust spirits-based cocktails that may take your afternoon off-track," he continued.
For the new menu, the Postino team started with a list of 20 potential cocktails before they slowly, through a series of careful tastings, honed the list down until they ended up with five final cocktails that made it across the finish line and onto the menu. The final result of their efforts is list of sip and savor cocktails designed to keep the party going.
Included on the new menu is the Sherry Mary, Postino's take on a bloody Mary, made from an umami-forward mixture of Oloroso Sherry, Rainwater Madeira and bloody Mary mix. The menu, which launches this weekend, also features the Sure Shot, a refreshing and bubbly concoction made from Cocchi Rosa, sparkling rose, grapefruit juice and soda.
Food
TWO EXHIBITIONS OPENING this October at the Museum of Fine Arts, Houston will provide fresh perspectives on the works of iconic 20th century artists Georgia O'Keeffe, Pablo Picasso and Alexander Calder. The first exhibition, opening October 17, deploys nearly 100 photographs by O'Keeffe, which will be complimented by 17 of the artist's paintings and drawings, in order to explore the famed artist's modernist approach to the medium of photography. The second exhibition, opening October 31, explores the artistic synergy between Calder and Picasso. Both exhibitions will be on view through January of 2022 before traveling to other art institutions.
In addition to being one of the most significant painters of the 20th century, O'Keeffe was a lifelong photographer who often documented — through photographs centered around the rendering of light, the capture of seasonal change and the reframing of views — the plant life and natural landscapes that fascinated her in addition to the domestic aspects of her life. Georgia O'Keeffe, Photographer, organized in partnership with Santa Fe's Georgia O'Keeffe Museum, reveals the wide scope of the artist's photographic practice through some 90 photographs from a previously unstudied archive.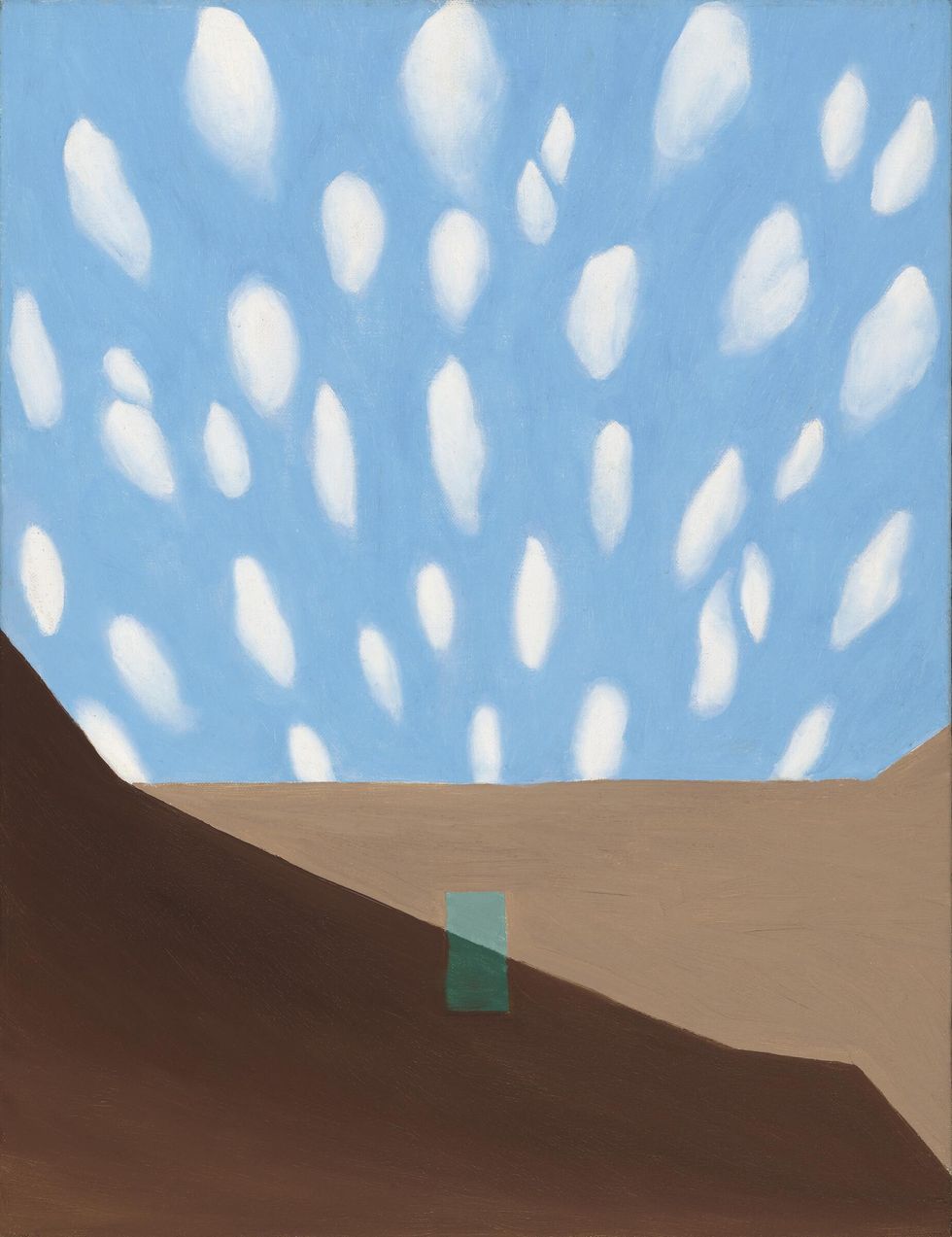 'In the Patio VIII' by Georgia O'Keeffe, 1950
"In her 1976 book, O'Keeffe mentions her use of photography. Yet her mastery of painting stymied any research into this area for decades. It was a part of her artistic practice waiting to be examined," said MFAH associate curator of photography Lisa Volpe, who led the team responsible for studying the previously unstudied archive from which many of the photographs in the exhibition originate. "This exhibition reveals the ways in which she used photography as part of her unique and encompassing artistic vision. She claimed the medium for herself and her own artistic use — a radical act late in her career that begs for continued scholarship."
Meanwhile, international touring exhibition Calder-Picasso, will present together 80 works from Calder and Picasso, who are documented to have met each other on only four occasions, to explore the artists' prolific affinities. The exhibition, which will integrate Calder's revolutionary paintings, drawings, mobiles and stabiles with Picasso's radically inventive work in all media, will center around the shared conceptual interrogation of the void — or absence of space — by the two groundbreaking artists, who both formed artistic practices that engaged with the relationship of volume and space.
"The stunning visual juxtapositions that this exhibition brings together are provocative, unpredictable, and dynamic," said Ann Dumas, the MFAH'a consulting curator of European Art, in a statement. "They tell us much about the correspondence between these two great artists, as well as what makes them distinctive, allowing us to understand their process and unique innovations in a fresh, new light."
Georgia O'Keeffe, Photographer opens at the MFAH on October 17 and runs through January 23, 2022. Calder-Picasso, which opens on October 31, will run through January 30, 2022.
Art + Entertainment
POP ARTIST Uché "Walter" Ndubizu, who goes by simply Uché on stage, is well known to American Idol fans, who watched him chew up the stage as a Top 10 competitor in 2019, with memorable, animated covers including an audacious interpretation of "Play that Funky Music White Boy." The Sugar Land native continues to ignite stages around Texas — and to light up social media, where he's racked up an even 100,000 followers on Instagram. He hit some interesting notes answering our 20 questions!
What accomplishment are you most proud of? I'm proud of that I graduated university while simultaneously keeping up with my music career. Also proud of making Top 10 on American Idol, too, right out of college.
Name three things on your bucket list. 1) French kiss someone in France. 2) Headline the Super Bowl Halftime Show. 3) Master manifesting.
When you were a child, what did you want to be when you grew up? A pop star.
If you weren't doing what you currently do for a living, what would you do? Probably be a therapist or serial entrepreneur.
Don't be modest: What's something you love about yourself? My lips, my huge personality, my ability to really connect with almost anyone.
What do you appreciate most in others? Authenticity. Like, be yourself, your whole self, and nothing but yourself.
What's something you can't go without for more than a day? God.
You have an unexpected day off in Houston. How do you spend it? Lying in bed, then going out.
Is there a new restaurant or bar in town you're loving? Yes, this new spot called Unicorn Disco is badass.
Finish this sentence: Skinny-dipping is… A team sport.
Name-drop time: Who's the most famous person you've ever met (and how did that happen)? Katy Perry, Lionel Richie, Luke Bryan. I was on a show with them. I'd say it went pretty well.
Tell us about your closet. Something new you love, and also something old? It's messy. I love my performance statement pieces and my gray sweatpants.

Your porn-star name is your favorite thing to cook plus your where you want to go on your next vacation. Go! I Don't Really Have Time To Cook Anymore Miami
Your alternate porn-star name — they have those, you know — is your favorite Houston restaurant plus the label on the undies you're wearing right now. Kau Ba None
What would you choose as your last meal? The entire McDonalds breakfast menu.
The dinner party question: Name three people, from now or any time in history, you'd invite as your perfect guests. Jesus, Rick James and Madonna.
Is there a charitable cause you support, and why that one? Black Lives Matter. Period.
What's something about you people would find surprising? I'm obsessed with God. People tend to think otherwise, but nah, I'm a little Jesus nerd.
Who would play you in the movie of your life? Me, 100 percent. Let's get this mf Oscar.
In five words or less, what's your advice for living a happy life? Prioritize positive self talk.
People + Places