THANKS TO A Houston filmmaker, who's also a physician, embattled movie star Alec Baldwin is back on the big screen in his first big role since facing widespread criticism and prosecutorial scrutiny over an accidental shooting death on a movie set nearly two years ago.
The movie 97 minutes is enjoying a limited theatrical release this week at Star Cinema Grill in the Houston suburb of Richmond and 10 other major-market theaters around the country. Next week it becomes available for on-demand streaming through Amazon Prime and Apple TV ahead of its Hulu debut in the fall.
Written and produced by spinal surgeon and accomplished actor-screenwriter Pavan Grover, 97 Minutes stars Baldwin as the head of the NSA trying to get a hijacked passenger jet safely to the ground. Jonathan Rhys Meyer of TV's The Tudors costars as an undercover Interpol agent embedded with the terrorist group taking over the plane.
Baldwin was initially charged with involuntary manslaughter in the Rust set incident in 2021 in New Mexico in which cinematographer Halyna Hutchins died, but the charges were later dropped. Amid controversy, at least half a dozen movie projects cut the star loose. But not Grover, who sees sticking by Baldwin as a point of pride.
"The financial backers who were backing this film wanted me to pull him out," recalls Grover. "There was a lot of pressure. But I don't believe in abandoning your friends at their lowest moment. I don't want to just cancel somebody and then run away. I had to fight back. We pushed through that."
The doc admits that the shoot was "chaotic," with paparazzi breaking onto the London set to snaps pics of Baldwin. However, Grover says it was ultimately a great experience for the cast and crew — especially the besieged star.
"I think it was therapeutic for him," says Grover, who also acts in the movie, portraying the head of the terrorist group onboard the imperiled airplane. "As a doctor, I can tell you that, after you've gone through a trauma, getting back into a regular routine is very helpful. It was good for him emotionally."
Grover said he had Baldwin in mind for the part when he wrote the script, although William Hurt was initially attached. Hurt passed away early last year freeing the role up for Baldwin, whom Grover says he befriended after they had a good-humored squabble over a table at a sushi restaurant during the Sundance film festival. "I stole his table!"
Besides Baldwin's performance — "He looks great, he's back to his old form" — Grover calls the movie a thrill ride, meant to do for air travel what Jaws did for swimming in the sea. "I wanted to make you terrified to fly." The surgeon says that, during post-production, he actually hooked members of test audiences up to medical monitors to make sure their heart rate and blood pressure went up at the appropriate times.
"We wanted to create a visceral experience of audiences feeling the turbulence," he says. "We wanted to make people feel like they were on the plane."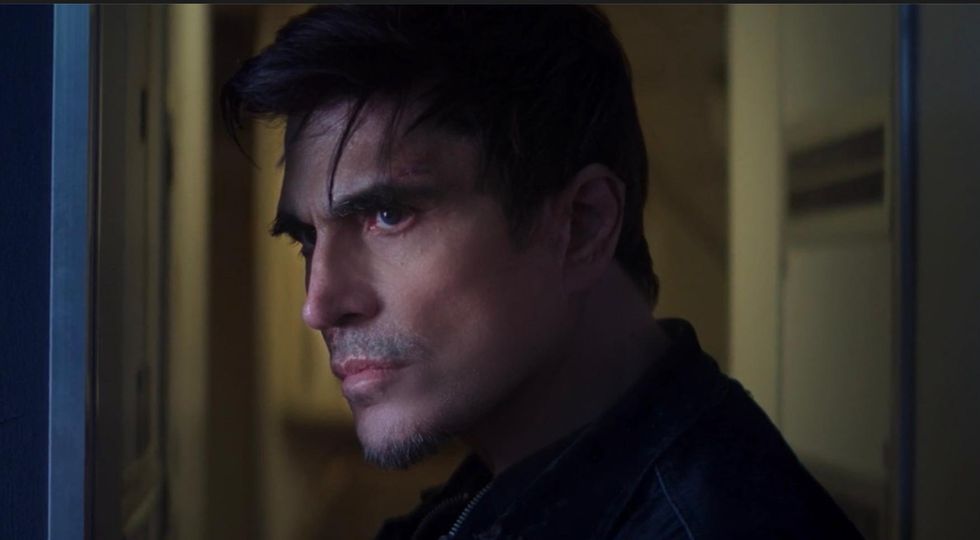 Houston's Pavan Grover, the Houston spinal surgeon who wrote and produced '97 Minutes', also appears in the film as a villain. It has a short theatrical release this week before heading to streaming outlets.
The '97 Minutes' movie poster hints at the film's explosive plot and intense special effects. 'We wanted to create a visceral experience,' says Houston-based producer-writer-actor Pavan Grover, who's also a doctor.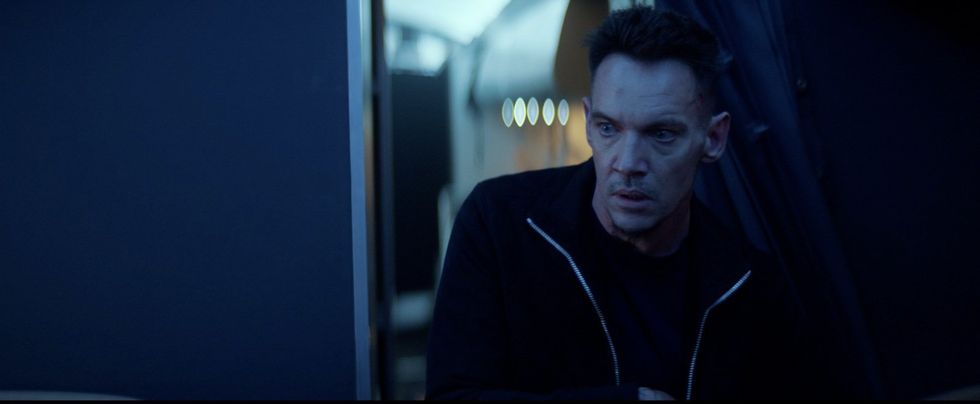 Jonathan Rhys Meyer appears opposite Alec Baldwin in the hijacking thriller '97 Minutes,' written and produced by a Houston surgeon.
The end result, Grover says, is "a movie that looks like it had a $100 million budget but was shot for less." The budget was closer to $7 million, relying largely on just two sets — the cabin of the jet and NSA headquarters — and a lot of thoughtful CGI.
Grover says he's had a passion for both medicine and moviemaking since he was a child in India, the former owing to having lost his brother at a young age. "I was very motivated to be a doctor," he says. "I saw medicine from the other side."
He also fell in love with film. "When I was six, I told my mom I wanted to be a Bollywood actor and dance around trees," he laughs. "She said hell no. Be a doctor."
Grover found a way to do both, with his first movie experience having been writing the screenplay for 2002's Unspeakable, in which he also appeared as an actor opposite Dennis Hopper. His next project is a sci-fi TV series that offers a new spin on The Wizard of Oz. "We're shopping it around right now," he says.
97 Minutes is set to stream on Hulu beginning in September, with Baldwin appearing in Houston to promote the wide release. Details have not been finalized.
Art + Entertainment