Grand Stairway over Memorial Drive Is One Family's Amazing Holiday Gift to Houston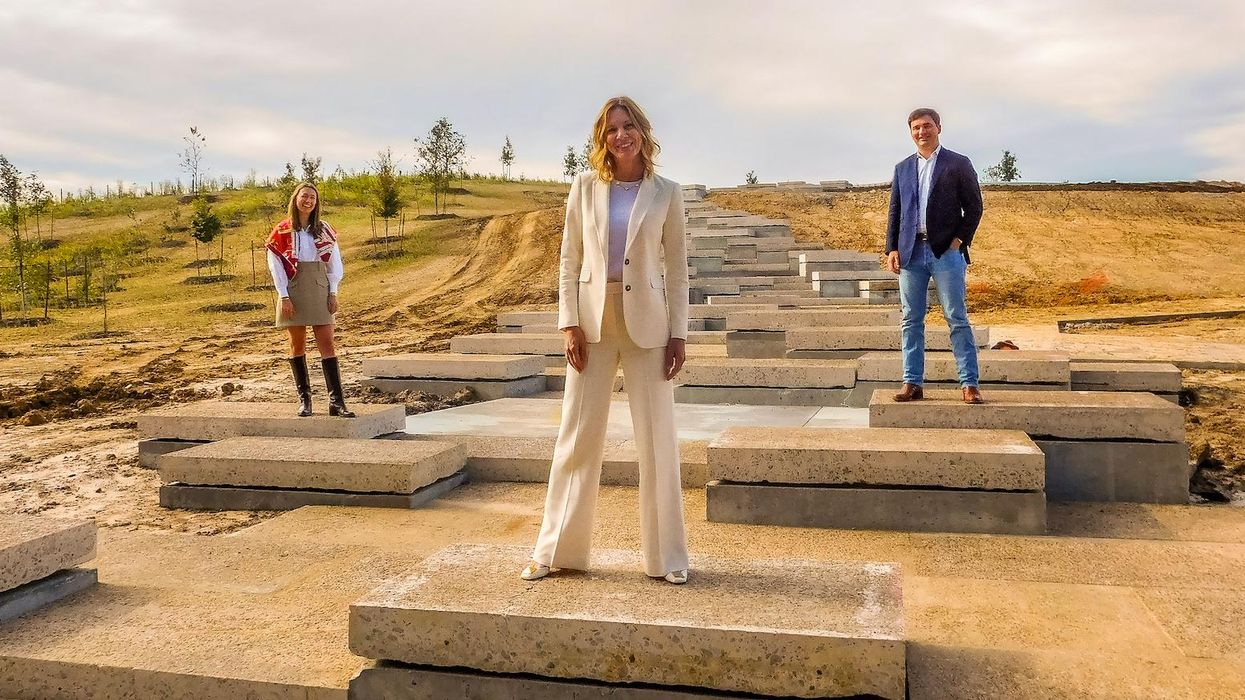 ONE FAMILY HAS made a unique gift to the city this holiday season — a fabulous new feature of Memorial Park sure to thrill children and challenge fitness-minded adults for years to come.
---
The new "scramble," created with a $3.5 million gift from Emily Clay and family, will open in a few weeks. It's a unique stairstep feature affixed to one of the new so-called land bridges through which Memorial Drive now tunnels.
Large, artfully arranged cement blocks — each six feet wide, and recycled from sections of the roadway that were removed and rerouted to make way for the Land Bridge and Prairie project — create a new attraction off the popular Seymour Lieberman Exer-Trail. The Emily Clay Family Scramble goes up the eastern land bridge, overlooking vast areas of parkland that have been reclaimed and enhanced in recent redevelopment.
"I've been out on that trail hundreds of times, and it's nice to see something that goes up, especially in Houston," says Clay. "We don't have hills here.
"And I love that it's using something that would've been previously discarded — just old road we were driving on every day — and creating something beautiful out of it," Emily adds of the project she says will utterly transform the park.
The idea that the family would underwrite the project came about over beers at the Memorial Trails Ice House with Shellye Arnold, president and CEO of Memorial Park Conservancy and a high school friend of Emily's. "Shellye told me what they were thinking of doing, and I thought it was really cool."
And cool it is. Kids will delight in playing on the steps, and athletic parkgoers will up their heartrate hauling themselves over it. And everyone else will love meandering up to enjoy the unique view of the city and the sprawling park.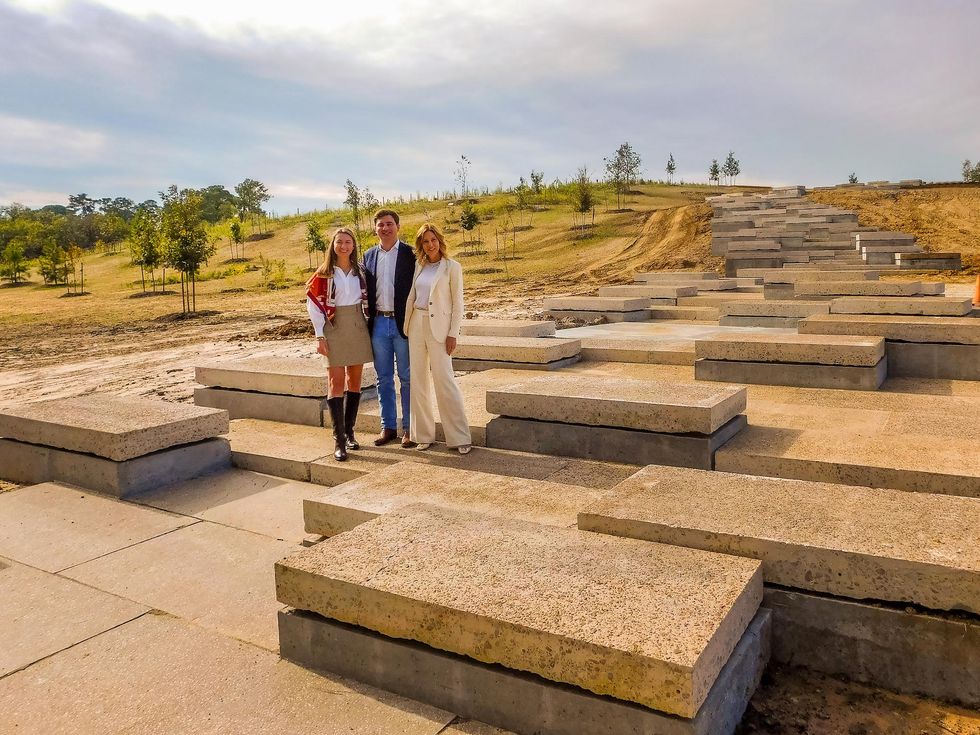 The Clay family's "scramble" ascends the eastern land bridge in Memorial Park. It will be a draw for athletes and others.
The land bridges are covered with earth and grass and meant to connect the southern and northern parts of the park for both humans and wildlife, making 100 acres of previously unused land available to the public. "The newly created Prairie that surrounds the Land Bridge re-establishes endangered native Gulf Coast prairie as well as savanna, wetlands and reforested areas to promote regional biodiversity and strengthen surrounding ecologies," explains a conservancy representative. The newly enhanced greenspace is said to help manage stormwater.
The Scramble is not the Clay family's first large — and largely uncelebrated — gift to the park. In 2018, the family quietly donated $10 million to help create the Clay Family Eastern Glades, comprising 5.5-acre Hines Lake, miles of new boardwalks and walking trails, and picnic areas.
"We already stand out as a great city with a great economy," says Emily, a lifelong Houstonian, "but people don't think of Houston for its beauty or the fun things you can do here. How great is it to have so much land, that so many people actually use, right in the middle of the fourth largest city in America. And now it's getting even better, using land that wasn't accessible before, a part of the park most people didn't even know was there.
"There's so much I love about that park, and have since I was a little girl," Emily adds. "I'm so glad to see this place that's always been a great gem for the city being shined up into a beautiful jewel."
Wellness+Giving Back