Memorial Park Expands with Eastern Glades Completion
Promoting ecological restoration and moments of socially distant gathering, the transformational new project opens to the public this weekend.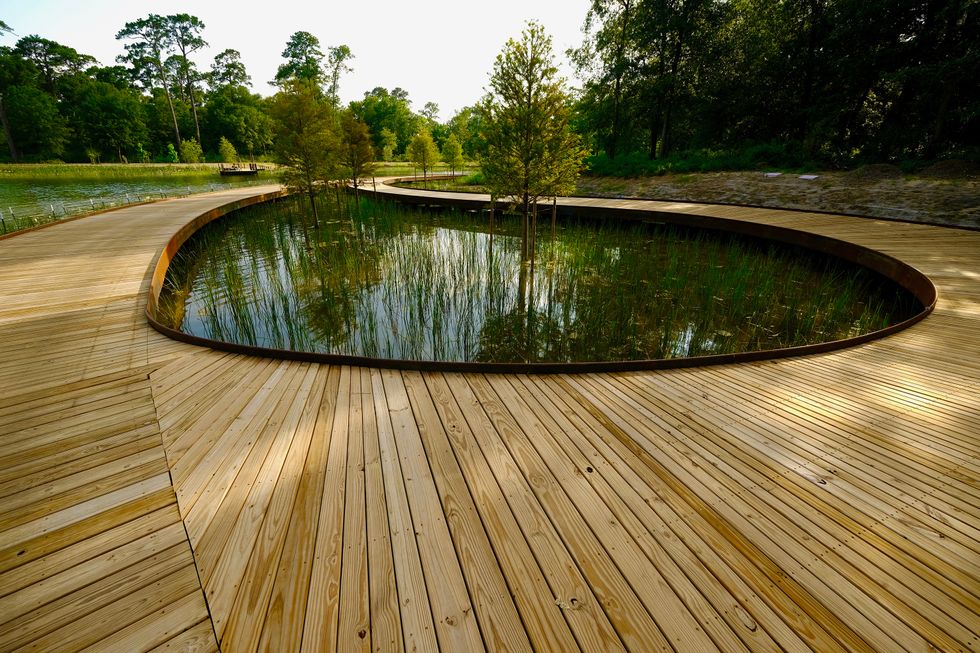 At a moment in time when extra space is at a premium, Memorial Park has reclaimed 100 acres of previously inaccessible parkland, opening up a large swath of picnic areas, native wetlands, open green spaces and trails to the public.
---
The Clay Family Eastern Glades is the first major project completed from the Memorial Park Master Plan, which was announced in 2015. Among the most exciting components of this reclamation project is Live Oak Court, a "food truck court" with an event lawn. There are also three covered picnic pavilions, four additional picnic areas, and a plaza next to the 5.5-acre Hines Lake — which, in addition to offering a stunning view, provides stormwater detention and resuse for irrigation.
The communal areas are envisioned as places for future co-ops and farmer's markets, and the architecture of the pavilions and even the benches throughout is inspired by the 1920s. This is because plans for this space were on the table when Memorial Park was first created 100 years ago — but when the Great Depression hit, this section was never realized.
Additionally, more than two-and-a-half miles of boardwalks and walking trails are newly available, and a pedestrian entry to the park, which welcomes an estimated 10,000 people a day, now sits at one of the original entrances to Camp Logan, a historic WWI military training facility for which Memorial Park is named. Throughout the Glades, visitors will notice quotes by Houstonians, depicting what Memorial Park means to them, engraved in concrete; these were curated by Madison Petaway, the city's 2020 youth poet laureate.
And a final but substantial hallmark of the Clay Family Eastern Glades project— named for Robert and Emily Clay, who donated $10 million toward the Master Plan — is the ecological restoration and conversion that took place over the last several years. The Conservancy removed invasive species undergrowth, and promoted biodiversity through the planting of more than 150 native species across 40 acres of parkland.
AT TOP: Boardwalk Walking Path over Hines Lake and wetlands in Clay Family Eastern Glades
Dispatches