Make It a Double
After scoring with a trendy Heights burger joint, Irish import Ian Tucker, the former cocktail king of Dublin, opens Wash Ave's sexy upscale resto Poitín this spring. Pro tip: Expect moonshine.
Phoebe Rourke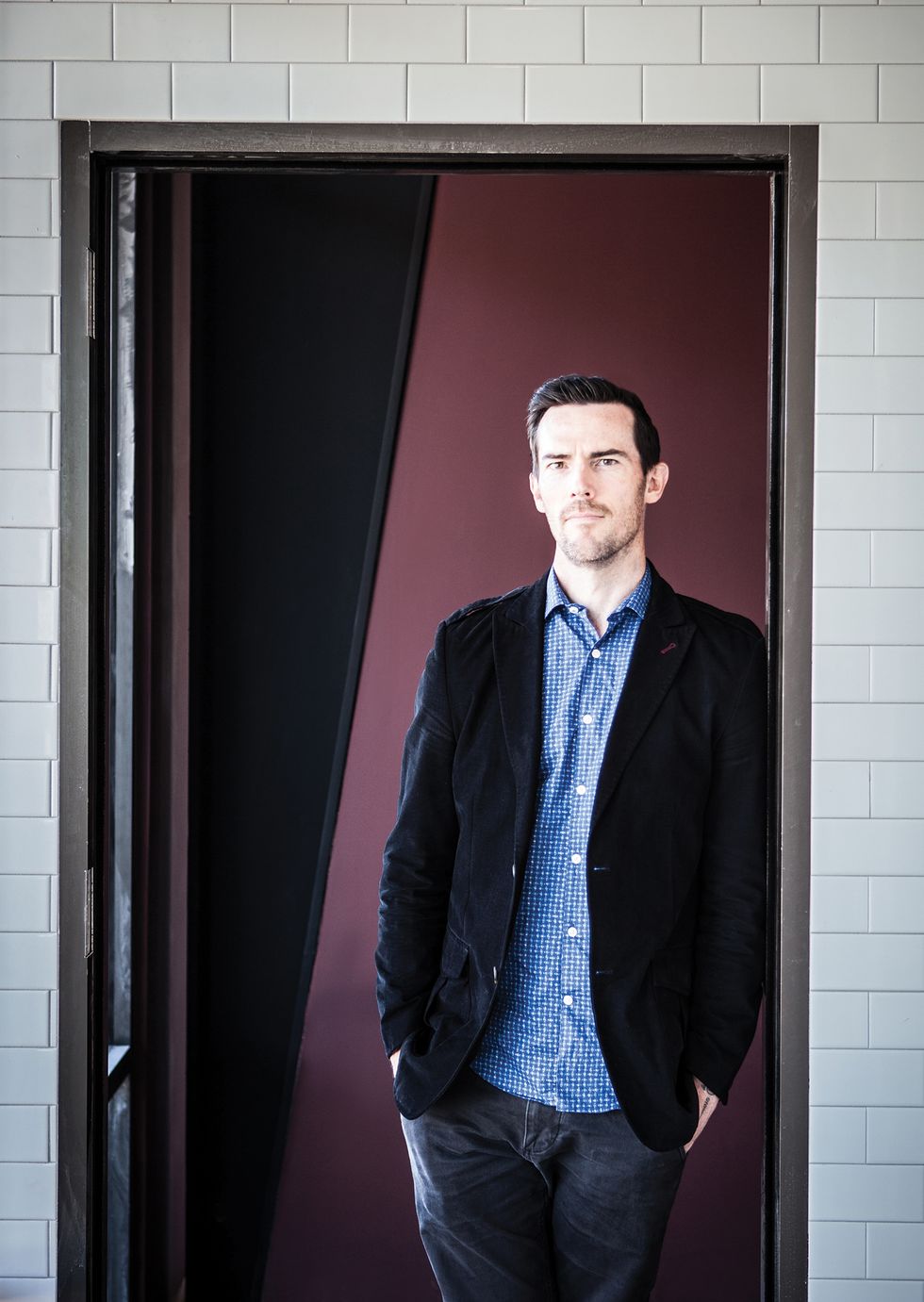 On a blustery spring day, restaurateur Ian Tucker ignores a question about his various tattoos and chooses, instead, to enthuse about the hamburger in front of him. "This is a back-to-basics burger — simple, straightforward, delicious," he says. "And when it's served with perfectly cooked fries and a cold craft beer, there's really nothing better." If he sounds like he's doing an advertisement, well, he is: The setting for the conversation is Balls Out Burger, his counter-service joint situated on a triangular-shaped lot he owns in the Heights.
---
While a bro running a burger joint may seem prosaic, Tucker is anything but. For starters, Tucker, 38, is an Irishman, educated at the same boarding school James Joyce depicts in A Portrait of the Artist as a Young Man, and at Trinity College Dublin, where Samuel Beckett and Oscar Wilde went to school. He worked around the world, including in Africa, Australia and New Zealand, before founding several gastropubs in Dublin. The best known is The Exchequer D2, which was named Best Cocktail Experience in Ireland three times — no small feat in a town that knows its whiskey from its whisky.
One day in 2014, a beautiful American and her friend sat down at The Exchequer. "I told my barman to take a break and decided to show off my skills," says Tucker. As a result, the beautiful American, Casey, is now his wife, and she, a native Houstonian, brought back Tucker as a gift to H-Town foodies.
"My plan was to open a gastropub just like the one I had in Dublin," he says. "But the licensing was complicated. I wanted to get right to work, so I opened Balls Out." But now we get to really see what Tucker can do: His second project, an upscale fine-dining affair called Poitín, opens soon at Sawyer Yards, a new development off Washington. Dominick Lee, formerly of Kiran's, will do the food; Todd Leveritt will serve as GM. Funding, too, came from locals, in the form of a NextSeed campaign — the crowd-funding platform raised more than $220,000.
Asked what he thinks he can add to the Houston culinary scene, Tucker replies, "Not too much, to be honest. It's pretty great." But, he adds, he thinks Poitín will quickly find its place with "people who appreciate awesome food, super drinks, and even better atmosphere. A lot of places can pull off one or two of those, but I think we'll have all three."
The restaurant will be big, 10,000 square feet, divided into distinct areas. "If you come to just eat, you can do that without worrying someone will spill a drink on you," he explains. "But if you come to drink, you won't have to worry you'll disturb anyone having dinner."
And drinking there will be. Poitín is the name for the Irish equivalent of moonshine, and Tucker promises several cocktails that will feature the liquor. "It's not something you see often in the U.S.," he says. "My guys from Dublin are coming over to set up the bar and do the cocktail menu, and I am confident people will feel an authentic 'wow' factor once they try our drinks.
"Let's be honest," he continues. "If there's one thing the Irish do better than anyone else, it is drink."
Business+Innovation