Tiger Ball Celebrates 'Strength and Beauty' of Diverse Asia, Raises $1.6M at Glam, Tented Affair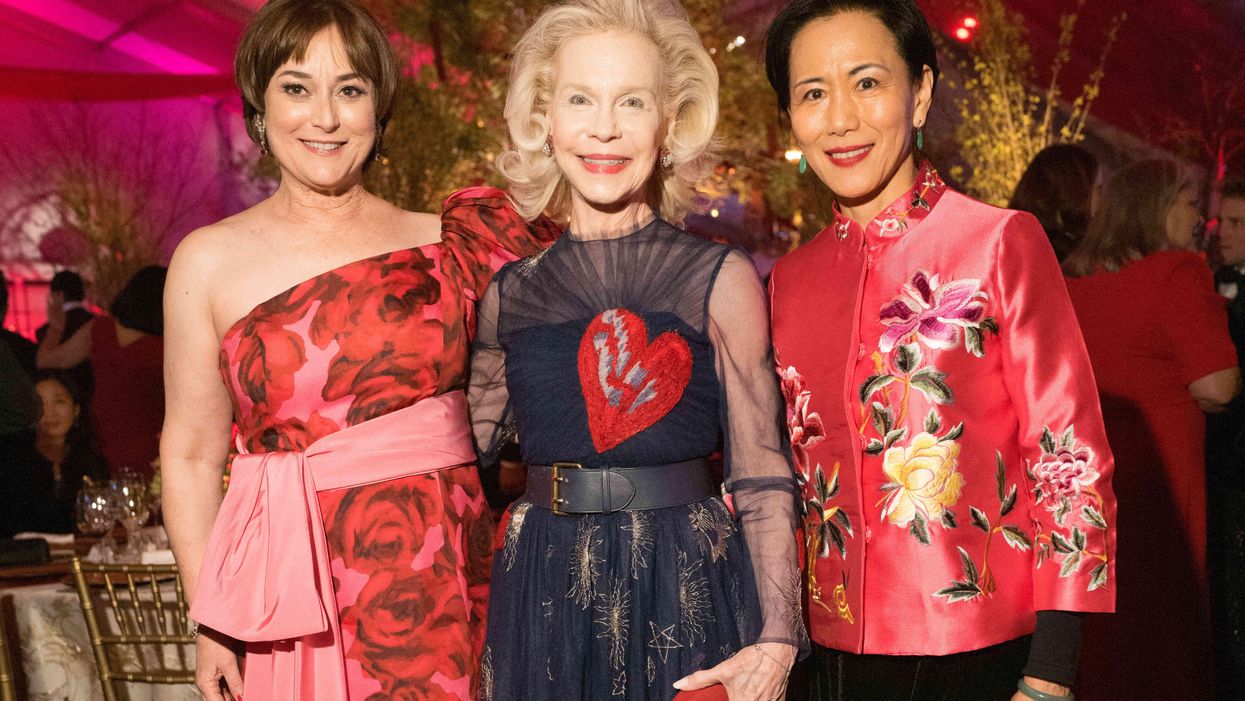 THE COOL IN the air on Friday night — temps dipped to unexpected windy, wintery lows — did nothing to chill the spirit at the Tiger Ball, which recorded a record till of more than $1.6 million.
---
Indeed, guests parked their heavy jackets and wraps in that rare phenomenon in Houston — a coat check — to help celebrate the Asia Society Texas and mark the 10th anniversary of the opening of its fabulous Museum District digs. A heated tent across the street from the center, decorated with chandeliers and washed in the event's signature hues of crimson and gold, was the setting.
"Inside the Gala Pavilion, over 620 guests were welcomed into an elegant sea of red and gold," said a rep for event organizers. "A gentle mist, intended to mimic the Texas Center's Water Garden Terrace, emanated from a resplendent water wall topped with forsythia branches at one end of the room. Adding a touch of magic to the atmosphere, floating candles were suspended from oak trees above tables laden with exquisite arrangements of red roses, tulips, anemones, ranunculus and hydrangeas."
Per the custom at the posh party, the menu was first-rate. Cocktail-hour nibbles included Wagyu tataki with spring radishes and carrots, spicy tuna tostadas and duck crepes with hoisin and scallions — served up as Dance of Asian America performers in traditional garb made their way through the crowd. Dinner by City Kitchenfeatured a miso-glazed sea bass with black "forbidden" rice and roasted heirloom cauliflower with mustard seeds and ginger. For dessert: an array of Asian treats including fruity custards and beautiful cookies, offered buffet-style at the boisterous after party as DJ ALX revved up the dance floor.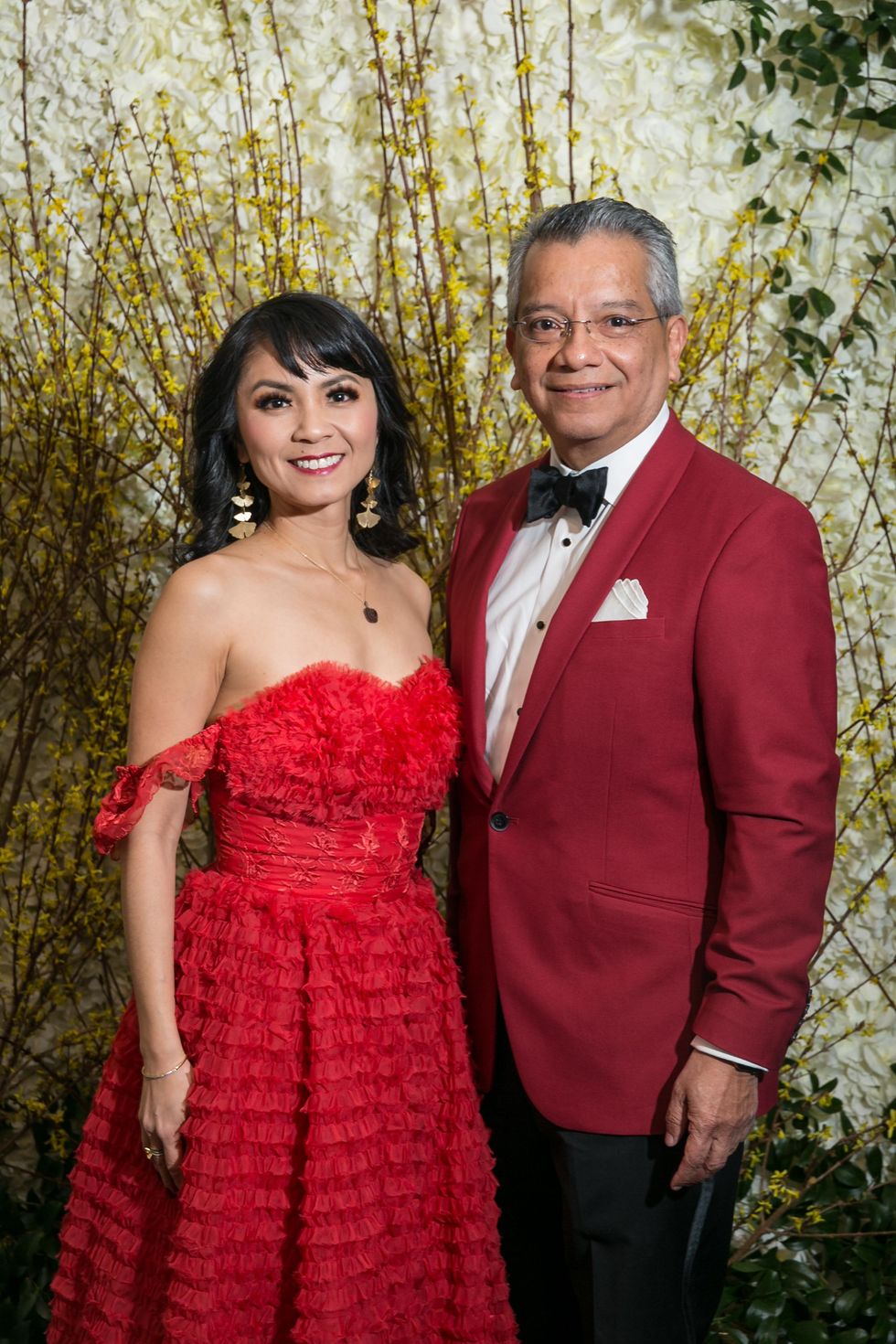 Van Ngo and David Ruiz (photo by Emily Jaschke)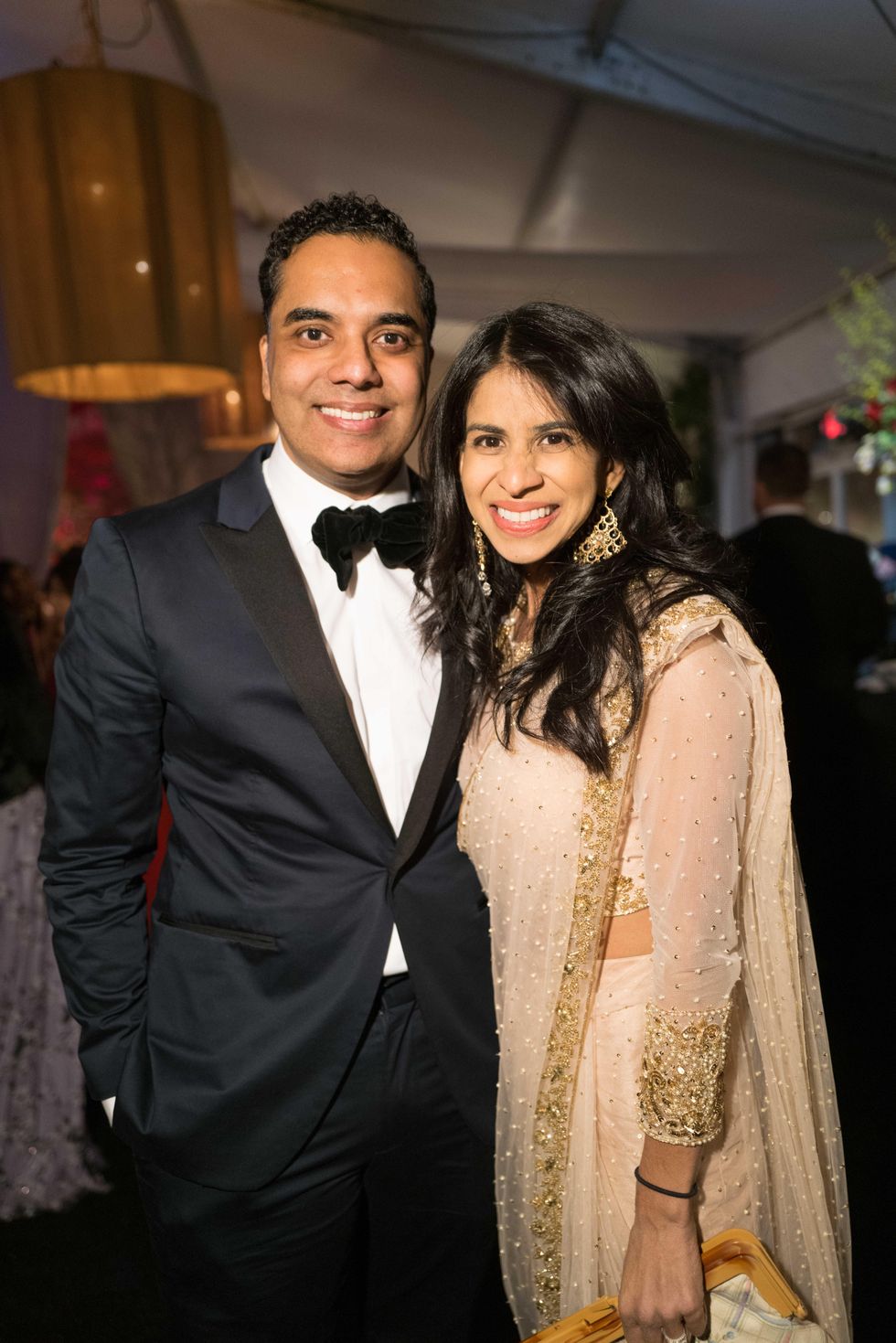 Ravi Purohit and Pooja Goradia (photo by Daniel Ortiz)
Suresh Khator and Renu Khator (photo by Daniel Ortiz)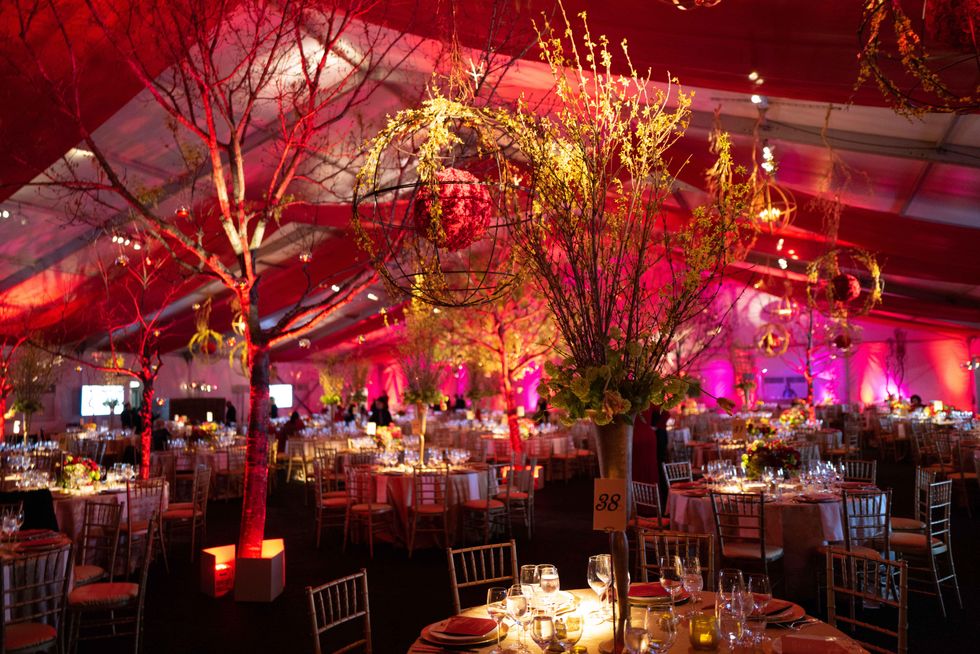 Under the tent at the Tiger Ball (photo by Daniel Ortiz)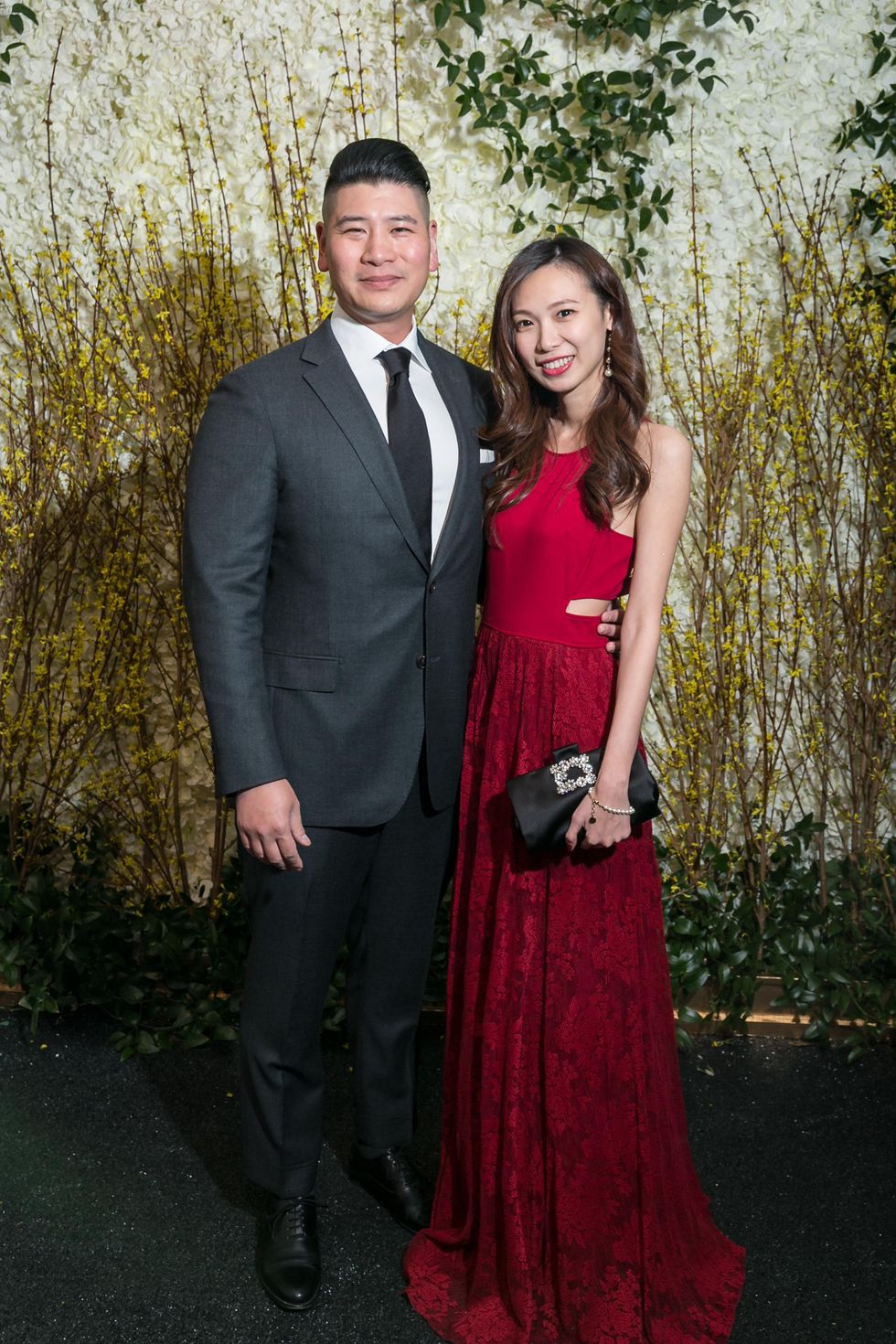 Victor Lee and Livy Yang (photo by Emily Jaschke)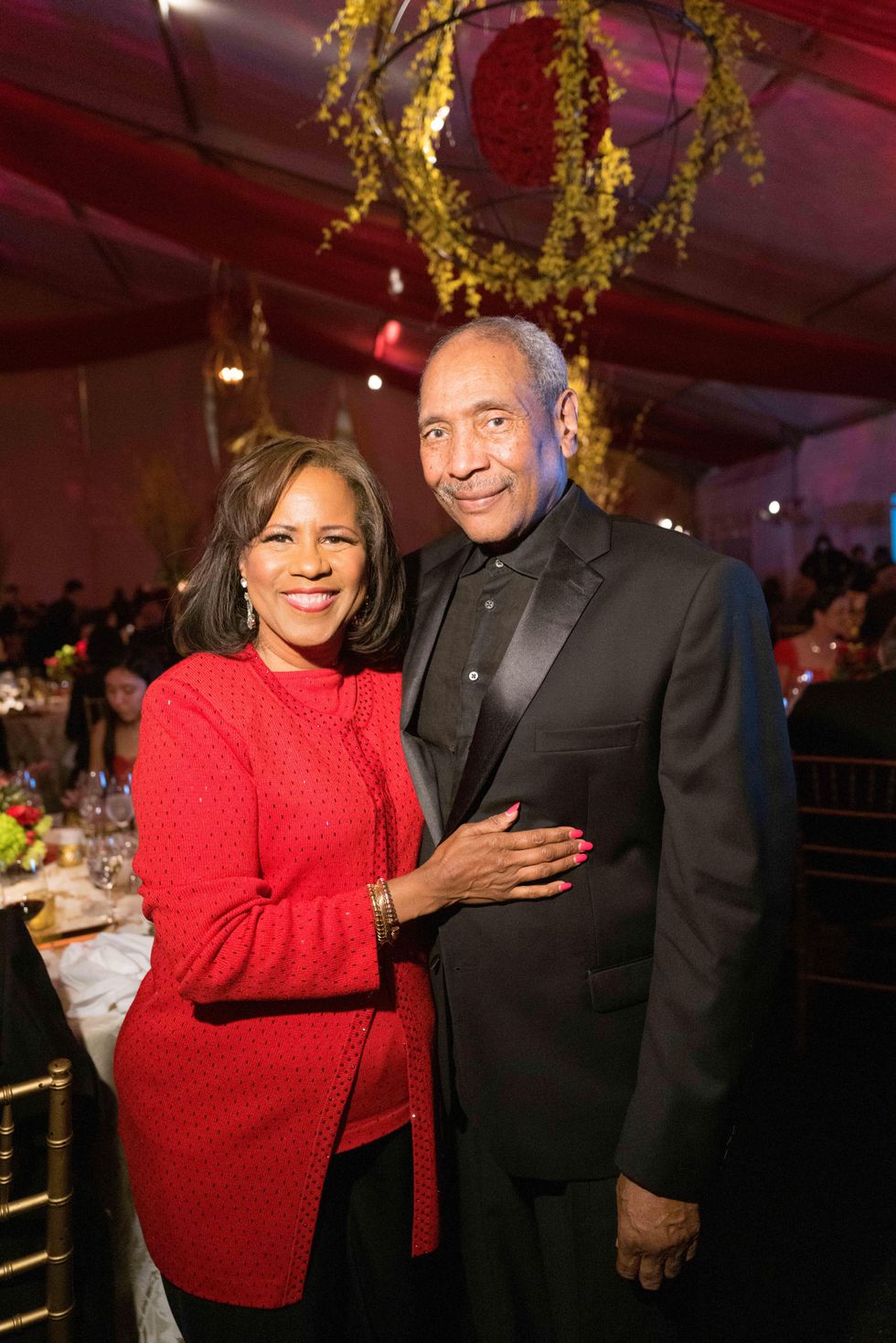 Melanie Lawson and John Guess (photo by Daniel Ortiz)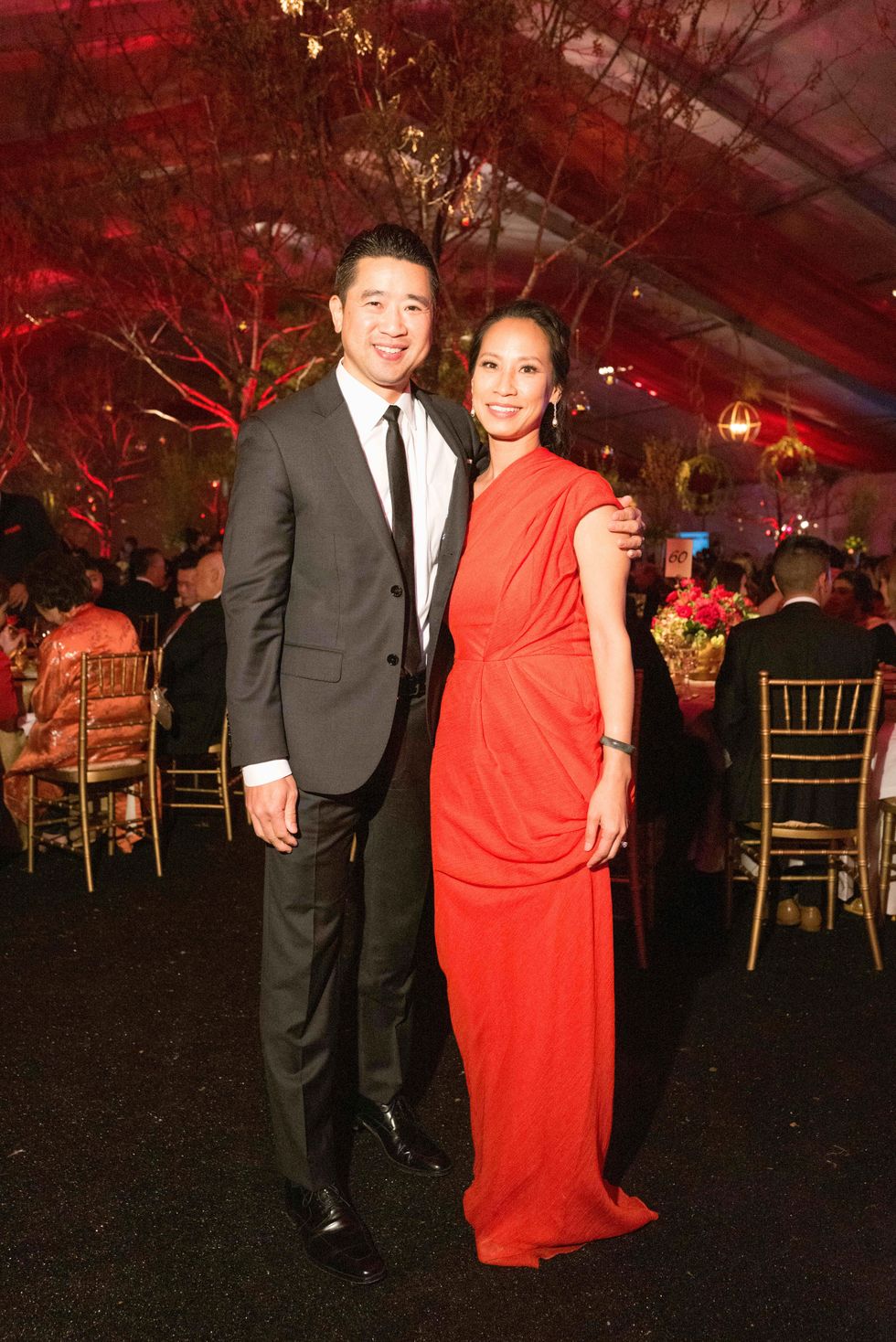 Kenneth and Janae Tsai (photo by Daniel Ortiz)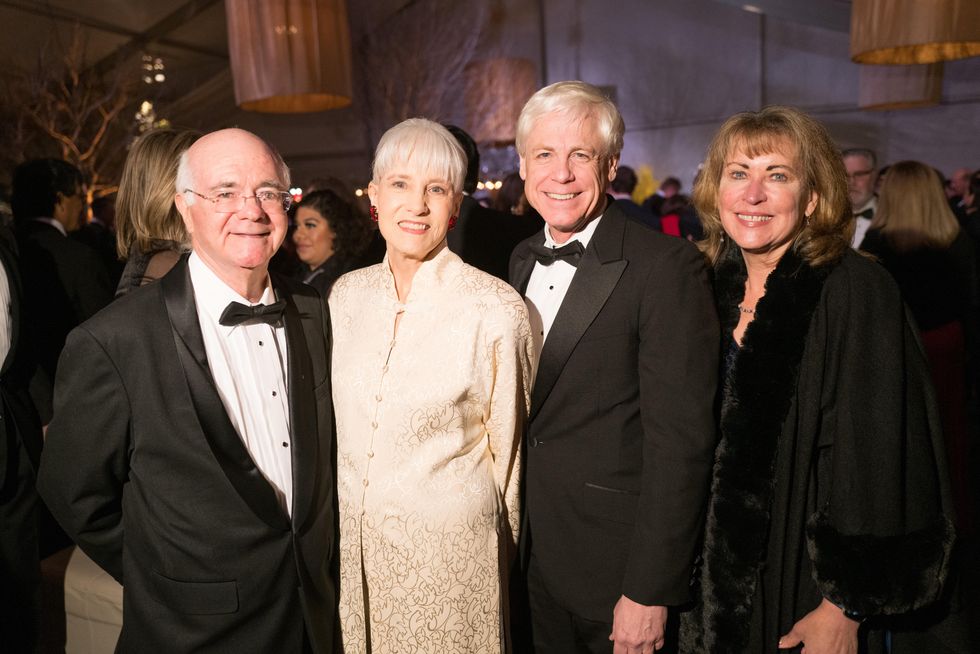 John and Julie Cogan, and Brad and Amy Richards (photo by Daniel Ortiz)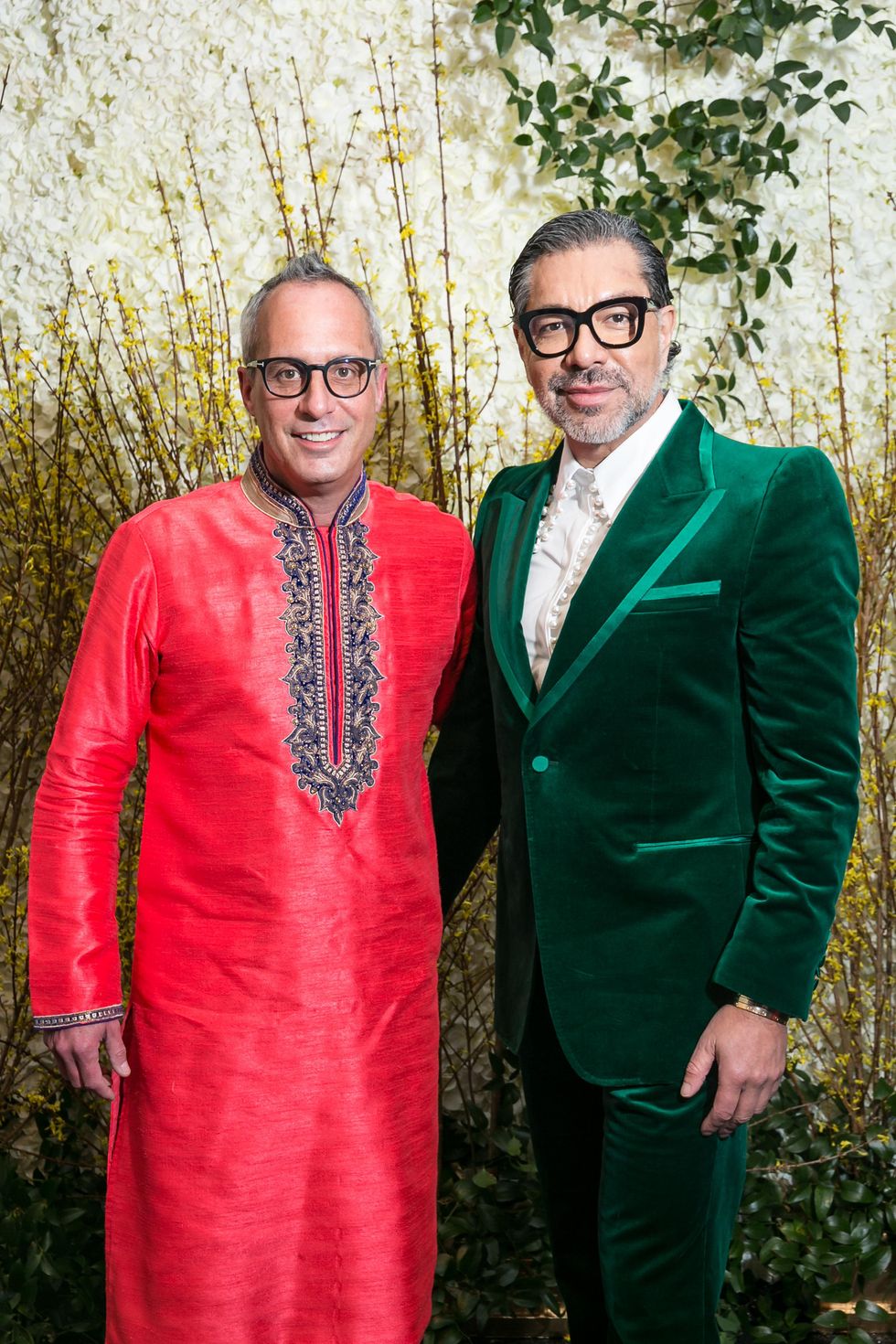 Mark Sullivan and Ceron (photo by Emily Jaschke)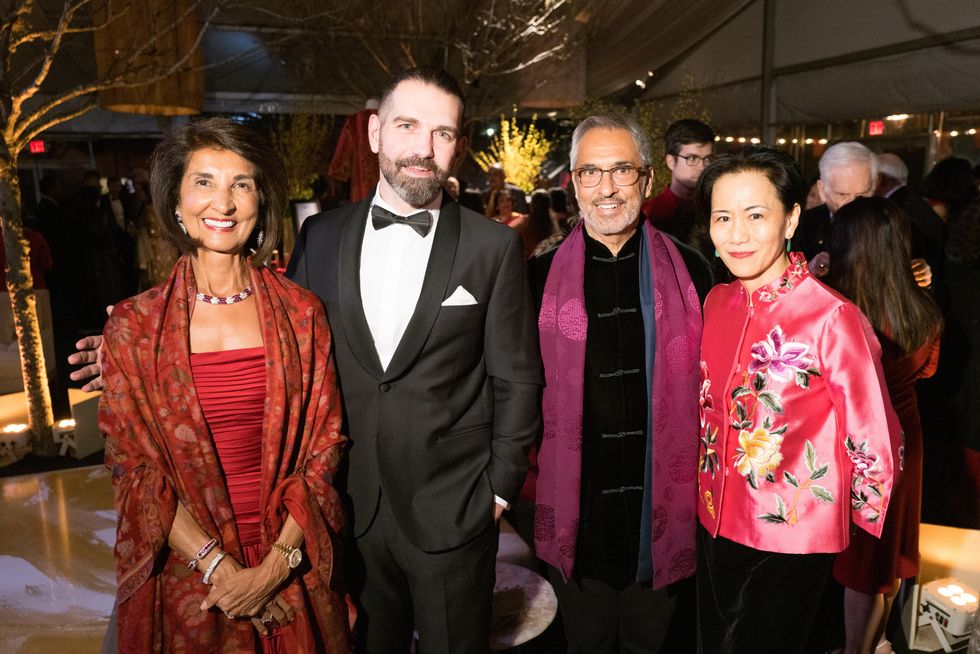 Sultana Mangalji, Michael Chagnon, Moez Mangalji and Y. Ping Sun (photo by Daniel Ortiz)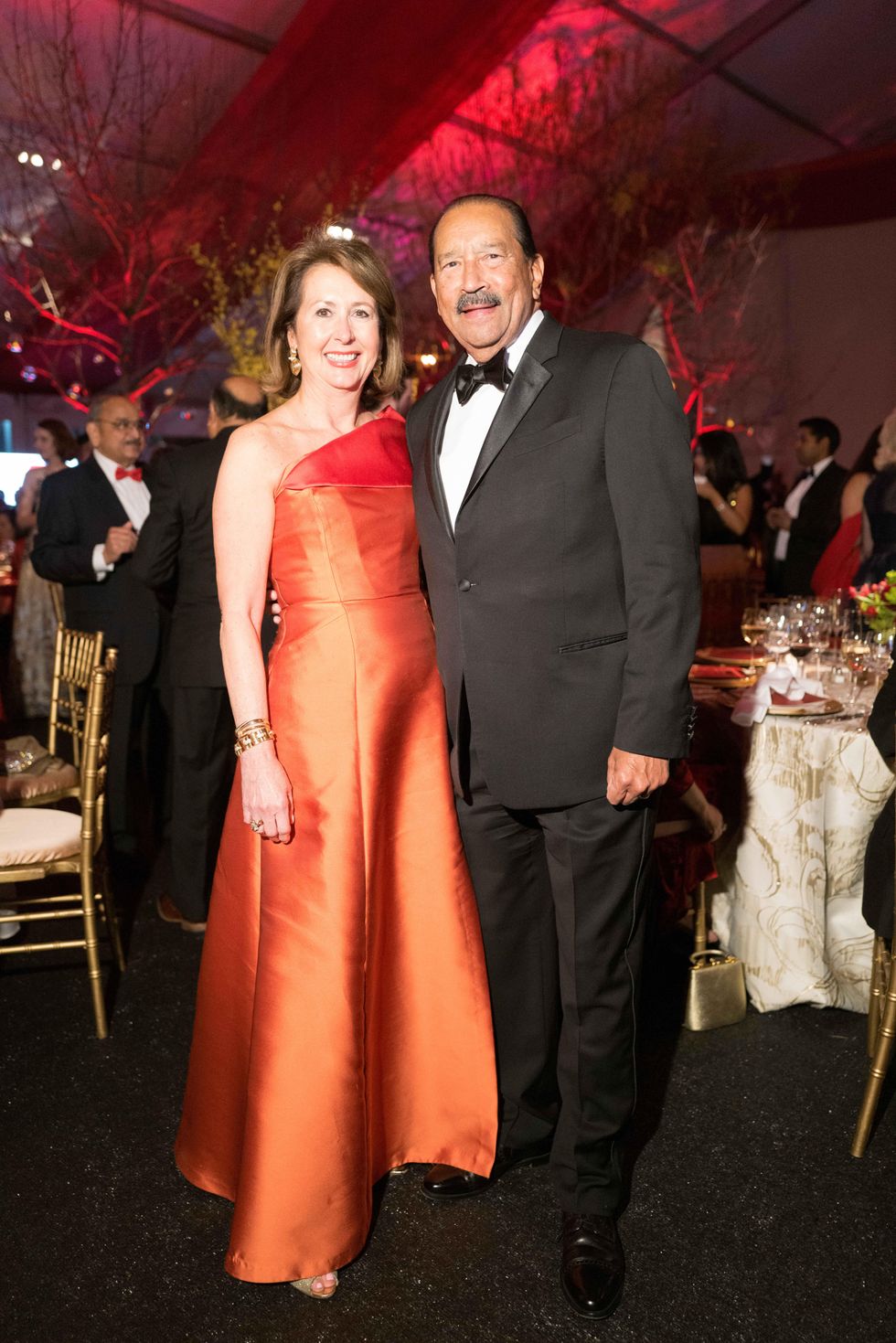 Michael and Ileana Trevino (photo by Daniel Ortiz)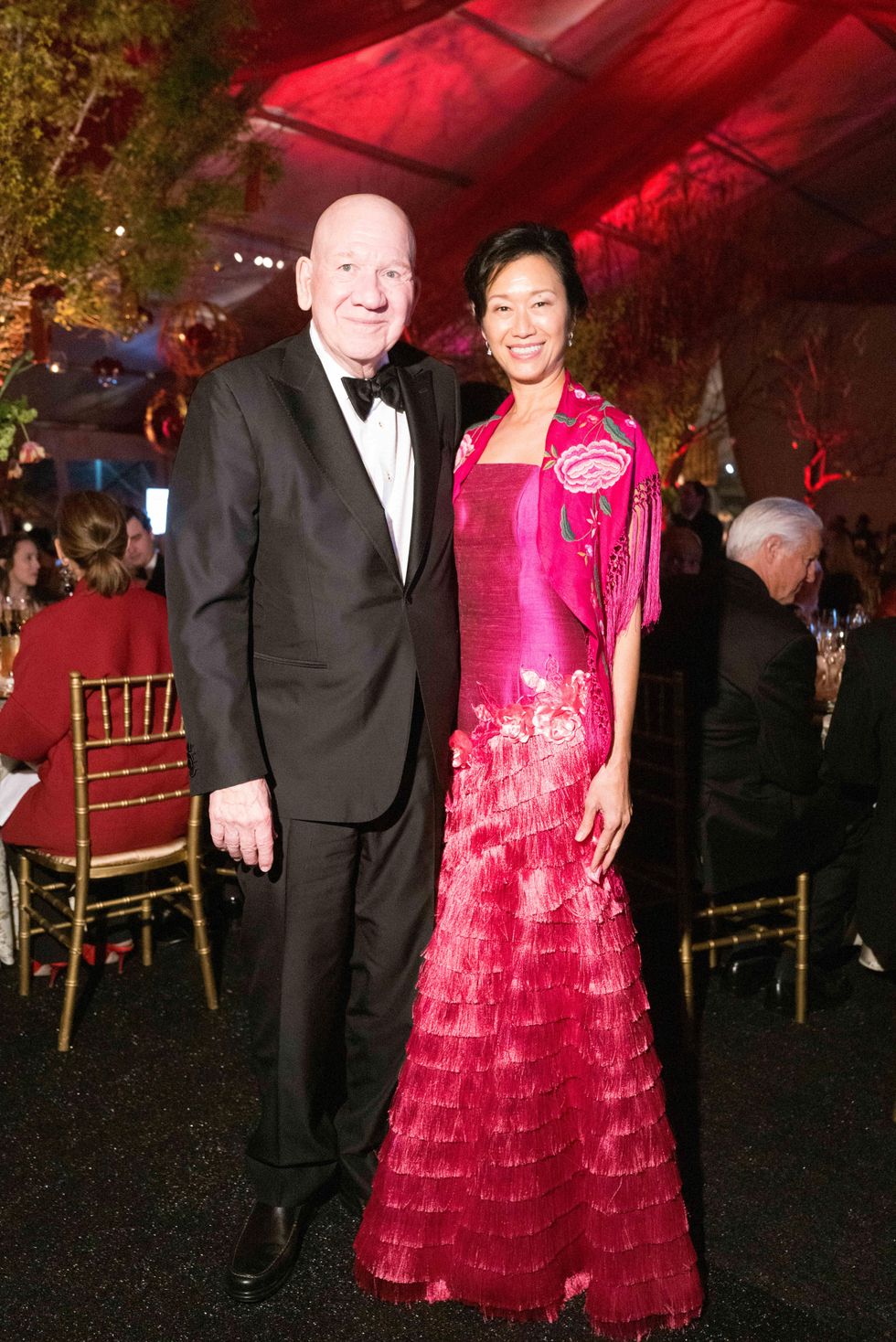 Jim and Tuu Teague (photo by Daniel Ortiz)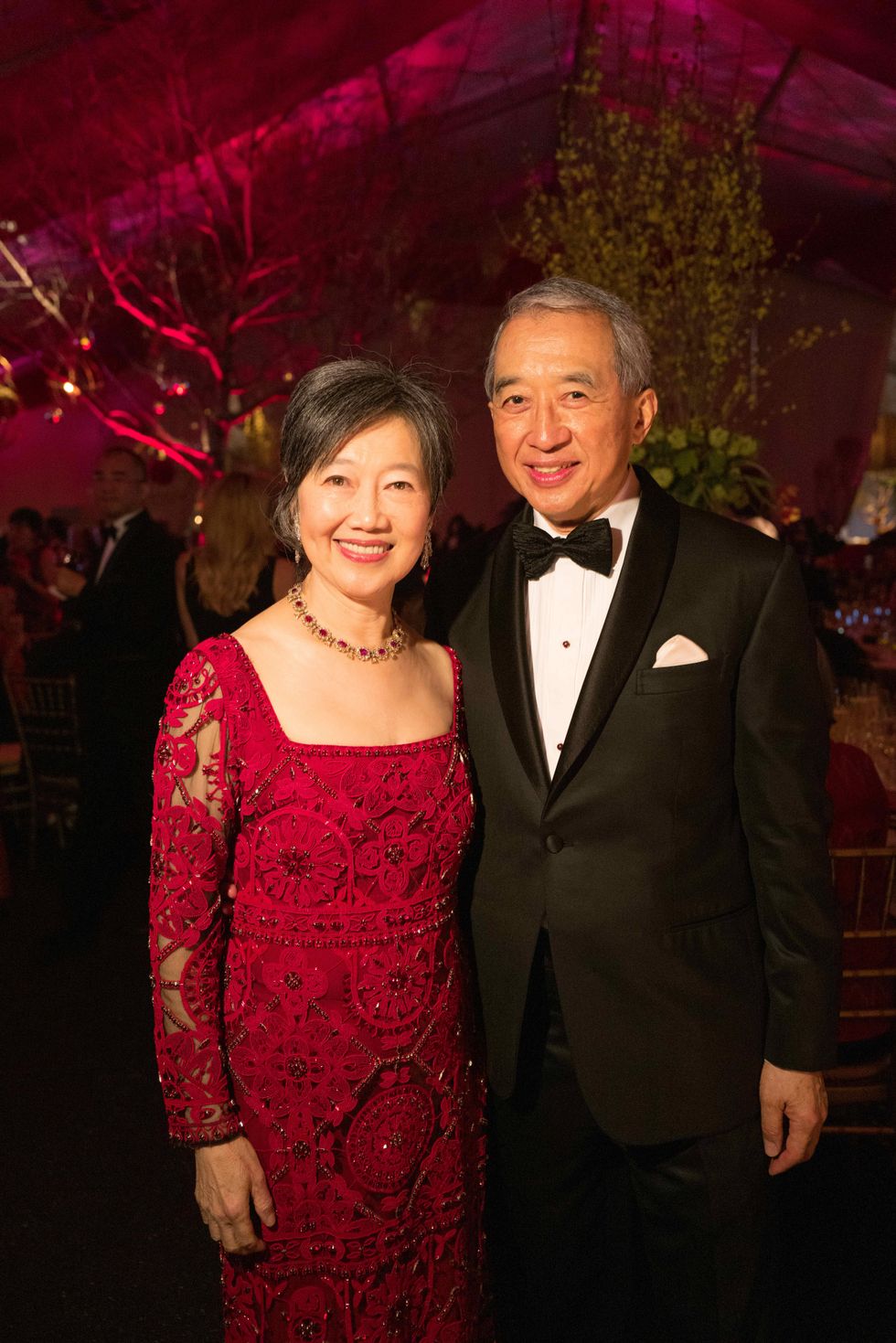 Anne and Albert Chao (photo by Daniel Ortiz)
Leigh and Reggie Smith and Tripp Carter served as ball chairs, with Nancy C. Allen and Anne and Albert Chao as honorary chairs. Other honorees for the evening including artist Tiffany Chung, astronaut Soichi Noguchi, and UH Chancellor Renu Khator, who were feted at a VIP reception just before the gala. Silent auction items came courtesy of Harry Winston, artist Mel Chin, artist Kour Pour and Fabergé.
Asia Society Texas "believes in the strength and beauty of diverse perspectives and people," according to its mission statement. "As an educational institution, we advance cultural exchange by celebrating the vibrant diversity of Asia, inspiring empathy, and fostering a better understanding of our interconnected world." Programs at the center span the fields of art, business, culture, education and policy.
Spotted in the crowd at the gala: Lynn Wyatt, Lily and Charles Foster, Kathy and Glen Gondo, Melanie Lawson, John Guess, Sultana and Moez Mangalji, Shazma and Arshad Matin, Y. Ping Sun, David Leebron, Ileana and Michael Trevino and Michelle and Rishi Varma.
Style+Culture