Beyond Tex-Mex
Ronnie Killen does it again, importing the sometimes surprising flavors of regional Mexican cuisine to Pearland, at Killen's TMX.
Shannon O'Hara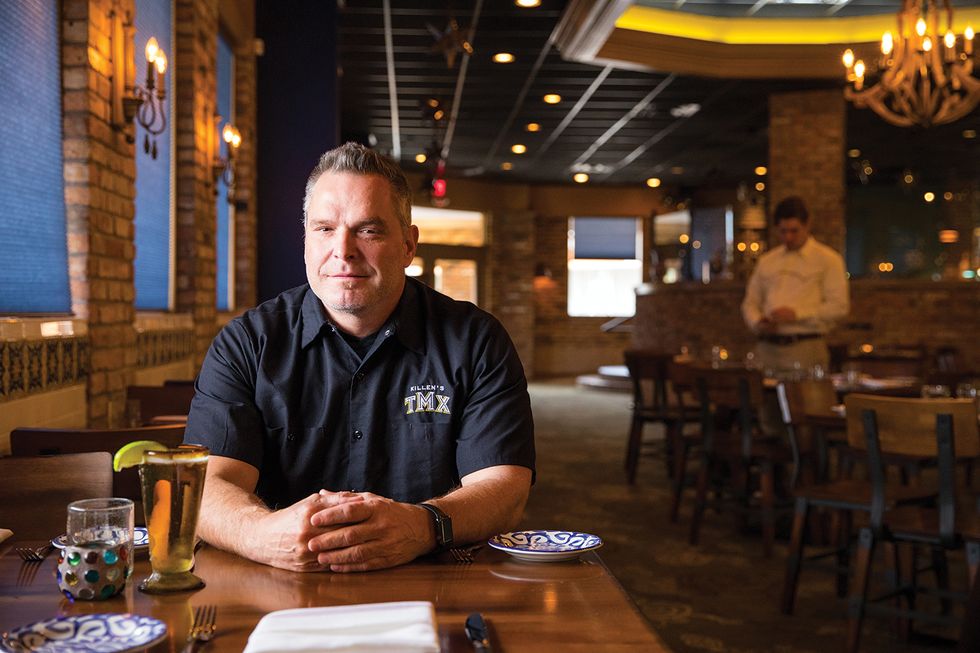 The rapid beats of "Chicharron" by Oro Solido flood the thoughtfully appointed dining room at Killen's TMX, the latest addition to Ronnie Killen's eponymous foodie empire in Pearland. "I know people are thinking, 'What does this white boy know about Mexican food?'" he says, laughing. After taking cooking classes in Cabo, Mexico City and beyond, he's learned the subtle nuances of regional Mexican cuisine, and decided to expand the focus of TMX beyond just Tex-Mex. "I realized that, here, I want the food to be a little more authentic."
---
The James Beard nominee is a household name among Houstonians for his award-winning 'cue, but makes it a point to produce a memorable dining experience at all of his restaurants — from the old-fashioned '50s-style burger bar to the sophisticated steakhouse down the road. He hopes people will feel the same about TMX. "The food, the service — like all of our restaurants, I want it all to be executed properly," he says.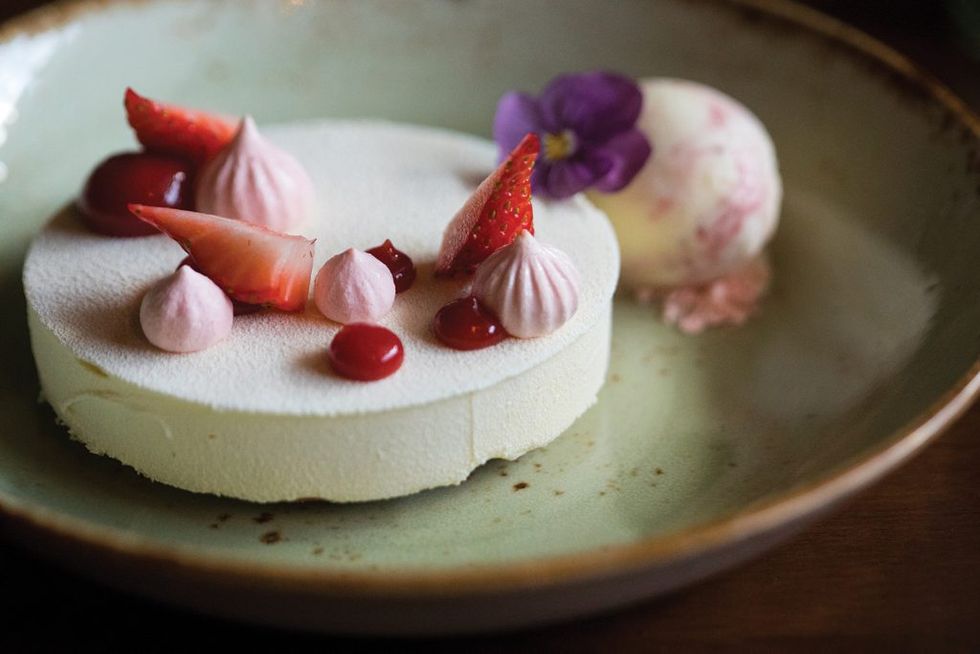 Pastry chef Samantha Mendoza's picture-perfect Strawberries & Cream tres leches cake
He's off to an impressive start. Through his travels, he not only learned authentic cooking techniques, but also gleaned a few interior-design tips. Wall hangings, carved from Mexican tree bark, grace the dining room; the carpet, linens, plates and glasses — even the votives on each table — are hand-picked by Killen. "I went to a place called Edith's in Cabo and they had a teeny, tiny bathroom, but I loved the way it looked, and it inspired me," he says. The folks there directed him to producers of restaurant-industry items in Guadalajara, and he began to get creative.
Aside from the place looking festive, Killen says it's got "all the toys" in the kitchen, too: a wood-burning grill and a masa grinder, which is used to form tortillas. And like other Mexican restaurants, there is a magical compartment from which never-ending baskets of piping-hot chips emerge — but Killen warns guests not to fill up on those. Instead, thoughtful apps include an Acapulco-style ceviche with shrimp, made happy and bright with orange-Fanta cocktail sauce; and a creamy white ceviche with coconut and seabass, dotted with pops of lime leche de tigre.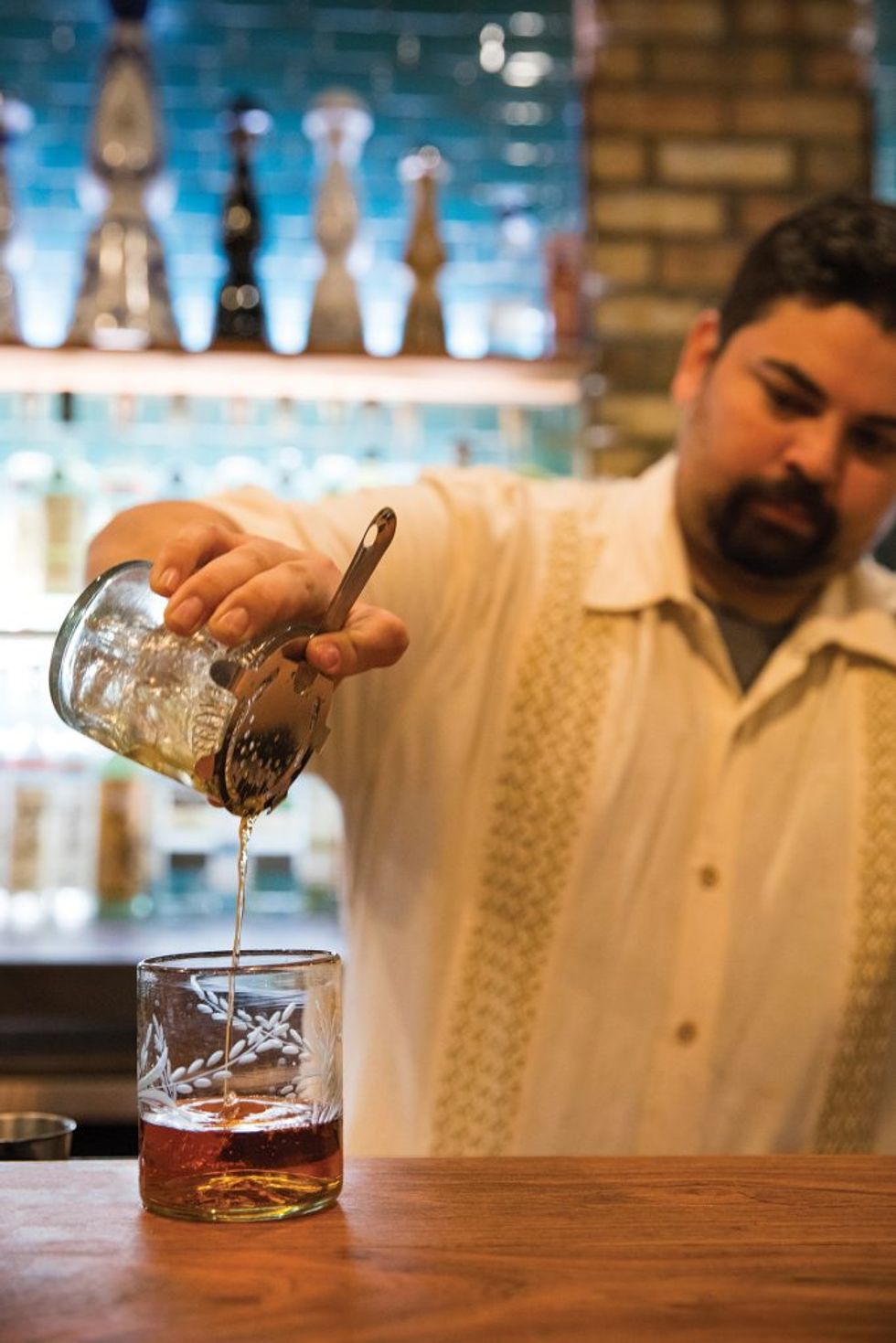 A cocktail in an artisan glass sourced from Mexico
For hungry diners looking to fill their bellies with meat, as Killen is famously known to provide, there is no shortage of options. Melty-cheese-topped smoked-brisket enchiladas with a side of rice and black beans are hard to resist, as are the sizzling Wagyu beef fajitas. Killen notes plenty of familiar Tex-Mex choices, but recommends something "perhaps you have never tried before," as in the Puerto Nueva lobster tacos. "We don't just throw the lobster on a grill — it must be pan-fried really, really crispy so that there is a distinct texture and crunch."
While saving room after a Mexican meal is near impossible, here it is mandatory — and not just for the housemade churros with spiced chocolate sauce. Executive Pastry Chef Samantha Mendoza has created an impressive menu of Mexican desserts including chocolate tamales — something Killen learned all about in Mexico — and the gold-flake-dusted chocolate and caramel mousse with prickly-pear jam.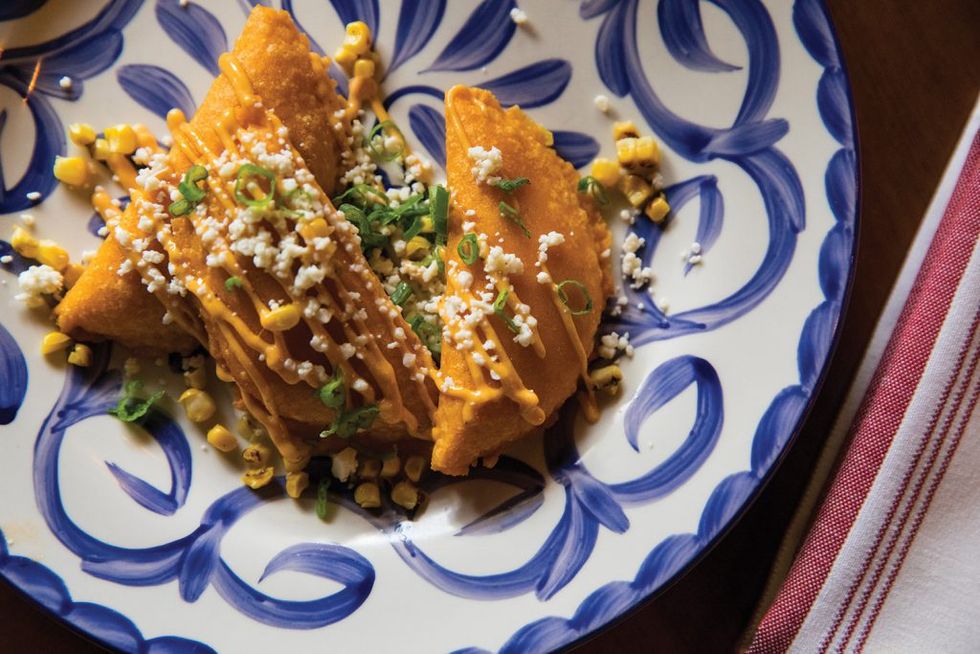 Creamed-corn empanadas
Despite which route you choose to follow — traditional Tex-Mex or the more adventurous Mexican coastal cuisine — a meal at Killen's TMX is a lively experience. "I think people will come in for the classics, and it will keep them coming back," says Killen, "but hopefully, throughout a course of time, we can educate them in a way about regional Mexican cuisine."
AT TOP: Ronnie Killen at TMX
Food+Travel