Dad's Home!
A father of four starts fresh — and funky — at the Astoria.
Michael Hunter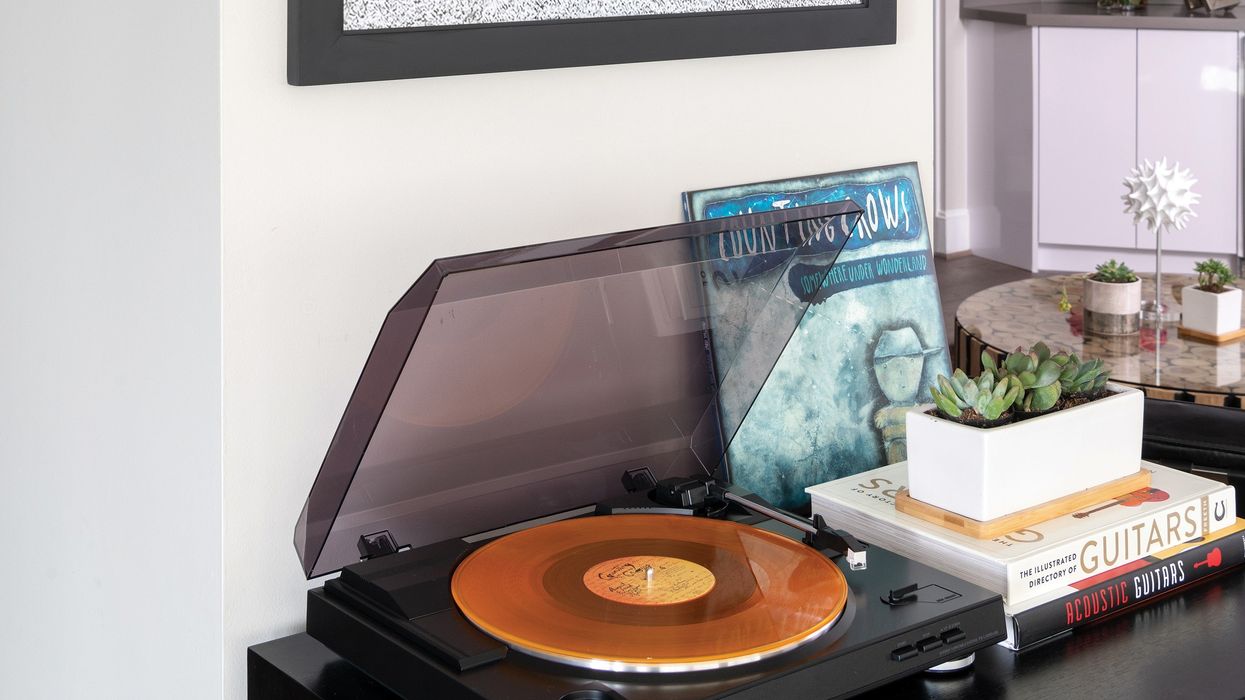 Up on the 16th floor of the Astoria, a luxury high-rise building in Uptown, a 3,010-square-foot, four-bedroom condo is a newly single father-of-four's perfect place to start over. Excited to reclaim what he jestingly calls "the bachelor's dream," he quickly enlisted award-winning interior designer Teri Pugh to make his vision come to life.
---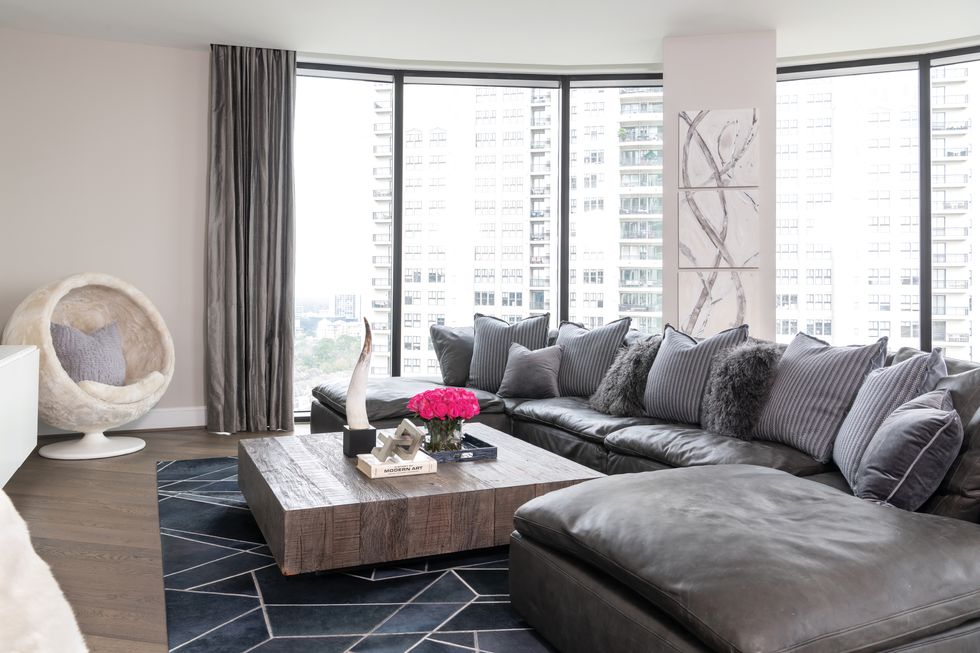 Masculine hues and a custom geometric cowhide rug from BeDesign anchor the otherwise light-and-bright living room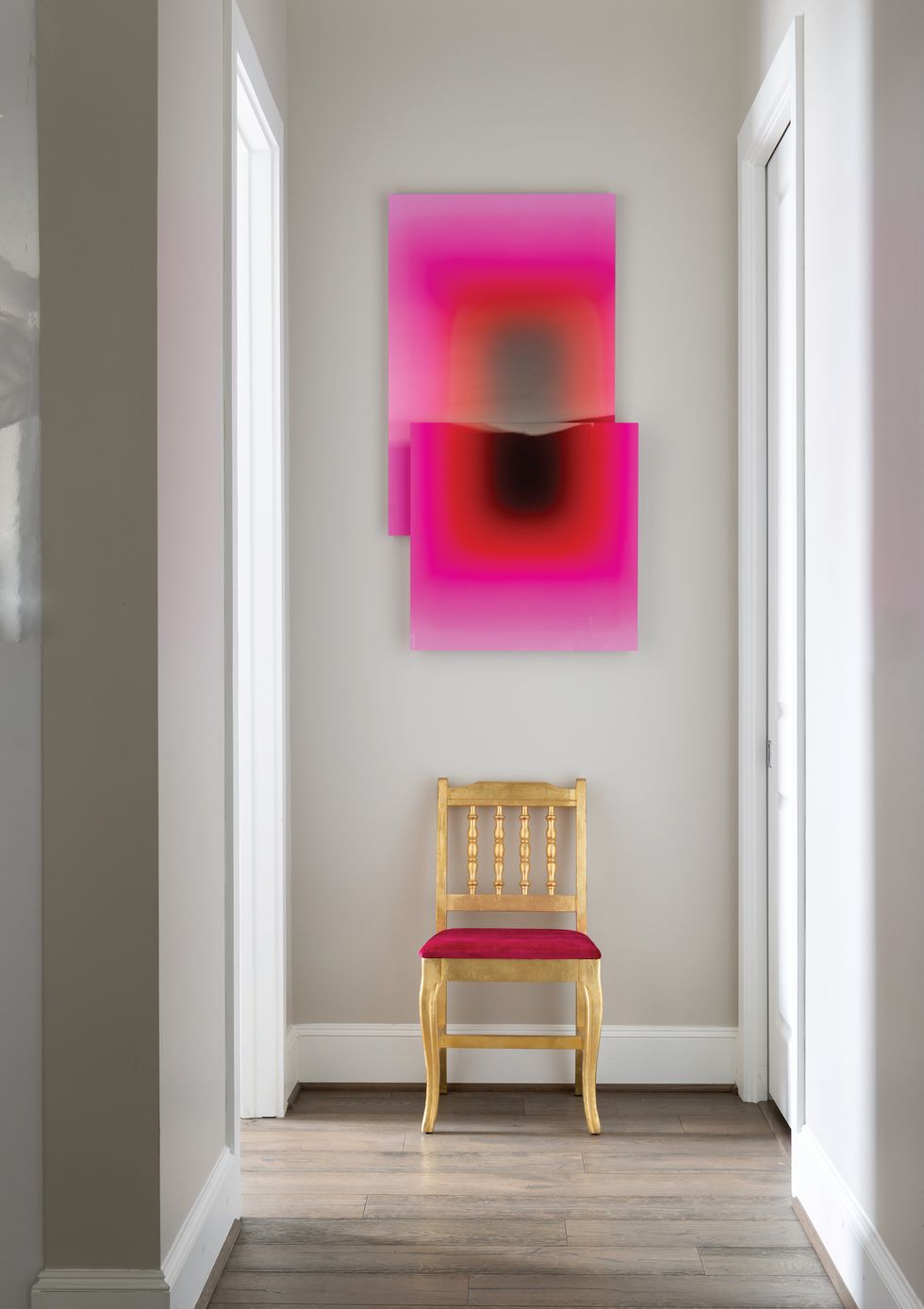 A pink acrylic floating panel hangs above a vintage chair that was redesigned by Pugh to become part of the art
And what is more a bachelor's dream than a condo with 270-degree soaring views of the city? Pugh, who owns Teri Pugh Studio in the Houston Design Center, had previously done work for this client when he was married, and strove to bring about functionality and comfort within a high-rise contemporary lifestyle. "He has four children: an adult daughter, and two young girls and a boy all under the age of 10, all who kind of come and go, and love to come to his place," says Pugh. "And he's got a young, rambunctious Weimaraner. Aside from modern and upscale, the place also needed to be livable and comfortable — for the kids and the dog."
Pugh started the process by focusing on dark masculine-toned elements throughout the space — lots of gray! — but sprinkled in bits of color and humor, as a nod to the family's fun-loving manner and passion for music. In the open-concept kitchen and living area, Pugh arranged a warm gray leather sectional from Hooker Furniture atop a custom geometric cowhide rug in electric blue and silver from BeDesign. The corner hosts a custom iron shelving unit — designed and built by Teri Pugh Studio — to house all the family's sports memorabilia: jerseys, signs and framed photographs. The bright-white kitchen unexpectedly spotlights a high-gloss electric guitar, and some beautiful pendant lights from Avenue Lighting.
Although the bar and lounge area was originally intended to be a dining room, the client needed a place to host guests, do work and, well, lounge. So Pugh transformed it into a manly study, with a desk and fun gold-leafed, egg-shaped artwork by Palecek. Pugh's own artwork, commissioned by the client, adds a colorful and eclectic touch. "[The art] helped keep the vibe of the space and brighten it up a little bit, making it a cheerful and happy place for the family," says Pugh.
Also in this space: Barcelona-inspired lounge chairs, an all-wood bundled cocktail table by Noir Furniture, and a buffalo-hide rug, which come together to provide a perfect place to sit with have a glass of wine. "His oldest daughter, her boyfriend and himself are all big music buffs, and they have a huge album collection, so they like to listen to music and just hang out together. This was the perfect place for it," says Pugh. The client's son is a big Drake stan, so Pugh added a little nook with a poster of Drake, a turn-table and their album collection. "It reflects their personality and love of music."
Gold-flecked art by Uttermost and a wood-and-acrylic table sit in the entryway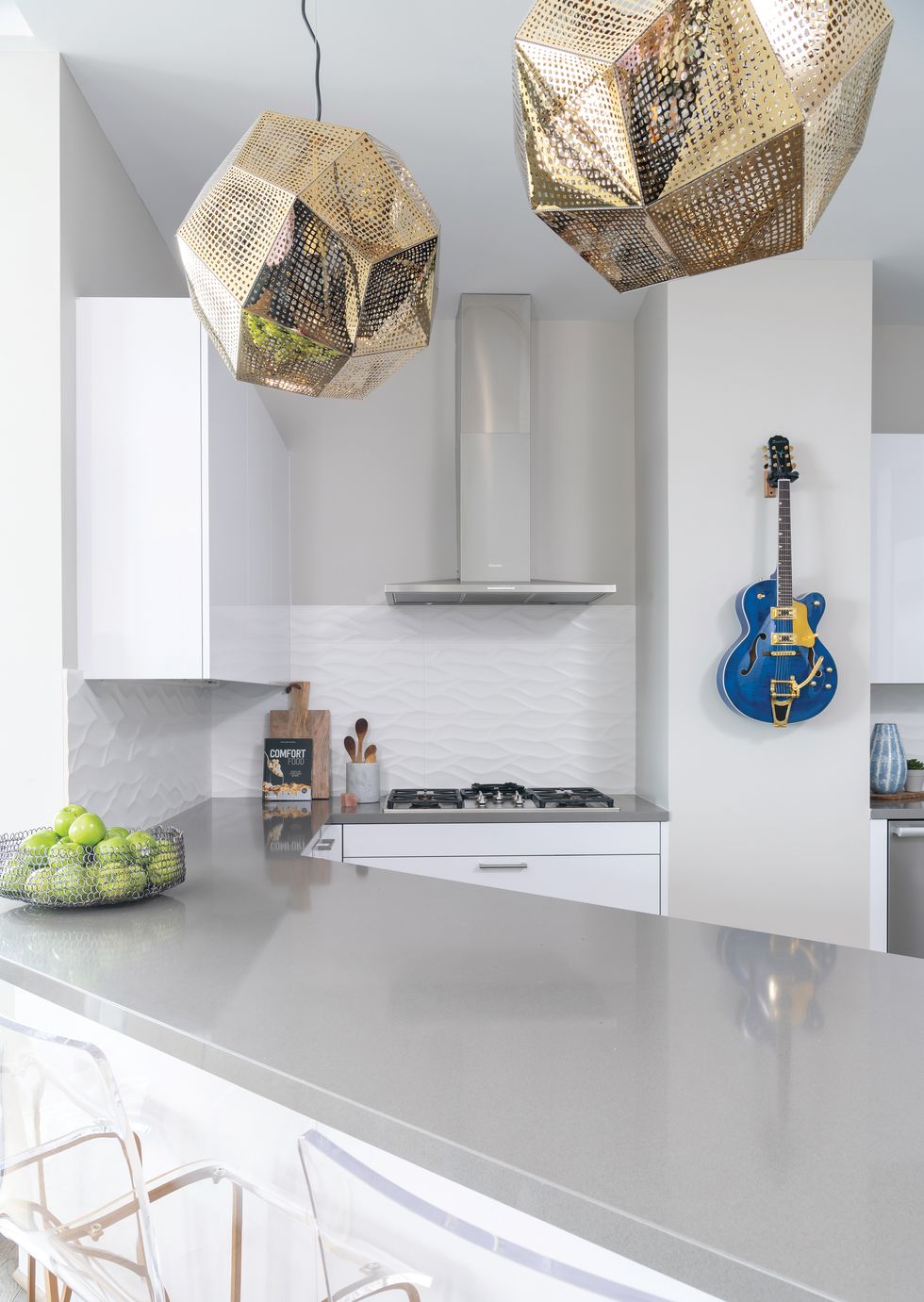 In the kitchen, a high-gloss blue electric guitar and pendant lighting from Avenue serves as art
Each of the four bedrooms and three full bathrooms took its own personality, reflecting each kid's stage and nature. Pugh dubs the master bedroom "very romantic and comfortable, with a lot of masculine vibes."
Pugh tackled the challenge of making a sleek high-rise kid- and dog-friendly with lots of art, personality — and durable crypton fabric. "Prior to us taking on the project, the place was sterile, and looked like an apartment for empty-nesters," she says, noting that her team won an ASID award for this project last year. "After we finished, the place was fun, energetic and made the family want to come gather and spend time together."
AT TOP: The homeowner's music nook includes a poster of Drake, a nod to his son's favorite artist.
Style