Deep Dive
Inspired by a love of the oceans and a hope for conservation, an India-born muralist is making waves.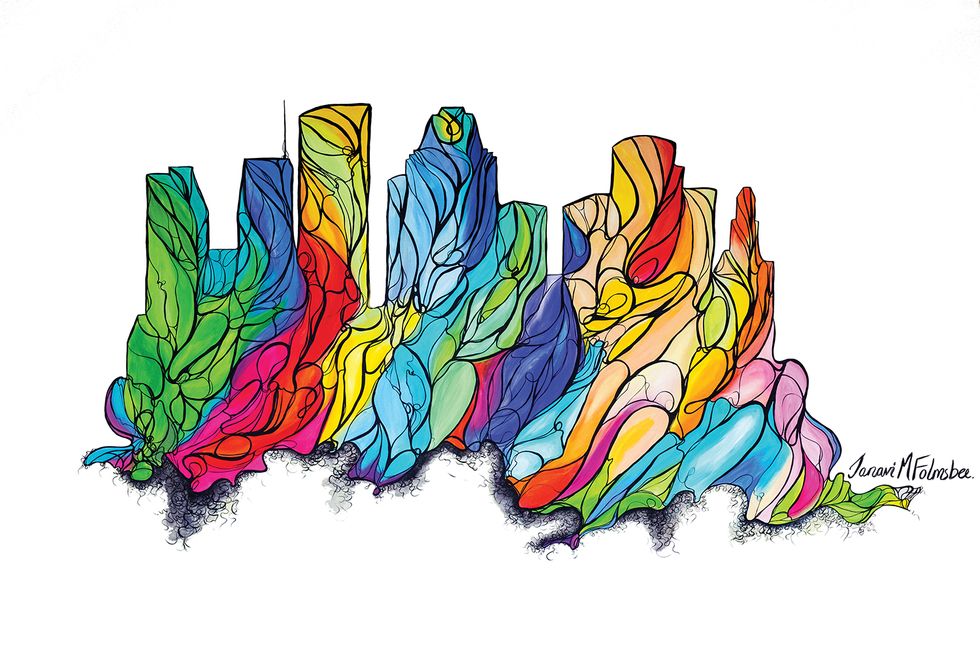 Avid underwater diver and marine conservationist Janavi Folmsbee, 30, creates thought-provoking art that calls upon oceanic themes and unique media to send a message to the public. Sometimes the themes are subtle, while at other moments, the message is loud and clear, as in her sweeping murals that span full exterior walls of buildings across Houston.
---
A Mumbai transplant, Folmsbee says much of her work is influenced by her love and concern for marine environments, which she believes are rapidly being destroyed by the effects of global warming. Some of her canvases are painted to look as though they are covered in plastic wrap, a nod to all of the plastic trash floating in oceans worldwide. "I'm seeing the difference every time I dive, and it's really depressing," says Folmsbee, who dives several times a year in locations all around the world. "All of the coral is turning brown, and it's being caused by global warming — as much as we don't want to admit it."
Folmsbee is hoping that the themes of her ocean-inspired paintings can help raise awareness of the plight of the myriad organisms that populate the delicate biomes of the world's oceans. The artist, who has set up shop in Silver Street Studios since moving to Houston five years ago with her lawyer-husband Chris, often spends time discussing marine conservation with collectors who are eager to snatch up her colorful oil paintings, so they can get the full backstory on her art.
It's a novel approach for an artist whose life could have taken a decidedly different direction. Folmsbee is the eldest child of a prominent civil engineer in India, and as such, it was expected that she would grow up to take on the mantel of her family's construction empire. But Folmsbee, who was diagnosed with dyslexia at a young age, eschewed numbers and instead hued to art. "It was very hard for my father to accept that his first-born child was not going to be a civil engineer and take up this huge empire and family business that we have," she says. "Growing up in India, I was always the odd kid in school because I was the art student. I didn't want to be a mathematician, an engineer or a doctor. I never felt like I belonged anywhere."
Part of the reason Folmsbee fell so in love with underwater diving — she did her first dive a few months after finishing art school in Chicago — is that exploring alien environments underwater is a form of therapy for her. When she's underwater, the beauty of the experience fills her with a sense of peace, helping her come to terms with her life-long struggle of always feeling out of place.
"When you're diving, you're just focused on your breathing. You hear nothing. There are no thoughts. You're just with yourself and you're looking at something gorgeous," she says. "It teaches you to be calm in life and to take big challenges while maintaining that calm."
Folmsbee recently completed her largest work yet, a multistory oceanic mural on the side of the still-new Hotel Ylem near NRG Stadium. In it, a mystical female figure is swathed in tendrils of multicolor barnacles, which seem to stretch out from her body and swirl around the walls of the building in kaleidoscopic patterns. The artist spent two and a half weeks in late January and early February teetering on a mechanical lift as she meticulously hand-painted the piece, which she says is meant to represent divine female energy empowering our oceans.
This summer, Folmsbee is taking a sabbatical from the backbreaking work of mural painting for a little while, and plans to spend the next year building a new body of work on canvas. She hopes to travel to four or five diving locations around the world and create paintings inspired by and addressing the struggles each of those environments is going through.
"I started diving to find this moment of happiness, and now I want to give that happiness back to other people," she says. "I'm not ready to give up hope on marine environments. I don't think anyone should. I feel like we will eventually make a difference."
ABOVE: Folmsbee's mural "Houston Charactered Away" 
Art+Culture