Deep South
At Xochi, chef Hugo Ortega takes foodies on yet another journey into his own private Mexico — this time to far-southern Oaxaca, known for its rich complexity and spectacular sauces.
Kirsten Gilliam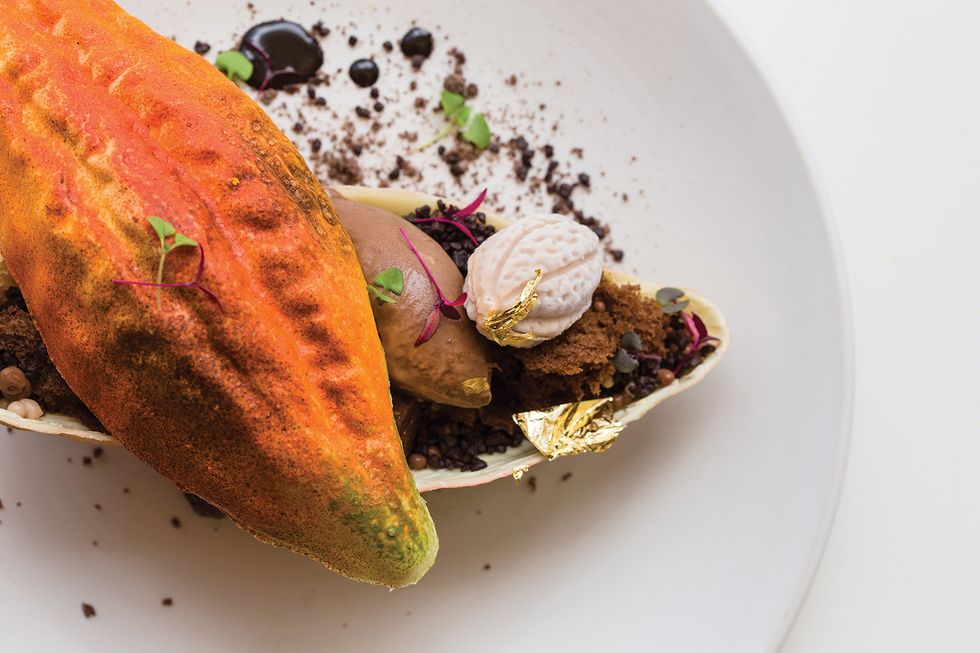 Hugo Ortega has probably done more to enlighten foodies on authentic Mexican food than anyone else alive. And it's made him a Houston treasure.
---
A five-time finalist for the James Beard Award, his landmark Hugo's — one of the Westheimer Curve's early stalwarts, whose great popularity foreshadowed Montrose's rise as the city's trendiest restaurant district — introduced Houston to the traditional dishes of Mexico. Caracol, nestled in the ground floor of the BBVA Compass building in the Galleria area, showed Houston the range of the country's coastal kitchens. And now, with Downtown's Xochi (pronounced so-chee), Ortega focuses on the cuisine and indigenous richness of just one state: Oaxaca. The name comes from Xochitl, the Aztec goddess of the flowers — an apt reference point, given the restaurant's blossoming flavors.
"The food of Oaxaca is honest, deep and extremely complex," explains the chef, who gets personal when he talks about the region. "My family had a farm near the border of Oaxaca and Puebla, so the food feels like going back home to me."
Located in the new Marriott Marquis Houston adjacent to Discovery Green park, the setting is a high-end hotel dining room, with high ceilings, a large and welcoming bar, waiters in embroidered black uniforms and an 80 percent suit-and-tie crowd. Ropes wrapped artfully around the room's pillars work both for atmosphere and to help absorb the sound of boisterous diners. Photos, including a bright one of an indigenous Mexican woman by famed Oaxacan photographer Diego Huerta, and colorful masks of fantastical creatures all add to the feel. So do Xochi's exemplary list of mescals and tequilas and margaritas and such. Consider a Pamplona — a light and refreshing mix of grapefruit soda, lime juice, xoconostle (prickly pear) juice, salt and your choice of tequila or mescal — to begin the evening.
Starters range from raw oysters with a tomatillo mignonette, to rabbit in a puffy tortilla with almonds and raisins and refritos, to traditional mussel tamales. But one terrific app is the Memla — a toasted masa pancake that embraces that toasty corn flavor, topped with roasted pork rib, crema, queso fresco and salsa de albañil, which is a bricklayers salsa of tomatillos, queso, cilantro and avocado.
Or, for something more elemental but equally delicious, there's the tacos de cabrito: crispy chunks of fried goat with a salsa verde, wrapped in a tortilla.
Oaxaca is known for its moles — rich sauces that often utilize fruits and nuts, that aren't limited to the dark brown cocoa-infused variation most of us imagine. And Xochi offers them in intriguing variety. You could make one as your main course, perhaps Pato en Estofado — braised duck in a tomato-almond mole — or Cachetes de Res, braised beef cheeks in a mole pasilla that embraces the nutty smokiness of the pasilla chile. But if you don't want to commit to just one, go for the mole tasting: four sauces, each wildly different and equally delicious, including the dark reddish brown ant mole — ants and many other kinds of insects are common fare in Mexico, and Oaxaca in particular — which is slightly spicy, a bit sweet, boldly earthy, and tasting nothing like you'd think ground crispy ants mixed with chiles and other goodies would taste like. Served with a basket of fresh warm tortillas, it's like chips and salsa taken to new heights.
Unlike in many new restaurants, entrée choices are as interesting as the starters. The Barbacoa de Res de Zaachila, braised rolled skirt steak flavored with the beloved Mexican herb hoja santa, is served in a flavorful guajilla and costeño pepper broth. The Cochito Istmeño is pork shank braised with istmeña peppers and roasted pineapple.
And Chef Ortega never lets you down when it comes to desserts. Standouts include, from the "chocolate menu," the cacao pod made of white chocolate and filled with a variety of chocolate tastes and textures — chocolate clouds, chocolate dirt and chocolate foam, or sky, earth and sea. Or for something completely different, try the Helado de Maize — a celebration of corn in dessert form, with corn ice cream, queso fresco ice cream and a corn cookie, beautifully plated (like all the dishes here) with a smear of blue corn atole cream and ice cream formed into the shape of baby corn cobs. It's spectacular.
The food at Xochi is just as varied and complex as Ortega promises, with much to discover on many return visits. And that's just how the chef feels about the Mexican state that inspired the must-hit new restaurant. "I have made many trips to different parts of Oaxaca," he says, smiling, "and I learn something new from each trip."
Food+Travel