Delicious District
With several new concepts, River Oaks District is experiencing a foodie renaissance.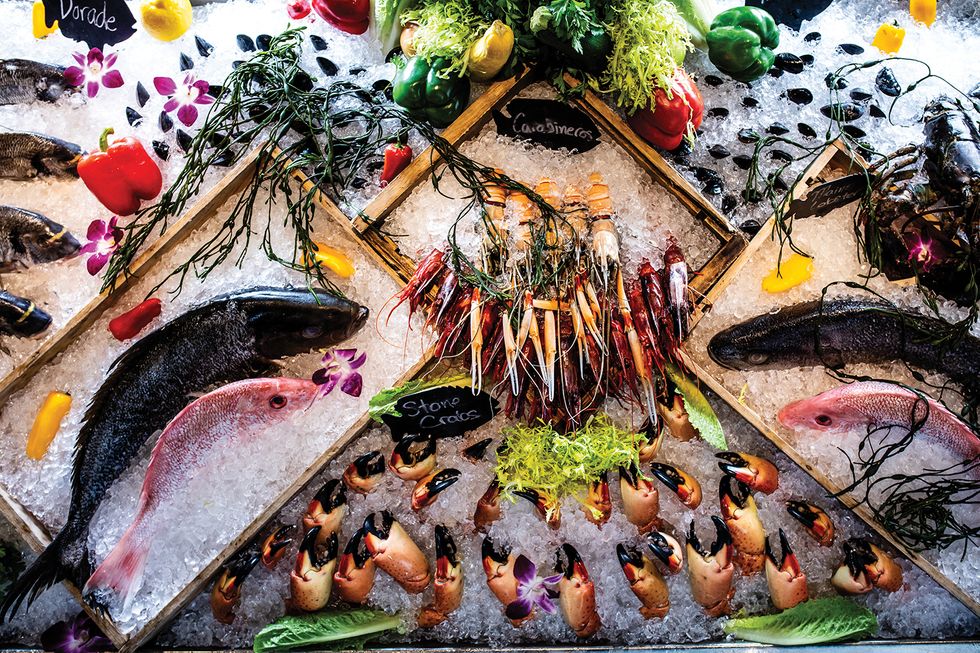 Many who escaped Houston's sweltering summer are trickling back into town and discovering that they've returned to a city whose dining scene is, not surprisingly, even hotter than when they left! A trio of concepts in the River Oaks District is partially to thank. Ouzo Bay and Loch Bar, from the Baltimore-based Atlas Restaurant Group, and the highly anticipated original concept MAD, from partners Luis Roger and Ignacio Torras of Montrose's acclaimed BCN, have all recently thrown open their doors — and the sizzle is real. 
---
Atlas' brothers Alex, 34, and Eric Smith, 28, perched their dual-concept restaurant prominently at the district's entrance. "When we were looking at adding a second location for Ouzo Bay, we explored Texas and quickly discovered how friendly the people are here," says Eric, explaining that after considering Austin and Dallas, the space at ROD in Houston became available. At more than 9,000 square feet, it presented a challenge of how to successfully manage its enormous size. "After deciding that Houston was the right fit, we came up with the idea of two separate entities with their own chefs, which share a kitchen and that operate under the same house."
Ouzo Bay, under the direction of chef Tommy Lazinski, is an upscale Mediterranean restaurant with a heavy Greek influence. "Fish flown in from everywhere in the world that you can imagine," says Eric, is the foundation here. Washington D.C.-based designer Olivia Demetriou took her cues from the ocean, too: dramatic vaulted ceilings, whimsical and winding light fixtures inspired by octopus' tentacles, partitians that recall the shape of coral, and vibrant pops of Aegean blue. All eyes are no doubt drawn to the dramatic back bar, featuring a towering wall of sea shells, branded with Ouzo Bay's signature fish emblem and lined with bottle after bottle of spirits.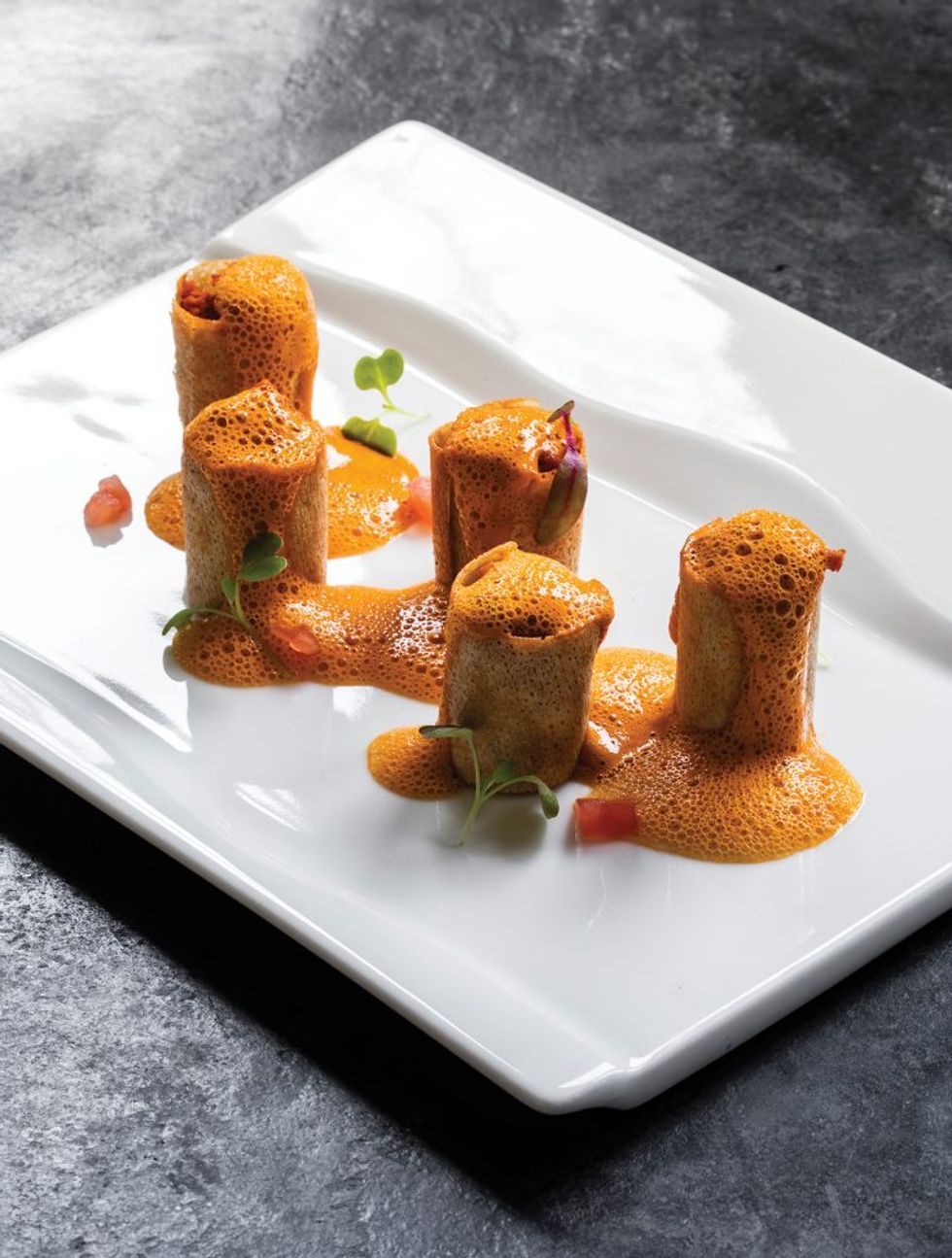 Cigala Tio Pepe, a unique preparation of crawfish at MAD
With a hefty focus on fresh seafood — a catch-of-the-day display, with rows of fish presented on ice, is in clear view for diners — whole fish is highly recommended, and here it is served simply, seasoned with salt and pepper, olive oil and capers. "We keep it very basic because we want the quality to speak for itself," says Eric.
Naturally, the menu lists all of the Greek classics, as in spanakopita and aromatic stuffed grape leaves, meaty with wagyu — but, in the way of staying progressive, there are the pastitsio spring rolls, something Eric says is Ouzo's unique spin on a traditional "Yia Yia dish" (something your grandmother would make). "We took traditional pastitsio, which is like a Greek lasagna — noodles, cheese and ground meat — and turned it into a spring roll," he says, noting that his favorite part may be the "unbelievable" honey-sriracha sauce on the side. 
But the all-around crowd favorite so far? The grilled octopus. While the dish can be difficult to prepare, at times resulting in a tough, chewy texture, Lazinski braises Ouzo's in a spiced red-wine vinaigrette for four-and-a-half hours. "So it actually tastes like a well-cooked piece of chicken," says Eric. Grilled with red peppers and onions and presented in chunky pieces on a bed of hummus, the colorful dish yields a perfectly savory bite for the guest each time. 
There are plenty of seafood options to seek out next-door at Loch Bar as well, but the vibe here is different. "Loch Bar is more of a whiskey tavern with really great seafood," Eric says. The space, designed by East Coaster Patrick Sutton, is bright with white-washed wood, tiled marble floors and rich brass fixtures. Old-school, diner-style stools line the raw bar. Live music keeps the party going until 2am nightly, and the full menu of seafood delights is served until the wee hours of the morning, too. 
Under the direction of chef Andre Nieves, the menu at the ROD location was made "more Houston-centric" by adding Gulf oysters and shrimp, redfish and snapper etouffee. "We did keep some of our Baltimore staples though," Eric says, referring to their famed crab cakes. Made with all jumbo-lump Maryland crabmeat — and not at all like some of the smushed, extra-breaded, fried versions seen elsewhere. He says the recipe they prefer is the most basic ever: "Just a soft ball of crabmeat. Really good stuff."
From basic to deeply complex: Tucked at the other end of the District — with just as much prominence, thanks to three dazzling letters visible from the road and a mural of curious characters by Barcelona-based designer Lazaro Rosa-Violán — MAD is heating up ROD in its own way. MAD is a nod to the airport code for Spain's capital, Madrid. But unlike at its sister restaurant BCN (representing Barcelona, of course), a culinary experience here is intended to be felt in a more profound way.
"We wanted to create a holistic approach through a multi-sensory experience," says Torras. "Aside from the many creations by chef Luis, we aim to amplify the audio-visual aesthetics through our music, and also through its elevated design and décor."
And elevated it is. Rosa-Violán has produced a whimsical, supernatural space in which to dine. Mirrors atop the bar seem to slowly shift in place as if by magic, and plush banquettes in the restaurant's signature crimson-orange are accented with fluffy cushions and wrap around the central bar. Bright neon lights are incorporated throughout, such as in mischievous words scribbled atop doorways, and in the fantastical hallway leading to the washrooms. There are photo-ops aplenty … and that is all before a single plate of food is served.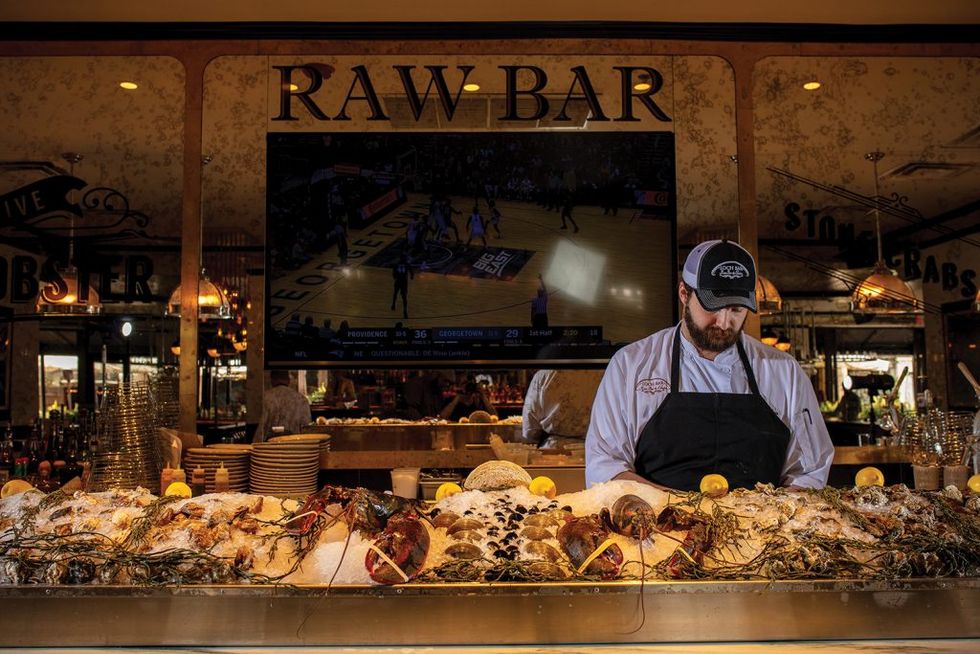 Raw offerings at Loch Bar and, below, a whiskey flight offered at the restaurant.
The menu, drawing from Spain's rich gastronomic culture and what Roger and Torras say is "Houston's appetite for new culinary experiences," is just as bold as the décor. Most dishes appear at the table like small pieces of art: The shiny, red, cartoon-like MAD tomato is presented on a heaping pile of crumbly pumpernickel bread, and, upon dissection, reveals a creamy parmesan mousse and bright green pesto center. Chunks of steak tartare come wrapped in what looks like the front page of the Houston Chronicle, but is indeed edible. A spin on mac and cheese, the MAD'n'cheese is as impressive in presentation as it is in flavor: Transparent gelatin macaroni, made from Jamon Ibérico de Bellota broth, is topped with sharp-cheddar-cheese foam tableside.
As curious as the dishes may seem at first glance, Roger and Torras guarantee that it is not shock value they are going for. "We never deviate ourselves from the core concepts: quality and classic food. We just offer creative interpretations at MAD." And, of course, iterations of gin and tonic cocktails aplenty, as at BCN. Here, the savory Paella G&T is worth a try.
With intrigue and creativity attached to all three openings, it's no wonder that reservations are recommended — many times, weeks in advance. The summer may be coming to a close, but things can always get hotter in Houston.
AT TOP: The expansive glass-encased fish display at Ouzo Bay in River Oaks District.
Food+Travel