Glam Slam
With their posh new Potente, an elegant eatery near the ballpark, top-tier chef Danny Trace and Astros-owner-turned-restaurateur Jim Crane have hit a haute homerun.
Kirsten Gilliam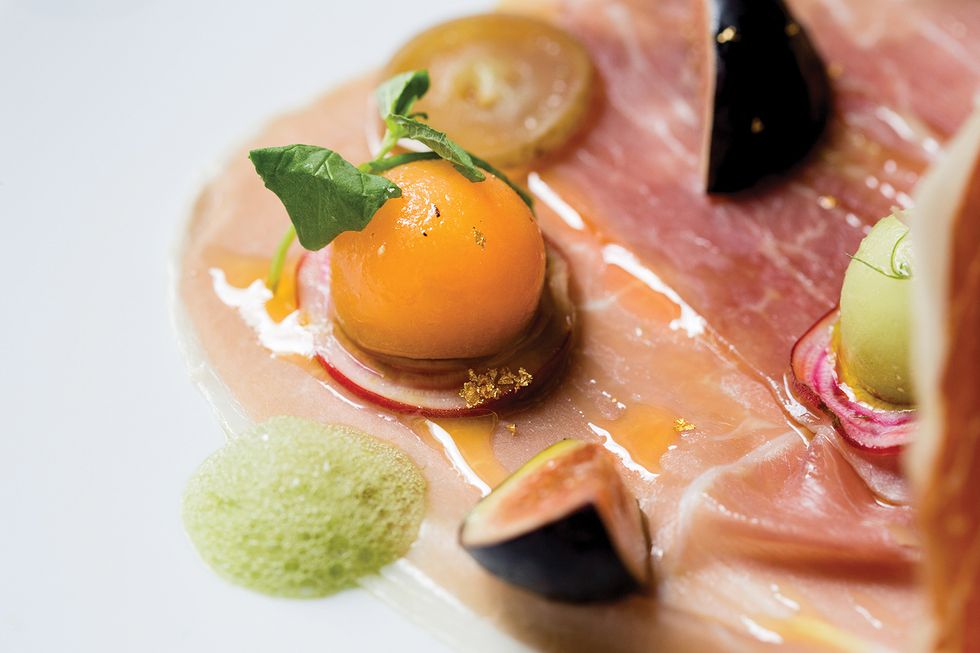 There haven't been many quiet evenings at the corner of Texas and Crawford outside Minute Maid Park since the Astros started their impressive playoff run — and for one Houston restaurateur, the winning spirit is doubly consequential.
---
"I wanted our fans to be able to come to Downtown and spend time before and after ballgames," says Astros owner Jim Crane. Earlier this year, Crane opened Italian fine-dining destination Potente and adjacent fast-casual pizza bar Osso & Kristalla in order to "provide that experience right across from Minute Maid Park." As of press time, the Astros are ACLS-bound and the city is orange with excitement — no place more than at Crane's very own restaurants, where the celebratory mood is infused into a menu of perfectly plated pastas and simple but well executed cocktails.
Polished and sophisticated, Potente presents upscale Italian cuisine in an elegant space whose lavishness is hidden from the crowds of ballpark visitors, with its unassuming exterior and simple entryway. The grandiose dining room, with chandeliers and fancy wingback chairs custom designed by Gensler, and equally stunning cocktail bar serve as picture-perfect backdrops for enjoying tasty food from a familiar name.
Over the summer, Brennan's of Houston alum Danny Trace was named exec chef of both restaurants. The multi-faceted chef says he draws inspiration from what is made available to him by the farmers, fisherman and restaurant vendors that he's gotten to know over the years. "Right now, it's hunting season, so to go hand-in-hand with the smell of gun powder, we have prosciutto-and fig-stuffed Hill Country quail on the menu," he laughs. And as the mercury drops, even if ever-so-slightly, Trace's fall dishes take on a heartier approach. Think duck confit cassoulet with wild boar and lamb sausage. And he sprinkles the menu with "gels, dehydrated powders, and tricky tuiles as garnitures and accents," so bring your foodie dictionary.
But for the ultimate pep in your pasta? Hand-pick your own black burgundy truffles, and have them shaved tableside atop the Tartufo di Nero, which is handmade spaghetti with Kampot pepper, pecorino Romano and truffle sauce.
In the way of something more complex, Trace says the duck and rabbit ravioli takes three days to produce: First, pasta is rolled into sheets, stuffed and crowned with a refined Cacciatore sauce that begins with stock made from the duck and rabbit bones. The dish is garnished with the crispy julienne of emerald green collards, brown butter powder and dehydrated charred onion. "This to me brings a respectful nod and appreciation to the animals and the changing of season," says Trace.
For many, the true test of fine dining is the dessert menu, and Trace guarantees that Potente's focus is "from start to finish." Executive Pastry Chef David Berg serves ones like the lemon zabaione — a custardy delight with orange shortbread and crispy meringue — and the H-Town Dream cake, made with Chambord-infused devil's food cake paired with cool vanilla bean gelato.
On any given evening, Trace and the rest of the team can be seen working the room at Potente — even slinging pizzas at Osso & Kristalla for young Astros fans — bearing a strong sense of pride for the city on their shoulders, today more than ever before. "At the restaurant," says Trace, "we have adopted [Crane's] motto for the Houston Astros: 'Earn It.' We strive to earn the title of the best restaurant in Houston, period."
Food+Travel