Green Day
It's not just about skipping meat. Vegans, fast increasing in numbers, do it for the animals, the environment and their health. And, in Houston, they've never had better food.
Shannon O'Hara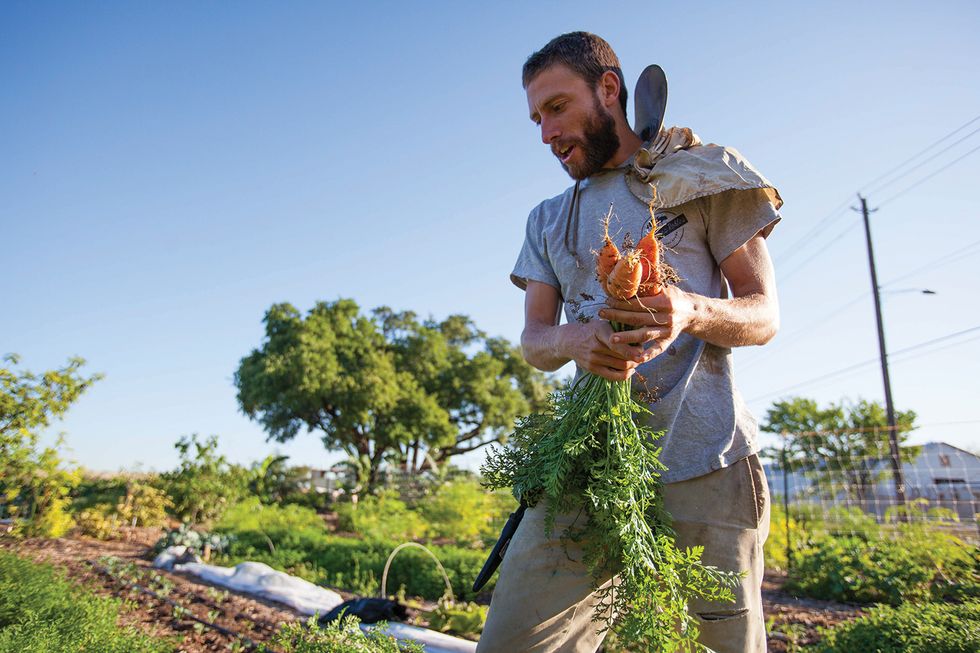 It's mid-morning, and the murmur of voices can be heard above the rustling of plants in a soft breeze at the family-run Atkinson Farm tucked quietly off I-45 in Spring. With the dew still thick on the crops, eager visitors — several city-dwellers, baskets in tow — take their pick of fresh produce during the quaint daily marketplace. Ripe blackberries, juicy tomatoes and leafy collards — all homegrown by fourth-generation farmer Mike Atkinson and his son, Bobby — are neatly stacked in bins and on shelves alongside the family's own brand of jarred goods. Beyond the booths, spread across the tranquil farmland's 140 acres, the bounty of the season is a serene sight to see in the morning light.
---
The rural pocket is a familiar stop for Lee White, a private chef who lives just five minutes from the farm and frequents it now more than ever as a growing number of his clients choose to go vegan. "It all comes down to clean eating," he says, citing a considerable recent demand for the plant-based diet. As Houstonians continue to bask in the brilliance of the city's burgeoning culinary scene, a smaller niche market of vegan chefs — and their loyal fans — are feeling the shift in a historically meat-centric market. "Whether it's for health reasons or a desire to maintain a certain weight, there are a lot more people wanting to explore veganism."
Veganism — the term is not as eccentric today as it once was — is often referred to as "a way of life" in that it encompasses more than just an alternative diet. Sometimes mistakenly confused with vegetarianism, which simply eliminates meat, veganism follows a stricter set of guidelines. In support of the ethical treatment of animals, veganism aims to eliminate all use of animals and animal by-products — meaning eggs or butter or fur — in food, clothing, science and entertainment.
Where diet is concerned, the misconception that there is hardly anything to eat when you "go vegan" is simply untrue. What is true is that vegans like to share their stories, and if you ask any practicing vegan familiar with the Houston scene, they will say that there are plenty of alternatives to indulge in. And for many, the fun lies in discovering what you can and should eat.
White, a self-taught chef who is not vegan himself but specializes in all types of gourmet cuisine, is called upon by retired ball players and local athletes, including Tennessee Titans safety Da'Norris Searcy, who spends his offseason in Houston with his pageant-queen wife Kennetra. "Many athletes like to follow a vegan diet to maintain their weight while in training," White says, noting he can prepare a variety of vegan dishes across a range of cuisines. For example, the half-Hispanic chef tops quinoa burgers with fresh avocado, and loads his sweet potato hash with eggplant, tomato, cilantro and fresh jalapeno. Last year, he prepared an entire Mediterranean-style vegan dinner for a sweet 16 birthday party — think homemade grape leaves and olive-and-quinoa-stuffed steak tomatoes.
A former Morton's Steakhouse sous chef, White, 37, notes that Houston's extra-long growing season allows him direct access to ingredients from places like Atkinson Farm year-round. He says being able to provide a vegan meal plan to his clients is "a big deal," especially as farm-to-table restaurants continue to thrive, highlighting the healthfulness and tastiness of locally grown produce. White's own wife, who recently gave birth to their fourth child, prefers a plant-based diet herself.
Like White, more and more Houston chefs are realizing the demand for tasty, well-prepared vegan food. Until recently, it took some digging to discover quality vegan-friendly dining destinations. "Five years ago, I noticed that a vegan food scene was really lacking in Houston," says Stephanie Hoban, owner of Ripe Cuisine, the popular vegan-friendly food truck. "I wanted people to have access to a plant-based diet, so I decided I was going to invest in the movement."
Now a practicing vegan, the 29-year-old chef and registered dietician says her upbringing in Bellaire was centered around the standard American diet. "My mom worked and my grandmother cooked," she recalls. Family dinners consisted of "a protein, a starch and some vegetables," and there was no shortage of Oreos to snack on.
During college at NYU, Hoban developed an interest in health and nutrition, and eventually decided to go vegan. "It was on my heart and my mind for a while," says Hoban, who notes that the university's vegan dining hall made it easier. "But what got me hooked were the health benefits of this diet." Hoban would make simple swaps, opting to cook dishes using vegetable stock and oil, instead of chicken or beef stock and butter. With fresh vegetables like spinach, squash, and zucchini, plus beans, nuts, oats and whole grains, the diet is ideal for people of all ages — from young children to seniors, even pregnant women — and is often attributed with reducing the risk of diabetes, cardiovascular disease and obesity.
For many, the harsh reality of how animals are treated in the meat, dairy and egg industries is reason enough to transition to veganism. Hoban cites her love of animals and remembers making the choice to attend the Natural Gourmet Institute (NGI) in lieu of a fancy French cooking school. "I knew I did not want to cook with butter or butcher a pig," she says. "At NGI, I learned how to cook with seaweed and quinoa — before quinoa was cool!"
Hoban, who signed on as Snap Kitchen's registered dietician after graduating NGI, admits she didn't know she was going to end up as a chef. She began serving vegan dishes at the Urban Harvest Farmers Market for fun — and quickly realized there was a hungry audience for her food. "I would make avocado tacos, zucchini salad, my Bistro Burger with a mushroom-lentil patty," recalls Hoban, whose Ripe Cuisine truck launched soon after. "And in the fall, I would make a coconut-curry-stuffed sweet potato."
Today, Hoban says Ripe Cuisine attracts a broad range of customers — male and female, millennials and seniors — who come because they simply like the food. "I don't use the word vegan when promoting the truck," she says. "First and foremost, we make flavorful dishes. But it's important to know that we don't have to use animal products to do that."
At first glance, the menu made up of burgers, fries, burritos, and sandwiches may look very typical, but a closer look will reveal careful culinary details: The jackfruit "carnitas," a house specialty and one hard to resist by both vegans and meat-eaters alike, is crafted with a fruit — yes, a fruit! — as a meat substitute. Hoban grills and pulls apart the jackfruit, which has a similar consistency to pork, and seasons it with spices to create a base for tacos and nachos. Having recently discovered ingredients like vegan butter and nutritional yeast, which gives food a cheesy flavor, Hoban is able to get adventurous in the kitchen — something she wasn't able to do five years ago when such products were virtually non-existent in Houston.
Having relationships with farms like Atkinson, along with Wharton County's Gundermann Acres and Brenham's Chappell Hill Lavender Farm, also make it convenient for cooks like Hoban and White to address the age-old vegan challenge: finding enough variety to keep the diet satisfying. At Finca Tres Robles, a farming destination established a couple years ago near EaDo, the mission is to provide the urban community with fresh produce. "We were told by many people that we wouldn't find the demand in this neighborhood, and we're finding the exact opposite," says co-founder Thomas Garcia-Prats.
Lined with 50 fruit trees over a one-acre space — formerly just a vacant lot — the urban farm also grows cucumbers, squash, kohlrabi, zucchini, bok choi and fragrant herbs like basil and lemongrass. There's a twice-weekly "farm stand," and locals walk and bike over to shop the goods. Garcia-Prats believes people have to have a sense of what farming is, what it looks and tastes like, to make informed decisions about what to eat and where to source from — whether they're vegan or not. "People just want to be healthy, and so many of our neighbors are starting to recognize how important fresh vegetables are to a balanced diet and lifestyle."
Kyle Eddings, who maintains the fitness blog Fitness in the Loop and who travels often for his day job at an engineering consulting firm, suggests Houstonians are relatively uneducated and "a bit behind the curve" when it comes to vegan culture. "It's not hard to believe, as Texas is the beef capital of the world," says the 33-year-old Illinois transplant, who chose to transition to veganism just one year ago after witnessing an online video on the horrors of how animals are treated on factory farms.
"Once you start to peel back the layers of the food industry," says Eddings, "you uncover some truly unfortunate things."
Eddings, who says his journey into veganism has been "enlightening" and positive, stresses that he has no issues finding vegan options outside of Houston. One of his favorites? New York's Dun-Well Donuts, a vegan donut shop. "From London to Singapore, Mexico to Spain, I have been noticing this undercurrent of a vegan movement, and it is really cool to be a part of it."
Back in Texas, farm-to-table cafés like Dish Society and Local Foods are slowly expanding, adding locations — and new plant-based options — across the greater Houston area. Eddings says that what he thinks scares people away from choosing the vegan lifestyle is that they believe they'll be "tragically stuck at home dying of hunger munching on carrots and celery." Not even close, he argues, citing Brasserie 19, Khun Kay Thai and Adair Kitchen as some of his favorite restaurants.
"Brasserie 19 has a risotto that can be made vegan," he explains; simply ask and you shall receive. Chef Jaime prepares the dish with vegetable stock in lieu of cheese and butter, and adds sage, oyster mushrooms and butternut squash. And for a little something sweet, the restaurant offers a vegan gelato. "These were restaurants I liked before going vegan, and it wasn't tough to read the menu a new way."
While restaurants and chefs realize a growing customer base of vegan diners, only time will tell how the market will evolve. Meanwhile, Eddings is busy at work on a side project, a t-shirt company called Go Vegan Tees, which focuses on helping spread the vegan word in a creative way. Eddings is hopeful that the transition to veganism will become a very approachable reality for Houstonians.
"No one wants to be told they are wrong or they should 'really think about the animals' while they eat a cheeseburger," he says. "But I want to be a voice for change. I want to spread the word without making people angry, and I want to show people that being vegan is not hard, and that there really is something to it."
Food+Travel