In Colorful HCCC Show, Ceramist Gabo Martinez Celebrates Pre-Hispanic Heritage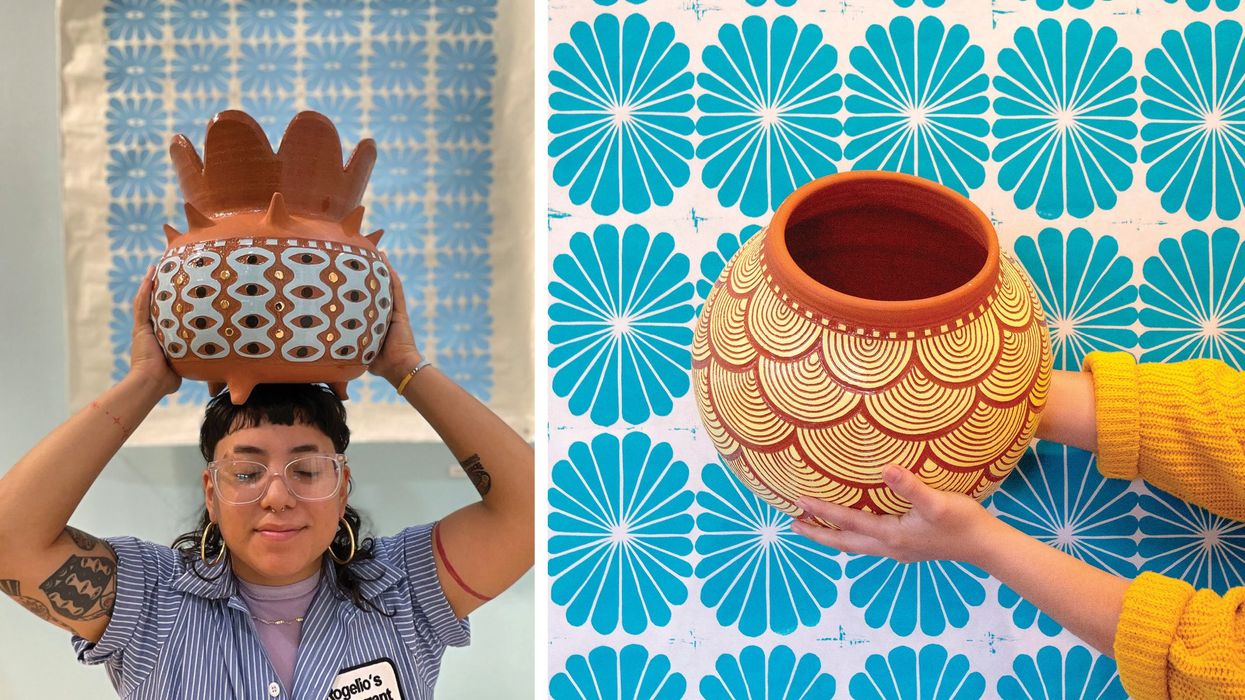 XOCHITLALPAN IS THE Nahuatl word for "The Land of Flowers." This land is a mythical afterworld of everlasting flowers and joy described in the Aztec/Mexica pre-Hispanic and later-colonial poetic tradition known as In Xochitl In Cuicatl (Flower and Song). It is also the evocative title of San Marcos-based artist Gabo Martinez's exhibit at the Houston Center for Contemporary Craft, a colorful, immersive installation in the museum's front gallery of ceramics and large-scale prints inspired by her indigenous roots, as well as images pulled from the oral tradition of Flower Songs. It's a show where floor-to-ceiling prints radiate with all the colors of nature on a sunny day, and the pottery simply sings.
---
Born in Guanajuato, Mexico, Martinez traveled back and forth from Texas to Tarimoro as a child, and her memories of the city's Spanish mission-style architecture and colorfully painted terra-cotta homes with flowers on every patio continue to inspire her work. The distinctive red bricks of those houses were made from barro rojo (red clay), which was sourced from local mines, and Martinez's wheel-thrown vessels, urns and bowls are created with this same type of clay. Using both ancestral and contemporary ceramic techniques, including sgraffito, in which after applying multiple layers the surface is scratched away to reveal the contrasting colors underneath, Martinez has created a beautiful body of work that honors and shares the history and narratives she has unearthed.
On view concurrently with The Land Of Flowers is Hot House, a collection of small, hand-made lace and bobbin creations and electroluminescent wire installations by Tel Aviv-born and -raised fiber artist Layla Klinger (they/them). Like Martinez, their practice is deeply connected to ancestral culture and history, specifically, Klinger's Jewish heritage and upbringing.
Both shows are on view through Sept. 9.
Art + Entertainment