Last Exit to EaDo
Peopled by collaborative young entrepreneurs, funky festival promoters and earnest street artists, EaDo may just become Houston's answer to trendy Brooklyn districts. But it will have to survive its own good fortune first.
Shannon O'Hara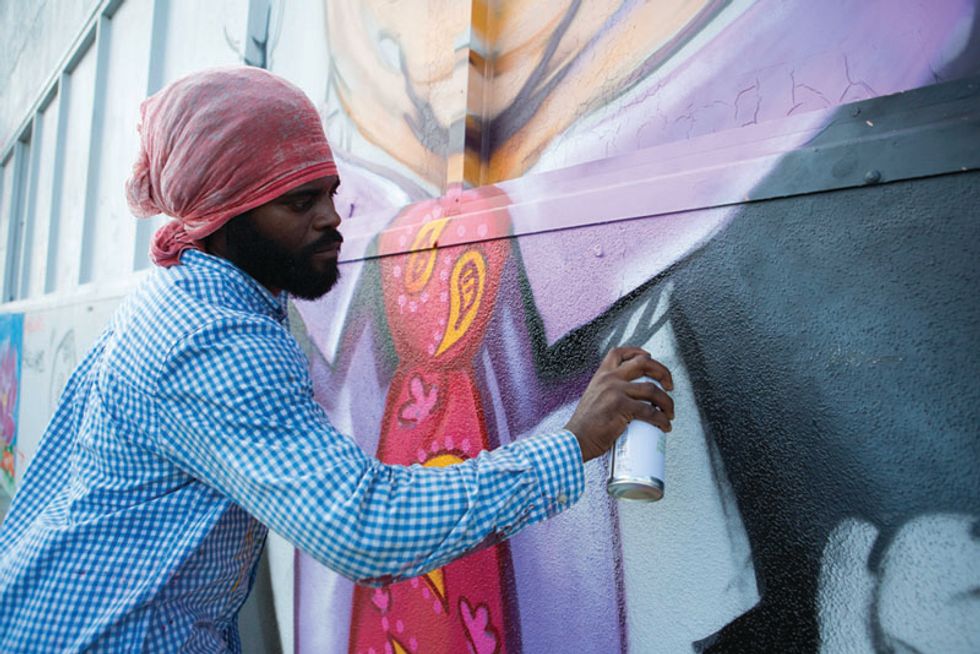 Among armchair futurists, East Downtown, or EaDo as it was dubbed after a naming contest in 2008, is Houston's most talked-about neighborhood. It is a blank slate that could become the city's coolest enclave. That, or its rising property values and fast track to gentrification could make it more the province of bankers and emptynesters than young urban pioneers. For now, it's catering to both constituencies, as rival forces contest exactly how the 'hood will be transformed, and who will live and work there.
---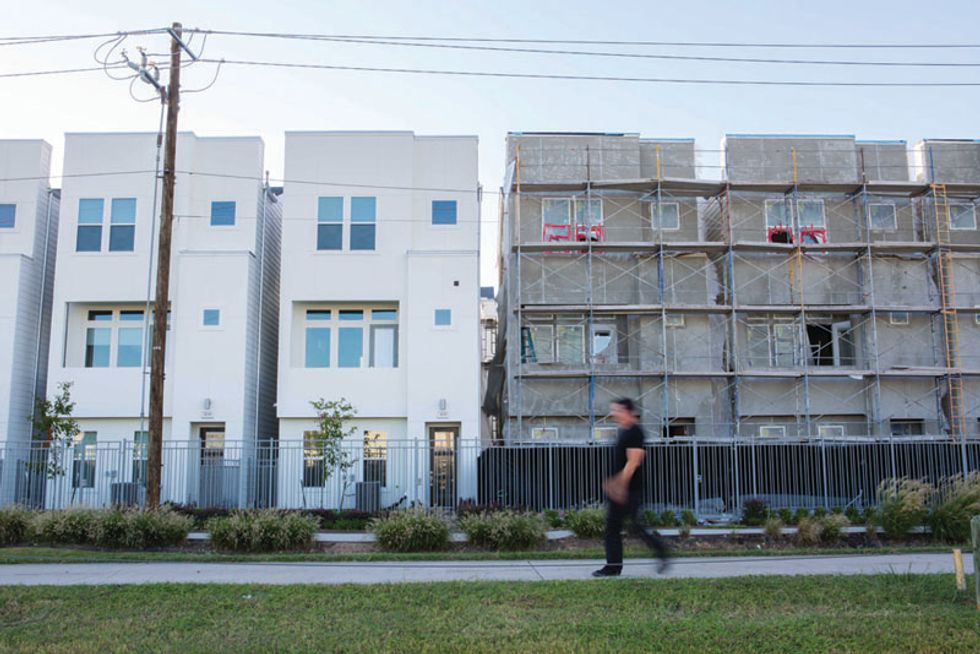 Pumped Up Crossfit EaDo founder Shahin Naghavi, above, says his is the largest crossfit box in the U.S.
The historically industrial district that once encapsulated Chinatown is a triangle-shaped 213-acre neighborhood bordered by the Eastex Freeway, Gulf Freeway and the Union Pacific rail line that runs from Commerce to Cullen. For years it served as Downtown's warehouse district, with dozens of disused buildings ripe for revival. (It is also home to a large part of the city's homeless population.) But today, it is changing. It's becoming a magnet for innovators, a land of opportunity for developers and redevelopers, and a bona fide arts and entertainment hub.
The start may have been when the Houston Dynamo opted to build their new stadium in the district in 2012. The inclusion of the eye-catching, world-class, BBVA Compass-branded sports venue literally put EaDo on the map. What's even more remarkable, is that the stadium was built, according to the architecture firm Populous, for about a third of the typical cost of a soccer stadium in the United States.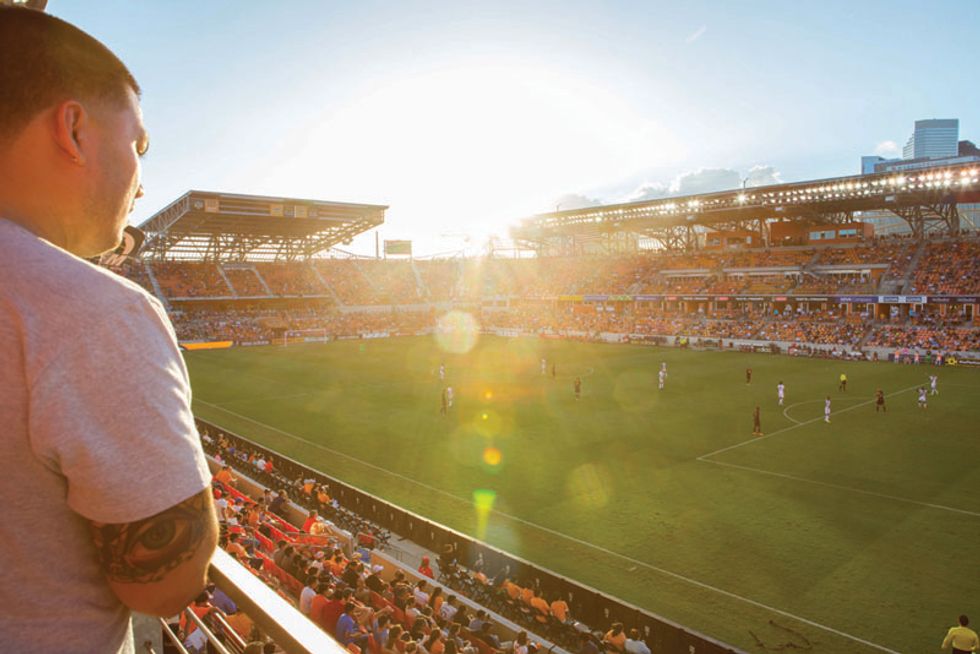 Dynamo game day at BBVA Compass
Stadium, whose 2012 opening created buzz for EaDo
The neighborhood is now home to several of the most energetic co-working spaces in the city: There's SPARK, which serves as home to the EaDo Management District and has given birth to a number of successful startups, such as digital developer ChaiOne; there's Houston MakerSpace, which includes a wood shop, welding shop and 3D printers; and TX/RX, which offers classes in hands-on fabrication in metal and more, and touts access to a plasma cutter, of all things.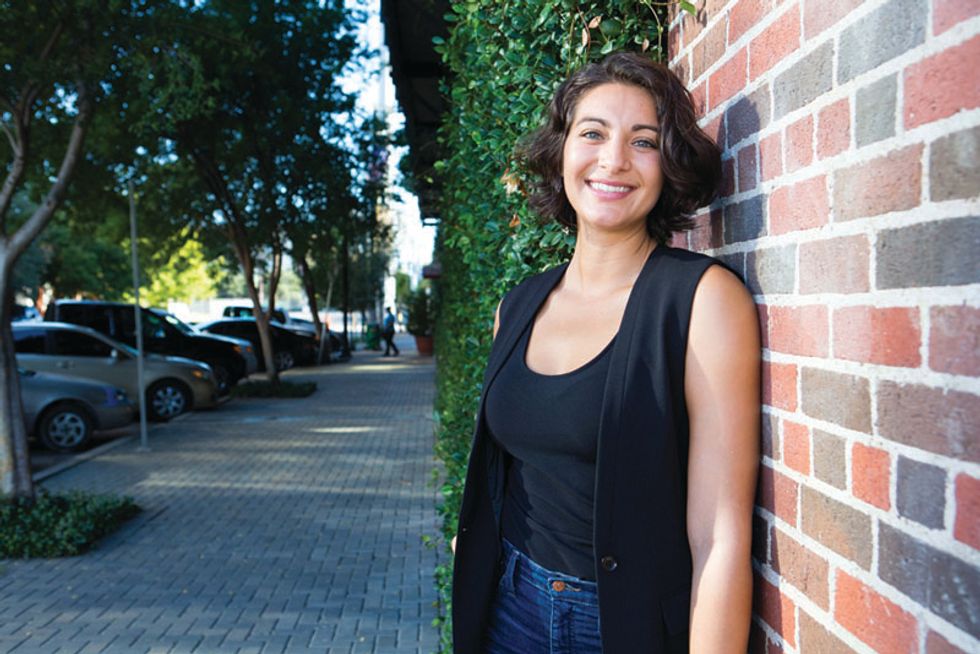 Natasha Azizi, whose family is renovating lofts
Even more co-working spaces are on the way. One of EaDo's cornerstone venues is Tout Suite, the warehouse-y restaurant that has become a go-to lunch and brunch spot for anyone craving a cool, industry-meets-caffeine vibe. Anne Le and Sandy Tran opened the restaurant in 2014, and it has attracted UH students, commuters craving a sugar fix and health nuts who go out of their way for a $4 shot of liquid algae. Now, these entrepreneurs have partnered with the crowd-funding visionaries of NextSeed (profiled in Houston CityBook's premier issue) to raise $230,000 to create Co-Op HTX, a 10,000-squarefoot co-working space next door to the restaurant.
The space will also offer some sorely needed retail outlets for the neighborhood, though these will be curated and changed on a rotating basis. "You might use the space for a month or two to launch a product or do some testing," said Le, during a preview of the bare space in September.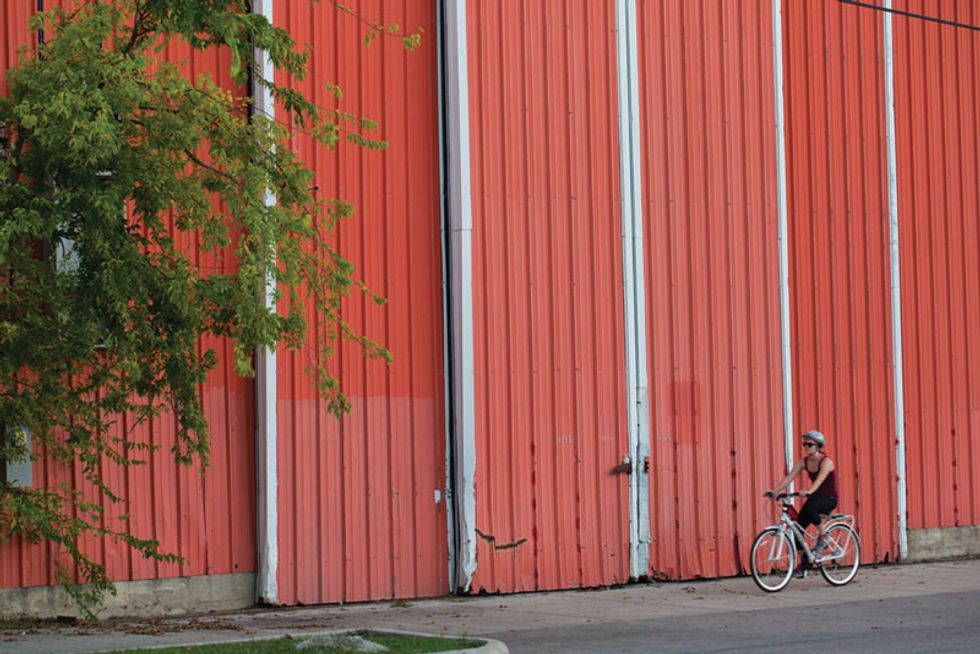 Cyclist enjoys aa spin passed one of EaDo's many signature warehouses
There's also plenty to do for the after-hours crowd. Among the most popular spots is 8th Wonder Brewery. It has its own taproom and offers beer flights, which will allow you to indulge in a variety of seasonal offerings and pick your favorite Houston homage brews — like the Dream Shake stout or Brewston, a pale ale. And 8th Wonder isn't the only option in EaDo for locally made microbrews: In September, Sigma Brewery opened its doors and, in addition to serving up suds, is offering "cult movie nights" and live performances from kitschy Doomsday Wrestling.
Entertainment options are proliferating throughout the district. Neighborhood veteran Warehouse Live hosts nationally touring bands regularly. And now there are several alternative venues, such as The Secret Group, which offers comedy shows, and the forthcoming EaDo Playhouse is expected to add even more new space for performances. A number of festivals are also taking place in the neighborhood — including the Yes, Indeed! Music Festival and Whatever Fest.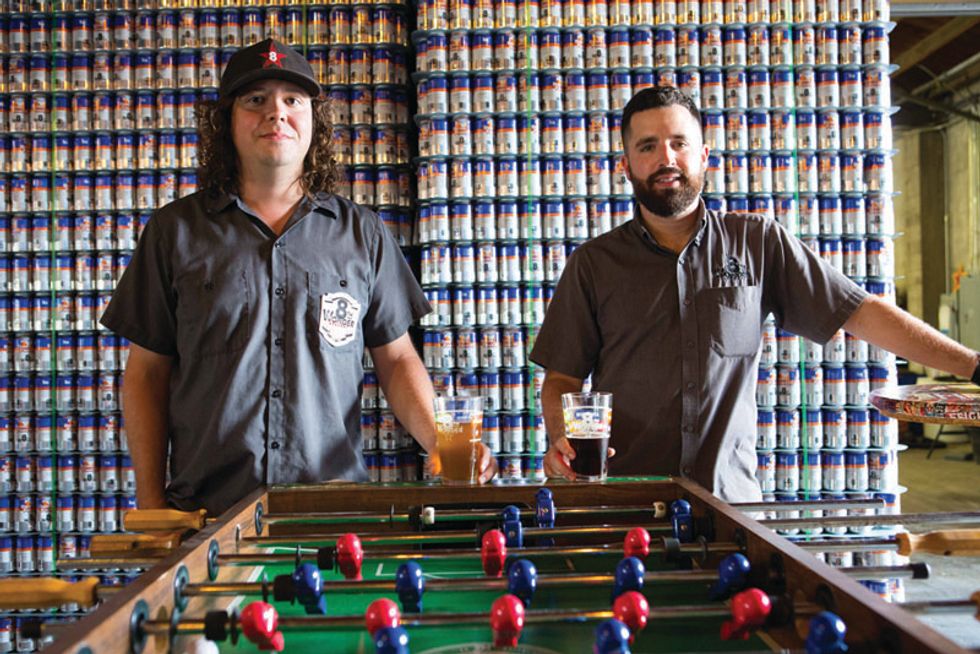 Beer Me! 8th Wonder Brewery — owners Aaron Corsi and Ryan Soroka are pictured below — is a popular EaDo attraction, with its own taproom and beer flights on offer. In September, Sigma Brewery also opened in the neighborhood, suggesting the area might be destined to become the city's micorbrew hub.
It's a big change from the past. "I grew up in nearby Magnolia Park, in the East End," says Erik Ibarra, CEO of medical software company Calamine, who's looking for office space in EaDo. "When my grandfather moved into the neighborhood in 1947, he was one of the first Latino people to live in the neighborhood. Then you saw the greater East End go predominantly Hispanic. It was originally white, then brown, and now it's going to be white again. As for EaDo, I used to ride my bike through the neighborhood on the way to my job Downtown as a courier, and there was nothing there. Just warehouses."
"I think there's an opportunity for Houston to do something entirely new and different: create a walkable, cultured and cool neighborhood. And we aim to be a part of that."
Ibarra continues to live on the edge of the neighborhood in a converted warehouse. "I'd like to bring jobs to the neighborhood — some tech in particular. I think setting up some coding schools for the kids would be great."
Some 5,000 people work in the district now. EaDo did get a big shot of confidence — and jobs — when People's Trust Federal Credit Union opted to move its headquarters from Downtown to a building near BBVA Compass Stadium. Still, business development, entertainment, even a sports stadium does not make a neighborhood. For that, you need a community — you need people to actually live there. And as of now, just 6,000 people live in the confines of EaDo.
There are efforts afoot to add housing, which could in turn attract more permanent residents. The most buzzed-about project of the past few years is the Ivy Lofts, an upscale condominium and hotel that will open sometime in 2018. Initially, when the project was announced, the Ivy was going to offer 550 micro-condos to young, single buyers, who were willing to live in 350 square feet. But, it was quickly discovered, these itty-bitty spaces didn't appeal to Texans, and the concept was re-conceived to add a hotel and offer bigger floorplans spread across fewer units.
A hotel is also on the mind of David Denenburg, who purchased EaDo's historic Cheek Neel Coffee Building and is considering a variety of options for the building, including a hotel, as well as tech offices or another co-working space. "It would be really great if we could do something hip and cool, like the Ace Hotels, where people use the lobby as their own workspace." Denenburg went out of his way to preserve the retro vibe of the building, going so far as creating his own technique to preserve the metal framing around the windows. (For a glimpse into the mid-renovation historic Coffee Building, see the "Portrait of a Ballerina" fashion story in this issue, which was photographed on the premises.)
Other warehouses are seeing upgrades as well. The old Waddell Furniture warehouse has been rebranded by Caspian Enterprises as the Sampson Lofts. Caspian, run by Mir Azizi, has owned numerous properties over the years and was among the first to seize the opportunity to work in the neighborhood, renovating Herren Lofts in 2007. More recently, noting the youthful vibe, he brought in his daughter Natasha to help manage the firm. Natasha, who was a basketball star at Southwestern University, had been working in Cambodia for 17 Triggers, a socially conscious marketing company. "Houston — and EaDo in particular — has a lot of great potential," she offers. "I think there's an opportunity for Houston to do something entirely new and different: create a walkable, cultured and cool neighborhood. And we aim to be a part of that." Natasha herself settled in EaDo, where she also works part-time as an instructor at nearby YogaEaDo, an offshoot of the CrossFit EaDo, a genuine phenom.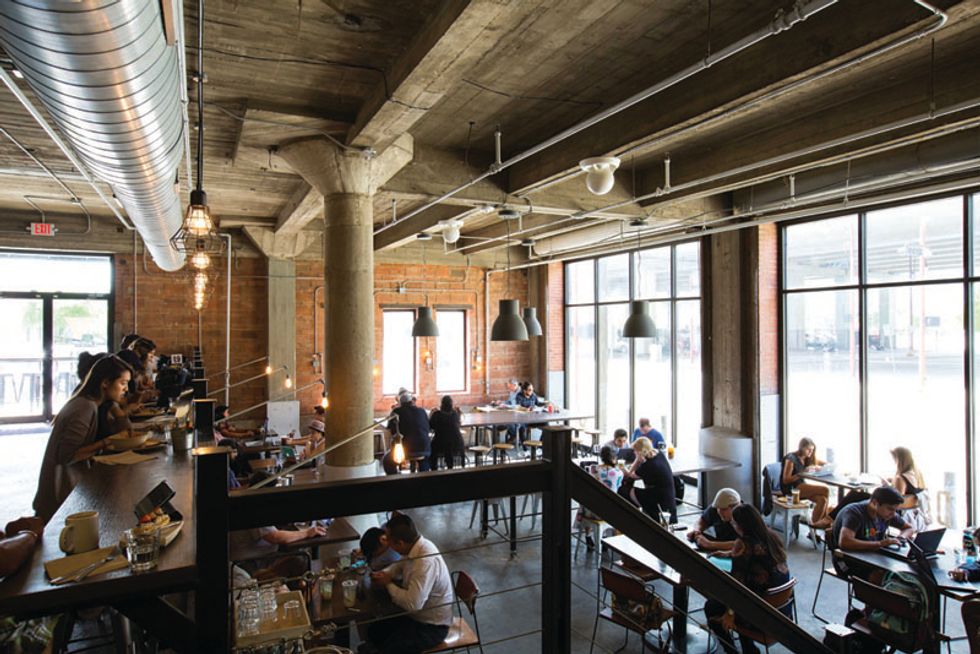 'Hood haunt Tout Suite
"CrossFit EaDo is the biggest crossfit gym in the country," says founder Shahin Naghavi. "It's 30,000 square feet, and we have more than 600 members, most of whom are — oddly — commuters who come to work out after work and wait out traffic." The gym has also spawned Texas Strength, a world-class Olympic weightlifting facility. Naghavi is also developing a co-working space for EaDo, this one dubbed Office Worx.
Along with the co-working enthusiasts, redevelopers and hardcore gym jocks, artists are setting up shop in the 'hood.
Betirri Bengtson moved to Houston from Puebla, Mexico, and after returning from the World Cup in Germany, he started producing paintings of bodiless soccer players mid-action. Though he was a trained architect from UH, the 2008 recession left him without work. He returned to school for another degree in art and, eventually, got his first professional commission from Reebok Brazil for a professional team in Porto Alegre. But he's never given up his dream of working in architecture, and in EaDo, where he's settled, he's sensed an opportunity to combine his two passions.
"In January 2015 I started working on an idea that became an initiative for the City of Houston: I called it Goal Park," says Bengtson. "This is a proposal to enhance the green area at the end point of the Columbia Tap Rail-Trail, one block away from the Houston Dynamo stadium, as a park inspired by sports and arts. I see all the facades of the buildings around it full of art, sculptures in the middle, an area to rent a bike. Goal, naturally, has a double meaning, both as a reference to soccer and to personal aspirations."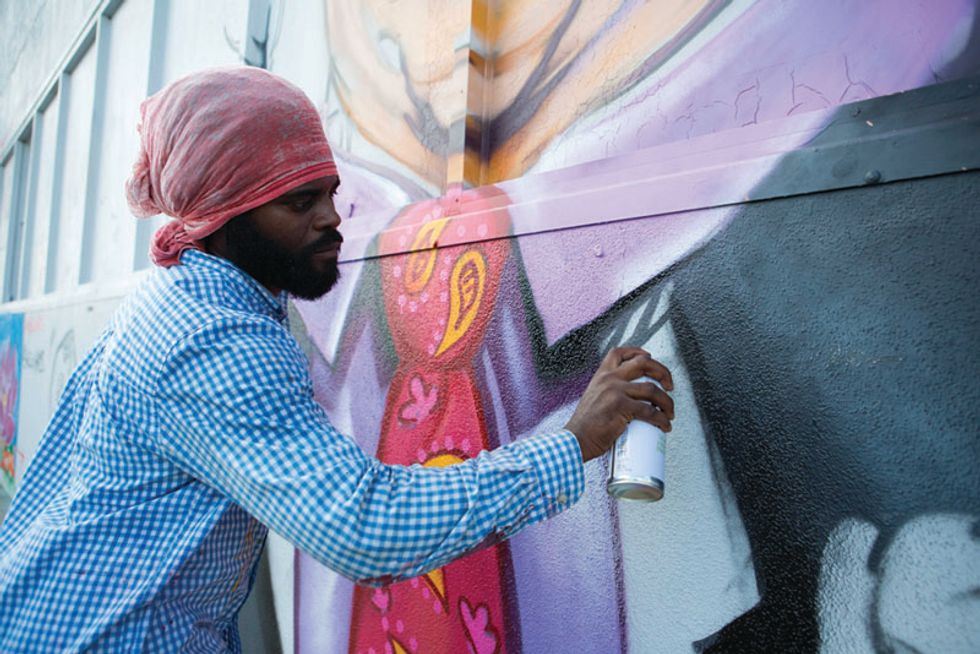 Area street artist Alex
"Zú" Arzú
He isn't the only one who wants to paint EaDo in a new light. Graffiti and tattoo artist Alex "Zú" Arzú has a studio on Commerce Street near to Tout Suite. Born in Germany to Afro-Honduran parents, Arzú also converted from being an architect to an artist, and has since done work for clients ranging from Coca-Cola to Willie Nelson and basketball star Brittany Griner. "But it's really King Keraun, the Instagram comedian, who gave me my start," Arzú says. "I did a Malcom X tattoo for him on his forearm. He did a shout-out for me on Instagram, and I was booked solid for months. It's been like that ever since." Arzú is just one of a larger collective of street artists who have set up in EaDo, where the scene took off with the establishment of Aerosol Warfare, a graffiti art collective, and The Graffiti & Street Art Museum of Texas, located on Jefferson St. Both institutions were founded by GONZO247, the notable street artist responsible for the "Houston is…" murals around town and at that greet visitors at the airport.
Model for the Ivy Lofts, whose initial tiny-house concept proved to be too novel and was later adjusted to include more typical-size condos, as well as an on-site hotel
While the authentic, artistic and industrial appeals to the scrappy and entrepreneurial, it may not be for everyone — especially the financiers who will need to loan many developers the money to modernize the warehouses and artify the green spaces. Be funky and inspiring if you like, they say, but be able to pay. "We don't want too many no-credit creative types moving into the neighborhood," said a tall, pinstriped banker who asked not to be named, chatting at a September event on the future of EaDo hosted by commercial real estate website Bisnow. "The ideal tenant is a dual-income couple with no children, that work in either the Medical Center or Downtown."
And while the millennials may be making due in the handful of industrial warehouses that have been converted to living spaces, expect more development — a lot more — as prices for single family homes in EaDo, the East End and surrounding area have jumped 61 percent over the past three years. According to stats from HAR.com, the prices of single family homes have risen from $149,000 in 2013 to $240,000 this year — putting them well out of the grasp of most "no-credit creatives." Condo and townhouse prices are even higher, having risen to $318,000 this year, from $286,000 – an 11 percent hike – over the previous three years. What's more, condo sales this year are easily outpacing previous years, despite a slowdown elsewhere in the city.
"EaDo offers an entry-point to inner-Loop living," says Tim Surrett, a Greenwood King realtor. "Say you are a student at UH or Rice or at the Med Center, it's perfect. We're seeing a lot of out-of-town parents who are buying for their kids who are students in the city, finding them roommates to live with, and then either selling it or keeping it after their children graduate."
Who else is buying in? In part, it's overseas buyers from Mexico, China and India looking to invest. Locally, EaDo has also become popular with empty-nesters. "These are couples who are often selfhating suburbanites, people downsizing from bigger homes, and, once the children are gone, like the idea of being able to walk to Downtown to see the Astros or visit Discovery Green," says EaDo Management District's Anton Sinkewich. Then again, the kids-have-gone-to-college crowd tend to like easy access to a grocery store, which EaDo currently cannot boast.
And so the future of EaDo is, at present, a coin toss. It could become Houston's hippest neighborhood, one that reflects the city's diverse, creative, workingclass weirdness in a riot of renovated industrial chic that catalyzes more artists, entrepreneurs and thrill seekers to join the party. Or it could miss its calling and evolve quickly to gentrification and postsuburban urban-esque artifice.
Either way, EaDo will become emblematic of what Houston wants to be, and will likely become, in the coming years. The success of the many co-working spaces, the Dynamo, Tout Suite, 8th Wonder and CrossFit Eado, in this previously neglected and ignored corner of the city, is a reflection of how Houston is changing.
"Our tendency here is to tear things down and build new," says developer Denenberg. "But I'm trying to show how old is cool, to show people how to appreciate things a little differently. I'd love to see EaDo become Houston's Williamsburg. It's going to take some imagination, some willpower, some money, and some time. But, I think it's going to happen."
Business+Innovation