Manhattan Transfer
An MFA exec from New York and her hubby channel chic Big Apple style and art smarts in their posh palazzo just steps from Rice.
Jack Opatrany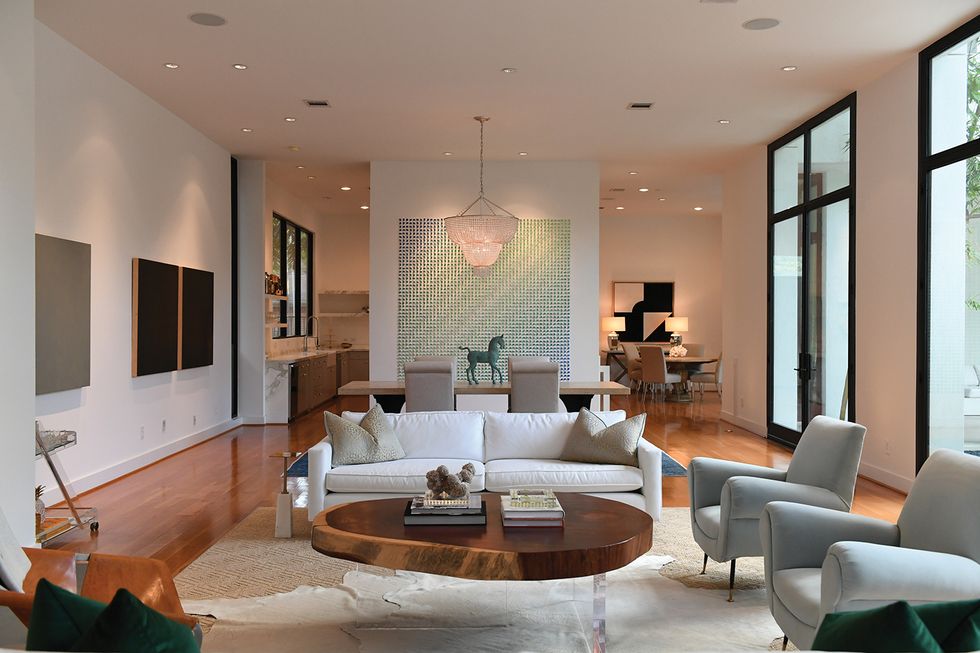 "I sent the listingfor this house to my husband as a joke," Winnie Rose Scheuer says with a smirk. "We weren't even looking."
---
Dressed in a breezy floor-length black dress with her blonde locks pulled back in a bun, she apologizes for the chaos around her. Friend and designer Linda Elston is walking out the back door with a large bolt of emerald velvet fabric under her arm. "This house is a constant work in progress," she says as she kisses Linda goodbye on the cheek and asks to have the new pillows ready by next week.
Her 5,500-square-foot home, one block from Rice, is meticulously curated — which is no surprise given her background in the art world. A 30-something transplant from Manhattan, she worked at both Christie's and Phillip's auction houses before taking a position at the MFA in the director's office. Her husband Kevin Bonebrake, originally from Madison, Wis., is in his early 40s and works in finance.
"I was shocked when I sent Kevin the listing and he actually wanted to go see the house," Scheuer says. The couple was living in a smaller 1930s home south of Rice and had no plans to move. "I get on real estate listings to look at interiors. I wasn't actually looking for a new home!"  To her surprise, Bonebrake encouraged her to set an appointment to see the house, and they immediately put in an offer.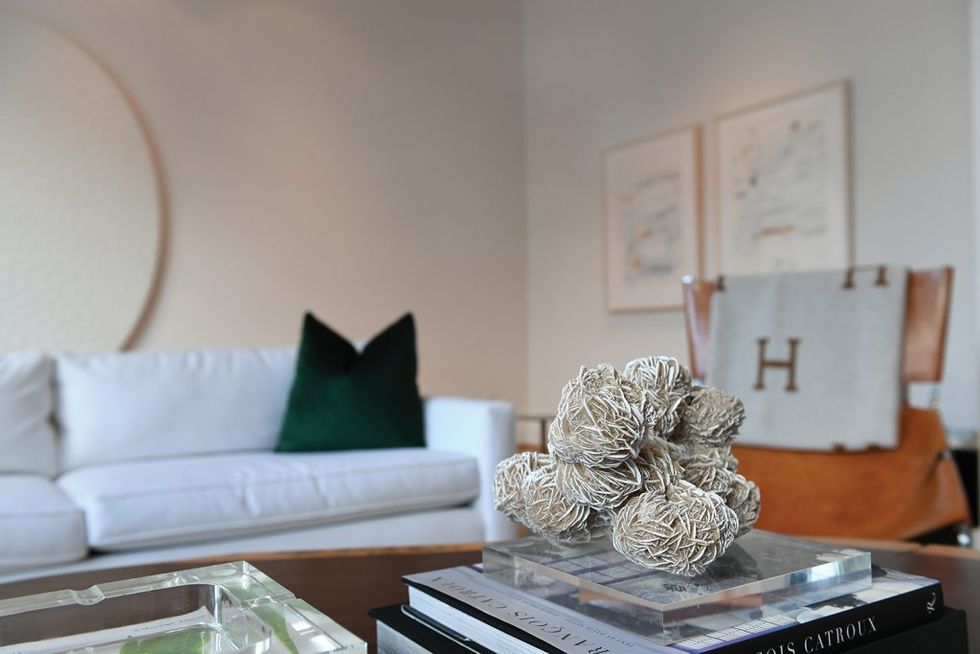 An original leather chair by Pierre Paulin from 1963 occupies a cool corner of the living room
Built in 2004 by previous owner Joyce Echols, the shoe designer and socialite, using architect Allen Bianchi's design, the home sits on a corner lot and features soaring black-metal-framed glass windows with a sleek, contemporary facade. Twenty-five-foot-high bamboo stalks block views of the street from the second floor of the home. "As a New Yorker, I love to see any amount of green. I feel like I live in the country with all of this green around me. Like I am in the Greenwich Village of Houston. And Rice is my Central Park," says Scheuer, who enjoys walks with their Golden Retriever around the university and up Sunset Boulevard.
When it came to the interior-design direction for her home, Scheuer wanted a hybrid of a European pied-à-terre and a zen palazzo. She spent a lot of time in Italy as a child and wanted to bring that memory into the home. "This house really feels like you could be anywhere, from France to Italy or Greece."
A balance of elegance and comfort — without sacrificing a polished overall aesthetic — is found in the open living area, a layout made for entertaining, as the couple often throws parties. Scheuer sourced furniture from all over the world, including the two mid-century Italian occasional chairs. Purchased from a Danish antiques dealer, they arrived swathed in a fabric at least 10 shades off what was pictured online, and so Scheuer had them reupholstered in light blue Rogers & Goffigon velvet.
Nearby, a vintage gold leaf mirror — a circa-1885 French pareclose, purchased at Carl Moore Antiques — hangs above a camel leather chair, an original Pierre Paulin from 1963. The most captivating part of the living room, however, is the couple's newly amassed art collection, which they started just a year ago with an initial commission by Houston-based Paul Fleming.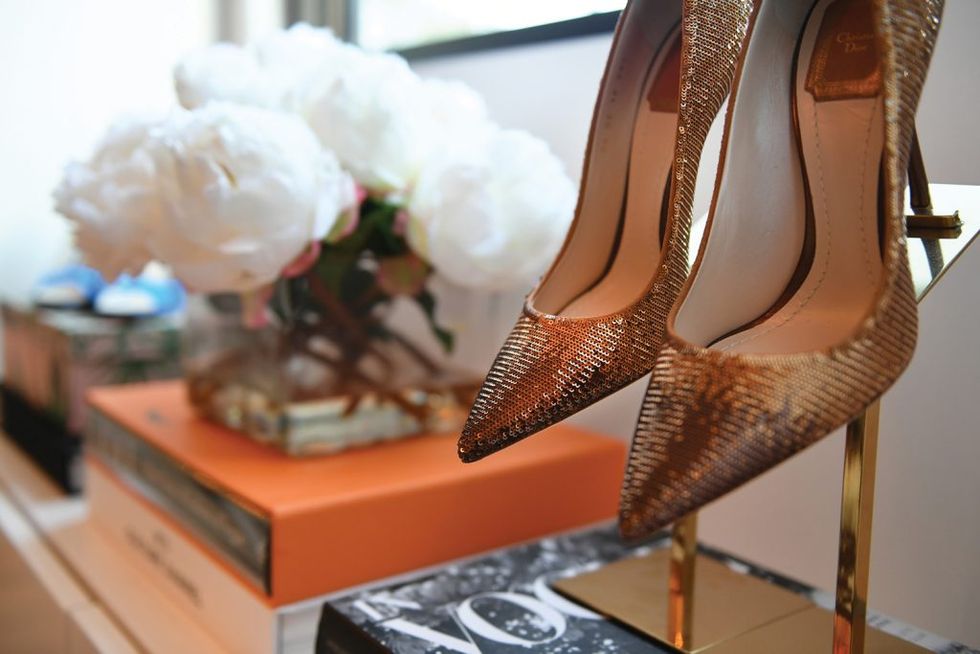 A glimpse of the custom closet, whose treasures include a clutch from late designer Alexander McQueen's final collection, and a jeweled bracelet bought at auction at Christie's
"My husband and I were introduced to Paul Fleming's site-specific, process-laden installations of cast and altered found objects in 2015," recalls Scheuer. "I immediately associated the round, seemingly candy-coated shapes patterned in rhythmic undulations with Felix Gonzalez-Torres's candies." Gonzalez-Torres was known for his installations literally made out of candy; his museum visitors, as Scheuer once was, were invited to take a piece from a large pile. She held onto her piece for years before finally opening it and saving the wrapper, which today hangs framed in her kitchen.
After installing the Fleming, they went on to purchase a colorful abstraction by Jim Hodges, and a fun typographic piece by Ed Ruscha that reads Ancients Stole All Our Great Ideas. "I have filled my home with art I love looking at every day."
The only real remodel work the couple had to do on the home was in Scheuer's closet. "The closet wasn't flexible. I saw a lot of potential and wanted to make it my own," she says. They gutted the entire space and Scheuer worked with designer Elston on the layout. Massive story boards and Pinterest helped guide her design direction on the space, which features an ultra-glam Aerin Lauder crystal chandelier.
"I feel lucky to live here," Scheuer says. "Kevin will have to drag me out of this house kicking and screaming if we ever have to leave Houston!" Not to mention figuring out how to move that Fleming — installed directly onto the wall, piece by piece, by the artist himself.
Fashion+Home