Of Course!
Beautiful Lucienne's modern approach to a tasting menu is a bit more flexible than others, but no less adventurous. Lamb tartare anyone?
Kirsten Gilliam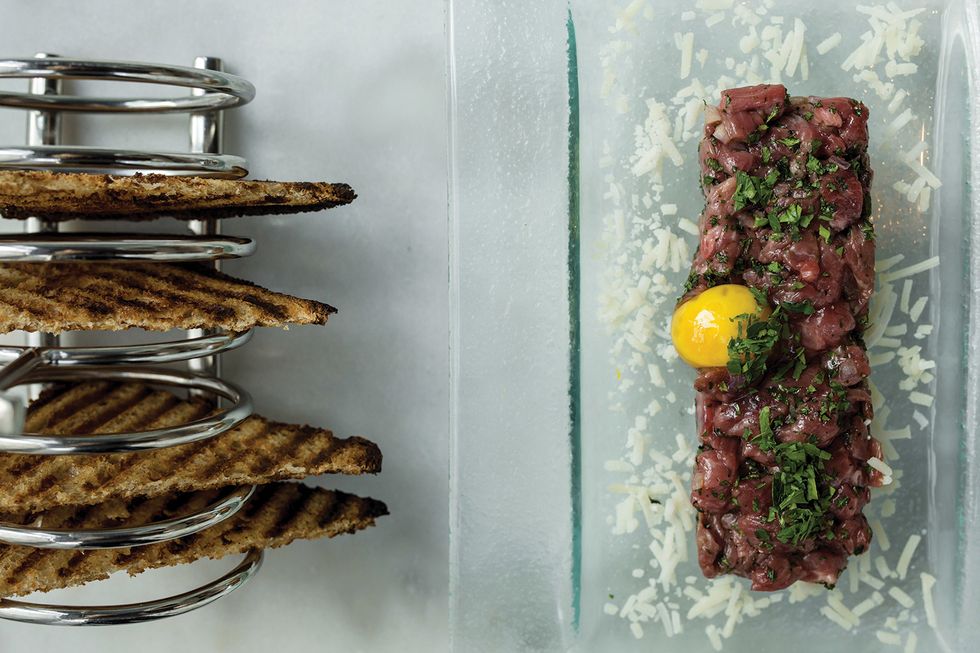 No matter how adventurous you consider yourself to be as a foodie, committing to a tasting menu can be daunting: Should you opt for the six-course, or the eight? Should you splurge on wine pairings (you should) or save the cash? Is there a vegetarian option, and is it better? And after what often comes with a hefty price tag, you may think, "But why am I still hungry?"
---
"When Oxheart closed and rebranded from its tasting-menu concept to a more casual interpretation, I got a little nervous," laughs Jose Hernandez, executive chef of Lucienne, a modern restaurant in Downtown's stylish new Hotel Alessandra. "I thought, maybe it isn't a good time."
Alas, as the time has come for hotel restaurants to shine, so can tasting menus, with places like Tony's and Kiran's offering sophisticated prix-fixe menus on a daily basis for a slightly elevated dining experience. Where Lucienne differs — beyond its contemporary décor, with walls color-blocked in steel grays and sea-foam greens — is that it allows guests to choose their own adventure, listing multiple options under each of its four or six courses. And there's even the option of ordering a couple of courses a la carte. But Hernandez says that since Lucienne's opening in the fall, about 95 percent of diners choose to partake in the full tasting menu. And most of them are locals. "We have plenty of traffic during lunch and weekend brunch from visitors traveling through, but in the evenings, the dining room is filled with Houstonians."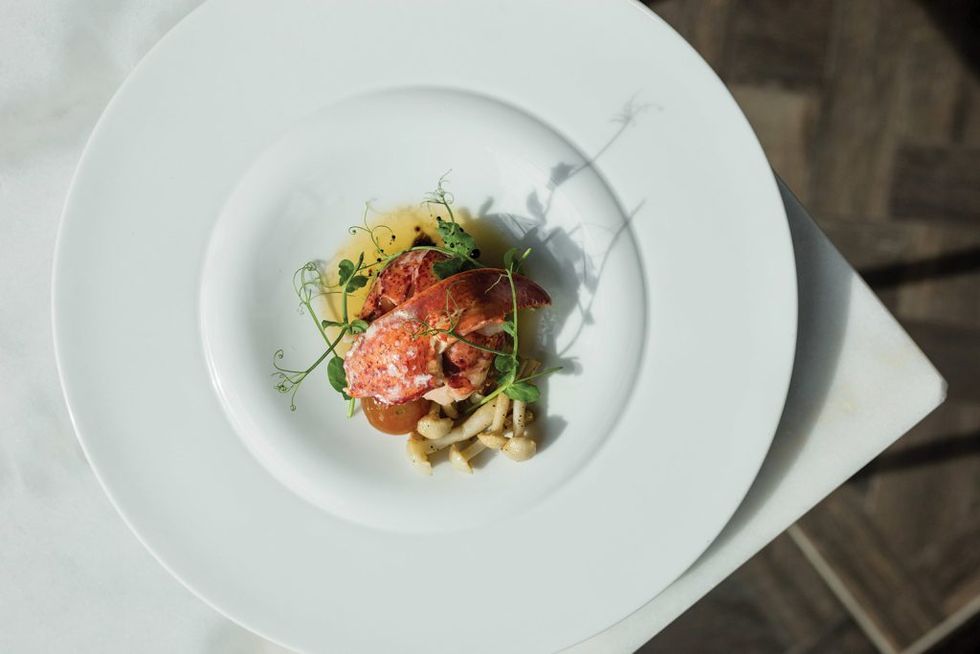 Seasonal lobster with fennel bread pudding
Born in Mexico City, Hernandez, a soft-spoken father of two, has more than 20 years of culinary experience — with an emphasis on pastry-making — spanning the U.S. and Mexico, including impressive posts in New York, at Michelin-starred Fiamma, the Four Seasons Hotel, and modern American steakhouse BLT. Hernandez returned to his adopted hometown of Houston in 2004, where many came to love him and his artful desserts at restaurants like Bistro Moderne, Philippe, Etoile and Triniti.
These days, Hernandez impresses with much more than pastries at Lucienne. "Even though it is a tasting menu, our courses are pretty good sized," he says, noting new additions to the spring menu, like the lobster, which gently rests atop a fennel bread pudding with tomato confit and sautéed mushrooms. And the rich and decadent lamb tartare is mixed with shallots, Tabasco and Dijon, and topped with a quail egg.
Hernandez says while some guests have already named their fave dishes, they may see ingredients change here and there, as his seasonally focused menu is inspired by farmers markets. "We try to source locally as much as possible," he says, citing Black Hills Farms lamb meat in the tartare and local herbs and produce from Atkinson Farms in Cypress in many of the dishes.
Other changes to the spring menu vary based on what Hernandez says he thinks his guests have been drawn to, or away from. "We used to offer quail as an option for one of the courses," he explains. "But I found that people would shy away from it." In an effort to remain approachable, he nixed the quail and added duck pastrami instead — marinated in spices for 24 hours, slow-smoked and served with rye bread toast.
Dessert, of course, must be killer, given Hernandez' background. And he does not disappoint. The restaurant's take on a classic vacherin — a decadent layering of meringues and cream — is a feast for the eyes, delivered in a glass globe with crème chantillí, crispy beet meringue, raspberry foam and sweet pistachio ice cream. And it's all capped with a thick, lid-like disc of white chocolate. "You just break into the chocolate with your spoon, and get all of that good stuff in one bite," says Hernandez.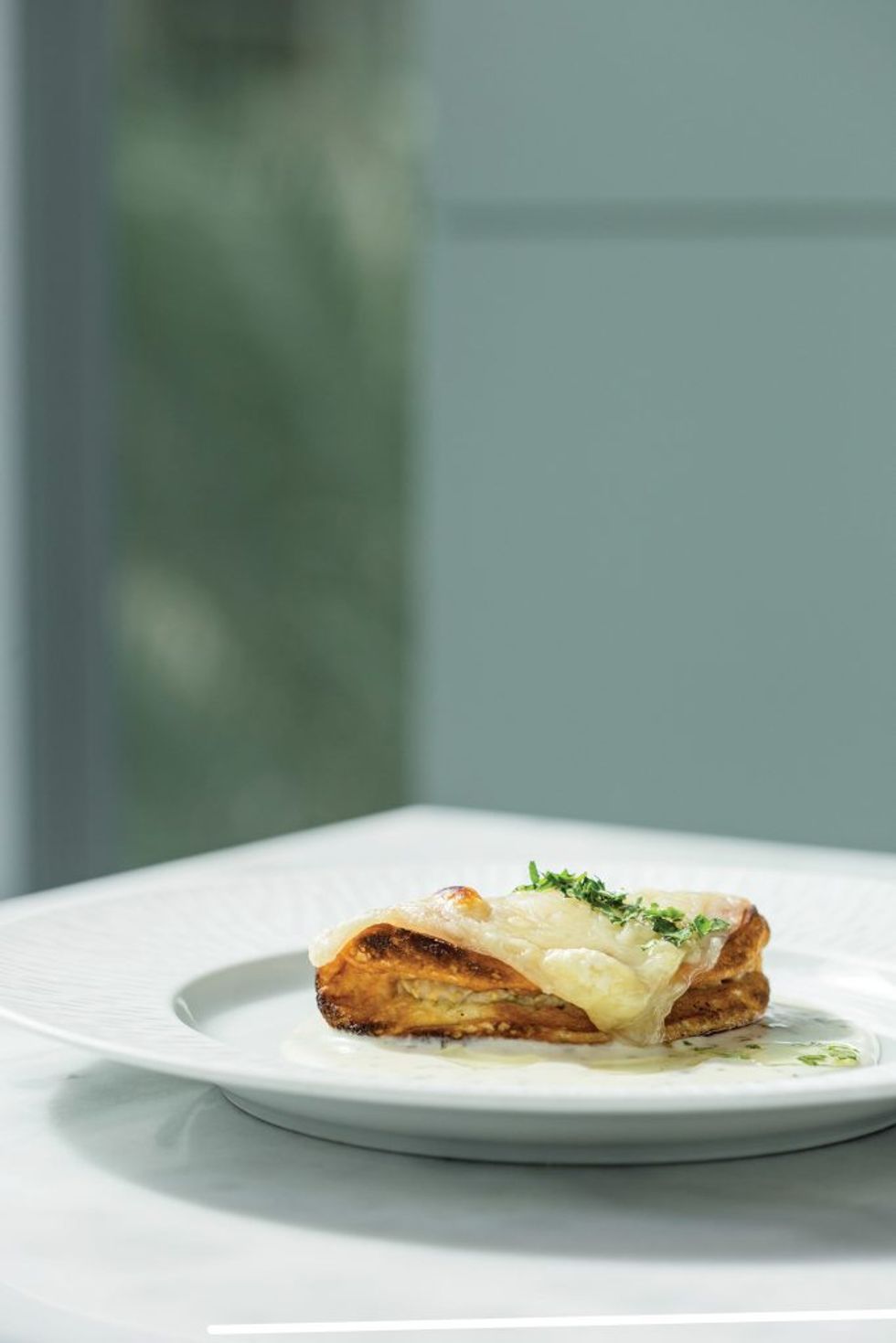 Lucienne's crepe starter with cauliflower, gruyère cheese and Mornay sauce
And if, at the end of the day, tasting menus are not your cup of vacherin, Hernandez assures that Lucienne does not enforce hard-and-fast rules. "You can definitely just order one, two or three courses off of the dinner menu if you like." But, he urges with a smile, "try tasting them all."
AT TOP: Lucienne's lamb tartare, made with Tabasco and Dijon and topped with a quail egg
Food+Travel