Playing the Wildcard Market!
It's up, it's down, it's fast, it's slow! It's a topsy-turvy, post-realty-boom, post-oil-slowdown, post-election Houston market now, and bargain hunters are running the table. After an odd year, where's the market going next? Are you ready to roll the dice?
Daniel Renfrow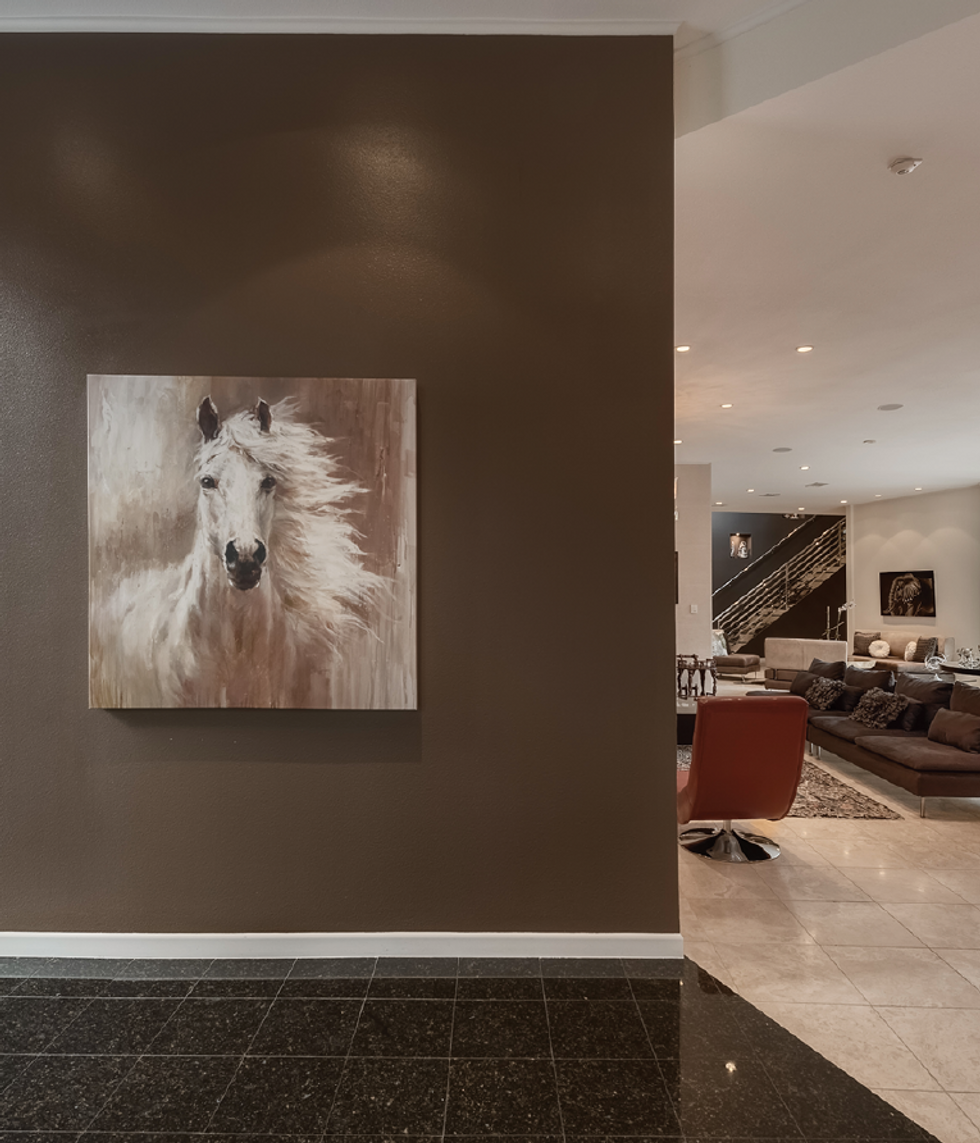 The Houston real-estatemarket data is in for the tumultuous, energy-sector-retrenching presidential election year of 2016, and analysis shows mixed results. The average prices in some emerging 'hoods such as Upper Kirby and EaDo are up modestly, while those in most other formerly white-hot 'hoods are flat or down a bit. Prices in Montrose and Rice Military fell 6 and 7 percent respectively, as Garden Oaks/Oak Forest tumbled 8; the Heights proved the most stable among the trendiest districts, with average prices rising 1 percent. Same story in the 'burbs, where some areas are boasting surprising growth, others logging slowdowns.
---
It's a different tale than the one told for the previous half-decade, when inventory could not keep up with demand in the country's fast-growing metropolis, leading to years of skyrocketing values. Top realtors are spinning the change for the positive. "Fortunately," says John A. Daugherty Jr., CEO of his eponymous company, "as the market has regained a more normal, healthy pace, the inventory has increased slightly in most areas."
Daugherty's counterpart at Boulevard Realty, Bill Baldwin, casts it a bit differently: "We forget that what goes up must come down. While the drop in oil prices did bring us back to solid ground, I think this is a hangover we would have had anyway. In that light, a flat year is actually a relief to me."
So far for 2017, almost across the board, realtors cite an uptick in activity — a smaller number of houses on the market took longer to sell last year — and a solid hold on prices. "I think the pent-up demand from last year finally reached a turning point," says Baldwin. "I think we are all ready to enjoy a period of stability for a while." Stability doesn't always make the best story, but it's certainly a better story to live through.
Memorial vs. River Oaks
Clash of the Titans
Two of Houston's most affluent enclaves have different stories to tell after 2016. According to HAR, average home prices in River Oaks rose by 5 percent compared to 2015, to an impressive $2.5 mil, continuing the steady climb the neighborhood had enjoyed over the previous five years. On the other hand, in the Memorial Villages, prices sunk by 20 percent, to $1.5 mil, in 2016 compared to the previous year.
What accounts for the difference in the two high-dollar districts? History, for one. And inventory. "There will always be fewer than 1,500 houses in the River Oaks area, so supply will always start out low," says Mike Mahlstedt of Heritage Texas Properties, who lives and works in the neighborhood. Since few houses become available in a typical year, prices inch up continually. And some of the houses that do sell go to family or friends before they even hit the market. In the sprawling Memorial area, meanwhile, buyers have more options and can be choosier.
Things seem to be turning around for Memorial, says Robin Conner, an exec at Martha Turner Sotheby's, top realtors in the area. "Our under-contract activity is close to 30 percent higher in 2017 versus 2016," she explains. "Open-house activity is very strong, and buyers are moving fast with offers. We are hopeful this positive movement continues throughout 2017."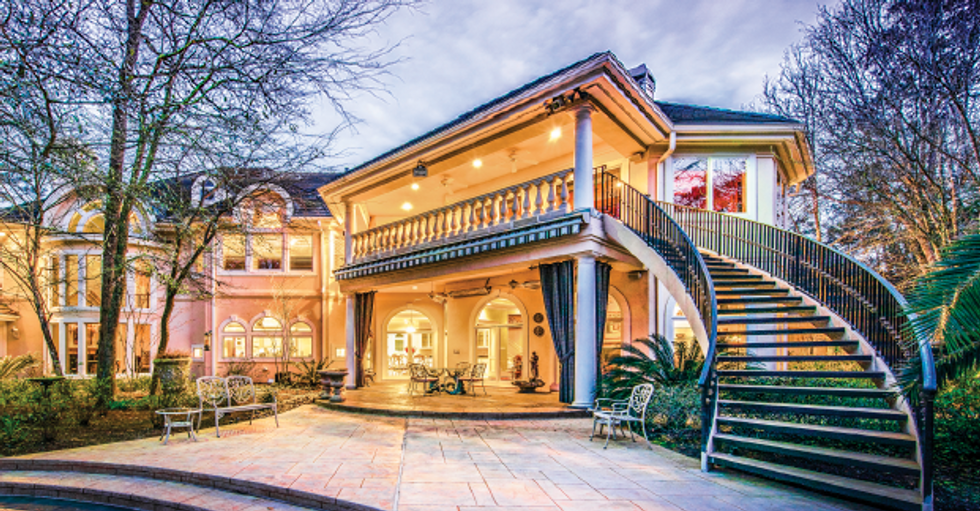 This $6.1 million home on Grogans Point Road in The Woodlands is up for auction on April 8.
Kingwood vs. The Woodlands
The Better 'Burb?
Given the oil downturn, which impacts workers at Woodlands-area mega-campuses like ExxonMobil, prices are tapering off in The Woodlands. After reaching a record average sales price of $499K in 2015 — up 10 percent over the previous year — prices fell back to $448,000 in 2016. Meanwhile, in Kingwood, a similarly verdant suburb east of The Woodlands, prices are going in the opposite direction. "Finally you're seeing new developments going up," says area realor Cathy Trevino of the restaurants and shops popping up east of I-45. "It's bringing excitement." Average prices in parts of the 'hood, where homes sold in about a month, were up nearly 13 percent to $321K.
There's more good news in another northern suburb. "Cypress is seeing a large growth in high-end homes," says Robin Conner of Martha Turner Sotheby's, "with homes at or above $1 million being built in new master-planned communities."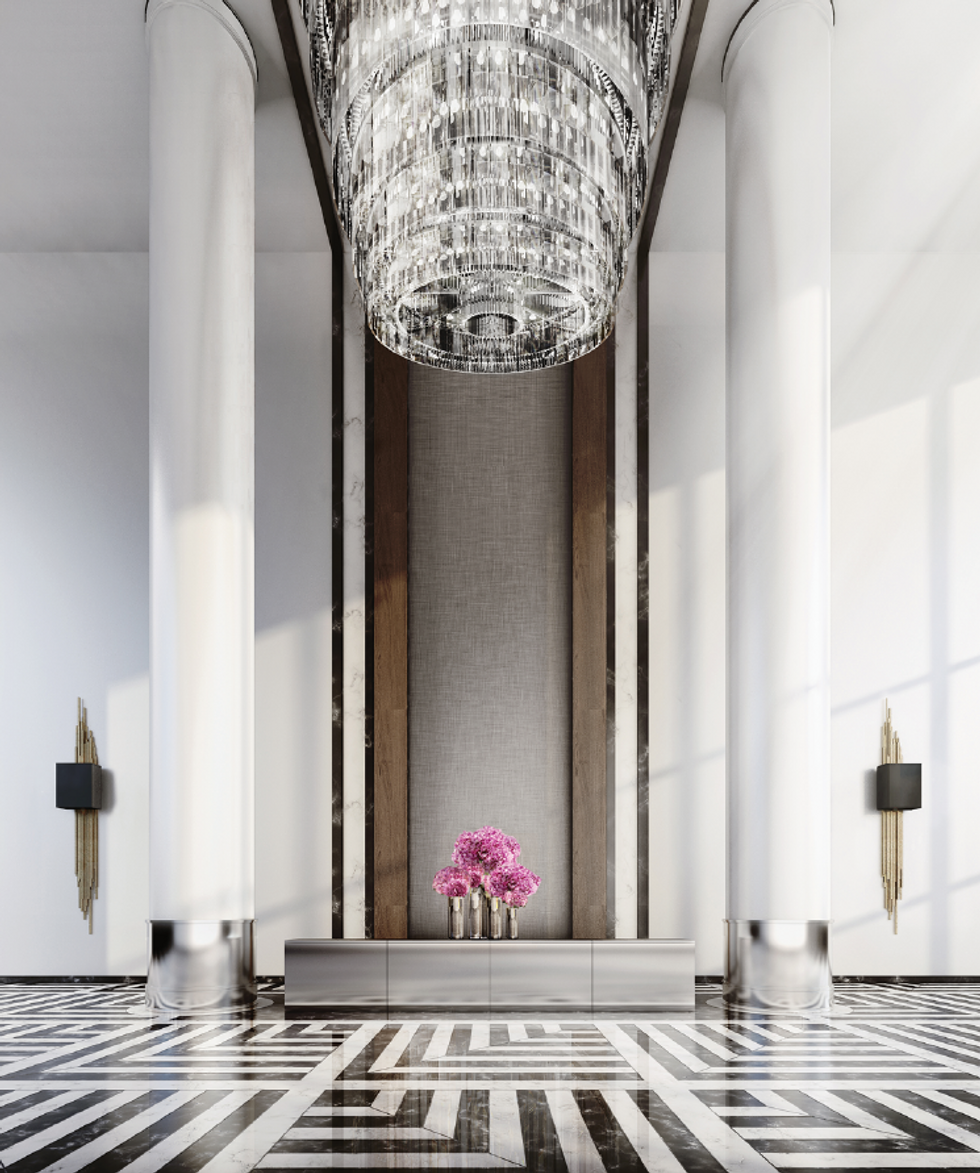 Randall Davis' Arabella
luxury condo tower near
the River Oaks District
Apartments & Condos
If They Build It...
Some 26,000 apartments in nearly 100 developments entered the Houston market in 2016, making up nearly 40 percent of the state's apartment construction for the year — and Texas was the nationwide leader in rental developments. The massive increase in inventory, hitting just as the city's previous red-hot population boom cooled a bit, has led to a slide in rent prices. At this time in 2016, rent prices were up 5 percent over the previous year, per Apartment Data Services. By March 2017, prices were down 1 percent. Specifically, luxury high-rise towers fell more — 7 percent, says realty analyst Realpage. Many inner-Loop renters report having renegotiated leases, saving hundreds a month. "There is still strong rental demand," insists Boulevard Realty's Bill Baldwin. "Renters just have the luxury of being picky."
The higher-end high-rise and mid-rise market is also favorable for buyers: The website Just Buyers mapped out available condos according to price point, and found a surplus of properties listed for more than $400K in River Oaks, Midtown, the Museum District and the Galleria — with a particularly heavy concentration Downtown. However, the market for units priced below $400,000 actually favors sellers.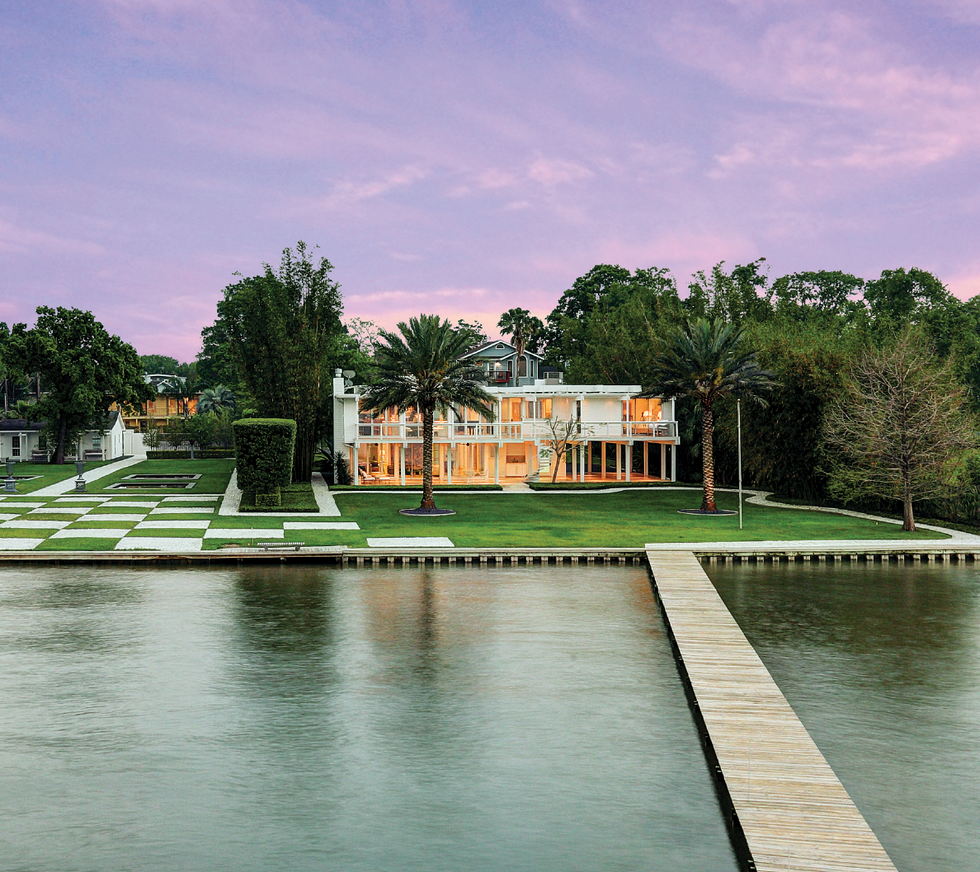 Martha Turner Sotheby's lists this home on Cove Park in League City for $2.9 million.
High Tide
Life's a Beach
While tony suburbs to the north and west, where many energy execs call home, experienced a volatile range of higher and lower home prices in 2016 than 2015, with fewer transactions generally and more days lingering on the market, it was much smoother sailing in many areas to the south and nearer to the coast.
Home prices in coastal neighborhoods proximate to refineries — areas the Houston Business Journal smartly calls out in its 2016 year-end analysis as downstream-energy-focused — spiked by up to 41 percent last year. In La Marque, for example, the average sales price jumped from $96,000 to an impressive $136,000. In Texas City, a 13 percent increase brought the 2016 figure to $126,000. And in more affluent coastal communities geared toward vacation-home buyers, the market is also strong: On Tiki Island, beach houses moved 15 percent faster in 2016 compared to the previous year, and the number of transactions completed on Bolivar Peninsula jumped by 40 percent, with prices slightly increasing to $271,000.
Brad Ballard of NewCoast Properties is nearing completion of his 35-property luxury community on Bolivar called Seagrass Beach. "First class all the way," says Ballard, who mentions his team went to great lengths to incorporate a high level of engineering — read: hurricane-worthy — as well as sustainable building practices. Extra goodies, like the complex's beachfront infinity pool elevated 18 feet above sea level, promise an experience a la Rosemary Beach.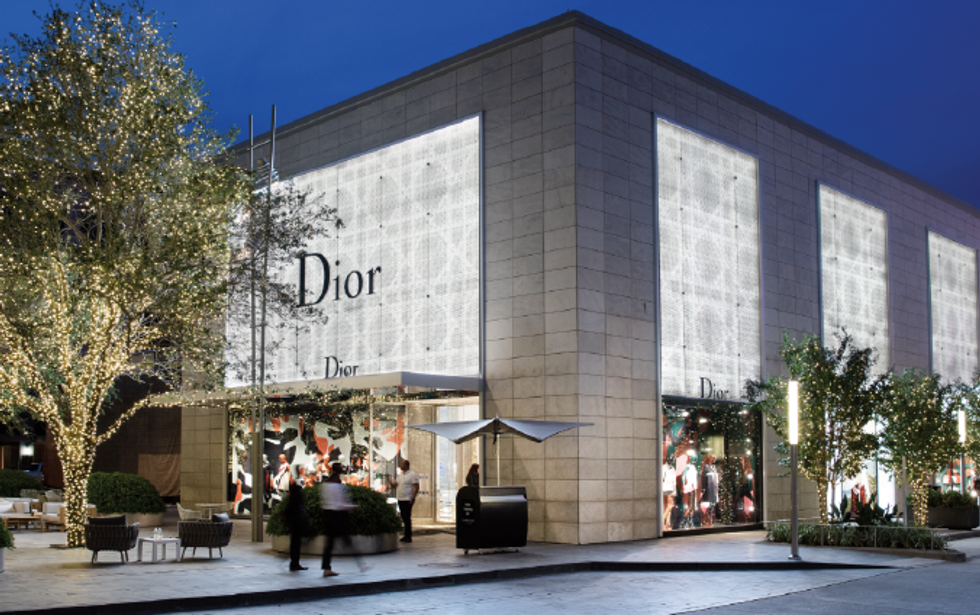 Upscale shops in the River Oaks District include Dior.
The River Oaks District Effect
Hot 'Hood
Traffic on Westheimer reached new pain levels in recent years, during construction of the River Oaks District and other big developments in the Galleria area. But now that the high-end shopping center and residences like the SkyHouse tower are complete, buyers actually see nearby areas like Afton Oaks and Royden Oaks as appealing, with a plethora of walkable amenities.
Here, average home prices are up slightly, now flirting with $1 mil. And HAR's "months inventory" figure, which notes how long it would take to sell every available home if the current pace continued and no other houses hit the market, dropped from 12 months to just 3.8 for the small enclave, suggesting a uniquely robust and fast-moving market.
But just around the corner, stats tell a different story, per the topsy-turvy current market. In Highland Village, the glut of homes on the market in 2015 contributed to a drop in home prices of 8 percent, to $775K for 2016. But Greenwood King realtor Tim Surratt says that, as construction dies down, inventory in Highland Village is dropping as well, and it's poised to join Afton and Royden as 'hoods on the rise. "The market has stabilized and begun to march upwards."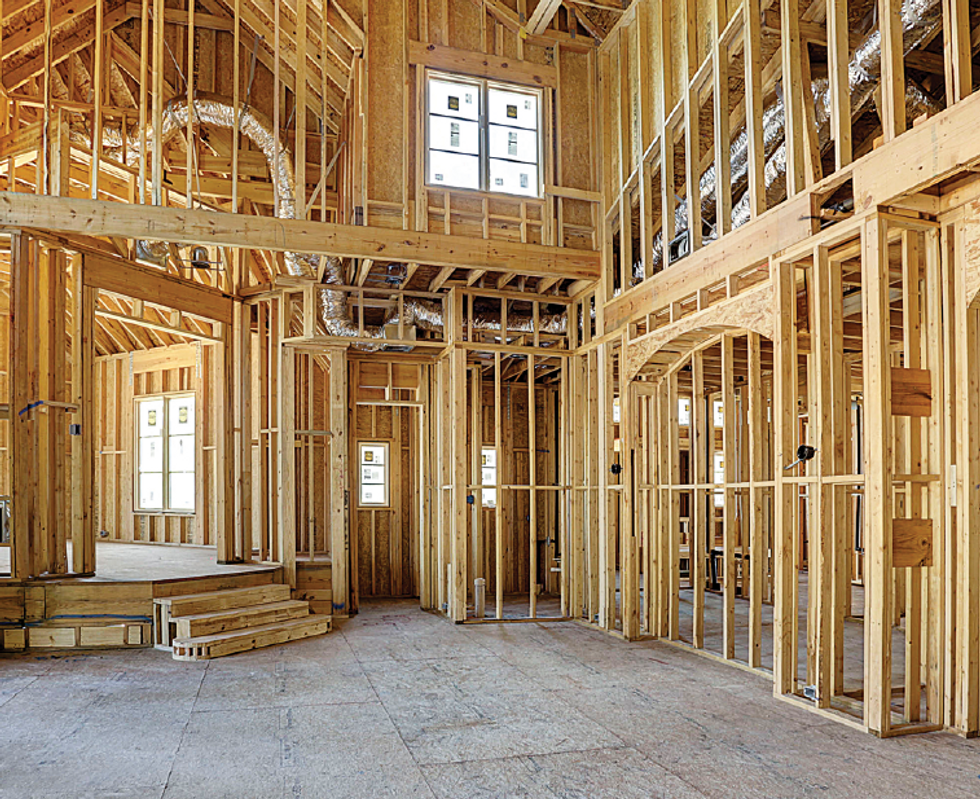 Frankel Building Group's Woodlands
Reserve community under construction
What Buyers Want Now
Asked what buyers are looking for now, top realtors agree: Simple and easy, brand-new or newly renovated. The market's ups and downs of recent years have been exhausting, and buyers want off the roller coaster. "They want turnkey homes," says Robin Conner of Martha Turner Sotheby's, noting that a modern, clean, bright look is a best-seller. "We are seeing homes that need work sitting longer in our inventory than freshly painted, newly updated homes." Boulevard Realty's Bill Baldwin echoes: "We are redefining 'luxury.' The most luxurious thing in the world can be simplicity. That means less maintenance."
Meanwhile, sustainable building practices are still popular. Frankel Building Group has for 30 years built every home — in styles ranging from country-French to modern — according to LEED certification standards. Brothers and co-presidents Kevin and Scott Frankel noticed that throughout the oil downturn over the past couple years, their clientele shifted from energy execs to doctors and surgeons, especially in The Woodlands, where their new community Woodlands Reserve is thriving. Of the 20 homes already built, 75 percent have sold — and 30-plus more are on the way.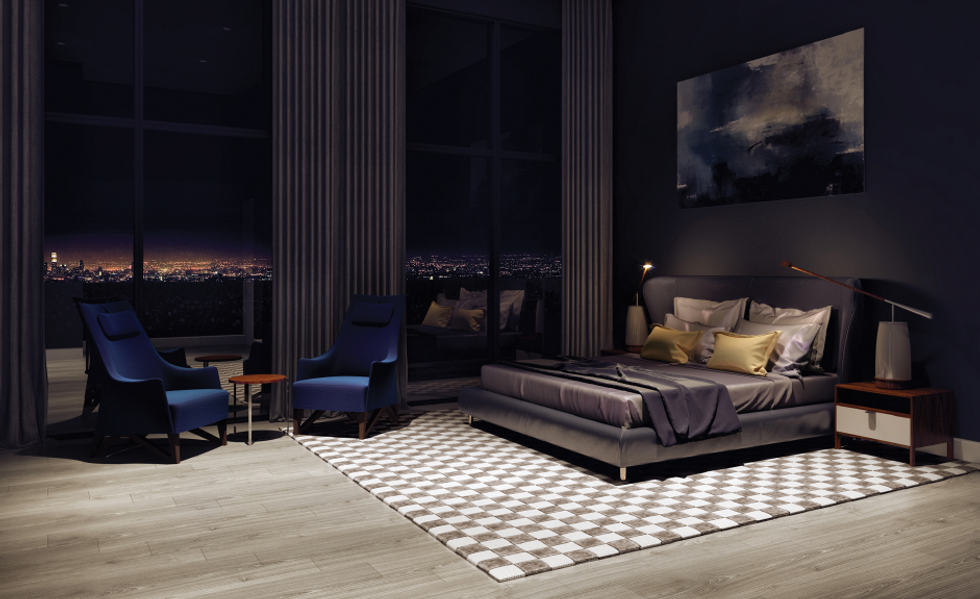 A rendering of a unit in Sudhoff Companies' new Giorgetti mid-rise in Upper Kirby
Betting High, on Luxury
Despite a seemingly saturated condo market, Sudhoff Companies is betting on a banner year for high-rise properties in 2017. Its newest project, The Moderne in Rice Village, is a boutique condominium complex, boasting just six 2,600-square-foot units starting at $1.4 mil and ready for move-in by December.
Several other cool properties under the umbrella of Sudhoff Companies, helmed by the impossibly young Jacob Sudhoff, are also poised to make an impact on the condo market. Simply named The River Oaks, a completely reimagined former apartment building on Westheimer near Edloe, offers nearly 80 units for sale (actually, a majority have already sold). Design maven Lauren Rottet was enlisted to help plan the property, which will begin to open its doors this summer.
And one of last year's most groundbreaking announcements was the unveiling of the Giorgetti, an Upper Kirby-area mid-rise comprised of 32 residences, each incorporating furniture, cabinetry, lighting and unique inspiration by Giorgetti, the 120-year-old Italian furniture design house. It's scheduled for completion next year, as is Sudhoff's 40-unit Memorial Park-area project, The Sophie at Bayou Bend.
Top photo: A manse on Little John in Memorial, listed for $4.4 mil by Nan & Company Properties
Uncategorized