Resident Genius
Meet Dr. Rebecca Richards-Kortum. She's Rice's first-ever MacArthur grant winner. But her real claim to fame? Her clever medical inventions might just save your life.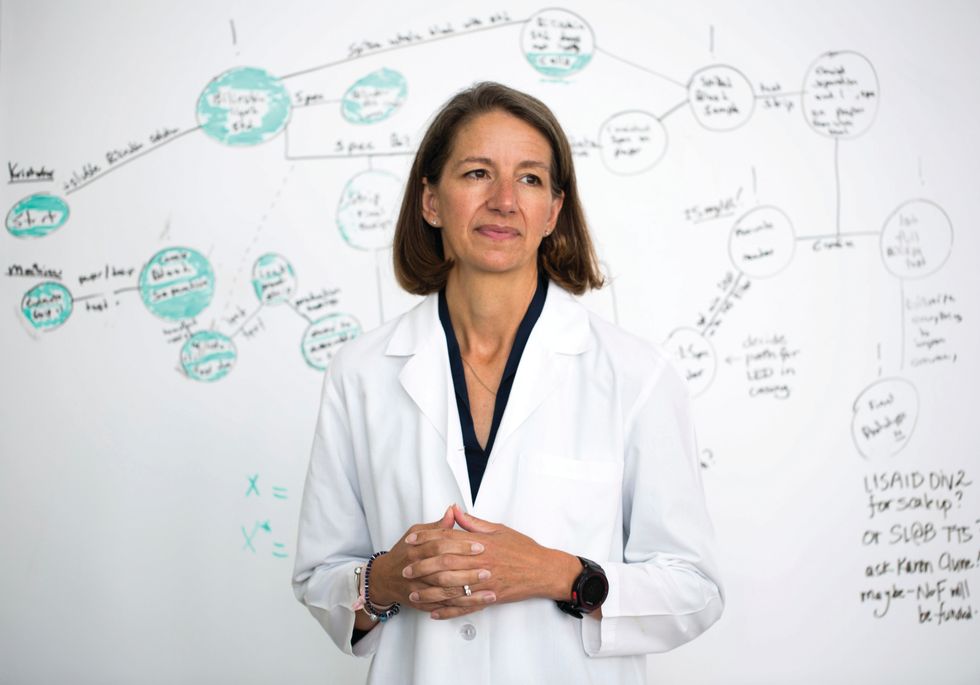 On a cool evening at Rice, Rebecca Richards-Kortum is striding across campus from one engagement to another. At 52, with six children including two adopted daughters, Richards-Kortum, a celebrated professor of bioengineering and founder of the Rice 360° Institute for Global Health, is constantly on the move. Tonight, she's on her way to discuss with Fulbright fellows from around the world the ways that medical researchers can bring innovative, life-saving technology to communities in need. Her presentation will be a version of the TED talk Richards-Kortum has given before, focused on her work in the sub-Saharan nation of Malawi, where widespread infant mortality has been reduced thanks to an affordable breathing device designed by her students.
---
The talk keeps the audience spellbound.
The invention, branded the Pumani — a word from the Chichewa language that roughly translates into "breathe easy" — provides gentle pressure to keep airways open, and in early trials in Malawi it improved the survival rates of early- and pre-term babies from 25 percent to 65 percent. As opposed to similar equipment available in the U.S. resembling machines used to treat sleep apnea that can cost $6,000, the infant-adapted CPAP machines cost about $160. Manufactured to keep working in the most brutal environments, the Pumani is now saving babies' lives in 23 different countries.
The key to the success of the Pumani, as well as other projects designed by Rice 360°, is that the students are required to revamp top-flight devices with affordable materials. The original infant CPAP was constructed with aquarium pumps and a plastic box from a convenience store. Another project turned a salad spinner into a electricity-free centrifuge for separating blood and plasma to diagnose diseases in the field. The Pumani parts are easy to maintain and replace, which is crucial given that the device must work in low-income and impoverished settings.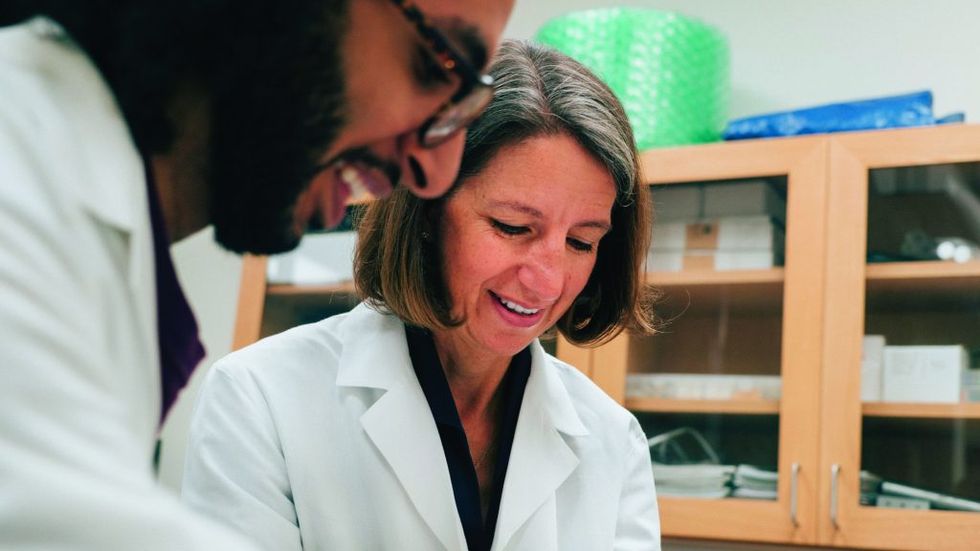 "If I arrive and say I'm here with Rice, they don't know me," Richards-Kortum tells the crowd, "but if I say I'm with the Pumani team they know right where to send me."
Although Richards-Kortum may not be a household name on the global stage, she has attained a unique celebrity. In the fall, she became the first Rice prof ever to win a prestigious MacArthur Fellowship, commonly known as a "genius grant." The grant includes a "no-strings-attached" cash prize of $625,000 paid over five years. (In 2014, Houston artist Rick Lowe, founder of the Project Row Houses arts/housing complex in the Third Ward, was another recipient.) Also in 2016, Richards-Kortum became the first woman to ever receive top honors from the American Institute for Medical and Biomedical Engineering.
"I cannot say I was surprised," says Maria Oden, a program partner with Richards-Kortum at the 360° Institute who also directs the interdisciplinary Oshman Engineering Design Kitchen at Rice. "Rebecca does not hear what can't be done. She just sees what needs to be done, and then tries to find a way to do it."
The awards are just one indication that Richards-Kortum and her colleagues at the 360° Institute are rewriting the rules of medical treatment, not just abroad but in Houston and across Texas. The institute focuses on international solutions to a variety of health challenges worldwide, acting as a multidisciplinary design lab with partners from many fields, spurring undergraduate and graduate research and offering fellowships among its international partners. Central to the mission is finding adaptive technologies for use in impoverished communities, with a focus on maternal wellbeing and newborn survival rates. "We transform students into innovators and ideas into sustainable solutions," reads the website.
According to the MacArthur Foundation, Richards-Kortum's research has led to 30 patents. In addition to the breathing apparatus, her team developed a syringe that automatically measures medicine so untrained caregivers in the field can only dispense the prescribed amount, useful for pediatric AIDS cases where parents or relatives must carry out injections. The institute also developed a pen-sized infrared scanner that can be attached to a smart phone to help diagnose early-stage cervical cancer, currently being used to assist doctors in Texas' Lower Rio Grande Valley.
"I don't love the word 'genius,'" says Richards-Kortum, during an interview in her office across the street from the Medical Center, where many of the institute's laboratory prototypes receive their first live tests. "But I feel so fortunate that we have this spotlight on this work. It's an amazing opportunity to shine a light on the needs of women and children in poor communities like those in Malawi."
Richards-Kortum first visited Malawi in 2005, shortly after arriving at Rice, where she holds the position of Malcolm Gillis University Professor. A Nebraska native, she attended the state university in Lincoln, and earned a Ph.D. in medical physics from MIT. Her early years in Texas were spent in Austin, where Richards-Kortum was affiliated with UT. For all her health expertise, Richards-Kortum does not have a medical degree. "I want to do work that will help sick people," she says, "but the day-to-day way I want to contribute is not as a physician."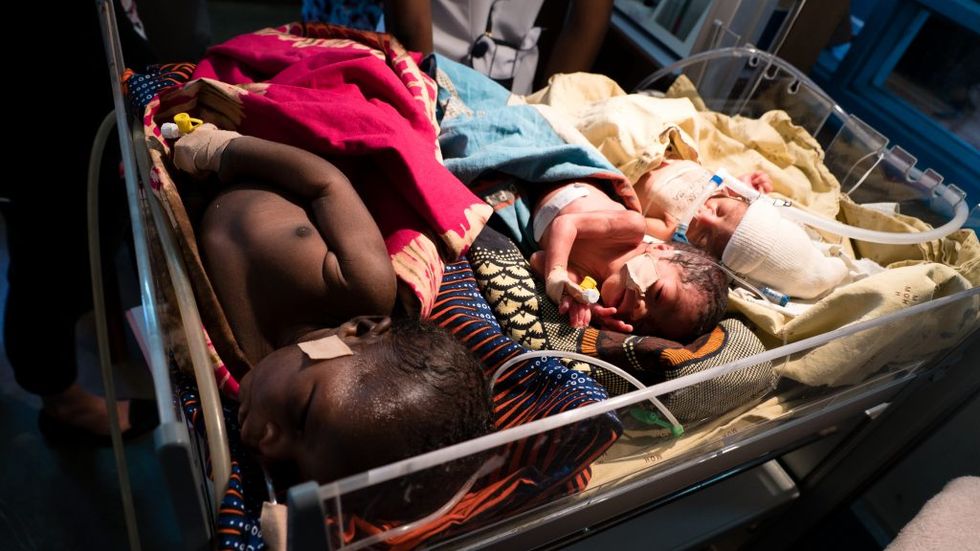 That trip to Malawi, Richards-Kortum says, transformed her understanding of how best to apply her talents. When she visited the local hospital, she was immediately struck by the equipment graveyard she discovered. Older, supposedly lifesaving machines were stacked helter-skelter and abandoned to storage rooms for lack of replacement parts and compatible circuitry. In a nation where two-thirds of infant deaths occur in the first month of life, and where mothers face one of the highest mortality rates in all of Africa, a new "comprehensive set of newborn technologies" was needed.
Houston native Melody Tan counts herself among the students who have been swayed by Richards-Kortum's innovative approach. Having majored in bioengineering, Tan first joined the 360° Institute's Beyond Traditional Boarders training initiative as an intern traveling to Ecuador. "It changed my whole life," she says. "I was pre-med, but I did not realize the impact engineering had on global health." Today, Tan is a Ph.D. candidate helping Richards-Kortum research oral cancer detection in low-resource settings, and hopes to teach bioengineering one day.
"Everybody understands just how important this work is," adds Oden. "The impact of what Rebecca does goes far beyond what happens in class."
Even given how much she gets done, Richards-Kortum still manages to find time to cook for her kids and take advantage of Houston's rich theater scene, which is one of her favorite things about the city. It doesn't hurt that her husband, Phil, who is also a professor at Rice, in psychology, and the father of her four biological children, also cooks. Richards-Kortum even finds time to run in marathons, though she acknowledges that her running time — her best race was 4 hours, 45 minutes — leaves something to be desired. "I'm a very slow runner," she says. "I'm very slow, and very dedicated."
With the genius grant, Richards-Kortum has also found a way to double down on her work, and announced this winter she will reinvest the $650,000 back into the 360° Institute. ("That's gotta be putting your money where your mouth is!" enthuses Elizabeth McGuffee, the institute's director of development.)
As a woman and an engineer, Richards-Kortum is not shy about discussing the personal nature of her research, either, as it relates to neonatal and maternal health worldwide. "Every parent worries so much about her children's future," she says. "I'm fortunate that when I was pregnant I didn't have to worry that I might die in childbirth, and that's not true for a lot of women today.
"And I'm fortunate that none of my babies were born early. But I have two daughters that are adopted from Ethiopia, and certainly the challenges they faced early in their lives are very different than what their day-to-day life experience is now, in Houston. So I think definitely I feel a connection to these projects that is personal as well as professional."
Uncategorized