Author, Survivor and Game-Changing Doc Goldner Encourages You to Lean Into Your 'Origin Story'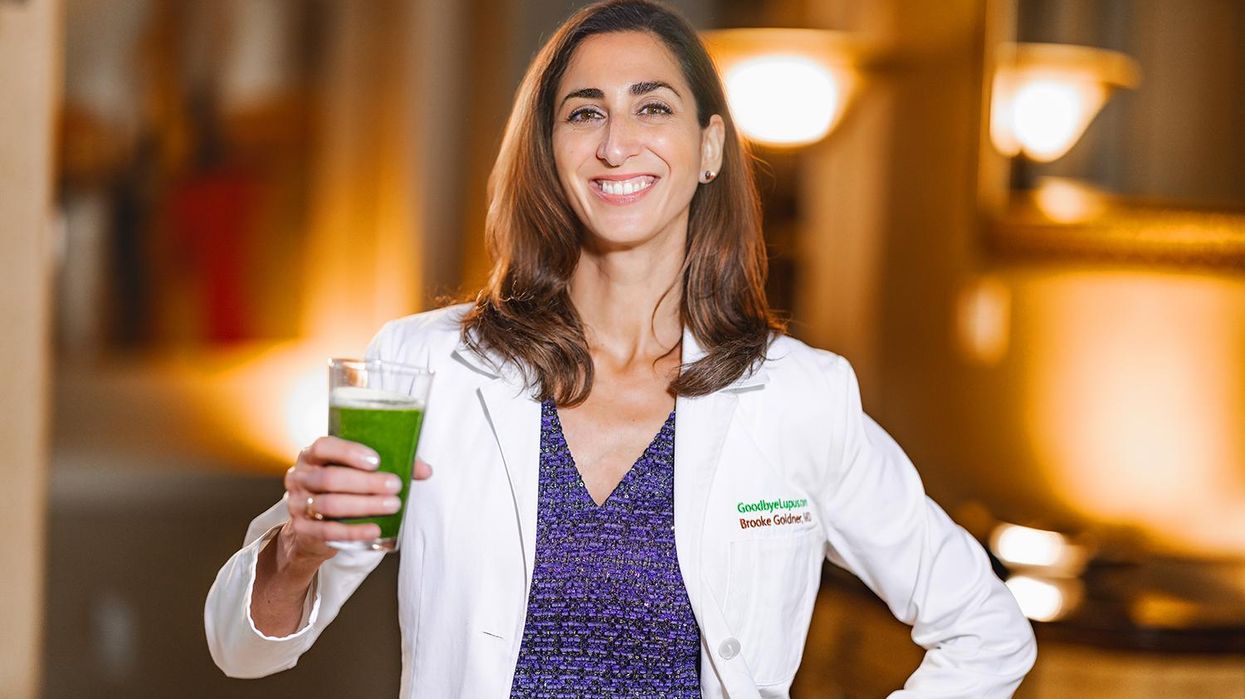 How did you get to where you are today?
I was diagnosed with lupus at 16. I was already in stage 4 kidney failure by the time the doctors realized what was wrong. It took two years of high doses of medication including chemotherapy to save my kidneys and my life. I became fascinated with the human body, which led to my decision to become a physician.
---
I lived a life very mindfully, focused on enjoying every moment. When I met my husband, I was just graduating medical school, in spite having had of a scary relapse of lupus that caused multiple mini-strokes. He loved me so much, and he wanted to marry me even though I had an illness that we believed would prevent me from having children and would lead me to become disabled and likely die young. He is a scientist himself, obsessed with learning the optimal nutrition for fat loss, and when I asked him to train me for our wedding, he modified his protocol for me. I was the only vegetarian he had ever worked with.
I went from a size 11 to a size 3 in three and a half months. I also became lupus-free — normal blood tests and zero symptoms. Even my kidney function returned to normal. After we had our first child — after four years of health, without any recurrence of lupus — we realized something important had happened: I was not just in remission but truly healthy.
We studied the changes in my diet and how it would impact not only cellular metabolism but cellular repair and immune function, and then tested it in volunteers with lupus. We discovered that my results were entirely reproducible, and we knew we had to release our finding and teach the public. We decided to release our entire protocol for free as public service.
Over the past decade we have helped thousands all over the world reverse not only lupus, but a multitude of diseases including rheumatoid arthritis, multiple sclerosis, heart disease and recently Covid long-haul syndrome. The news of what we were doing spread entirely organically. I went from having fewer than 100 followers on Facebook to over 159,000 on social media platforms and growing every day. I am regularly called upon to comment on health issues, and recently became a member of the Forbes Health Advisory Board. I have three bestselling books, including my first, Goodbye Lupus, published without any public announcement, which became a bestseller before it was printed. I continue to teach for free online, with daily posts to keep people informed and inspired — with regular free online Q&A sessions for the public.
I believe my experiences as a patient, my credibility as a physician, my dedication to serving others at no cost, and, most importantly, my continued results at reversing diseases, have all led me to where I am today.
Whom do you credit? I credit my parents for keeping me positive and focused on my life and my future while I was sick with lupus. Especially my mother, who was by my side for every treatment, reminding me that I did have a future and I had to keep up my studies because I was going to make it. She also taught me the value of service, starting me out volunteering at the hospital at 14. I still value service and volunteer my time to teach and support people all over the world who are sick and need my help. I credit my husband Thomas Tadlock for saving my life with his knowledge of nutrition and with his incredible love. I credit my disease with teaching how to persevere, how to find joy in the moment even when my body was hurting, how strong I really am — and for leading me to this life where I get to save countless others from otherwise devastating diseases so they too can live the life they truly want.
What lessons have you learned that might enlighten and inspire others? Our greatest and most devastating pain can lead to our greatest gift to the world. I always tell my patients and my kids, that superheroes always have a painful origin story. So when something bad happens, it isn't the end; it's your origin story. It's where you discover your powers. For more information: goodbyelupus.com