In Praise of Front Porches
Like long leisurely walks, loving your porch was all the rage back in the spring. Will it return for fall? We hope.
Kelli Durham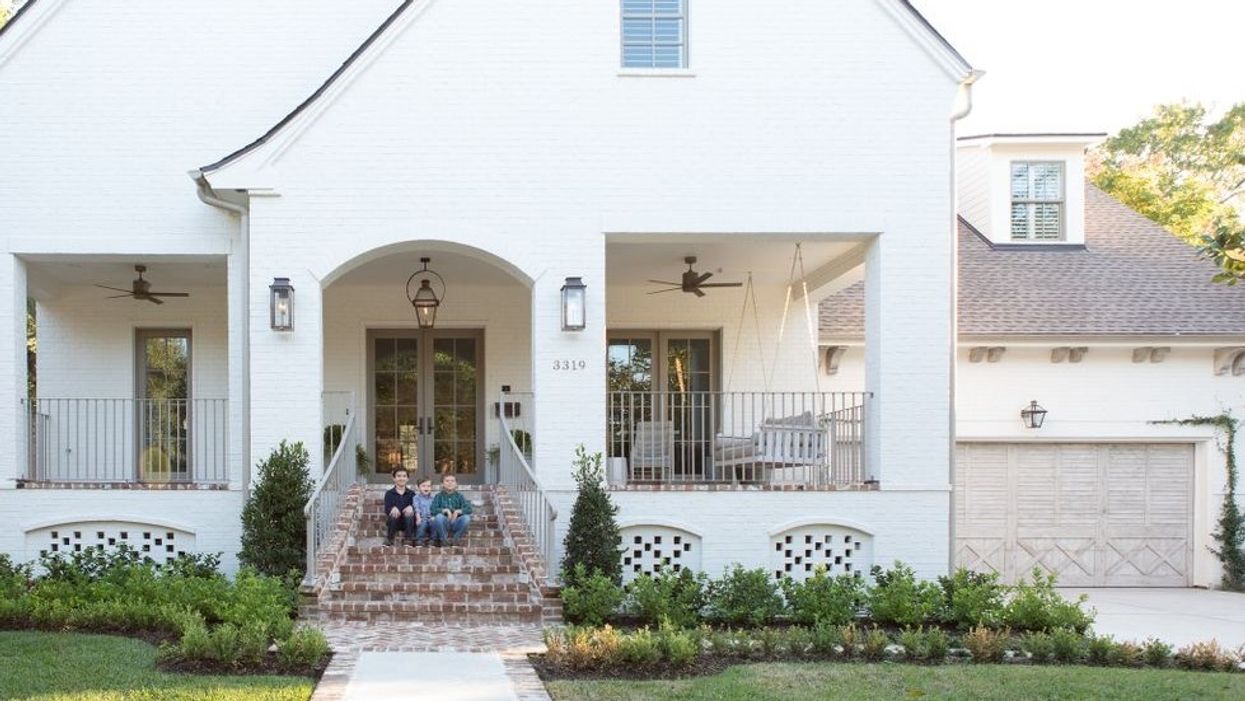 For some 42 years, Carol Adatto Nelson and her husband Eric have lived in their wonderfully rambling 1920 Craftsman-style house — the inside walls of which are laden nearly baseboard-to-ceiling with dozens, or hundreds, of family photos dating back generations — in the Winlow Place section of Montrose. Nelson knows almost everybody on the block, maybe everyone for a few blocks in either direction. She adores her home and her neighborhood and could talk for hours about her environs and her neighbors and years of memories in her beloved little corner of the country's fourth-largest city.
---
And for all those years, with all the goodwill for the folks among whom she's lived and thrived, she's had a front porch that she never, ever used. Until 2020, and the Covid shutdown, when for the first time she discovered its joys. A lot of other Houstonians have had similar epiphanies.
Nelson's new love of daily porch-sitting — and calling out to passersby to inquire as to their lives and circumstances, usually with chicory-laced coffee in hand, a holdover from her Big Easy upbringing — has become well known to her neighbors (of which your humble correspondent is one). She's learned who's between jobs, whose kids have been sick, who just got a promotion, who's celebrating a milestone birthday and needs some good wishes, who's trying to lose weight and wants encouragement. She makes easy conversation with everyone. "I'm a very social person," she says. "I'm from New Orleans, and you know how we are. I haven't left the house in months! I thought, why not use the front porch. So I did. And so this — here on my front porch — this is my social.
"Somebody's going to call the police and say, 'There's a crazy lady on the 1700 block of Marshall saying hi to everybody. You better go see if she's OK.'"
She glances down casually, her eyes widening as she finds yet more to love about her porch. "I mean, just look at this floor," she exudes of the century-old, terracotta-colored mini-tiles intricately laid in a herringbone pattern. Truly, they don't make them like this anymore.
Nelson hasn't been out as much lately, with the heat. "Not like when the weather was nice in the spring, before everybody started going back to work," she says on a balmy, overcast weekday afternoon. A thundershower is threatening, teasing really, in the way they do in Houston in late summer. Windchimes tinkle once in a while, and a small American flag inserted into one of many potted plants searches for a breeze. The mature azalea bushes that front the porch rustle faintly. Nelson is looking forward to the milder fall weather, so she can come out here more regularly again — and she hopes the long walks everyone was taking also make an autumnal comeback, so she'll have folks to talk with.
Kate Davis in West U
The gregarious grandma, whose five grandkids call her Nola in another nod to New Orleans, is not alone. All over Montrose, where many of the '20s houses and bungalows have porches a few short feet from pedestrian-friendly sidewalks — and in other parts of the metro area, too, such as new suburban developments designed by devotees of what's known as New Urbanism — Houstonians have rediscovered the wonders of a front porch. They are safe spaces, literal extensions of your own home, and yet they're open to the world. They invite interaction, and a sense of civic spirit. You can get to know your neighbors.
Crucially important as temperate gathering places in the days before air-conditioning lured everybody indoors, front porches have been regaining popularity in recent years. In fact, 65 percent of new-construction single-family homes included a front porch in 2018, according to the National Association of Homebuilders. The idea is even hot among younger folks, as some 34 percent of millennials considering buying a home say a front porch is essential. And it seems the coronavirus may have kicked the trend into a higher gear.
"As more of us stay in our homes and neighborhoods amid Covid-19," explains Melody Warnick, an expert on "placemaking" and proponent of loving where you live, writing recently for the real estate website Curbed, "we're also more willing to take the opportunity presented by a front porch to reengage with the people who live physically closest to us."
Turns out the trend curiously dovetailed with an intriguing professional opportunity for local photographers, like family-portrait artist Kelli Durham Oster, who found her phone unexpectedly ringing in the pandemic's early days. "Suddenly all these people were home and had the time to take portraits," she says. "Family became so important, and I started getting inquiries about family sessions. It wasn't just me. It became kind of this movement in the portrait industry."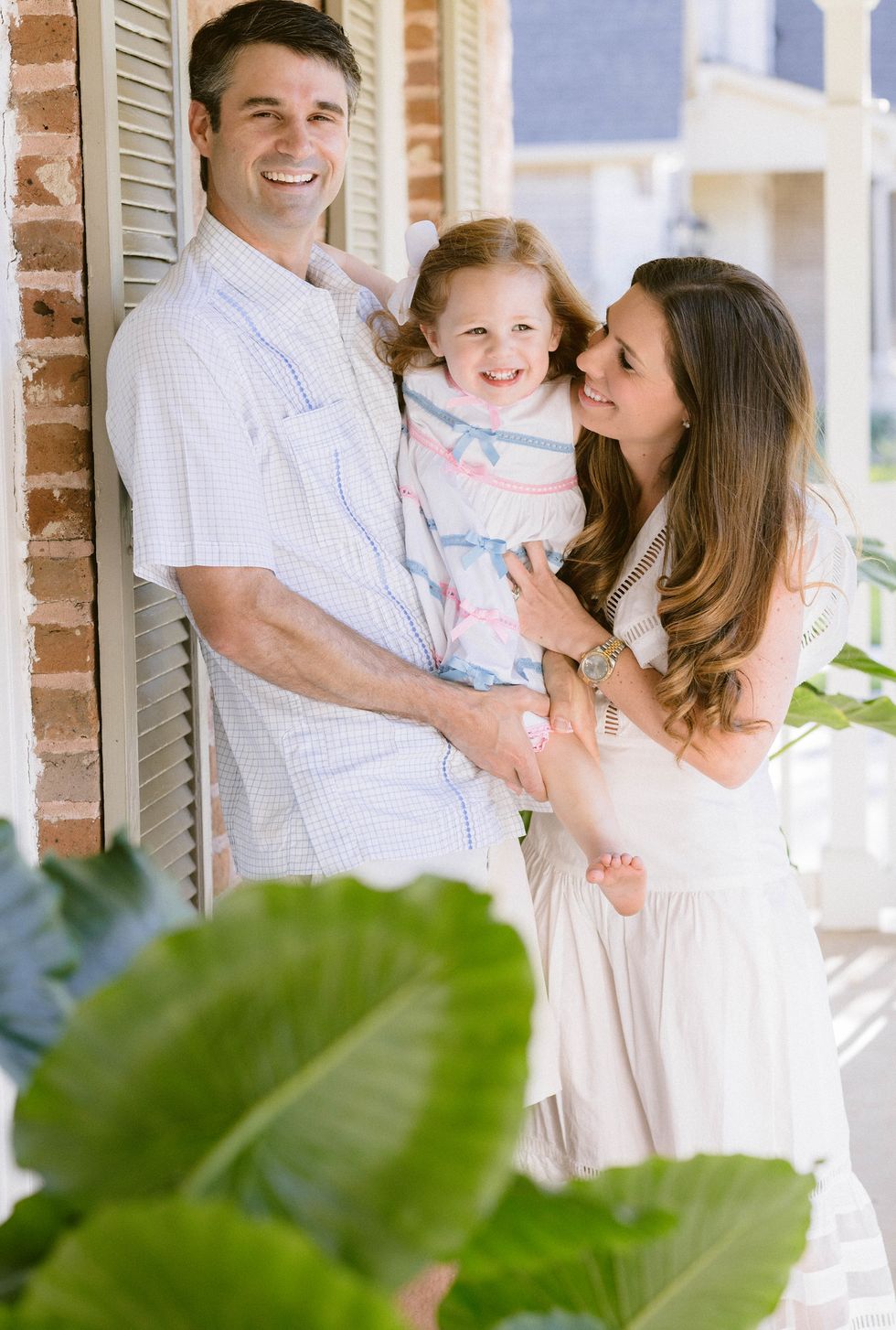 The Saporito family in Uptown
But where to shoot? And how to do it with safety and distancing in mind? Isn't it obvious: Do it on the porch!
For Oster, who donated proceeds from her front-porch portraits to the Houston Food Bank, as did others of her lensman and lenswoman peers, the location wasn't just a convenience in a time of limited options; it actually made the picture better. "I think photographing people at their home brings out a comfortability and vulnerability that you wouldn't have elsewhere," she says. "Especially with kids. It helps them put their guard down and open up. I'll get a playfulness and realness that some random public setting wouldn't allow.
"It also helps document another big part of their life — their homes," Oster adds. "There are memories and nostalgia attached to their homes, and what an amazing time in history to document and remember where you spent most of your time during this pandemic."
For her part, Nelson is quite happy to also preach the good gospel of the front porch. "People should sit on the porch," she insists. "You can enjoy the beauty of the outdoors — the beauty of your own yard. And you know what's going on in your neighborhood. And you meet new people. Well, you do if you're me."
AT TOP: Like many of her Montrose neighbors, Carol Adatto Nelson has discovered a love of porch-sitting.
Fashion+Home