A Houston Odyssey
As one of the city's most venerable block parties, The Original Greek Festival, turns 50, the Greek community reflects on its immigrant past — and how it's shaped the way Houston eats.
Shannon O'Hara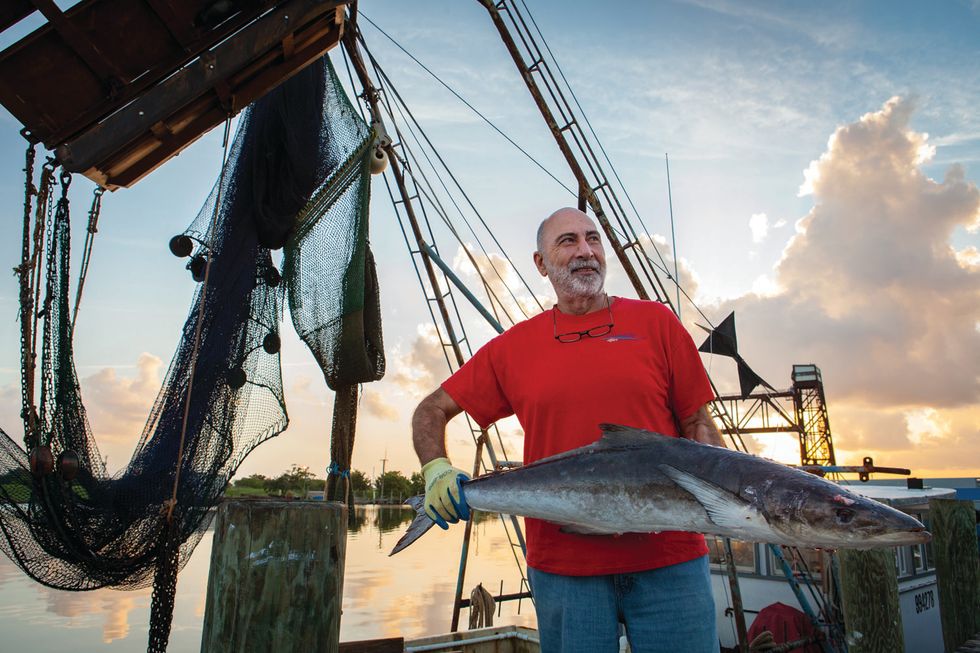 TO TELL THE STORY of Greeks in Houston, one must begin with the ocean. From the water that surrounds New York's Ellis Island, first stop for the earliest Greek immigrants who chose to settle in Houston, to the Gulf of Mexico, where today, Frixos Chrisinis, owner of Blue Horizon Wholesale Seafood and Market (2516 Wroxton Rd., 713.942.1055), greets the captains of commercial fishing boats at various ports before jumping on board to choose the freshest catches to sell. Thanks to Frixos, Houstonians now have access to restaurant-quality fish at his convenient Southampton-area market.
---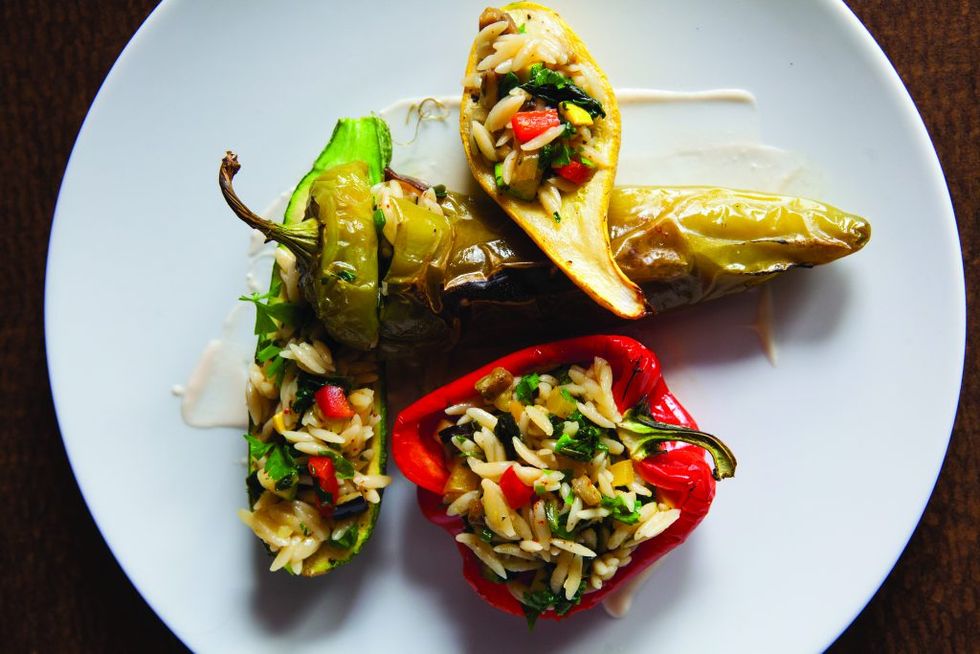 Orzo-stuffed peppers at Helen Greek Wine & Food
"We put out nothing but the best," says Frixos, who refers to every customer as 'my friend' and in turn is known to everyone in Houston by his first name. "You come in, and we only have two types of fish? I tell you, 'I'm sorry! This is what's fresh!'" What's fresh in the spotless walk-in freezer at Blue Horizon is clear-eyed, large and shiny, with dark red gills, and packed in finely crushed ice, "so they don't bruise," he explains. Wednesdays through Saturdays, the intrepid home chef can find flounder, sockeye salmon, trout, Gulf Stone crab and more.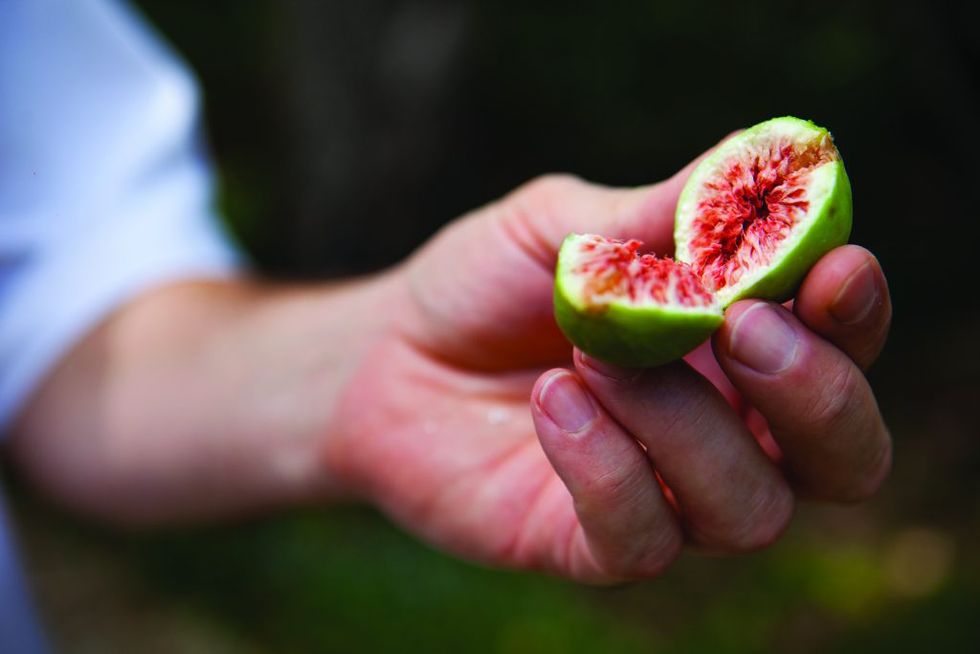 In addition to keeping a bee hive for producing honey, physician Michael Macris grows figs on a tree in his yard that has a direct lineage to one that stands at the opening of the Cave of the Apocalypse in Greece.
The care and dedication required to make truly great food — and make a successful business from it — is common in Houston's long-established Greek community. It's a storied, and tasty history, which will be celebrated at the 50th anniversary of The Original Greek Festival (Annunciation Greek Orthodox Cathedral, 3511 Yoakum Blvd., 713.526.5377), Oct. 6-9.
For his part, Frixos' personal Houston history goes back even further. Born on the Greek island of Arkoi, Frixos was earning a living diving for octopus before the age of 10. His father taught him to fish, his mother taught him to cook. He came to Houston in 1963 at age 12 as a tourist, and quickly found work in his relatives' kitchen as a dishwasher — a slightly easier task in Texas than back home. "The kitchen had washing machines," he recalls. "On the Greek islands, we did everything by hand."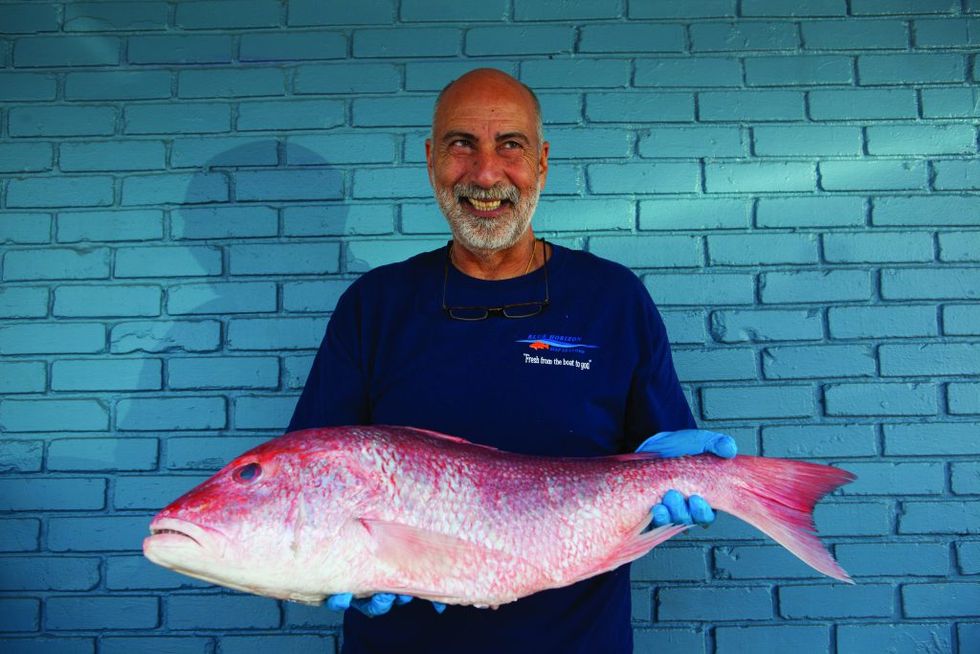 Frixos Chrisinis at his Blue Horizons fish market
In 1980, Frixos opened the popular Mykonos Island Restaurant, where members of Houston's Mediterranean community came to savor lamb riganato, moussaka and charcoal-grilled red snapper smothered in a secret-family-recipe sauce; listen to music as played on the bouzouki, a sort of Greek mandolin; and occasionally dance on the tables. Mykonos closed in 2007 when the landlord refused to renew the lease. Undaunted, Frixos continued on as the city's go-to fishmonger. He opened Blue Horizon market early last year, and now provides fish for more than 90 Houston restaurants. "I just have the connections," says Frixos of the tremendous demand. "Not too many people are willing to get up at midnight to go get fish!"
This work ethic goes back to the Greek men who arrived in Houston beginning in 1889 and worked menial jobs. The city's weather and proximity to the ocean provided a palpable connection to the home they left behind, and within a few decades, Houston became home to one of the largest Greek communities in the United States.
Many of the first Greek-owned businesses were cafés and confectionaries, some of which would become Houston institutions — sometimes proffering Greek fare, often not. In 1923, Tom and James Papadakis opened up the first James Coney Island Downtown at Walker and Main to sell the then new "Coney Island" wiener on a bun. In 1967, the four sons of restaurateur H.D. Pappas, who emigrated from Greece to Dallas in 1887, opened the Dot Coffee Shop as part of their successful Pappas Refrigeration Company. Today there are more than 90 Pappas-owned restaurants located across the country, including Tex-Mex and creole variations and firstrate steakhouses, as well as Houston's Yia Yia Mary's Pappas Mediterranean Kitchen (4747 San Felipe St., 713.840.8665, and at Hobby Airport). Among Greeks, "yia-yia" is an affectionate term for grandmother.
In 1977, Chrysanthos and Eleni Fetokakis borrowed money to turn a neighborhood gas station into Niko Niko's (2520 Montrose, 713.528.4976), which grew to four locales managed by their son Dimitrios. Haritos Bibas arrived in Houston in 1978 and opened the popular 24-hour Bibas' One's A Meal, now Theo's Restaurant (812 Westheimer Rd., 713.523.0425).
Of course, for Greek people, cooking and sharing great food isn't just good business, it's an expression of hospitality and love. "If you're going to become friends with a Greek," says Doug Harris, a representative of The Original Greek Festival, "sooner or later, you're going to have a meal with them."
Harris, whose father Rudolpho Zaharoulis changed his last name while in the army, was just a teenager when members of the Annunciation Greek Orthodox Cathedral decided to include a "Greek night" as part of the celebration of the community's anniversary. The festival has enjoyed enormous growth in the past decade, and offers Houstonians a completely immersive experience of traditional Greek culture, including plenty of traditional food, live music and performances by the festival's own dance troupe, whose members dress in the traditional costumes of different regions in Greece.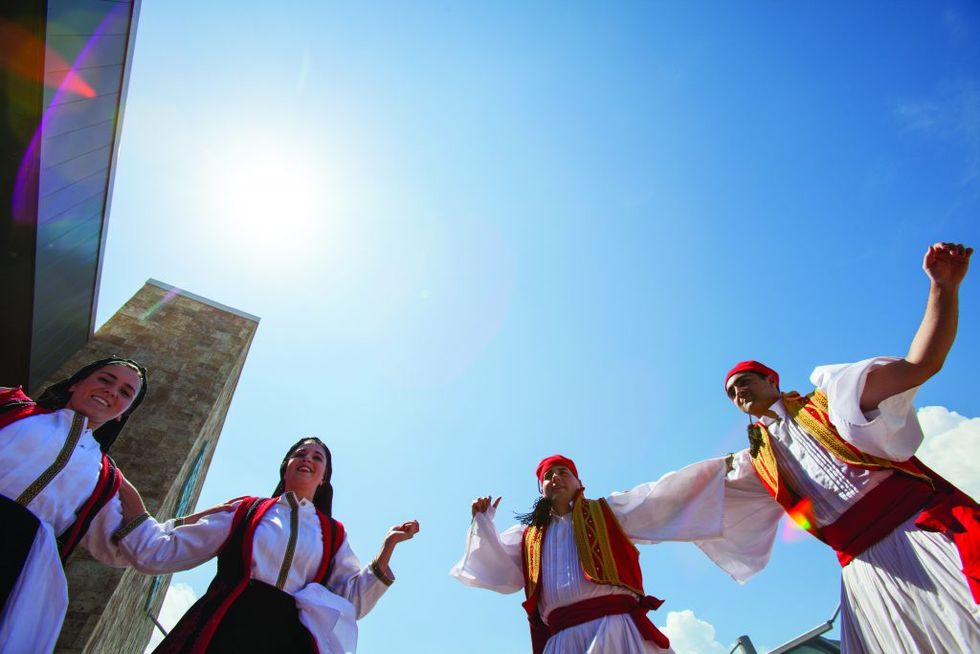 Dancers near the Annunciation Greek Orthodox Cathedral in Montrose
In the early years of The Original Greek Festival, food was prepared in the church's small kitchen to sell at the charity event. That kitchen has grown to include a walk-in cooler and the latest in cooking technology, all designed to handle the challenge of adapting yia-yias' recipes to serve more than 10,000 festival attendees. In the three months leading up to the fest, volunteers, sometimes two or three generations from one family, work in teams to prepare tray after tray of popular Greek dishes, including baklava, kourambiedes (butter-almond cookies), and spanakopita, a spinach and cheese pastry. "It's less a production line, and more of a community gathering," says Harris.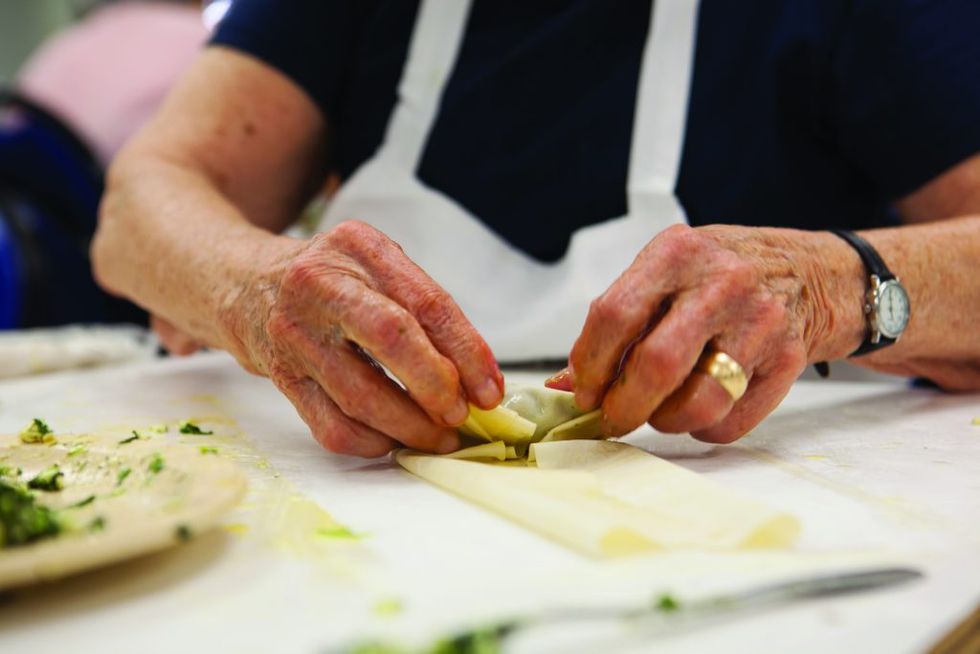 For months leading up to the Original Greek Festival in October, dozens of ladies, young and old, gather at the Church to perpare food to sell.
How to keep food authentically "Greek" while keeping up with the demand of the market is the challenge Myth Kafe (1010 Prairie St., 832.397.6373) took up when it opened its Downtown location in April of 2015. The food, including tzatziki, a dip made of yogurt, cucumbers, olive oil and spices and typically served with meat, and arnadiko, which is lamb marinated overnight with garlic and herbs, is prepared each day from scratch by chef Xaralambos Koutroumanos — "Harry" for short — at the restaurant's original location (1730 Jefferson St., 713.739.0990). "We are just cooking food the Greeks like to eat," says Georgios Petrou, who co-owns the restaurant with his artist wife Paige Moore, a native of Houston.
For her part, first-generation Greek American Roula Christie has something similar to promote, to her own children. She's adamant about the importance of staying connected to her ethnic roots. "I want my kids to know about my parents," says Christie, who speaks fluent Greek, "where they came from, and what it meant for them to come to America."
Houstonians know Christie both as the cohost of KRBE's popular The Roula & Ryan Show, and as the daughter of restaurateur Jim Christie, who remained a presence in his much loved Christie's Seafood and Steak Restaurant (6029 Westheimer Rd., 713.978.6563) until his passing a few years back. Christie says her mother and father were both "very gifted in the kitchen." "When my dad finished his routine for the day, he always made something special for us," she recalls. "He loved to make xoirino sto fourno me patates, which is ovenroasted pork with oregano and lemon potatoes. He would get that skin crisped just right!"
Georgea Pappas, daughter of Chris Pappas and head of Pappas Restaurant's Culinary Research and Development team, also sees Greek cooking as a way to connect with and hold on to her roots. She notes that Yia Yia Mary's, where chocolate cake is soaked in raspberry juice and ouzo before it's glazed with ganache, the menu is indeed inspired by what she learned in her grandmother's kitchen. "It was like the seasonings were coming out of her fingers," says Georgea of her grandmother's cooking. But along with those seasonings, Georgea says "love and generosity" are essential ingredients to Greek cooking.
"Growing up, you have so many good memories of your parents cooking for you," explains Georgea, who is expecting her first child. "My friends would come over, and everyone was welcome. My mother even says that now, 'There's never too many people!'"
"I hope I can fulfill the same thing for my kids," she says, "the way I was provided for."
While Yia Yia Mary's is pointedly traditional in its approach, Helen Greek Food and Wine (2429 Rice Blvd., 832.831.7133) is more novel. The restaurant's concept comes from co-owner and sommelier (and non-Greek) Evan Turner who, while living in Thessaloniki as a child, became enamored with Greek cuisine. After a failed Kickstarter campaign to fund his vision for a new type of Greek restaurant in Houston, Turner partnered with friends Sharif Al-Amin and Tim Faiola to make his dream a reality. Less than a year since it opened, Helen has received critical accolades, including a 2016 James Beard Award semifinalist nod for Best New Restaurant.
While Helen's menu, which creatively incorporates Gulf Coast ingredients into its recipes, may be more Greek-inspired than traditionally Greek, both Greek and non-Greeks speak highly of Executive Chef William Wright's deeply researched culinary skills, as well as the restaurant's expansive and entirely Greek wine selection, the second largest Greek wine list in the U.S. Helen's non-traditional yet traditional menu includes — in addition to a roasted chicken cleverly brined in water salted with feta — the "Frixos catch," a majestically presented, deboned, lemony whole fish that you know is fresh since it comes from Houston's favorite fishmonger.
"I love Texas so much," says Frixos, who has lived in the city for 56 years. "This is my place. This is my home. In Greece we say, 'A rock that moves doesn't root.' "We appreciate the country," he adds. "We want to give something back."
Food+Travel