A New High
With new spins on snow sports on offer, and classic adventures in après-ski aplenty, Aspen is hotter than ever this ski season.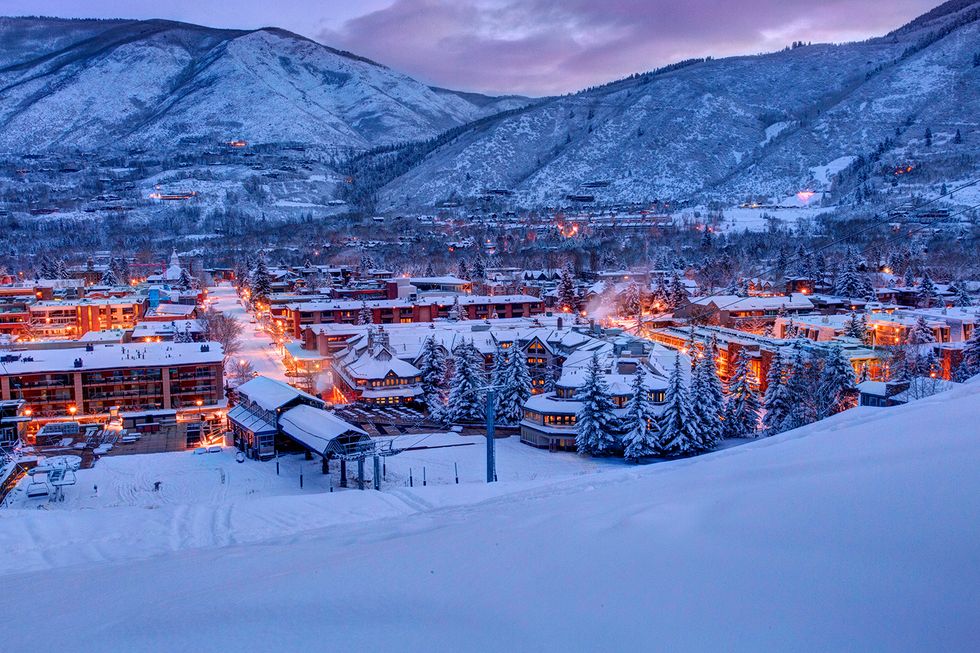 The snowy slopes of Buttermilk Mountain, one of the four ski areas of Aspen-Snowmass, gleam beneath a bluebird skies. For years, Buttermilk has offered snow riders a gentler, less crowded alternative to the steeps of Aspen Mountain back in town, Aspen Highlands and Snowmass. But lately, explains outfitter Stephen Szoradi, a partner with the Aspen Alpine Guides, which organizes adventures across Colorado, Buttermilk, longtime home of the X Games, has emerged a beacon for ultra-fit uphill skiers and sweaty would-be ski mountaineers.
---
Uphill skinning, for flatlanders who missed last year's bulletin, is the latest high-altitude fitness trend, using specialized alpine touring equipment — such as flexible boots, lightweight skis and pivoting bindings — to allow skiers to earn their turns climbing groomed slopes. Buttermilk and its sibling mountains have embraced these hard-bodied athletes, organizing quirky races and offering free uphill lessons most Sundays. "It's a great workout," said Szoradi, who also advocates for the pleasure of "thug" yoga, which involves not just stretching but also drinking beer.
Alongside excitements such as road-testing the latest Audi Quattro SUV, uphill ski clinics are also one of the fresh winter activities popular at the swank Limelight Hotel in Aspen. (Fifteen minutes away, Snowmass will get its own 99-room Limelight in the fall.) The sport of skinning grew out of the past decade's explosion of backcountry ski opportunities at Western resorts — touring "off-piste," as veteran skiers might say. Skirting the woods, Szoradi breezes up Tiehack, a climb of 1,700 feet.
The reward for seeking such trendy new forms of exertion, in addition to quads of steel, can be found in the après-ski capital of country's well-established reputation for cool spots and tasty calorie replacement. There's also still some good old-fashioned downhill skiing, of course. No wonder sports stars, including Lance Armstrong, who reportedly owns a $5.5 million home in Aspen, and celebs such as Kevin Costner and Goldie Hawn and Kurt Russell, are familiar figures here, as is Hawn's daughter Kate Hudson. Top-tier politicos have also been known to make the scene, a la the Obamas, and the Trump kids.
The Little Nell hotel, which renovated over the summer, is still the heartbeat of Aspen. It's the most crowded après-ski living room in town. It's at the base of the gondola. It's just below Ajax Tavern, the other hot spot at the base of the main ski mountain. Also, if you're a guest, they will arrange "First Tracks," so you can be the first to ski down the mountain once they've been groomed for the day. They also have the best wine list in town, and it's the finest spot to dine. And if you can't get enough of winter-sports fads, the Little Nell can set you up with wide-tired snow bikes for a wild new take on cycling.
While two W properties are readied for next year, the iconic 19th century Hotel Jerome, which has (rather quietly) been owned by Houstonian Dan Friedkin for three years, is also still a big draw. Even bigger really, as it's expanding into the historic Aspen Times building next door with new rooms and a underground speakeasy. (The latter will be Aspen's second cool underground bar owned by Houstonians. Todd and Wendy Mitchell proffer a setup called Hooch.)
For those in search of retail therapy, nearby stands the new BLK MKT, a nifty gallery and pop-up retail space, where artists and designers display edgier items. And the more traditional boutiques are A+. The list includes Distractions, MAX, Gorsuch and Nuages, to name a few of the best for ladies, not to mention the regular big brands like Gucci, Dior, Brunello Cucinelli, Louis Vuitton and Valentino. Popular Kemo Sabe is a must for anyone looking for hats and boots, and Pitkin County Dry Goods is another very local, must-see shop for casual hip clothes for men and women.
Fun dining options include CP Burger, where in summer there's a putt-putt golf course and in winter a skating rink. Brunelleschi is the hot spot for pizza, especially for kids because they get to make their own pies. For grownup foodies, longtime Aspen regulars will tell you that, perhaps counterintuitively, the town offers some of the best sushi you'll ever eat. Matsuhisa is pricey and fabulous and arguably the most important restaurant in town; Kenichi is also great and more approachable.
Of course, there can be no better food-and-wine experience in Aspen than a mountainside après-ski one. One Houstonian with a second home here says Cloud Nine — called "C9" if you're cool, and some 11,000 feet up on Highlands — is her "all-time favorite place." You can only get there by skis, so you'll have to make tracks to sample the fondue. Oh, and be ready for a Champagne shower. The whole place periodically gets sprayed with Veuve.
Could swimming through a spray of sparkling wine truly be the trendiest new sport in Aspen?
Food+Travel