A Southampton Couple Mixes His and Hers Elements to Create Warmly Mod Dream Home for Two
Josh Gremillion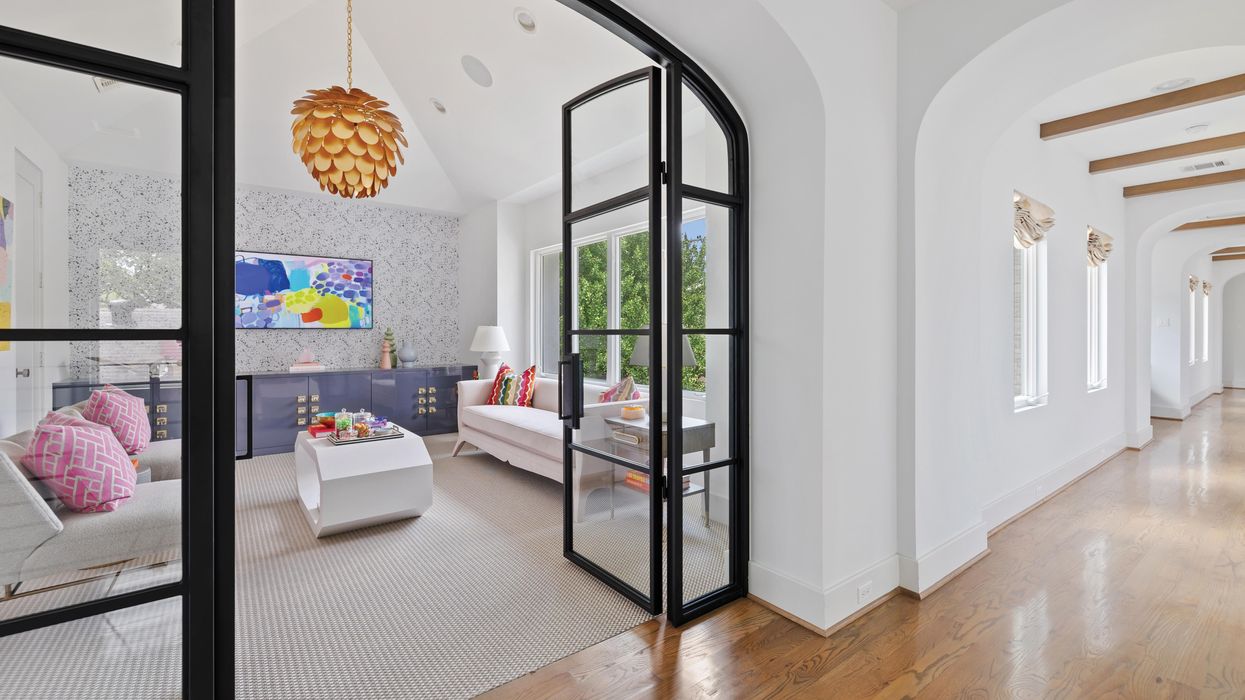 THE MAROUNI HOUSEHOLD is a lesson in well manicured restraint — followed by a double shot of playful color. Outfitted by Allie Wood Design Studio, the home in Southampton was built by former Houston Rockets player Brad Miller and purchased by Bellaire High School sweethearts Oren Marouni and Lauren Weingarten Marouni in March 2020.
---
"I've known Allie since middle school," says Lauren, 35, who is a quadruplet. "We interviewed a couple of decorators, but what impressed me about Allie is that she also has a degree in architecture. She understands space and proportions."
The hallways and room entrances were designed to accommodate the sky-high previous owner. It makes the pint-size lady of the house look almost cartoonishly small by comparison — but Lauren says the thoughtful floorplan and "great bones" won her over.
The first level is all business, with clean white walls and sculptural lighting fixtures and whimsical accent pieces that become focal points in the two-story, 4,600-square-foot home. A number of art pieces were inherited from Lauren's grandmother.
Wood — whose father Preston and husband Aaron Rosenberg are home builders — and Lauren took advantage of the home's nooks and crannies, creating small vignettes out of meaningful pieces like the geometric console table in the first-floor hallway, which also hails from a former classmate, artist Sydney Shatz.
"I wanted her to integrate something besides just wood and resin because I feel like that's standard," says the designer, who prides herself on an ability to source and customize unique pieces at any price point — and on her impossibly long, bright-blonde mane. "We found this great round piece of stone, and she popped it through a wood-and-resin slab so it could be one leg of the table."
Another interesting element is the Kermit the Frog-colored couch in what is lovingly dubbed as The Green Room — which is also one of their pup Bologna's favorite areas. When Oren isn't reading a book on the sofa or Lauren isn't enjoying a sip of Champagne with her friends, Bologna is known to nestle in and watch the squirrels.
Geometric shapes abound in everything from the carpets to the bathroom tiles to give a clean, organized, crisp finish to each room. Wood offers her updated take on the ever-popular all-white, subway-tiled kitchen, with a massive stainless-steel-topped island and cool gray-green accents.
Upstairs, however, Wood and the Marounis let loose. A staircase leads to what can only be described as ultimate hangout spots. The "he room" and "she room" are where the two spend their discretionary time.
Lauren's room is like a designer-savvy take on a Dylan's Candy Bar, evident from the moment the massive steel double doors are thrown open. Funky wallpaper, multicolored art by Sarah Luna that mimics spilled paint, and scalloped and striped throw pillows provide texture, and bowls of colorful candy are irresistibly fun accents.
Meanwhile, Oren's space is a celebration of his alma mater, the University of Texas, with dark peppercorn wall paint, colonial brass shelving and leather furniture complete with burnt-orange accessories.
"These rooms are a way to entertain upstairs and bring people into other parts of the house without it being just a bedroom. These are everyone's favorite rooms," says Wood, who strived to achieve masculine and feminine looks, respectively, "without being cheesy."
For their guests, the Marounis commissioned custom sleeping arrangements down the hall: queen-size bunk beds, situated against leather headboards and cleverly placed sconces. And for the primary suite, Wood purposefully kept the room in a neutral palate, adding only plaster to replace a shiplap wall and keeping the colors serene, including putty and soft metallics, to provide a sense of calmness in an otherwise kinetic second floor.
The one area where Wood splurged? The cluster-bulb pendant lights dangling on either side of the bed. "To dial up the drama."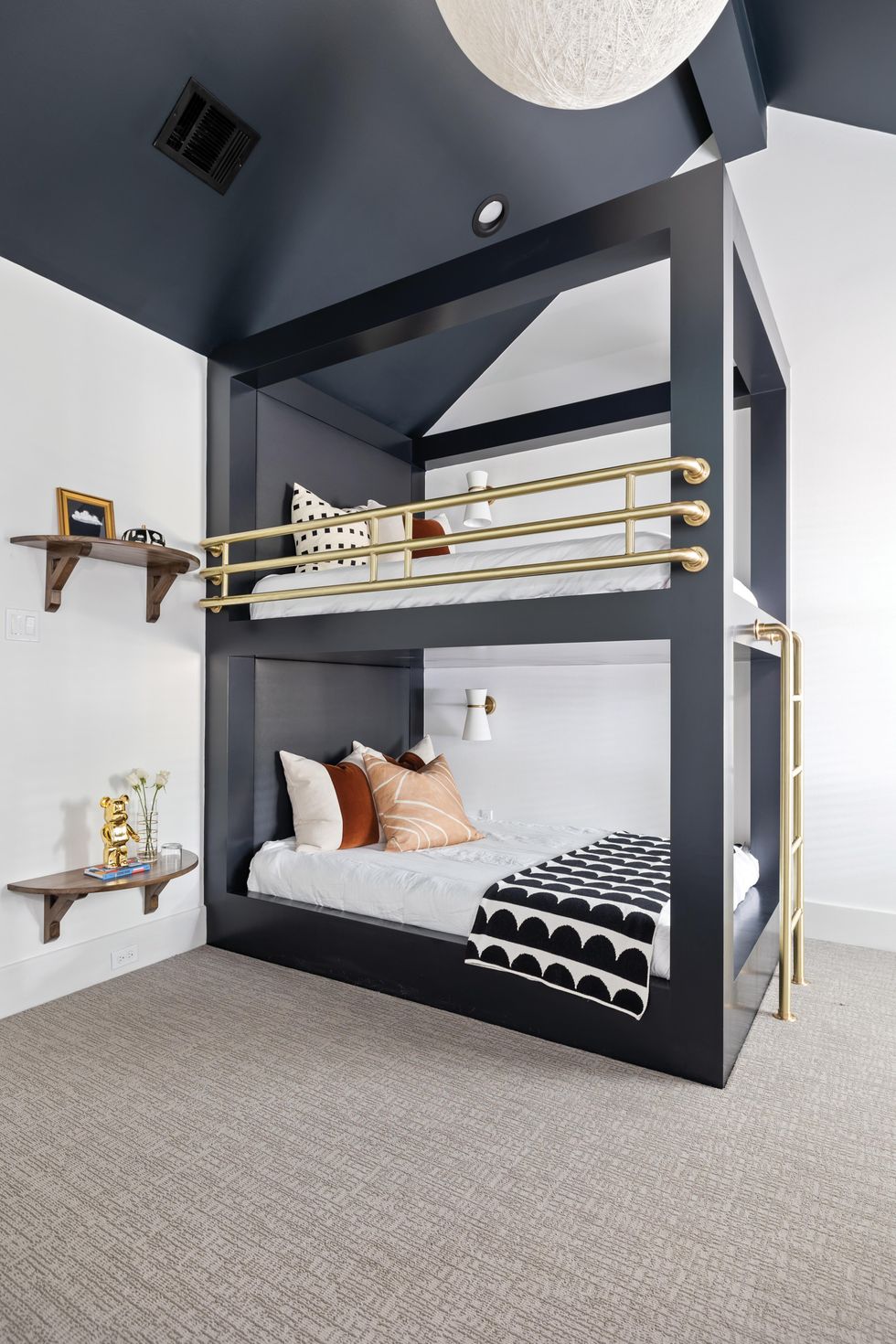 The towering guest quarters are fit for children and adults alike.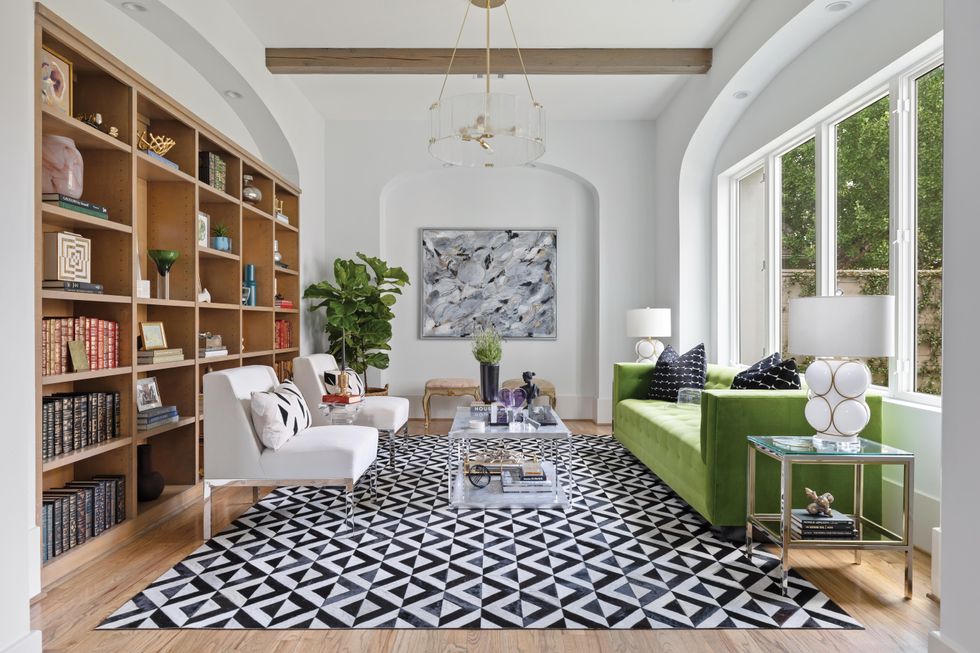 The downstairs living room is lovingly dubbed the "green room," named for the Kermit-colored sofa and verdant views. A Rejuvenation pendant light and rug by Stark complete the space.
The family dog Bologna loves watching for squirrels in the "green room."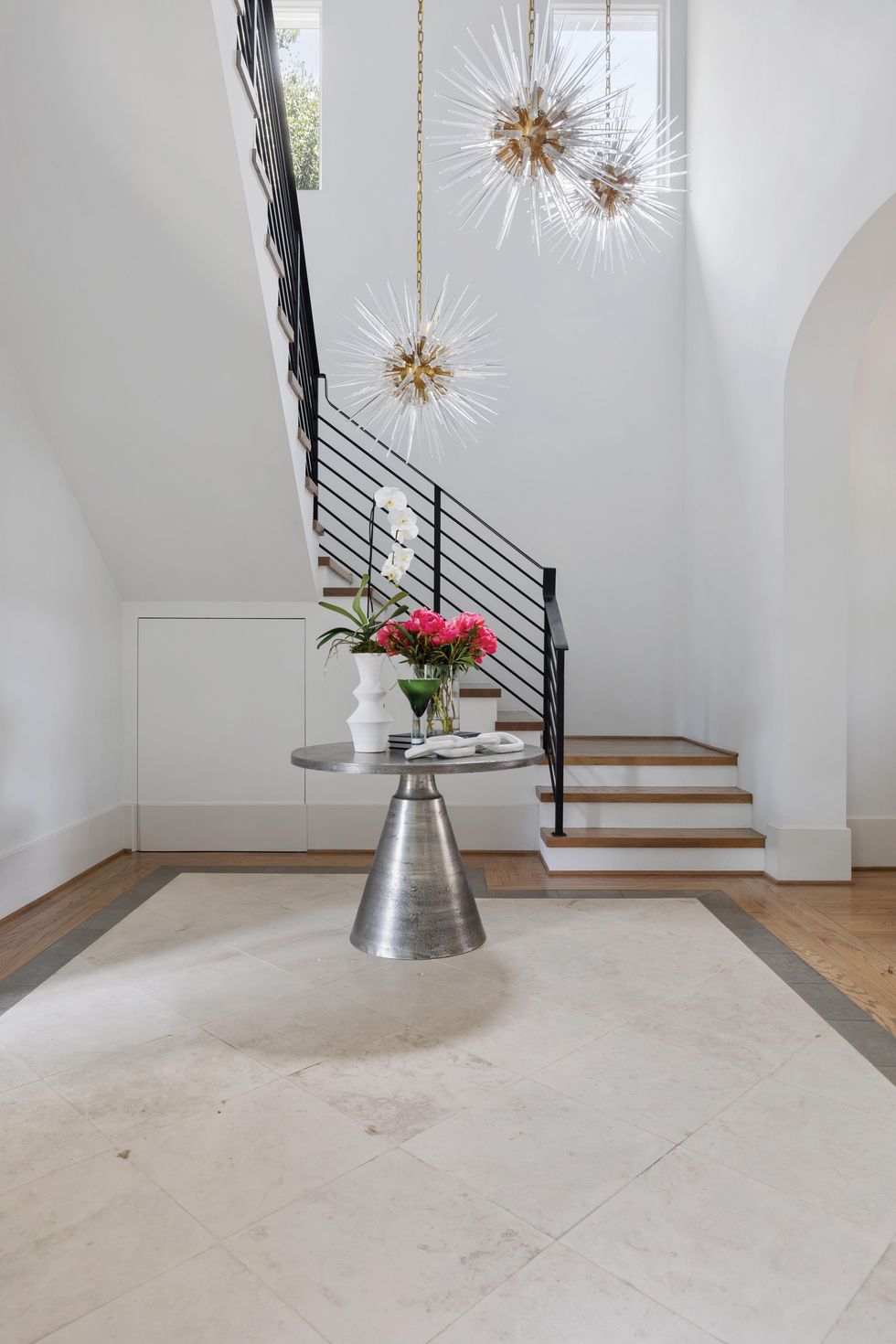 The entryway is funky yet welcoming, with Circa Lighting pendants, a table by Four Hands and accessories from CB2 and Area.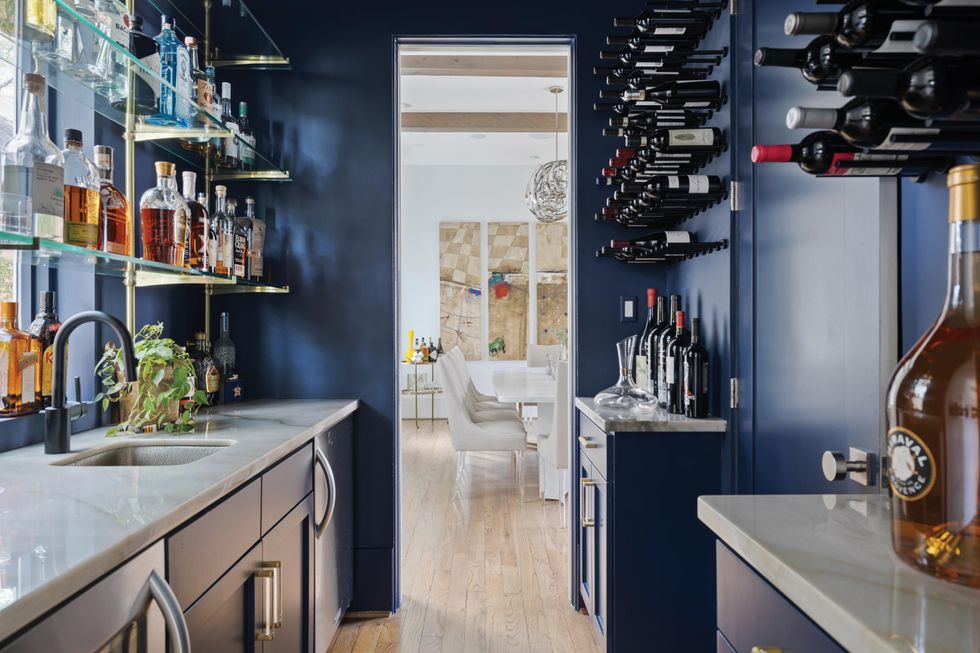 The wet bar off the dining room is made for entertaining.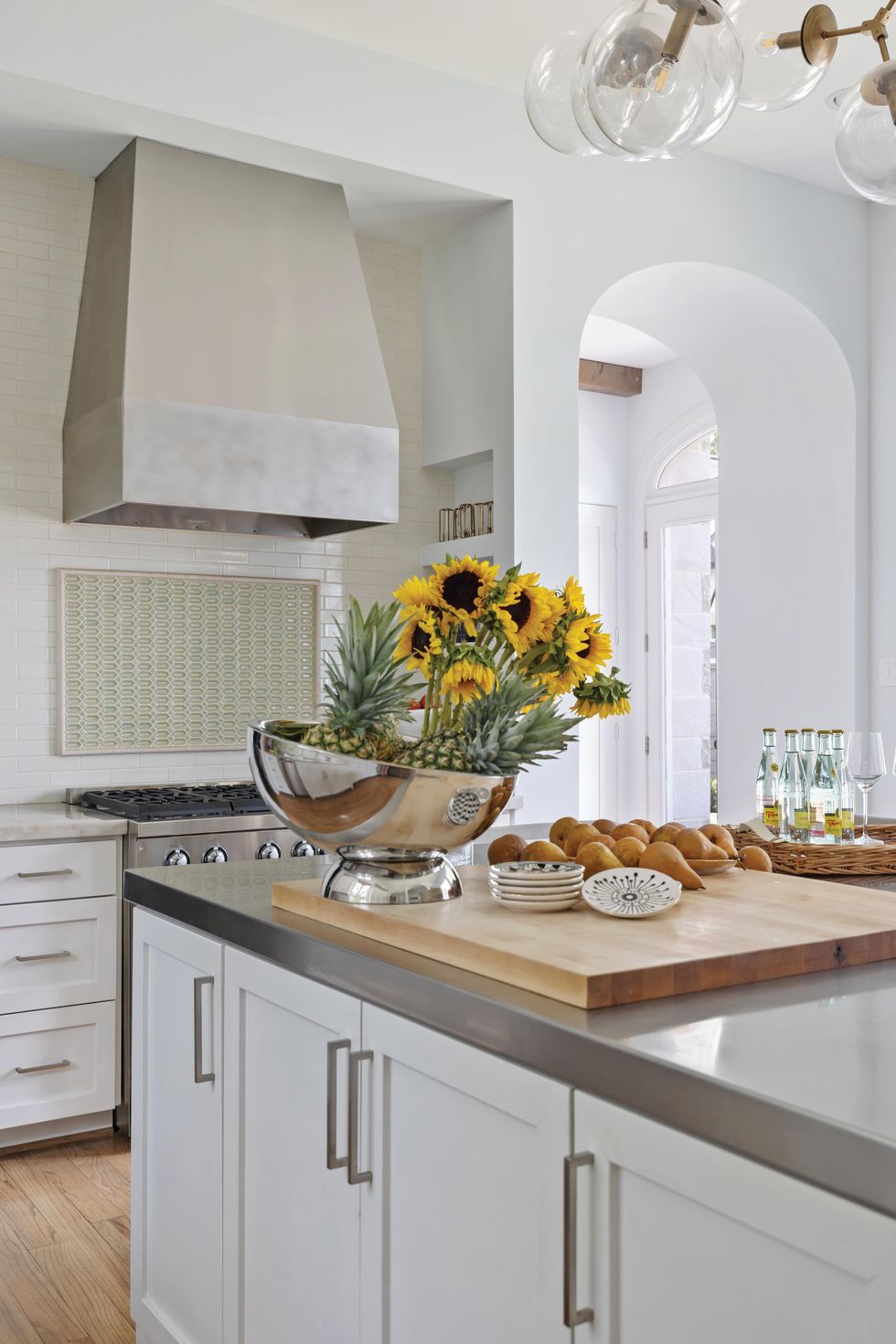 The kitchen is Wood's warm take on an all-white room.
From Your Site Articles
Related Articles Around the Web
Home + Real Estate