Animal House
When the time came for another young couple to discuss a vibrant and whimsical remodel, one savvy designer was all ears.
Julie Soefer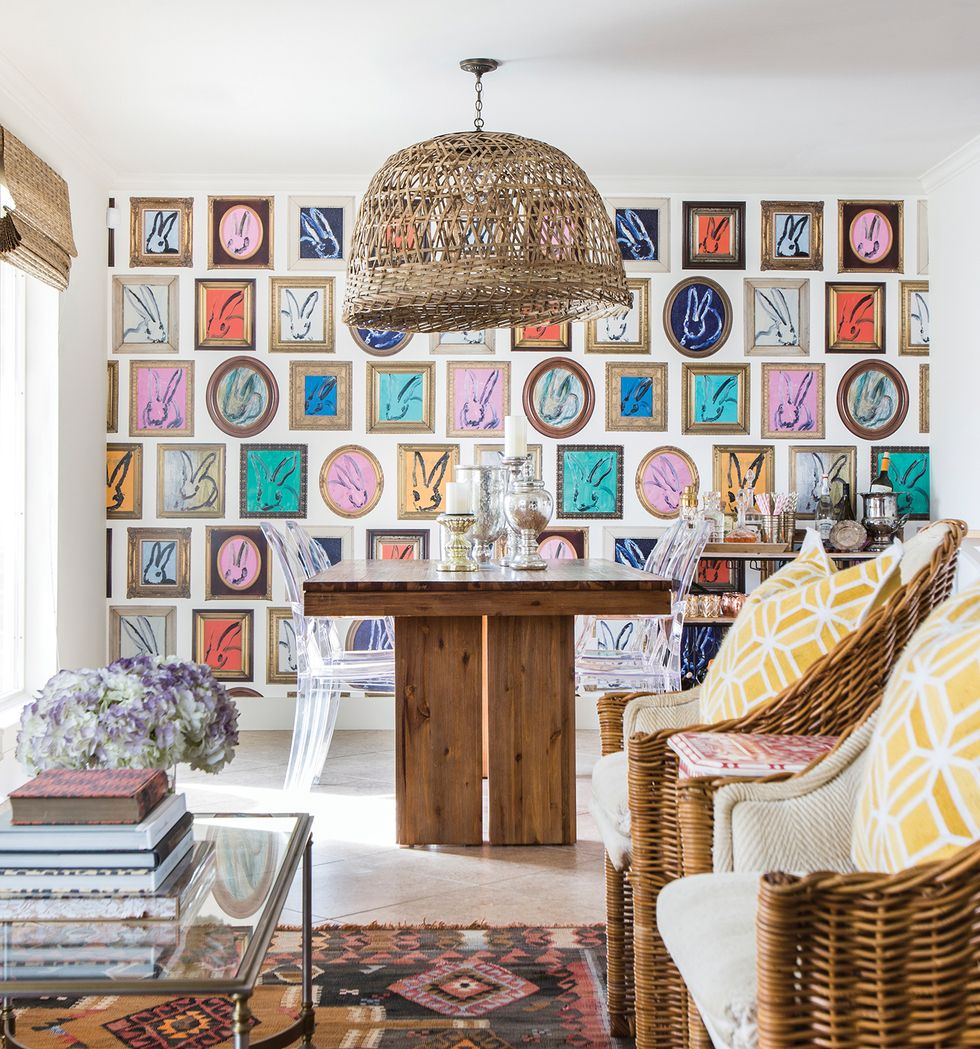 Bea and Ford Allen, like so many Houstonians, spent years trying to find their dream home in the city. "And when you do find something good, eight people show up and it's gone," says Bea.  "I just wanted land and to be free! But not live in the 'burbs." She and Ford found plenty of great homes built on small lots, and plenty of run-down houses on larger plots of land. "I wasn't crazy about this house when we found it. But I saw the backyard and that was it. There are four huge mature trees, and they provide the perfect umbrella over the yard."
---
The couple hired Jamie House to turn the not-so-ideal 2,300-square-foot mid-century home into their dream house, which involved creating an open layout and incorporating nature-recalling elements. "The house had good bones," House says, "but a very weird layout." House scattered youthful, colorful touches throughout, such as the whimsical Hunt Slonem-designed rabbit wallpaper by Lee Jofa.
"My house does not feel grown up," says Bea. "Every morning I walk into my dining room and look at my bunny wallpaper and I think it is just the happiest wall. It makes my day, everyday. It probably looks like I watch Frozen and eat ice cream."  Bea is a legal assistant and her husband is in commercial real estate -— both in their 30s with no interest in the all white-and-gray trend that has run rampant throughout the design industry in the past few years.
Next to the wallpaper hangs a huge fishing basket that House found at Gail Antiques. It had the natural element that the Allens loved, so Jamie turned it upside down and made it into a dining room pendant. Clear ghost chairs — Bea says they're surprisingly comfortable — and a pair of cow-print end chairs surround the wooden dining table. "The cow chairs are my Texas infusion," says Bea, who had House carry the cow theme into the living room with an upholstered ottoman. "My husband's family owns a ranch, I just had to do it."
A last-minute decision during construction brought down part of the wall between the dining room and kitchen. Having to work around a load-bearing beam, they were only able to cut a pass-through between the two spaces. "I couldn't bear the thought of having to go around the corner from the kitchen to see what was going on in the dining room," says Bea, who cooks often. They put butcher block on the counter between the two spaces so it would be highly functional.
The mod take on a traditional Persian rug in the kitchen was an eBay find from a company in Turkey. "I was terrified," says Bea. "I was expecting to get a box with rocks in it. You send them all of this money relying on a picture. Thank goodness it looked exactly like what we saw online." Another great find: the black-and-white cement tiles in the master bathroom from Walker Zanger. In fact, the master bathroom is the designer's favorite space. "I love the black walls with the white tile. It's crisp and fresh!"
The crystal chandeliers on each side of the bathroom mirror — and also in the living room, next to the fireplace adorned with a vintage screen purchased at the Guild Shop — were handed down from Ford's grandmothers on both sides of the family. "We were so fortunate to be given those," Bea says. "To have those antiques in the house is really special."
The homeowner also adores one of her brand-new purchases — the fuchsia sectional sofa in the living room. "My husband was okay with it," says Bea, whose wish list for House included a pink couch. "It is a little girly, but we have an extra room where he can have his man cave."
The master bedroom was a space that needed some major renovation attention. "We had to take two bedrooms and this janky little bathroom and turn them into the master suite," explains House. During construction, there was a tiny window that would have been over one of the nightstands that they ultimately decided to close up. "We had plenty of light from the sliding glass doors, and that window was not working," Bea says. The bedroom walls are covered in gold-leaf Hygge & West wallpaper, which perfectly complements the black Pottery Barn chandeliers that hang above the nightstands. Bea actually owned one of the chandeliers before she was married, and luckily five years later they were able to buy another to make the pair.
Bea describes walking into her house and immediately getting a welcoming feeling of warmth, thanks to House's vision. "It is so fun to take an old ranch house and make the floor plan modern. This house doesn't look like it was built in the '70s," House says. "It's great to be able to restore houses when you can. Houston has a lot of opportunities like that."
ABOVE: The Allens' living room features wallpaper with the famous Hunt Slonem bunnies. 
Fashion+Home