Bend in the River
San Antonio, often dismissed as touristy, is changing fast, as star chefs vie for foodies, and a hip hotel scene rises at water's edge.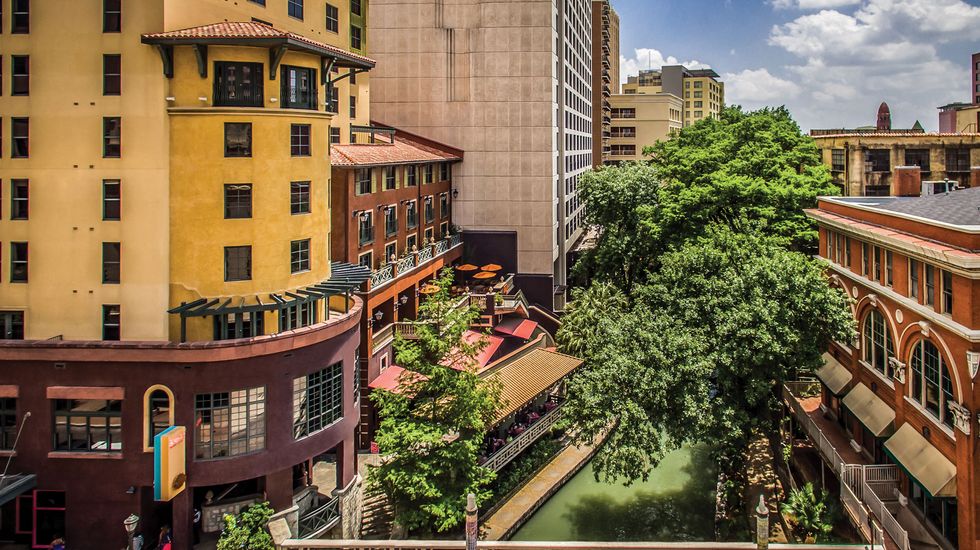 MOST HOUSTONIANS KNOW San Antonio, just a three-hour journey West on I-10, is a convenient retreat with scenic Hill Country views and family-friendly activities. It's less widely known that a different side of the city has started to emerge. The foodie scene, hip nightlife and boutique hotels are flourishing, amid a flurry of high-profile renovation projects and grand openings.
---
Developments at the Pearl — a former brewery built in the 1800s which now serves as an industrial-chic mixed-use development with a popular weekend farmer's market — have been unfolding over the last five years. Recently, the Hotel Emma, which was once itself a brew house, has garnered national press for its eclectic looks and amenities. There's a library with vaulted ceilings — plus the distinctly Texan greeting of a complimentary La Babia margarita upon check-in.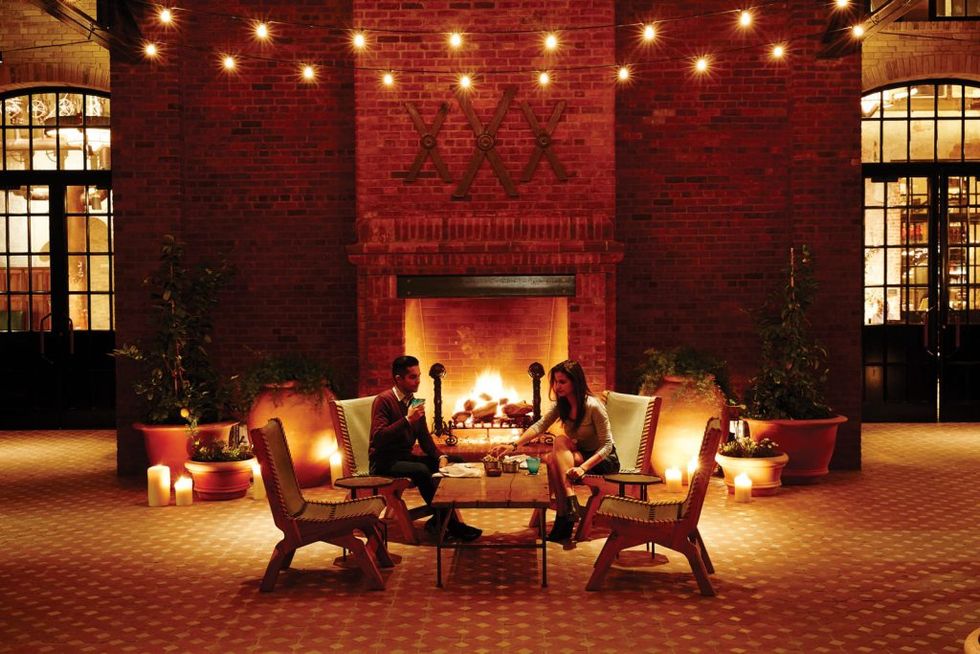 A cozy moment at Hotel Emma
The hotel's flagship restaurant, Supper, is frequented as much by locals as by hotel guests. The concept by chef John Brand boasts fresh bistro fare with a list of daily offerings, and the dining space spills onto the banks of the San Antonio River. Serene and bucolic, this riverside feels far from the colorful lights and festive touristy fun of the River Walk, but water taxis arriving outside Hotel Emma's main entrance every half hour make it easy to access the destination nearby.
There is much to explore within the Pearl by way of land. Newcomer Botika, by chef Geronimo Lopez (formerly of Nao, another Pearl restaurant), serves Peruvian-Asian fusion fare with dishes like the Pulpo "Al Olivo," slow-poached octopus with Botija olive mayonnaise and fried yucca. And High Street Wine Co., with its quaint patio, is a welcome addition to the main square. A list of 30-plus varietals by the glass — almost 200 by the bottle — and its locale in the Pearl's pedestrian-friendly plaza make it one of the more popular new spots.
Meanwhile, at the St. Anthony Hotel (300 E. Travis St., 210.227.4392), San Antonio's first luxury hotel, built in 1909, guests are invited into a world where historic meets hip, and stories of the city's colorful past are still told. Stop in to the St. Anthony Club, the speakeasy-style bar hidden in a dark corridor within the lobby, and hear how Texas businessman Rollin King — the man behind Southwest Airlines — drew three dots on a napkin, proposing an idea for an airline which would connect San Antonio, Dallas and Houston.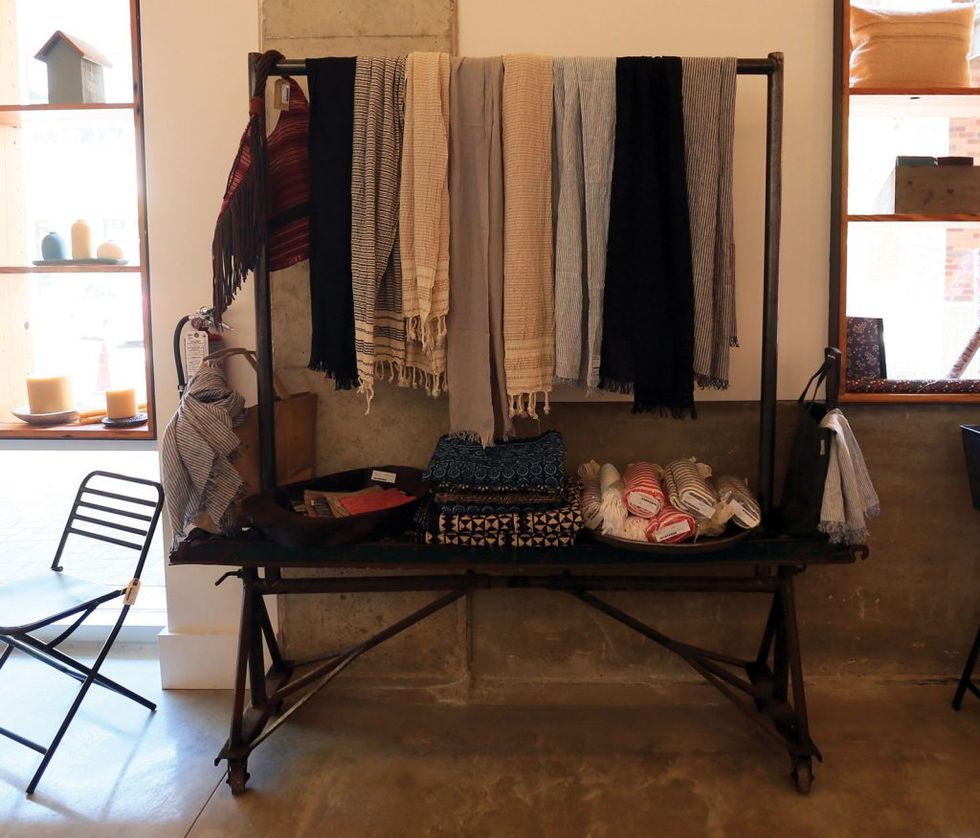 The Tiny Finch, one of the Pearl's many shops
St. Anthony's most recent renovation was completed recently, when the once 430-room hotel was completely shuttered to allow for a meticulous redesign. The result? A magnificent property with 277 spacious rooms, all nodding to its 100-year past while weaving in surprising updates — from a modern rooftop pool with adjoining event spaces to the 10th-floor Sky Terrace with panoramic views of downtown San Antonio. The lobby, returned to its original splendor by restoring architectural elements of 1909, is striking with Calcutta marble and plush carpeting in the St. Anthony's signature green color, selected by interior designer Dorothy Draper. And the hotel's dining concept, Rebelle, is dim to the point of darkness, with the exception of sexy bar lighting, and has a spiral staircase leading to a second-floor dining room. The people watching is good, but the spicy menu with Asian-inspired flavors by Chef Stefan Bowers — think shrimp in hot-and-sour cashew sauce — is even better.
If the River Walk is the desired destination, nearby Hotel Valencia (150 E. Houston St., 210.227.9700), sister property of Houston's Hotel Sorella in CityCentre, offers a quiet and convenient riverfront locale. With a massive redesign scheduled to be completed in February, the romantic 12-story Valencia highlights bold architectural details. A grand staircase with access from the street level leads you to the check-in pods, and to the hotel's restaurant and bar, which reopen soon. On the riverfront terrace — with its plush furnishings, stone columns and Spanish-tile roof — guests can take in the serene sounds of the river below, and the rustling of towering palm trees.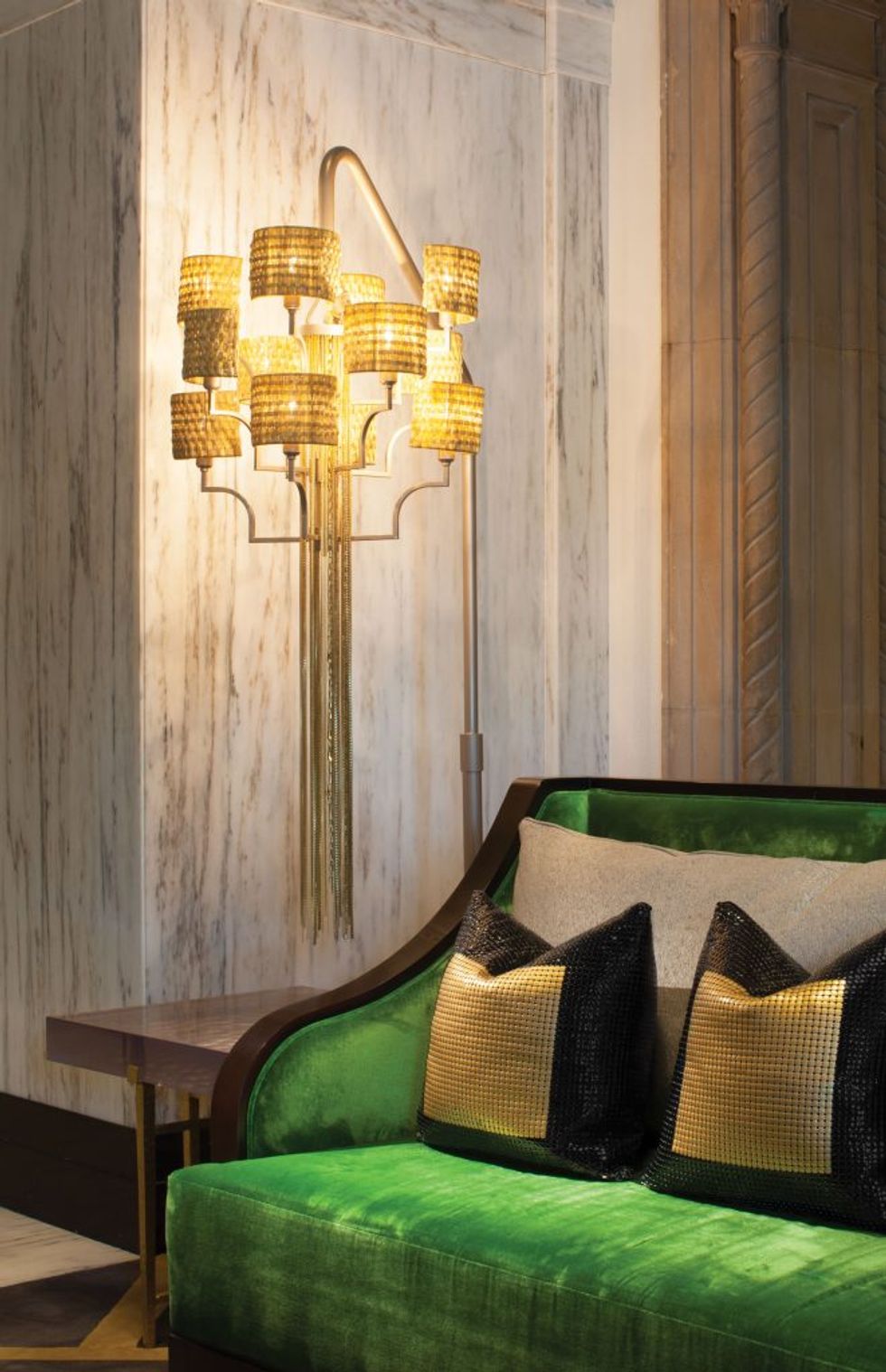 The bold lobby of the St. Anthony
On the river, just below the Valencia, are a number of eateries. But the smarter visitor will venture 'round the bend to more interesting restaurant options. For party people, Margaritaville is now open in the Rivercenter. It's a little gimmicky, of course, but hard to resist when the mood strikes. A stark contrast, the Esquire Tavern, an 83-year old gastropub, located on the river and restored by restaurateur Christopher Hill, is favored by locals; the menu swears the pickles, condiments and pastries are all made in-house, and that a beer-soaked bar more than 100 feet long is the longest in Texas. (On the latter point, the management at Houston's newly renovated Four Seasons hotel might beg to differ, as they make a similar claim about their new bar.)
Hill's other concept, El Mirador, just minutes away in the Southtown art district, recently reopened after a six-month hiatus for renovations. With a vibrant new sign and updated furniture made in Guadalajara, the 50-year old restaurant rejoins other Southtown standbys. Nearby, Feast, famous for its Sunday-Funday-style champagne brunch, is a guaranteed great time. Its owner Andrew Goodman also soon opens a new concept called Battalion, housed in an old fire station and with a menu by Rebelle's Stefan Bowers, sure to be an art district hot spot.
Not unlike at the Pearl, new chef-driven additions to Southtown further define San Antonio as a hip destination for foodies and beyond.
Food+Travel