Blank Canvas
A dynamic gallery owner trades her North Boulevard traditional for a sleek Montrose mid-rise. Both she and her fabulous art collection are right at home.
Claudia Casbarian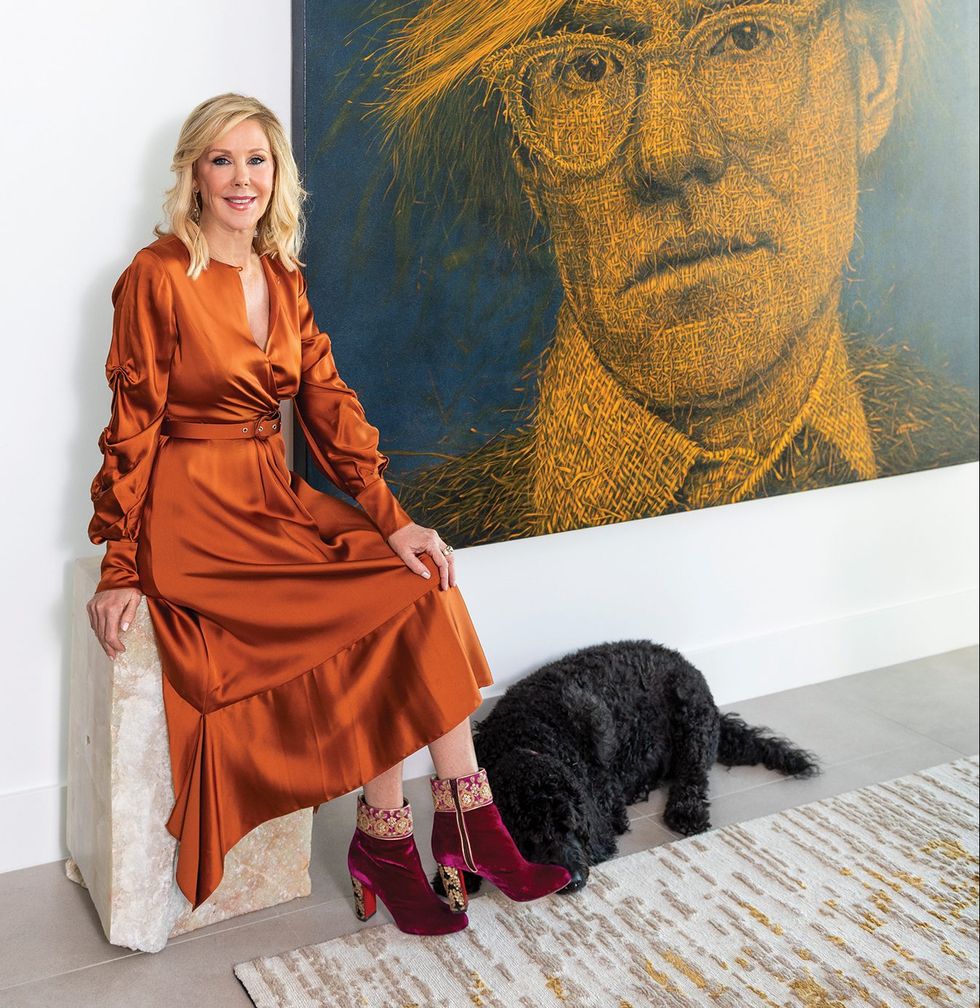 If one wants to keep up with Laura Rathe, one needs to know how to walk and talk at a brisk pace. The art dealer and gallery owner is always on the move, juggling her time between clients, managing three Laura Rathe Fine Art locations in Houston and Dallas, and showing at fairs from Miami to Aspen.
---
Entering her newly appointed Montrose mid-rise, it's easy to feel the energy of her thriving art business. The walls are alive with works by Hunt Slonem, Zhuang Hong Yi and Stallman Studio, a young duo from the Pacific Northwest that morphs paint and canvas into sculpture. Behold Rathe's latest acquisition upon entry:  Stallman's large circular work in vibrant pinks, greens and blues that pop against a Studio E painted-cork wallpaper in matte white and silver hues. 
"I do like wallpaper, but my designer loves it," Rathe says, grinning at the walls. Rathe enlisted the help of longtime friend, collaborator and interior designer Mandy Plaisance of Mandy Rochelle Designs to help make sense of what Rathe describes as decades of collected and found pieces.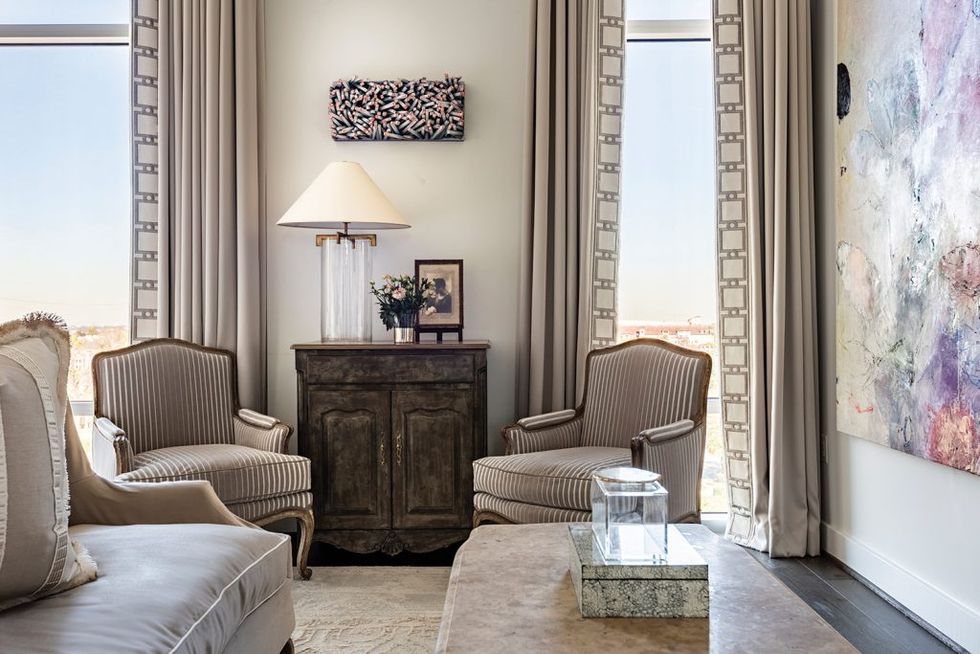 A sitting area in the master bedroom touts the wood-and-paint "Bending the Lines #2" by Gil Bruvel and a large-scale painting by Allison Stewart.
"When the real estate market was hot [in 2015], I took advantage and sold my house on North Boulevard," Rathe says. "And there was really nothing out there to buy, so I ran over here and put a deposit down on this [condo]." What turned into a three-year waiting period for the under-construction building to be move-in ready ended up being a blessing in disguise for Rathe. 
"At the time, I was building my Post Oak gallery," Rathe says. "I was okay this was taking forever. It didn't put me under any pressure to get rid of stuff and get rid of clothes like you often have to do when you move, so it was a thread at a time making decisions. I am a decisive person."
Rathe's study features Schumacher wallcoverings and a French chair and ottoman in creamy Dedar fabric
Rathe started planning the design of her new gallery-esque home on her own, working with the builder on the floor and countertop selections throughout the kitchen and master bath. "When I started sharing what I wanted to do with Mandy, I showed her my wallcoverings and she goes, 'Oh, no no no! You're like six years old, you don't go there!'" recalls Rathe. "My picks were more textural and ... blingy. I thought it was cool!" Plaisance took over on fabric and wallcovering selections, and helped the eclectic Rathe execute her dream home. 
"Laura has her own style and taste," Plaisance says. "It was my place to work with her to make decisions and bring it all together." The designer, who has no website or social media presence, finds all of her clients via word of mouth, and has no plans to get online anytime soon — after all, she's too busy working on her clients' second and third vacation homes.  
"Laura is so used to giving me and my clients the royal treatment; it was nice to be able to turn around and do that for her on this project," Plaisance says. The two took regular shopping trips to favorite spots like Leontine Linens in New Orleans for custom-monogrammed towels and the sumptuous scallop-edged silk coverlet on the master bed.
Floor-to-ceiling windows throughout the home allow the light to flood in, softened by deep ivory blended silk draperies that were custom made from Creations Metaphores fabric. In the living room, a vibrant pixelated painting of Marilyn Monroe by Gavin Rain is hung near a Roche Bobois sofa in lavender. "You have to have different, interesting things, period," Rathe says. "I don't want it all white."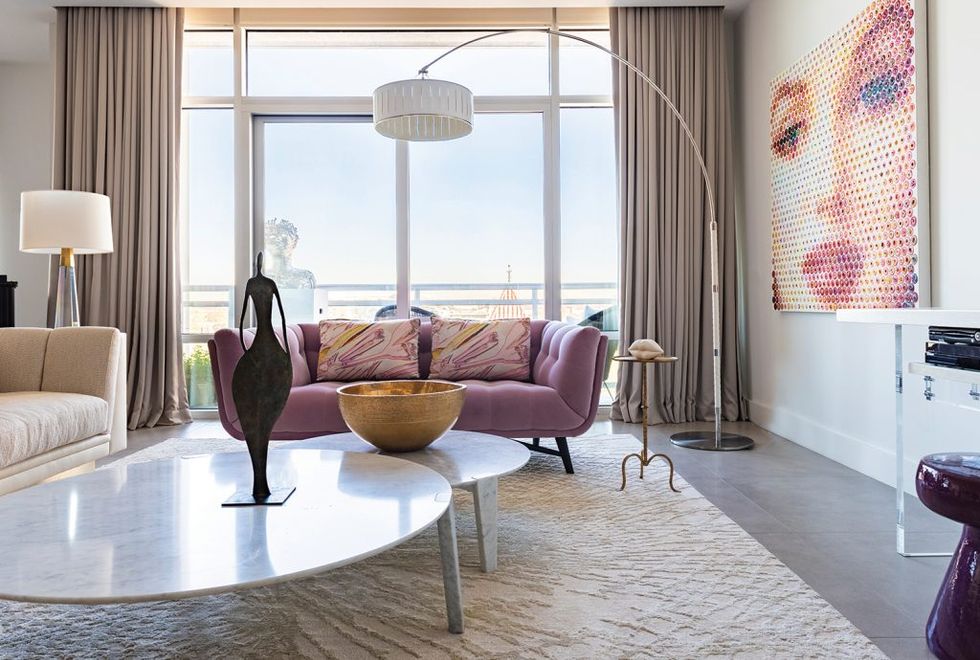 Focal points of Rathe's light-filled living room include a purple Roche Bobois sofa, a pixelated painting of Marilyn Monroe by Gavin Rain, and stunning floor-to-ceiling drapes from Creations Metaphores.
Antiques from her former home are found throughout, including the large armoire in the dining room and the vibrant teal and gilded console at the end of the hall. Above it hangs an oil painting by Russian artist Roman Zaslonov that was given to her by her parents. "Of course I have a lot of art, it's everywhere," Rathe says as she strolls through the hall into her sprawling bedroom. 
A large white peace sign by artist Karen Hawkins hangs over her bed, a placement that she told Plaisance was a must. At the end of the bed is a settee where her black Labradoodle, Payton, often naps. "This has been recovered a thousand times over 10 years," says Rathe. (Plaisance opted for a Perennials performance fabric to keep the future recovering at bay.)
The love of wallcoverings continues throughout the bedroom, notably on the ceiling, with a Cole & Sons paper that mimics square moldings. Bright and light, this room is the largest reflection of her past life on North Boulevard — largely traditional pieces that Plaisance has given a facelift with new fabrics and accents from Creations Metaphores and Samuel and Sons.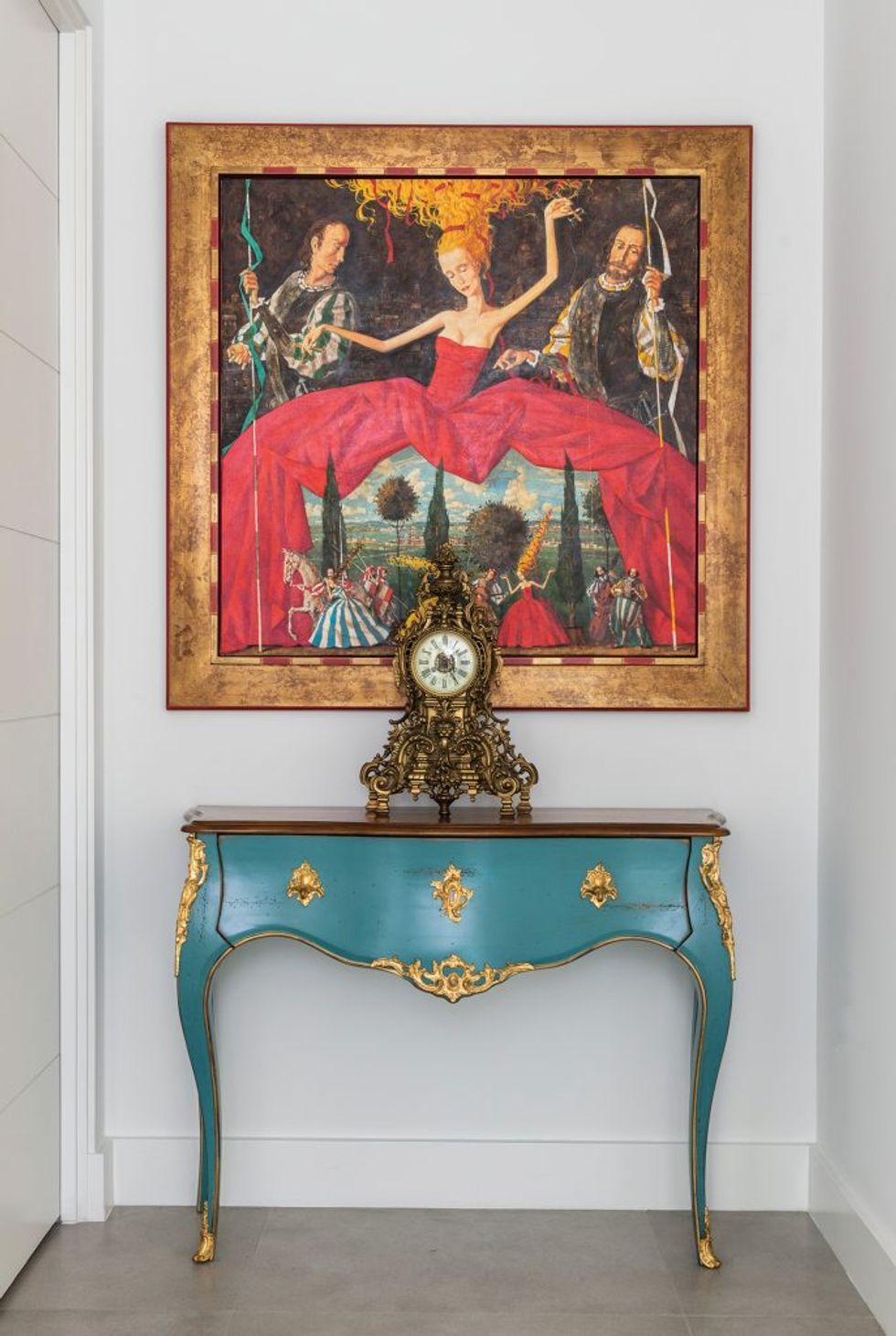 An oil painting by Roman Zaslonov hangs over an antique console
The office — which Rathe says she never uses to work, only to stash papers inside the wall-to-wall, high-gloss white lacquered credenza — is another showcase for her artists. A vibrant blue and green sculpture in wood and resin from Gil Bruvel is placed on an acrylic shelf, juxtaposed against the classic flower-and-bird-on-branch Schumacher wallpaper that fills the space with a mellow blue-gray hue. 
Across the hall is a large portrait of Andy Warhol by Alexi Torres, which Rathe says she believes to this day is his best work. She has clients biting to purchase it but she refuses to let it go. "It never even made it to the gallery," she says. "Warhol's expression is exactly what you can't be in this industry — smug. Warhol knew that. It's a big contradiction. I love it."
Rathe's passion for what she does and exuberant energy is contagious to everyone around her. She has spent the past 20 years building her business around partnerships and collaborations with interior designers — but now the interiors she had a part in crafting are her own. "It feels really good to come home."
AT TOP: Cuban painter Alexi Torres' portrait of Andy Warhol pops off the wall, in the home of gallerist Laura Rathe and her black Labradoodle, Payton.
Style+Culture