Boys to Men
Finding inspiration in the morning-after regrets of one party too many, Deep Cuts' jazz-flecked indie rock comes of age.
Daniel Ortiz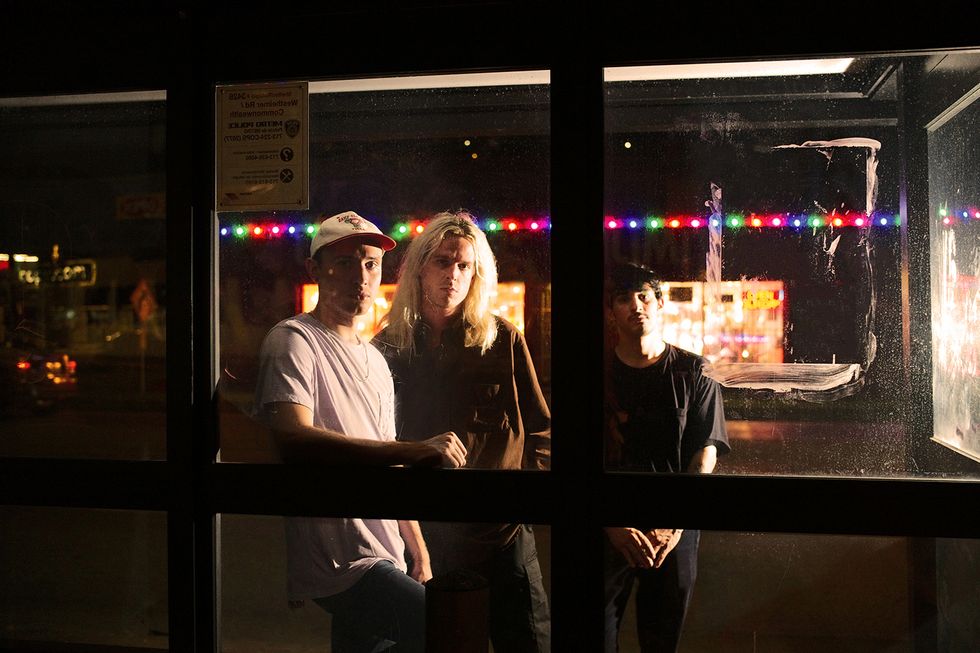 The secret sauce of Slip off in the Dark, local band Deep Cuts' new five-song EP, just might be alcohol. Or, rather, a hangover. "It's kind of the aftermath of it all," says bassist Dylan Villarreal, 24, of the album. "Like the really bad next day."
---
Two years in the making, Slip arrives after Villarreal and lead vocalist Chase Harris, 29, spent years engrained in Houston nightlife. While they remain mum on specifics — "That's gotta go off the record," Villarreal says coyly — they speak openly about the urgency behind their recent decision to part ways as roommates in their Heights house, as a means of putting the brakes on their partying. "It melted down so fast," says Harris, a slightly guarded deep thinker with platinum locks. "We had to draw the line." They channeled their experiences into an album that captures that fuzzy hangover mix of regret and self-reflection.
Take "Better," a wistful track that explores the fallacy of alcohol as escapism, or the musically complex "What Are We Celebrating," which forces the narrator to confront his reckless behavior. Dreamy arrangements inject levity into these themes: Think '80s pop, but with a mellow undercurrent much like Harris and Villarreal's personalities. (They're not sold on the "chill wave" description often applied to their music; they prefer "indie pop.") Their influences are wide, from Sade to jazz fusion, and they've been known to cover Drake's "Just Hold On" at live shows.
On Slip, they add a few new elements to their repertoire, such as the flourishes of salsa on "True to You," and the use of drum machines instead of acoustic drums. The latter allowed the band to record the entire album in Harris' bedroom (later mixed at SugarHill Recording Studio), and gives Slip a more lived-in, communal vibe, says Harris.
A native Houstonian, Harris is a thoughtful musician who learned to read and play music in marching band. He started Deep Cuts several years back with a rotation of other musicians, including venerable local sax player Josiah Hall as of late. Harris has led the band through the local festival circuit (Summer Fest, Day for Night, SXSW). But with Slip, Deep Cuts has a firmer identity, one to which Harris and Villarreal's relationship is central.
They met just three years ago when Villarreal joined the band, and were soon inseparable. Villarreal brings a carefree energy to the duo and a sarcastic sense of humor. They riff off each other and share a deep affinity for Neon Indian and its lead singer Alan Palomo, whom they recently met ("To meet people like that and they're nice to us, that's mind-blowing," says Harris).
It makes sense, then, that the guys are eager to move the band — and their lives — forward. They're saving up money to relocate to New York, where their manager lives. This month, the band will play a series of concerts there, and record their first music video. And the next Deep Cuts album is already top of mind. "It's going to be a lot more mature," Harris promises. The day after a hangover typically is.
AT TOP: Deep Cuts' Josiah Hall, Chase Harris and Dylan Villarreal
Art+Culture