Home Base: An Intimate Q&A with Alex Bregman & Reagan Howard
Star slugger Alex Bregman and fiancé Reagan Howard have been take-action leaders in Houston's Covid crisis, and outspoken advocates for racial justice through a season of protest and, they hope, change. Next up? A wedding. And some bold baseball predictions!
Steve Visneau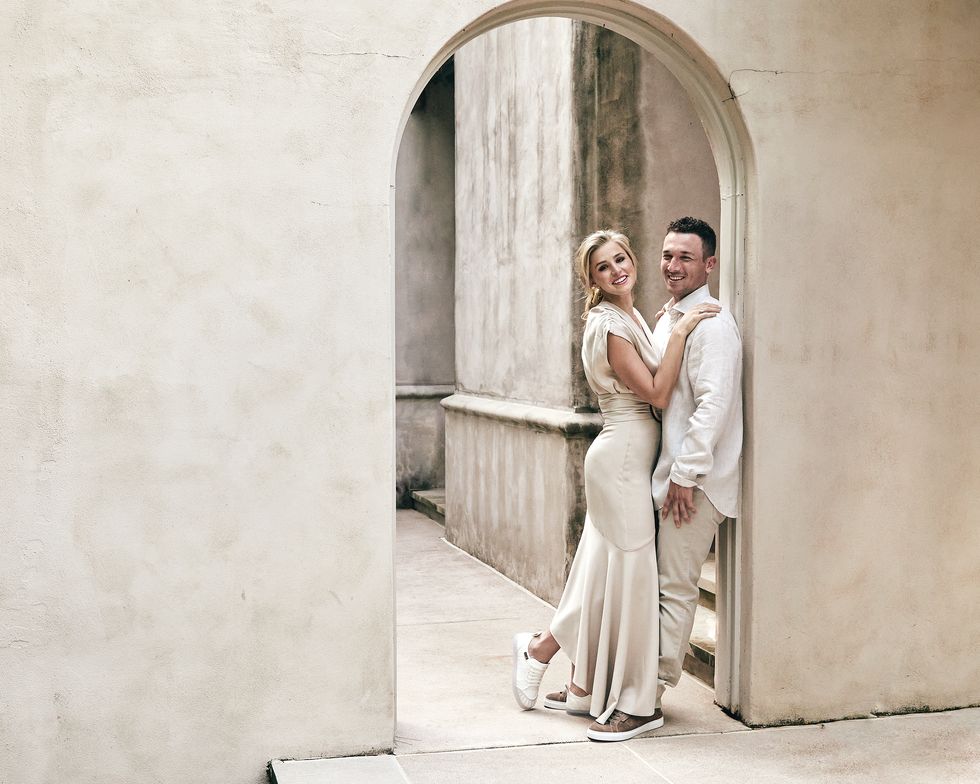 Even with baseball's long hiatus — it'll finally give way to a new, shortened season in late July, thanks to the uneasy conclusion of tense owner-player negotiations just days ago — Alex Bregman swings for fences. It's true in his personal life and business interests, in his emerging role as a leading Houston philanthropist, and lately in speaking out against racism.
---
When a follower trolled him on Twitter a few weeks ago after Bregman dared comment on the country's race struggles — suggesting the ballplayer keep his opinions on the Klu Klux Klan to himself and "stick to sports" — the Astros third baseman fired back. "If hating the KKK loses me fans," he tweeted, "then I hope I lose them."
As with so much of what the 26-year-old Bregman does these days, the social-media contretemps made national news. The All Star grew to international fame and attained hometown-hero status as a standout on the 2017 World Series championship team, and reportedly signed a six-year, $100 million contract with the 'Stros last year. He has been name-checked in at least a dozen New York Post items since early 2020 — sometimes less than lovingly, thanks to hostilities from the so-called sign-stealing scandal that dogged the team a few months ago, which Bregman politely declines to discuss.
In any case, Bregman clearly has a lot going on, including having started his own production company, which pushes out his new podcast. "We wanted to start talking to great people," he says in the intro of Bregman's Podcast episodes. "People who make a difference." His guests have included Rob Mendez, the inspirational high school football coach born without arms and legs.
But, perhaps most notably for Bregman, he has gotten himself engaged. And, ahem, what a catch! Reagan Howard, 25, who went to high school in Katy and studied at A&M, has big dreams beyond being the slugger's wife and modeling (which she's quite good at, by the way). The beauty is a driven entrepreneur in her own right, who jokes that she'll never sign a contract that's even $1 less than any contract he ever signs. She's keeping her biz plans close to the vest for now, except to say it will involve athleisure clothing.
Together, Houston's hottest new power couple became prominent faces in the city's fight against hunger as the Covid-19 crisis began to sweep town a few months ago. They founded FEEDHOU, a nonprofit supporting the Houston Food Bank. With supporters including Mattress Mack and the rapper Paul Wall, FEEDHOU gathered $1 million in a week. To date, Bregman and Howard have raised more than $2 million total.
They're also continuing to sound off on social media about racial unrest and justice for George Floyd, the Houston native whose killing by police in Minneapolis set off nationwide protests and riots. "Reagan and I are committed to the cause and hopeful to be part of change," says Bregman.
Although Major League Baseball play in 2020 wasn't always guaranteed, a wedding this year has always been a sure thing. The date is set! The couple told CityBook Executive Publisher Lisa Holthouse all about it — and much more — in an intimate visit at her Memorial home in early summertime, a few weeks before plans for the upcoming ball season were announced.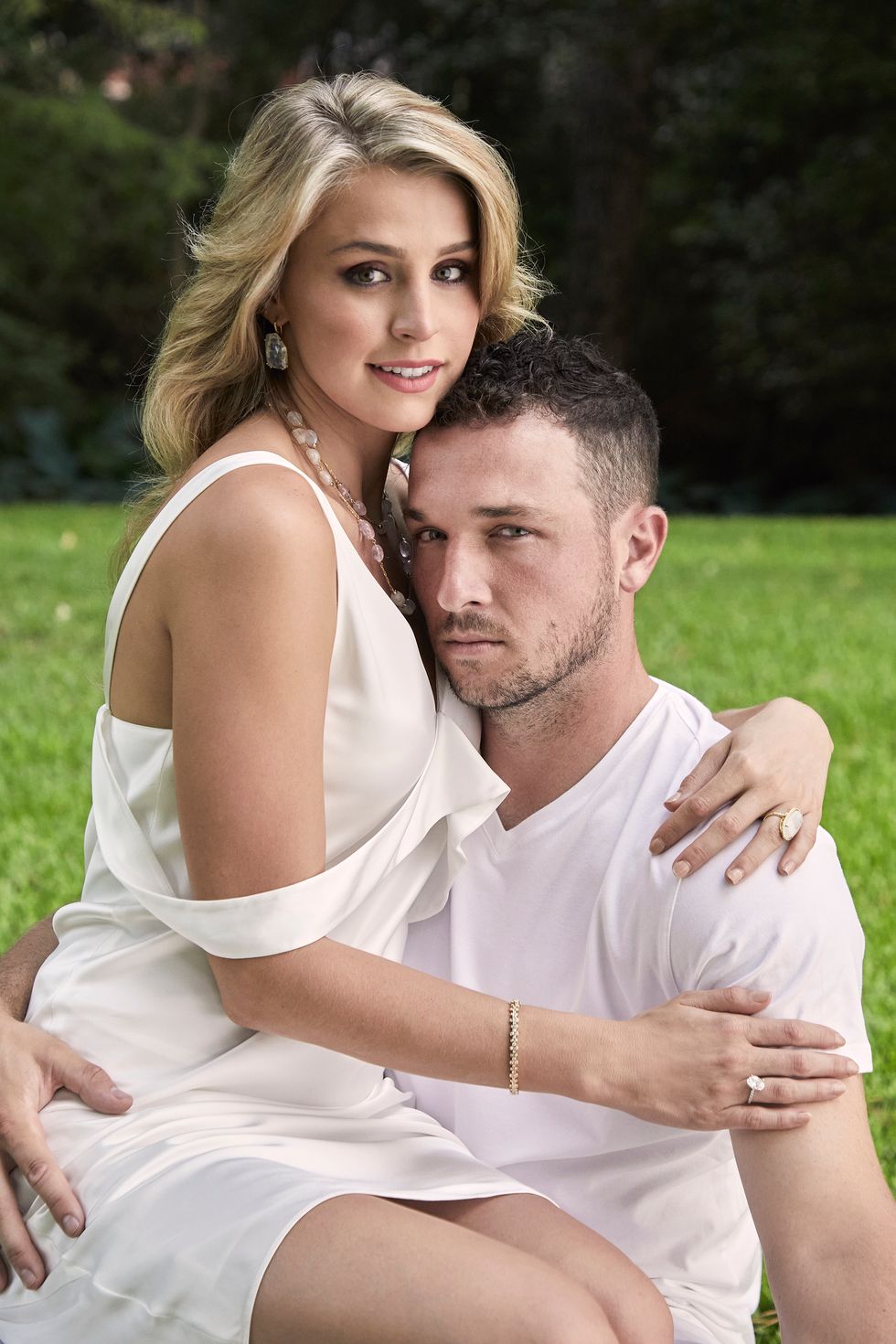 Howard is wearing a Helmut Lang dress from Tootsies with jewelry from Deutsch Houston, and Bregman dons a Pya t-shirt from M Penner.
Lisa Holthouse: So you're confident the Astros will play ball this year?
Alex Bregman: One hundred percent, I believe we will play. I believe everyone around the country wants to see baseball. The country needs it. We wanna play.
Even Reagan wants baseball to happen, which I never thought I'd hear. When we first met, she thought a double was two strikes. Now she tells me I need to raise my on-base percentage if I want to be a lead! Ha!
LH: You two were only engaged for a month or so when coronavirus hit, and the world changed. I bet you've spent a lot more time together than ever before!
AB: Corona time has been awesome in the sense that I never would have been able to spend so much time with Reagan since normally this would have been spring training and the start of the season. Now I help her with her workouts, then I do mine. After I go to the cage and hit. And by midday, we're home all day hanging out together.
Reagan Howard: And even the time together would have always been with other people. So this has been amazing to have down time to work out together, make breakfast and have alone time. And of course FEEDHOU took a lot of our time.
LH: How did FEEDHOU come about?
AB: We originally were going to help out with healthcare workers. But the biggest need came about when people began losing jobs and the unemployment rate skyrocketed. We decided to help feed kids because they were missing meals from the school system. We gave to the Food Bank, but we wanted to do more and make it huge by getting as many people as possible to help out. The cool thing is that $1 provides three meals, so if we raise a few million dollars, we can provide millions of meals.
RH: First we volunteered by packaging the meals, which was great to see where the money was going. But then we went to the food distribution site, which was probably the best thing we could have done because it showed us the real impact, seeing people face-to-face and hearing them say thank-you. I think it motivated us even more to come up with new ideas to raise even more. For example, we did a chalk-drawing art challenge. We had a lot of participation with kids and artists. Some did portraits. It's been really amazing. The volunteering, raising money, and seeing everyone come together.
AB: Then we did a 24-hour live stream fundraiser where people from all over the country came on; we did interviews, played video games with them, had a concert. That raised over $100,000 and many meals! I'm training to stay ready for the season, but in reality we had 12 or so hours in the day to help others, so that's what we did.
LH: It seems like you have a soft heart for kids. Alex, tell me about the "Swing Review."
AB: Any kid 17 years or younger across the country can send me a video of their swing. I'll review it and send it back with mechanical advice. I've always wanted to help out kids. I was there once, and I would have loved to be able to call on a professional baseball player when I was in high school; that just wasn't available. It's fun. I'm passionate about the mechanics of the swing. Hopefully kids across the country will utilize it — and I want to get to the point where other professional players are providing that same platform for kids.
LH: Do you want kids of your own?
AB: I do! Cheaper by the dozen! I wanna play zone defense! I'm ready!
RH: I do, but not as many, maybe three or four. He's ready now!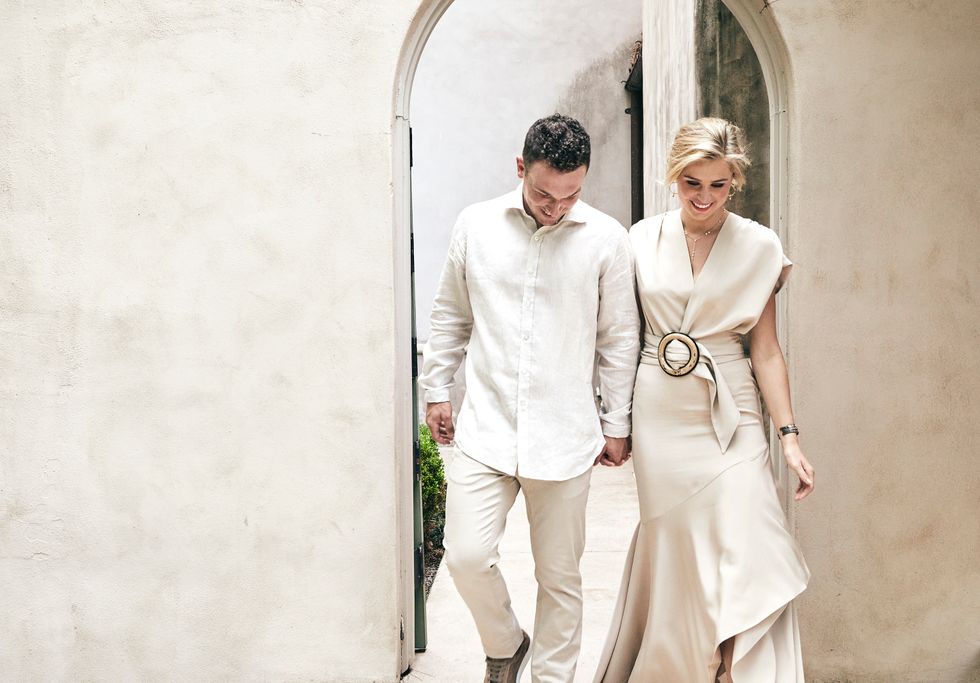 Bregman wears a shirt and shoes by Ermenegildo Zegna and pants by Isaia, all from M Penner. Howard wears a Silvia Tcherassi dress and Fendi shoes, both from Tootsies, with jewelry from Deutsch Houston.
LH: Tell me about the wedding!
RH: We had a great plan before the pandemic. Initially we wanted to get married in Mexico, but when this happened, we weren't sure about travel; we don't want anyone to be unsafe. We decided to wait on the planning, and we are now starting to pick it back up again. I like a small, intimate gathering where it's all about the wedding. And he wants it to be huge!
AB: I like giant celebrations because I never get to do them. Normally I'm so structured with the same routine.
RH: I started to get sold on the idea [of a big affair], but now we're back to square one, with an intimate gathering on Dec. 5.
LH: The Astros have a reputation for being joyful when they play ball, really enjoying each other. Is the team as close as it appears, and who are your best buds?
AB: A lot of my best friends have left, like Jake Marisnick [who was traded to the New York Mets] and Brian McCann [who retired after leaving the Astros for a last season with his hometown Atlanta Braves]. All of the guys on our team are super close, and we are like one big happy family. And speaking of family, with Reagan now excited about baseball, I'm hoping she'll be a baseball mom one day. That's another thing we've been doing — working on her baseball skills.
RH: He's got me working on throwing changeups. I've been trying to do that move like Alex does where he catches the ball, twirls around and throws it. It's comical, but it's been fun.
LH: What are your predictions for the team this year?
AB: Our team is really good. I'm excited. I predict we will be back in the World Series with a chance to win. We just have to get out there, get going on the season, and keep everyone healthy!
LH: Everybody knows Alex. Tell me more about you, Reagan?
RH: I was born in Louisiana, moved to Trinidad and Tobago for about a year, then to Spain, then Canada. I lived in Newfoundland for all my childhood, which I loved! It's secluded and very cold. My dad works in oil and gas, managing offshore drilling rigs, so we always lived in small port cities. Eventually we came to Houston and settled down in Katy. I was able to start doing some modeling before attending A&M.
At school I did so many things. One was Panama Global Business Brigades, where I led a group of students to Panama near the border of Columbia. We went to small businesses to teach them things like how to market, about inventory, how to stock or do calculations. It was like small-business consulting.
I later moved to Austin and worked for Oracle and Google doing sales after a short Houston internship in marketing. But with different schedules in different cities, I decided to move back to Houston with Alex.
LH: You've always seen yourself as a businesswoman?
RH: When I was little I used to make and sell horse treats. I would package them in containers and go around to all of the horse feed stores in Canada. I have always had an entrepreneur spirit, and I always have something in the works.
LH: Alex, what's most important to you right now?
AB: My main focus is always being the best baseball player on the field that I can be. But there's a lot of time in a day, and we always have things we want to work on. I've always had amazing people around me to help out, so that I can focus on baseball. But there are always other creative business concepts in the pipelines, like the production company we started.
Family, friends, work ethic, my teammates, community. Those are the things I love to focus on.
Styling by Todd Ramos. Hair and Makeup by Edward Sanchez. AT TOP: Bregman wears a shirt and shoes by Ermenegildo Zegna and pants by Isaia, all from M Penner. Howard wears a Silvia Tcherassi dress and Fendi shoes, both from Tootsies, with jewelry from Deutsch Houston.
Art+Culture