Avoiding 'Distressing Tastefulness,' MFA Curator Mixes Whimsy and Vivid Color in Montrose Bungalow Redo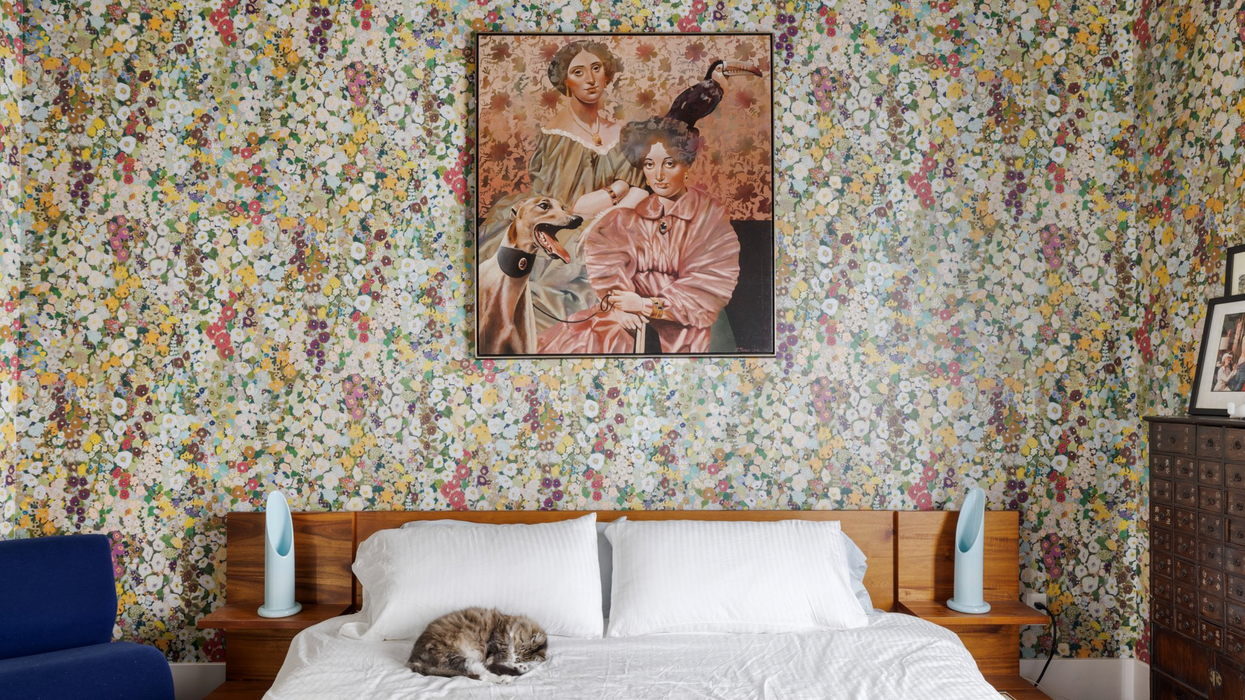 FOR MANY, THE prospect of buying an historic home and not only restoring it but also expanding it upward with an additional floor upstairs for the master suite, and southward with new guest quarters on the ground floor, would be daunting. But not for Newstonians Bradley Bailey and Matt Sweeney.
---
"I wasn't frightened of an old home," says Bailey, 40, a native of Kansas City who works as curator of Asian art at the Museum of Fine Arts, Houston. Sweeney, a 39-year-old fitness instructor from Winston-Salem, N.C., chimes in: "We wanted something with character and personality and space. I wanted a project."
So the handsome pair, along with hyperactive Boston Terrier Blinker and deaf senior kittycat Pawla, took on the challenge of renovating a 110-year-old arts-and-crafts bungalow in Montrose's Avondale district. They turned it into an at times lovingly accurate example of period architecture — and an at times over-the-top showplace for their unapologetically vivid sensibilities. "A colorful assemblage of things, not one specific style," is how Sweeney describes the whole affair.
Bailey notes their desire to avoid "distressing tastefulness." The curator, whose None Whatsoever: Zen Paintings from the Gitter-Yelen Collection show is up at MFA through May 14, goes on, stating firmly: "I can't abide the prevailing HGTV aesthetic. Our tastes are aggressively homosexual … a mix of 1970s and Memphis Milano." He adds, over Sweeney's objections, that there's even a hint of "bad '90s corporate."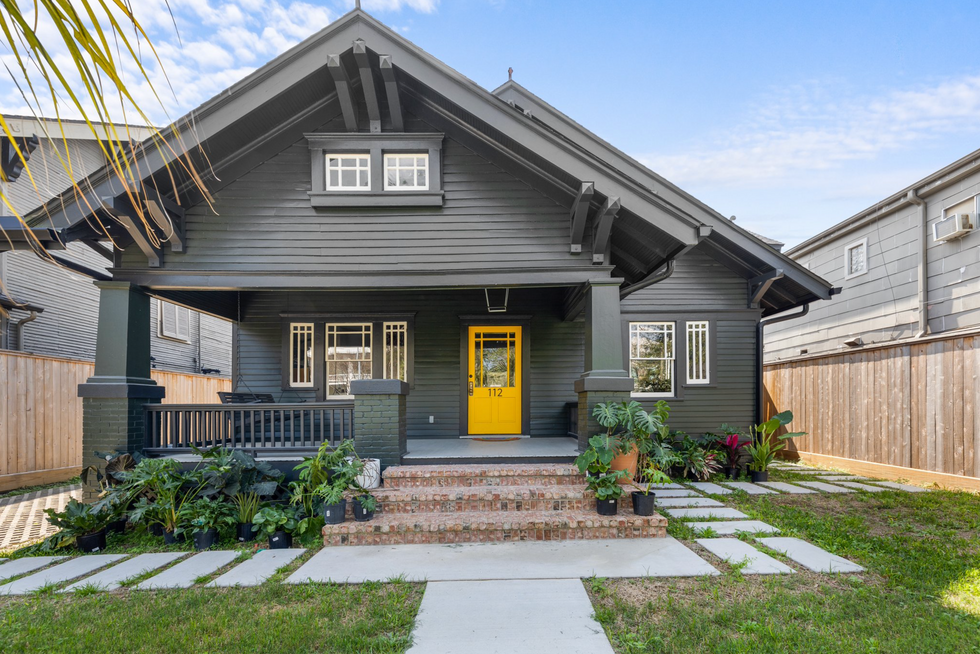 The Avondale bungalow has gone 'Jasper' with 'Greenblack' trim á la Sherwin-Williams.
The palette is a visitor's first clue that — Bailey's hometown notwithstanding — you're not in Kansas anymore. (Although you may well be a friend of Dorothy.) The exterior has gone a daring, chic black, the front door a warm sunflower yellow.
Once inside, the most striking thing — among many striking things — may be the Insta-friendly kitchen. "We wanted a pink kitchen," says Sweeney. "That was the first decision we made. In an open floorplan, you're seeing from every room from every room. You can't miss it. Why not make it a statement?"
"Phyllis Diller had an acid-green kitchen," Bailey observes of their inspiration. He adds, only half-joking, "In a certain kind of way, it reads as neutral." The multi-color, disc-scaped, crystal light fixture overhead is Murano glass, sourced from Milan via Etsy, as was the rose-tinted starburst one in the living room.
Elsewhere, in the original part of the house — where contractor KC Gifford arranged to custom-make period replacement windows in places — the original living room fireplace has new irregular-shaped olive-green tiles, which could fool you into thinking they date to 1913. Atop the mantle, more evidence of the homeowners' love of the whimsical: large-scale army-men toys sourced from greatbigstuff.com.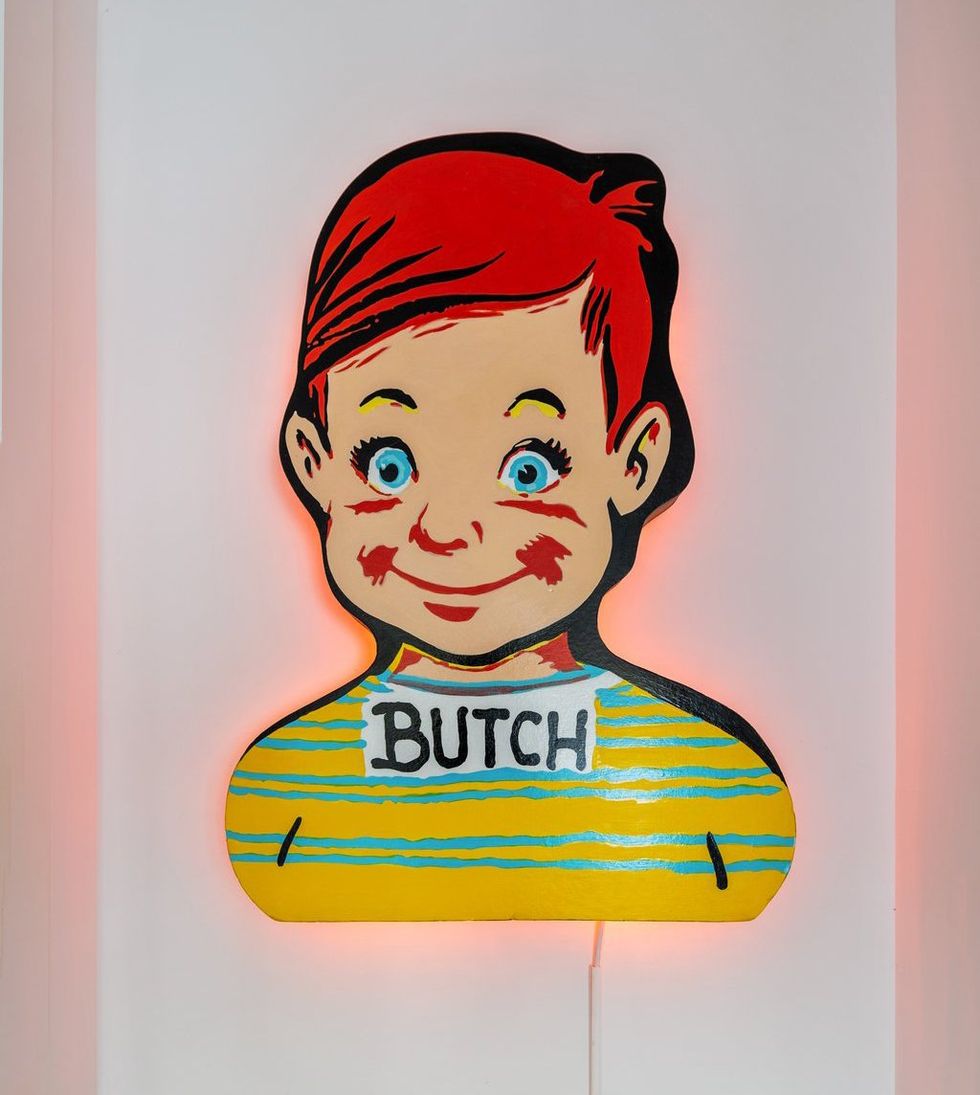 'Butch,' a backlit wall piece by Rich Harrington that was sourced in upstate New York, hangs at the top of the stairs.
Also placed about the open living-and-casual-dining space are an infinity ball by crimson-haired Japanese artist Yayoi Kusana, 93, and ceramic numbers by Houston's Wyatt Little, including a white high-top sneaker. And there's a piece by a Provincetown artist who makes sculptures out of old Soviet light fixtures.
The formal dining room boasts black Scalamandre wallpaper with golden zebras jumping about. The painting over the blond wood vintage 1970s credenza is an Old-Masters-meets-pop-art piece by North Carolina's S. Tucker Cooke depicting a man with a book surrounded by lilies and jewels and splashes of fuchsia; the vintage-looking chrome bar cart in the corner came from Lowe's, circa 2022.
On contractor Gifford's suggestion, the dining room ceiling is simply the original shiplap stripped down and stained darkest ebony. The contractor also had the bright idea of adding a bookshelf under the staircase leading to the upstairs addition.
The new second-floor suite is a bit of a retreat from the relentless vibrating energy of the ground level (except for the NSFW Tom of Finland wallpaper in the water closet). Mostly it's a restrained mix of green-gray and cream hues, vaulted ceilings and large, healthy potted plants. There's a bulbous Pepino chaise in a bright corner of the bedroom. "It's like a 1970s psychoanalyst's office," Bailey deadpans, per his custom.
"Considering the rest of the house, we felt we needed something more serene up here."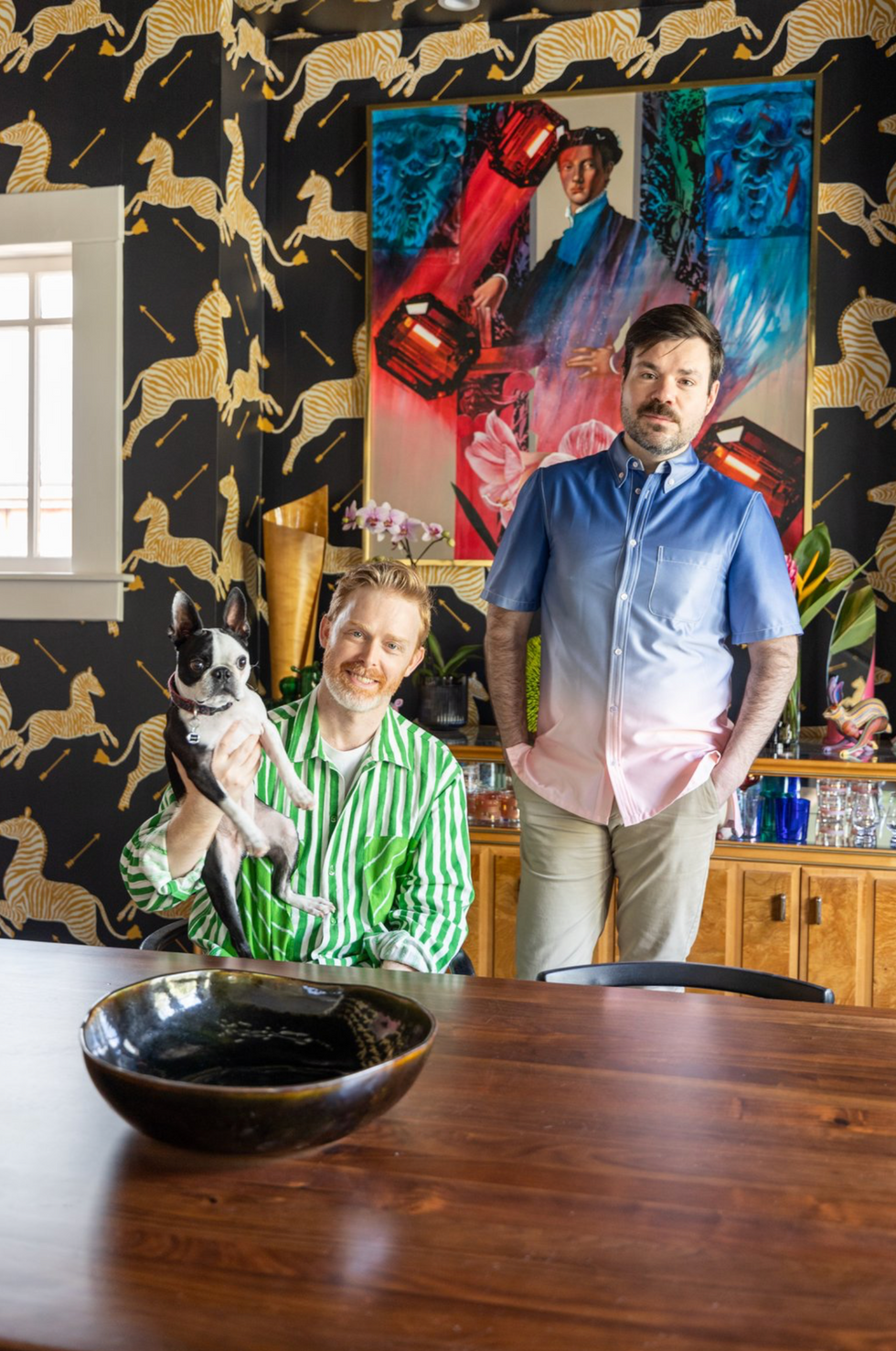 Pet Blinker and the homeowners in the zebra-happy dining room.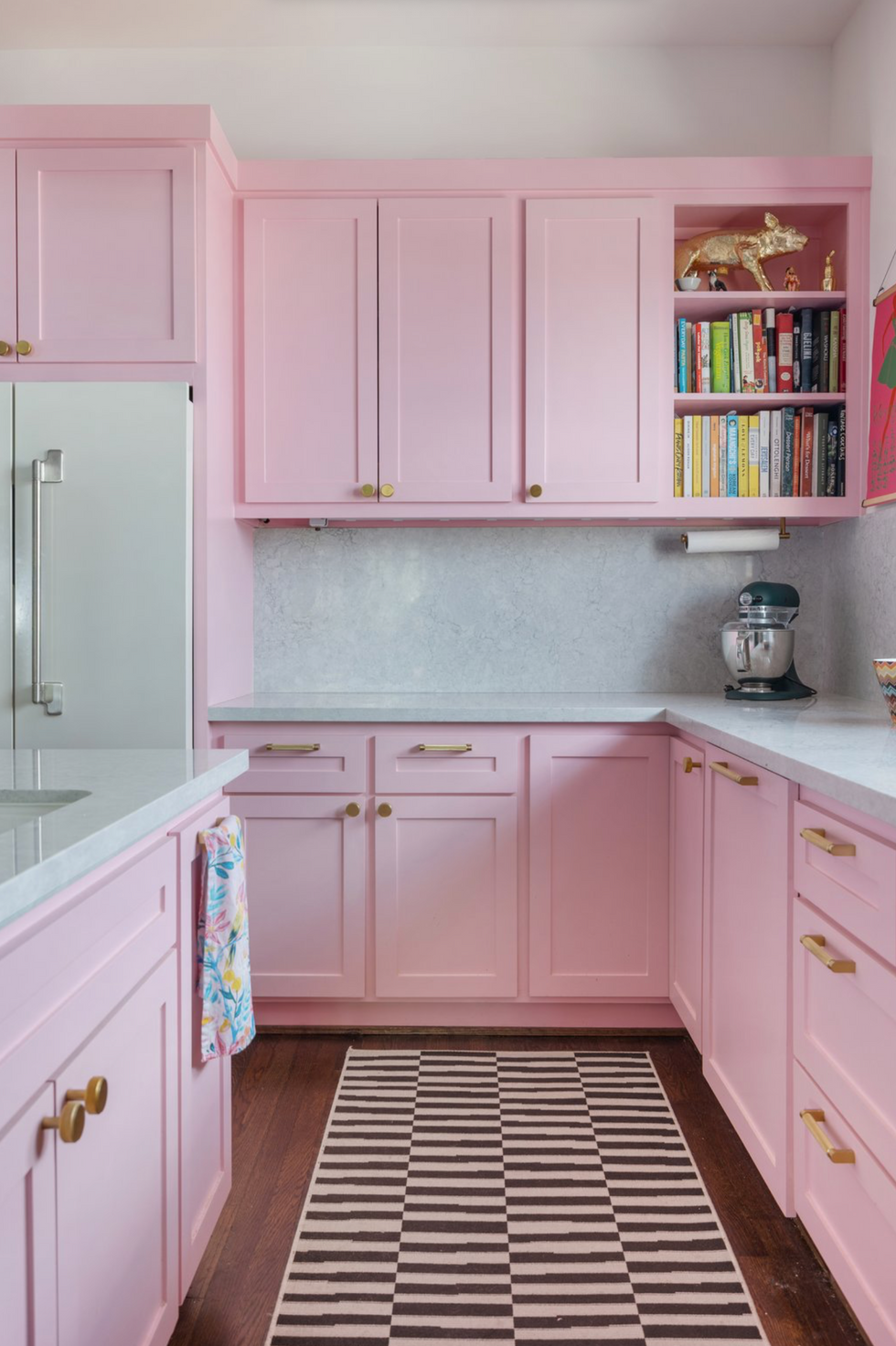 Kitchen cabinets are painted Sherwin-Williams' 'In the Pink' with cream appliances by Sweden's AGA, the latter intended to lend an 'updated '50s vibe,' per homeowner Bailey.
The mantle's army men.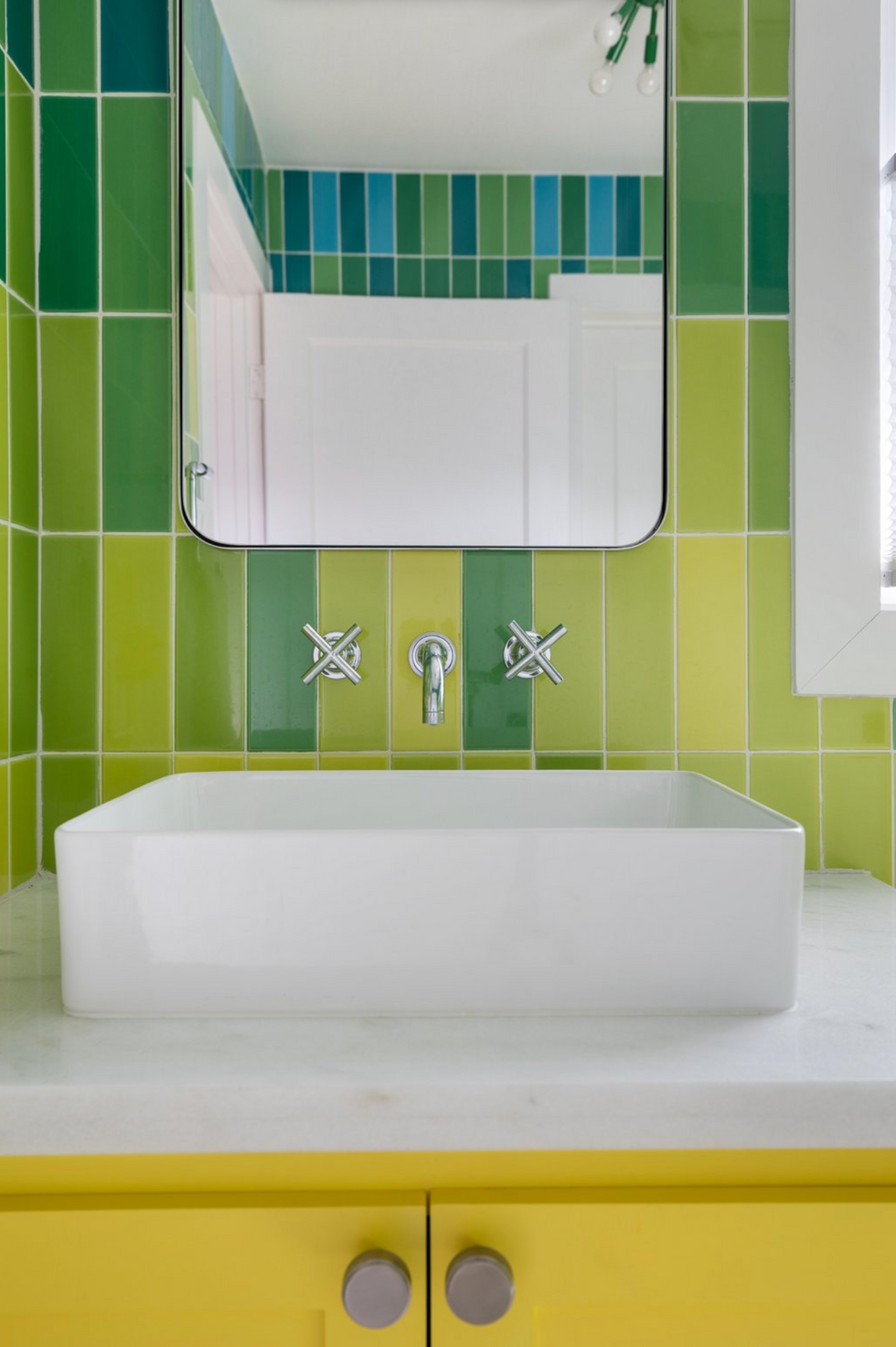 A bright guest bath where wall tiles graduate from yellows and oranges to blues and greens.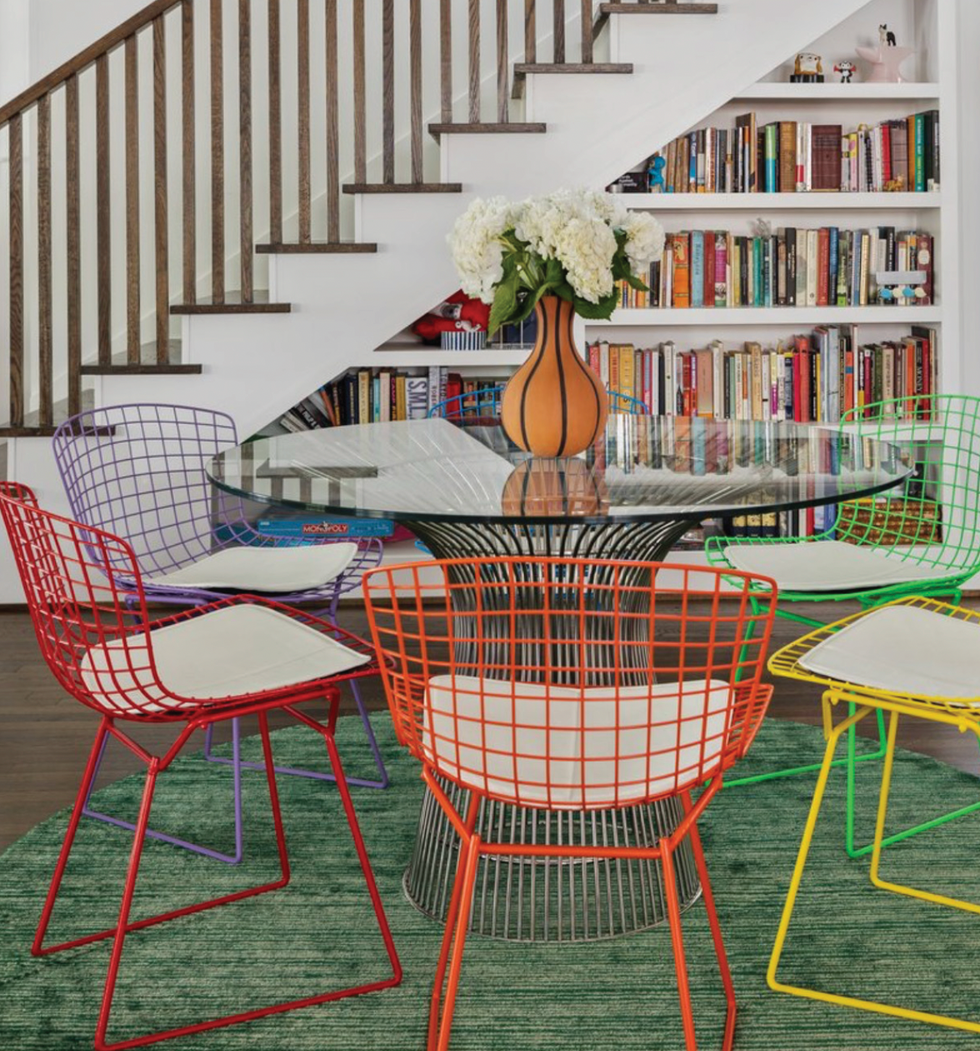 A bookshelf cleverly carved from a new staircase