Check Your Feed!
Last summer's big Instagram-approved foodie trend was frosé. What's coming this year? Our guess: colorful, cooling treats like poke bowls, 'taiyaki' ice cream and, of course, frosé 2.0.
Kirsten Gilliam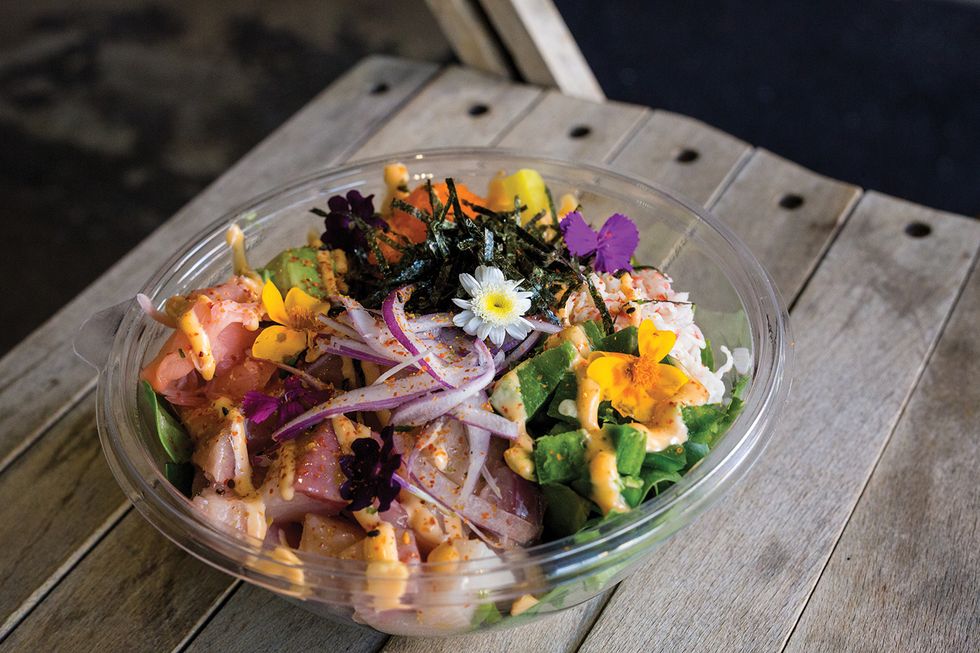 As in the realms of beauty and fashion, hip new trends can explode onto the foodie scene, and set the tone for the season. A single dish — or playful combination of plates — can become the Next Big Thing based on its Instagrammable quality alone. And in Houston, a slew of refreshing new eats, from poke bowls to taiyaki ice cream and frosé 2.0, are expected to flood social media feeds this summer.
---
Throughout the West Coast and beyond, poke (pronounced poh-kay) bowls were trending long before they made their way to the Best Coast. Layered with rice, crisp greens and cubed, sushi-grade tuna or salmon, the colorful raw-fish salads have evolved since their origin in the Aloha State, with Houston poke bars offering an especially fresh new take.
"It has been a staple food item in Hawaii for decades," says Tuan Tran, chef-owner of Moku Bar, the latest addition to the Downtown food hall Conservatory. "We get our yellowfin tuna delivered fresh every day from Hawaii. We are the only poke bar in Houston to serve marinated poke, but we also offer it as a creative take on bar food with dishes like our poke tower with shrimp chips." The food station offers create-your-own-adventure-style bowls allowing customers to load up with toppings as they wish, and incorporates spam musubi and tempura dishes as supplements to the menu.
Tran's place is just one of several new poke bars sprouting up across the city. New York chain Pokeworks has plans to open its first Texas location in Uptown later this year, and local pop-up concept Ono Poke opened its first brick-and-mortar in Montrose in January. Inner-Loopers are not the only ones benefitting from the fast-spreading build-your-own poke bowl trend; Pokii Eatery, brand new to West Houston, goes beyond customizable bowls and adds poke to salads and burritos with its quirky menu. And Los Angeles-based chain North Shore Poke Co. paves the way for its first Houston-area location to open in the Westchase district in a few months.
In Rice Village, former Aka sushi chef Jason Liao is now a managing partner at Pokeology, the pint-sized poke bar on Morningside. Here, the seasoned chef brings his years of experience and knowledge of raw proteins to the menu, which is full of signature bowls as opposed to build-your-own, "to ensure the best quality and flavor," says Liao. The restaurant's "mascot" signature bowl is the Salmon Thaiviche, a burst of flavors combining salmon, fish sauce marinade, basil, peanuts and Thai chili. Houston is a melting pot of different cultures, and the Thaiviche bowl was crafted with this in mind.
"We took flavor combinations from different types of food, and brought them together in this Hawaiian staple," says Liao, explaining how he takes his cues from sushi chefs. "They break from tradition in order to curate new flavor profiles outside the culinary box."
Liao believes that the convenience of the personal-size bowls — not to mention its picture-perfect presentation ideal for posting on Instagram — guarantee it is more than just a fad. "People love raw fish, but eating sushi on a regular basis can get expensive," he says. "Poke is comparable to sushi, and it is filling and affordable."
Garnering the same amount of attention this summer — but not as easily stumbled upon — is the taiyaki ice-cream cone trend. Creamy, Asian-inspired frozen desserts have been all the craze on social media and in real life. Ice-cream-filled Hong Kong-style egg waffles and cups of rolled ice-cream were the must-haves in 2016, garnering the attention of many Instagram feeds. This year, the taiyaki ice-cream cone is having the same rippling effect.
At Chinatown's hidden-gem Kamalan Bakery, the multi-faceted dessert is made from a house-pressed Japanese waffle cake artfully molded into the shape of a fish and usually filled with either custard or a traditional red bean paste made from sweetened azuki beans. The fish cone may also provide a sweet cradle for scoops of ice-cream in flavors like green tea, matcha or plum. The treat is topped with colorful marshmallows and gooey fudge, making snapping a photo of the pretty ice-cream filled pastry hard to resist.
And who could forget last summer's favorite fad, the champagne-slushie dubbed frosé? This year, restaurants are taking frozen cocktails to a new level, with artisan ingredients and unique presentations. In other words, adult slushies aren't just for college kids or booze cruises anymore.
"It's everyone's secret guilty pleasure to enjoy a frozen cocktail on a hot day," says Kimberly Paul, beverage director of Brasserie du Parc in Downtown. "Craft bartenders have always snubbed their noses at frozen drinks because historically this meant a powdered drink." Not this summer.
At the charming bistro adjacent to Discovery Green, Paul puts a playful — and meaningful — spin on a trend that is likely here to stay. The Port au Melo is inspired by a French tradition celebrated each summer around the Cavaillon melons, one in which melons are split open, relieved of their seed and filled with port. Paul concocts her slushie-like dessert cocktail with Grey Goose melon vodka, ruby port and melon sorbet. "This cocktail, similar to frosé, still has the fun of being frozen while allowing bartenders to feel like they are keeping the integrity of their craft."
More restaurants are taking the same approach by combining personal touches to the still budding trend. Newcomer and Montrose neighborhood gem Nobie's puts a frozen twist on a negroni with its Frogroni, made with Fords gin, Campari and housemade grapefruit syrup — served up in vintage glassware.
Even fast-casual concepts in the Heights are following suit. The new outpost of Fusion Taco on North Main added an Oaxacan grapefruit slushie crafted with grapefruit-honey sorbet and mescal to its growing bar menu, while nearby ice house Eight Row Flint — a trendsetter in its own right — is incorporating a frozen shandy to its list of icy libations, including, for some time now, the popular frozen gin and tonic.
Which of these will be the biggest food-and-drink fad of the season? Consult your Instagram feed, or, better yet, head out on the town. The tastiest summer ever may be just one hashtag away!
Food+Travel