Colors of the Song
Singer Misha Penton utilizes new instruments in a moving, mixed-media art show at The Jung Center.
What compels so many musicians to paint? For soprano Misha Penton, painting is a meditative and cathartic process, and provides solace from the demands of her career as a contemporary classical singer and impresario of her performing arts company Divergence Vocal Theater.
---
Out of what started as a private and therapeutic pastime, Penton has created a substantive body of work, including several acrylic paintings now showing at The Jung Center of Houston through Sept. 28. The show's title, Blood & Salt, comes from a text by Penton, who also writes; it describes what lies beneath "the armor we wear in the world." Sound provides an additional layer of meaning at the exhibition. Using QR codes displayed by each piece of art, viewers can access audio of Penton singing and chanting her mysterious, stream-of-consciousness writings.
Onstage, in costume, her dark hair styled to evoke the heroines of ancient Greece or Romantic-era literature, Penton is a riveting performer. But painting, not performing, is the medium Penton goes to for "an emotional release," she says. "It's a very personal practice that is now becoming more externalized. I'm now thinking of it in the same way as music and performance."
Her expressive brushwork evokes the transformative energies of fire, water and air to reveal a series of highly charged and emotional inner landscapes. Perhaps not surprisingly, much of her recent work, including hundreds of delicate, ephemeral watercolors, emerged from a period of intense professional transition. "I felt very stuck in my creative life," says Penton. "I had been doing these very complicated, large-scale music productions that were kind of eating me alive. So I decided I'm not going to do that anymore.
"I can get myself busy and make stuff," she adds. "But the challenge was how do I put those skills to good use, and not just produce for the sake of producing."
To stay connected to those skills, Penton kept watercolor pads on her kitchen table, and occasionally stopped her day-to-day activities to quickly paint a line or two here, a dab of color there, until she had amassed several completed paintings. It took a while. "I attribute all that I am doing now as the result of waiting," says Penton, whose first successful show took place in Austin this summer. "Waiting and allowing what needed to emerge in my practice to emerge."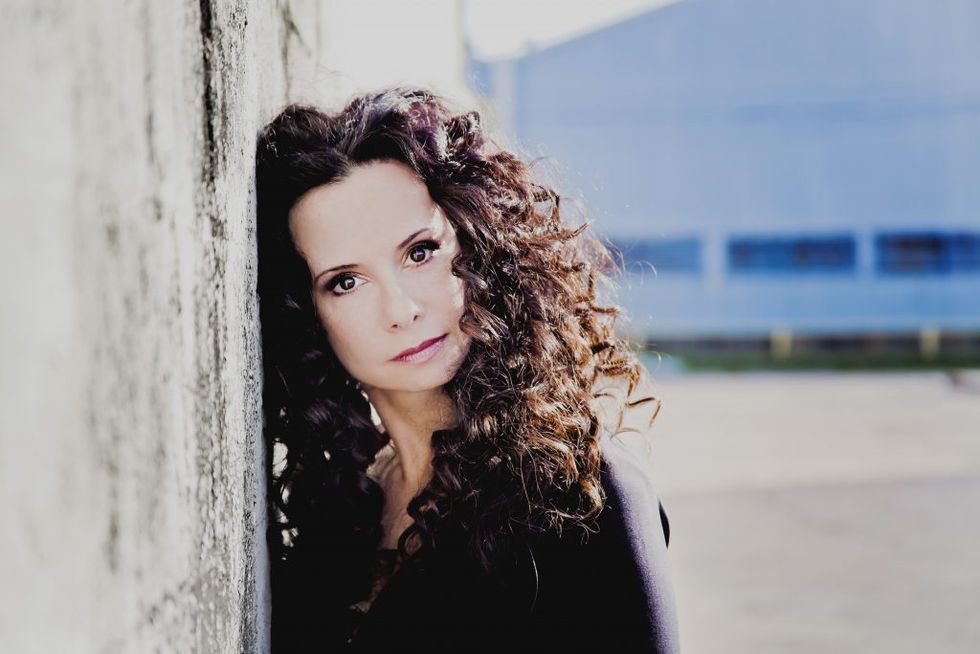 Singer-painter Misha Penton
Born in Germany and raised in upstate New York, Penton and her energy-entrepreneur hubby have made the Heights their home base. She firmly believes that living and working in Houston has allowed her various creative obsessions to converge. "People here respect you for the gumption and audacity to just do your thing and realize your vision," says Penton. "For an artist, that's a huge gift."
Art+Culture