Cosmic Calling
Puppeteer and painter JooYoung Choi, featured this month at the CAMH, has invented a fantasy world beyond the edge of the universe — to tell her most intimate real-life stories of loss and forgiveness.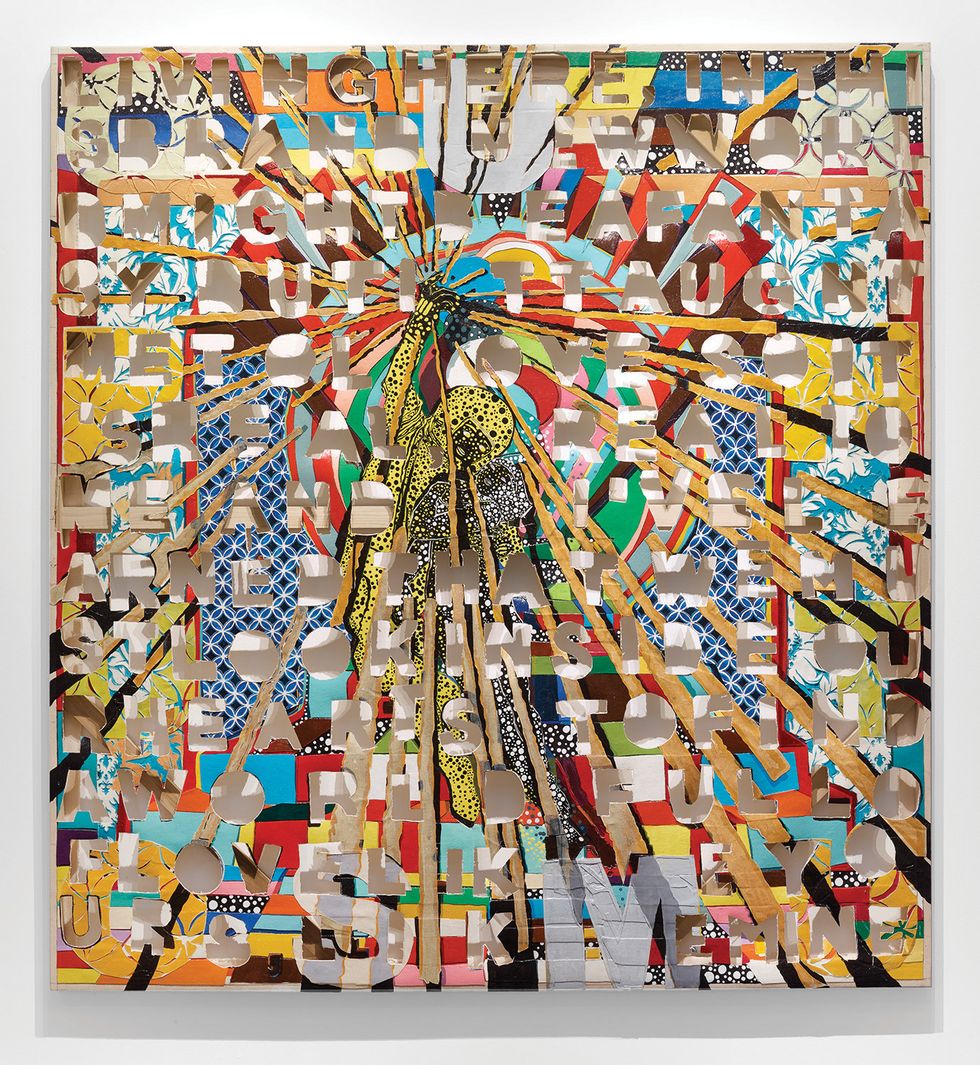 On any given day, one may find her among the paint cans, brushes and other materials in a garage-turned-artist-studio in Spring Branch. She stands about two feet tall, her squat body covered in orange fur, the blue crescent irises of her purple eyeballs framed by long lashes. And when she's not busy break dancing, she uses her long nose to vacuum up feelings of defeat and despair.
---
Her name is Bernadette, and she's one of the denizens of the Cosmic Womb, an imaginary universe created by South Korea-born, Houston humanoid JooYoung Choi. Choi, 34, uses painting, puppetry, sculpture, video and music to tell the stories of Bernadette and dozens of other similarly fantastic creatures.
Their tales reference Choi's real-life story, in which she, as an infant, and unbeknownst to her parents, was sent to the U.S. by her step-grandmother and put up for adoption. Choi reunited with her birth father in 2007 and her birth mom in 2008; the couple had separated as a result of the trauma, and until then had no idea where their daughter was. "Through this storytelling, there are certain issues that have been resolved through this process," says Choi. "There are people that I wanted to forgive. Being adopted and not knowing my birth parents … my imagination really just had to fill in the gaps."
Choi is part of a group show at the Contemporary Museum of Art Houston, A Better Yesterday, on display May 20-Sept. 3, along with Dutch artist Lily van der Stoker and North Carolina's Jack Early. All three use their mediums to explore themes of childhood, with references to pop culture tropes of their time. For her part, Choi's work is notable for its lack of irony or cynicism. Despite the struggles of her youth, and the battles she depicts between the maniacal Lady Madness and the polka-dotted super-heroine Spacia Tanno, her art is filled with light and hope.
With her jet-black bangs, circular-framed glasses and sartorial penchant for primary colors, Choi would not be out of place among the residents of the Cosmic Womb, and in fact often appears in her paintings and videos as the earthling C.S. Watson (from New Hampshire, where she was raised) or the land's benevolent ruler Queen Kiok. An avid student of H.R. Pufnstuf and other classic children's TV shows, Choi branched out from painting when her imagination could not be solely contained on a canvas.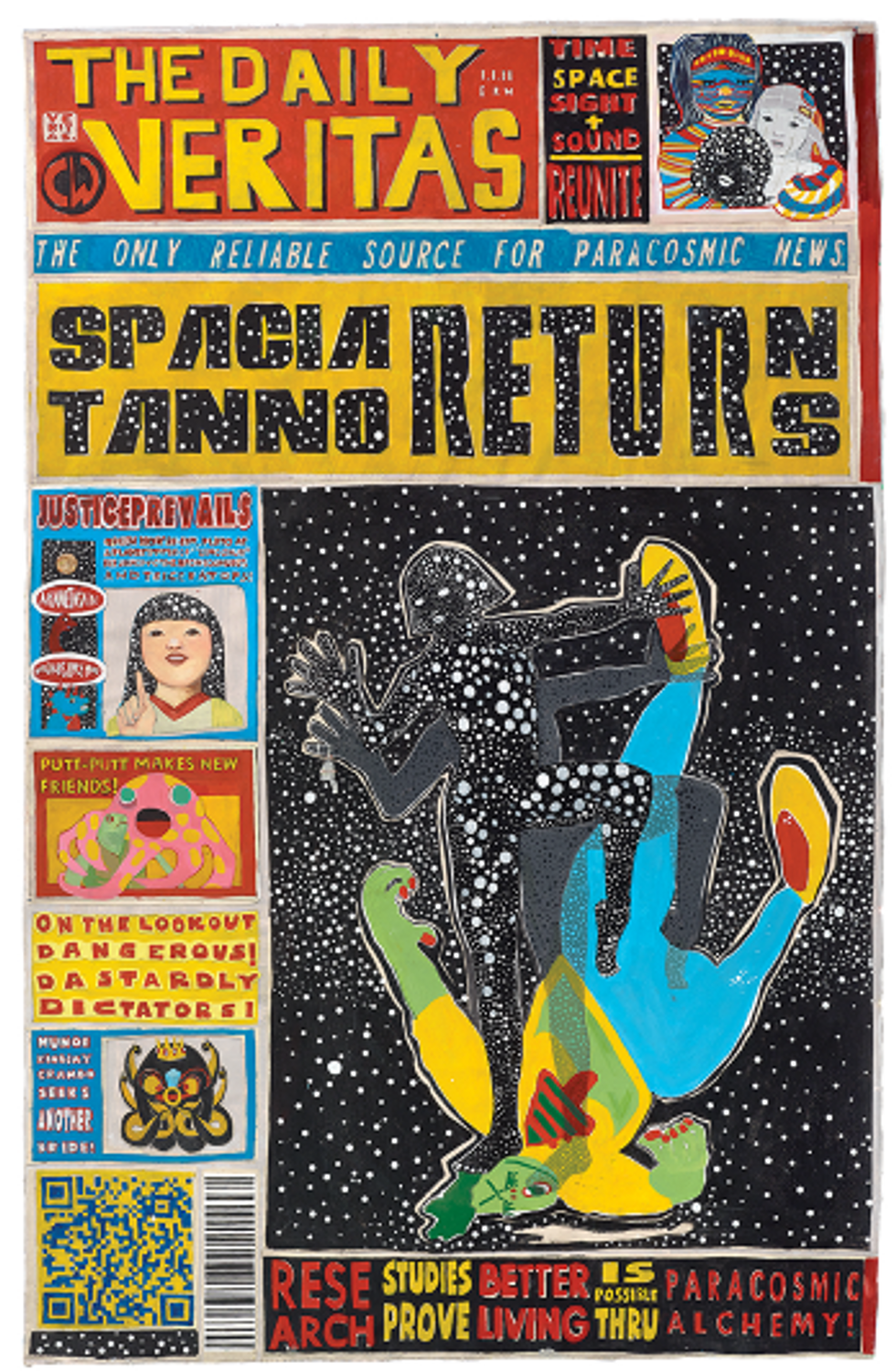 "There's nothing worse than a painting that should have been a puppet," says Choi, who initially enrolled in Berklee College of Music as a piano major before shifting her studies to art. Her widely hailed artist husband Trenton Doyle Hancock, whose own work also explores imaginary realms and characters, operates many of the puppets in her videos. "He does the voices for almost all the boy characters."
For Choi, the CAMH show concludes a story arc whose previous chapters were realized as soft sculpture installations last winter and spring at Project Row Houses and Lawndale Art Center. Along with videos, sculptures and a large dinosaur, she'll exhibit two new paintings, created with the help of her Team Cosmic volunteers, who assist in painting the layers of tiny details.
"I never thought I'd be someone who would paint with other people," says Choi of her group efforts, which began when Diverseworks asked her to create a public work in 2015. "It's really fun. A lot of folks who have been coming by to help are trying to figure out their ways of making art. They're teaching me, and I'm able to teach them."
Art+Culture