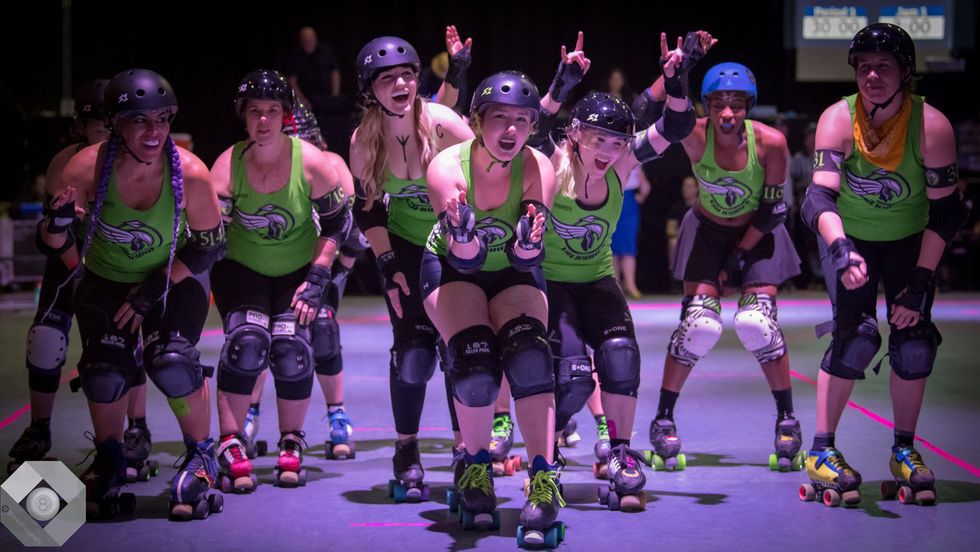 When Nakita Campbell arrived for Houston Roller Derby's Beginners Boot Camp two and a half years ago, she was completely new to the sport. "I had never worn roller skates in my life," says Campbell. "I fell every two feet!" She was surprised when the more experienced skaters told her without a trace of irony: "You're really good at falling!" Feeling she had something to prove, Campbell started showing up to boot camp an hour early to practice, and eventually learned how to fall, correctly, in order to prevent injury, and get up quickly. There's a lot of life lessons that come from derby," says Campbell, "and that's one of them."
---
Known to her teammates and fans as "Kita Destruction," Campbell now skates with confidence and skill as a "blocker" for the Valkryies, one of four teams that make up the Houston Roller Derby league. All four teams will compete at HRD's double-header event July 21 at Downtown's Revention Music Center. Campbell and her fellow Valkyries are set to take on the Psych Ward Sirens, while The Brawlers will go up against the Bayou City Bosses. A portion of the event's proceeds will go to All Hands and Hearts, who provide immediate and long-term response to communities in the wake of natural disasters. Proceeds from previous HRD bouts have gone to The Montrose Center, No Child Wet Behind and Target Hunger. "We pay to play and volunteer to run our league as a business," says Campbell. HRD received its nonprofit status in 2011, and its volunteers include non-skating officials, referees and photographers.
Back in the 1960s and '70s, roller derby was a completely scripted spectacle, much like pro-wrestling, with female skaters beating the crap out of each other as they zoomed around the track. The sport reemerged in Austin in 2001, inspired in part by the city's punk-rock and rockabilly music scenes, with tattooed skaters wearing homemade jerseys, short skirts and ripped fishnets. Roller derby's fresh DIY aesthetic and feminist attitude was brought to life in Drew Barrymore's 2009 directorial debut Whip It, a cult classic that inspired women across the country to form their own teams and leagues. Roller derby is now the fastest growing women's sport with hundreds of leagues worldwide.
Though HRD team members skate with names like "AcuPunchHer" and "Nightmare Nina," the bouts are actually very family-friendly, with games and activities for kids at half time. (HRD also offers a Junior Derby League for skaters age 7-17.) Campbell's family attends all of her bouts, donned in Valkyrie team color green wigs and outfits. "We may seem intimidating on the track," says Campbell of her teammates, "but we love to talk to the fans."
There are also plenty of rules in place to prevent the skaters from getting hurt. Unlike old school roller derby, skaters cannot punch, trip, kick or elbow another skater, and contact above the shoulders, below the hips, to the center of the back is prohibited. During each 30-minute bout, two competing teams skate counterclockwise around the track. Each team has four blockers and one jammer, who scores points by skating past the opposing team's players. "I've heard roller derby described as football on wheels, except the football is human," says Campbell who, in tandem with her fellow blockers, tries to slow down and "block" the opposing team's jammer. "It's less about racing and speed and more about your strategic placement on the track," explains Campbell.
Roller derby's inclusivity is another reason why Campbell is so invested the sport, both as a skater and self-described "derby evangelist."
"What we're doing is subversive in a way," says Campbell. "It's a women's-only sport, and we're reclaiming our space and our bodies. No matter what size or shape you are, there is a role for you in derby."
Wellness+Giving Back