Drive Time
Austin-Houston duo Night Drive, touting a new record and big-label backing, is going big with its dreamy future-wave sound.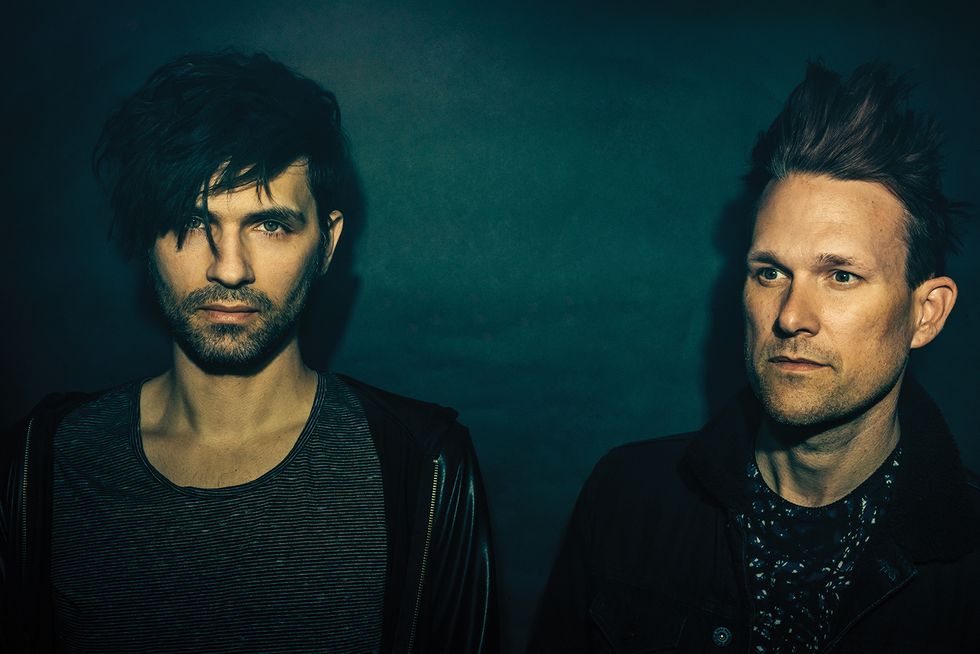 The music video for Night Drive's new track "Rise and Fall," one of the stand-out tracks from their first full-length album, the new self-titled Night Drive, reads like an acid trip, complete with "tracers" and psychedelic neon hues. Created by Japanese, New York-based multidisciplinary artist Yoshi Sodeoka, who has directed music videos for Tame Impala and Yeasayer, the video captures the mystique of the local future-wave duo, whose songs feel like new-wave interpretations of hits by '80s synth-pop giants such as Depeche Mode and New Order.
---
"Can you hear me calling out? Can you hear me calling out to you?" go the lyrics, as the heads of Austin-based lead singer Rodney Connell and Houston-based keyboardist Brandon Duhon flash into view then multiply and get smeared across the kaleidoscopic screen. "Everything is slowing down, but I have no way to make it easier."
Ever since the release of the band's first EP way back in 2013, fans have been itching to get their hands on a full-length album. But perhaps the wait was worth it, because every song on the 11-track album feels like a single. On this one, every number makes it onto the playlist. You feel like you've been transported to an artfully lit disco of the future, or to the '80s. Either way, you'll want to stay there.
For the album, Connell and Duhon decided to stick with the same general feel of their EP, tweaking little of their unique, fan-winning sound. "It's a continuation of what we've been doing. It's a little darker," says Connell. "It's a little ethereal, a little dreamy, all wrapped in really up-tempo pop songs."
The band originally planned on releasing the album, which they finished late last year, in February. But that was before they got a call from L.A.-based label Role Call Records, which promptly signed the duo after hearing some of the new tracks, adding them to a roster that includes Geographer and High Tropics. "We were going to put this album out on a regional label and go from there. But when Role Call reached out and said they really liked it, that was a pleasant surprise," says Connell. "It's really nice to have deeper pockets now."
The label has already hooked Night Drive up with several promotional concerts for the album, including a Facebook Live show in New York for Marie Claire. The duo, which has played L.A. and San Diego recently, too, was also one of the few bands that got to perform at Houston's Free Press Summer Fest this year — they went on right after H-Town favorite Miears — before the chronically inclement-weather-plagued festival had to shut down for a storm.
Busy guys. Perhaps ironically, a fan-favorite track on the new record called "Easy to Lie" goes, "Maybe after tonight, maybe after tonight there will be no more. Maybe this is the last time, maybe after tonight we'll close the door." For Night Drive, it goes without saying that that's not going to happen anytime soon.
Uncategorized