New Show Features El Franco's 'Visual Stories', Inspired by DJ Screw and H-Town's Musical History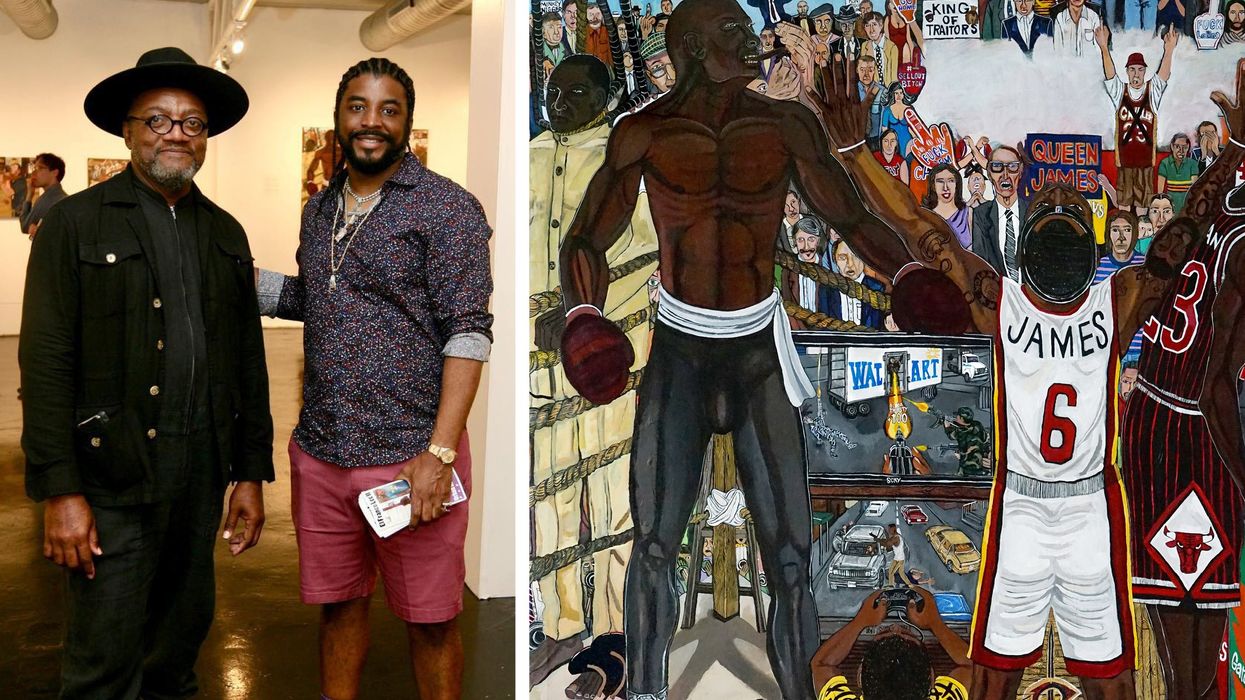 A HEAD-SPINNING mid-career survey of over 60 drawings and paintings by Houston artist El Franco Lee II delving deep into the musical culture and history of Houston is on view through Sept. 2 at the Houston Museum of African American Culture.
---
Curated by HMAAC's chief curator Christopher Blay, the exhibit is an opportunity for those unfamiliar with El Franco's work to experience first-hand the breadth of his talent and gain insight into an underground strata of the city's culture, including the storied history and ongoing creative influence of the late Robert Earl Davis Jr., a.k.a. DJ Screw.
El Franco is also unflinching in his portrayal of racially motivated violence, as seen in his series of paintings depicting the horrifying 1988 dragging death of Jasper resident James Byrd, Jr. by a trio of avowed and unrepentant white supremacists. "With painting, you have to go 360 degrees into that 2D canvas to tell a visual story," says El Franco. "So why not throw in the political and social side of things? Otherwise, it's just going to be a portrait or a reproduced photo in paint."
Born in 1979, El Franco grew up in the Kashmere Gardens area of the Fifth Ward and started drawing at age three, trying to create "something that looked like the human form."
His father El Franco Lee served as a Texas State Representative from 1979 to 1985 and was the first African American elected to county commissioner in Harris County. From the very beginning, he fully supported his son's first attempts to draw such subjects as Bert and Ernie, Voltron and He-Man. (El Franco II recalls throwing out a drawing in frustration, only to have his father fish it out of the trash to keep.) Another role important model for El Franco II was his father's older brother, Robert E. Lee III, a Chicago-based activist for the Black Panther Party, who returned to Texas in 1970 to serve as a social worker in the former Harris County Hospital District.
A sports fan since he was young, the younger El Franco finds a great deal of visual inspiration in the anatomy and muscle tone of great athletes, as well as the contrasting colors of team uniforms. But he does view the world of professional sports with a critical eye. In El Franco's painting "Clydesdale," LeBron James stands with his back to the viewer, arms extended and head tilted back as if yelling to the heavens, as menagerie of pissed-off white basketball fans respond with threatening signs and extended middle fingers. Boxing legend Jack Johnson stands on James' left, having just knocked out his opponent, while on the right, Michael Jordan looms over the familiar logos for McDonald's and Gatorade. As figures both past and present often share the space within El Franco's paintings, and nestled between Johnson and James is a young boy, perhaps a self-portrait as a pre-adolescent, simultaneously playing two video games, Grand Theft Auto and Call of Duty.
"To me, those are two pivotal games that changed the demeanor of society, and its desensitization to violence," says the artist. Bringing it all home is yet another figure in this densely populated painting: a Black man with a noose around his neck. "There are a lot of innuendos from my point of view of Black athletes being used like work horses and discarded when they fail to perform," says El Franco of "Clydesdale." "But then again, that's true in the entertainment industry and the art world. It cuts across all forms and aspects of entertainment."
Meanwhile, "Da Black Al Capone" transforms a petty beef between Houston rapper Lil' Flip and Atlanta-based artist T.I. into a modern day history painting. (There's as much Jacques-Louis David as John T. Biggersin El Franco's work.) Back in 2004, Lil' Flip very publicly took issue with T.I.'s claim to be "The King of the South," which prompted T.I. to roll into Cloverland in an ill-advised attempt to embarrass Lil' Flip in his own neighborhood. Lil' Flip's friend and fellow Clover G recording artist Da Black Al Capone was there to greet T.I. with a solid connecting punch to the jaw. "Down here in Houston, we have several kings of the South," says El Franco, whose friends in Cloverdale witnessed and provided him with details about the fight. "So for T.I. to call himself 'King of the South'? That struck a nerve."
The variety and sheer number of works on display by El Franco at HMAAC speaks to the richness of Southern life and culture, and all of its crazy, grim and beautiful contradictions, as painting after painting venerates individuals who might not otherwise appear on canvas in a museum. Looking ahead, El Franco says he plans to focus on the political and musical landscape of Houston in the 1980s and '90s, with his father being a recurring subject. Before then, there is plenty but not an infinite amount of time for you to catch up with El Franco's vision.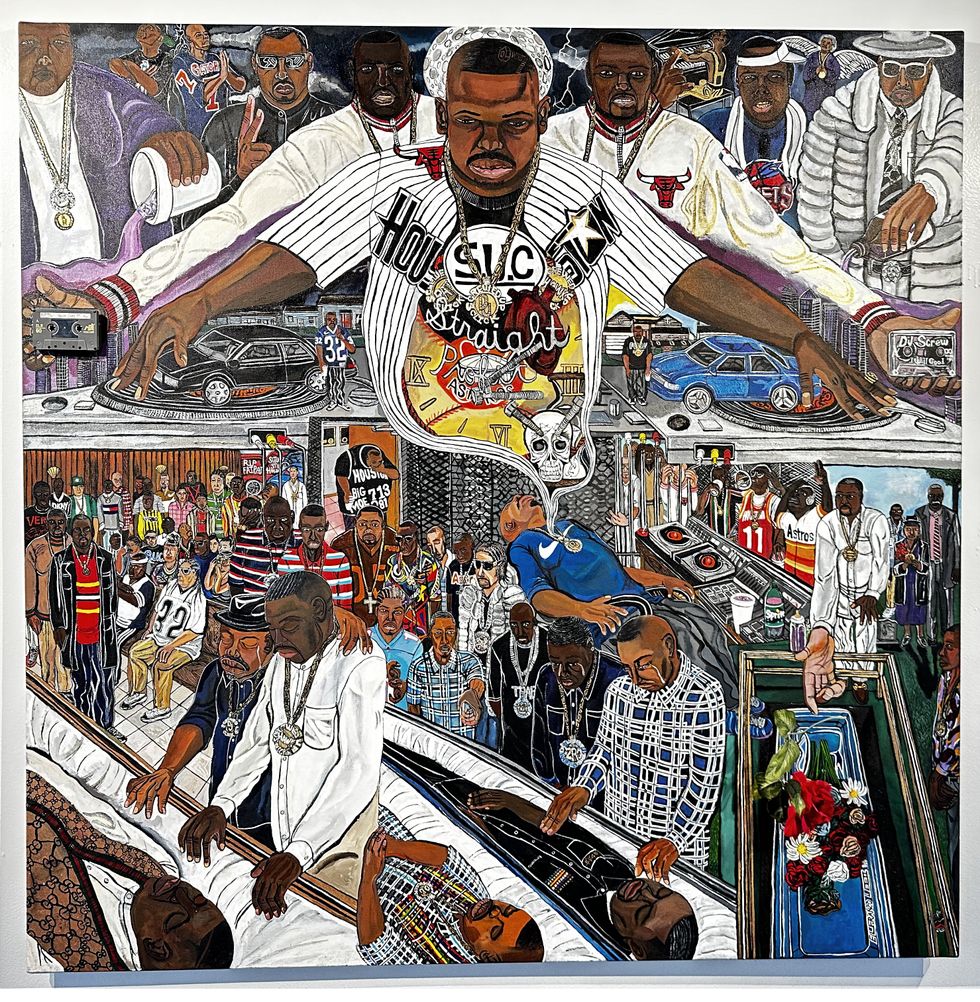 'DJ Screw in Heaven 2' by El Franco
'The Black Al Capone' by El Franco
Art + Entertainment