Empower the People
At his Empower Fitness Labs, Hakeem Akbar uses a custom mix of new science and old-school inspiration to 'ignite' your workout.
Traci Ling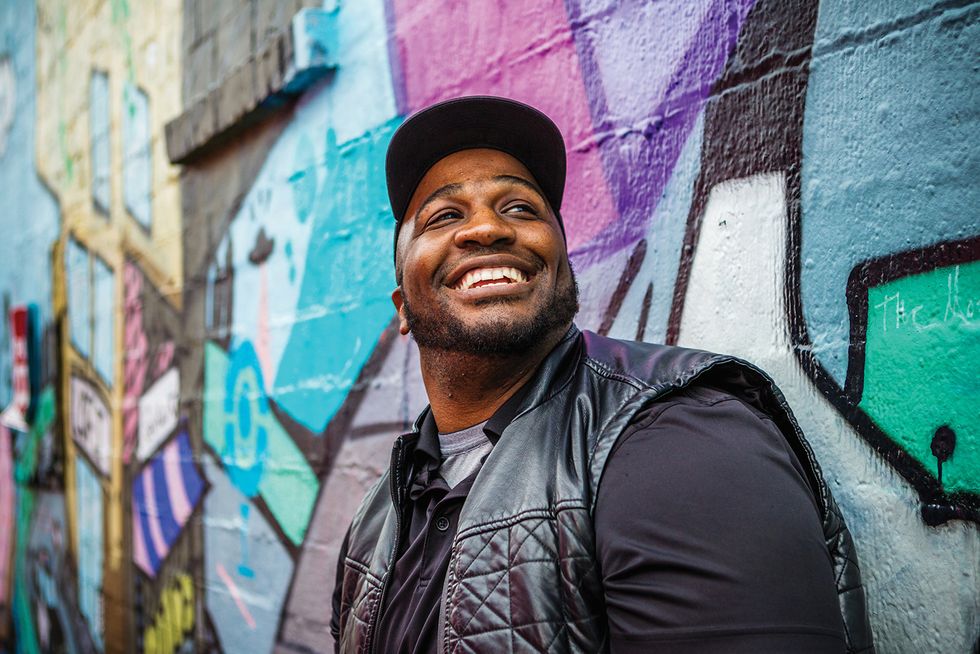 Mounted high on the wall above the treadmills at Empower Fitness Lab, three flat-screen TVs display the overall exertion level of the students in the class via color-coded squares. Blue and green represent the warm up and moderate intensity levels. Yellow and red indicate vigorous and high-intensity.
---
Through the loudspeaker, Hakeem Akbar issues the following instructions to his class: "And in three, two, one, ignite!" On the treadmills, the students immediately bust out with as much speed as they can. Behind them, a group of rowers push and pull faster, giving it all they've got. Five seconds later, the screen lights up red as most of the class reaches an exertion level of more than 90 percent. It stays that way for another 25 seconds before Akbar leads everyone through another cycle — slowing down to a comfortable "ground pace," picking up speed for a "build pace," then going all out with another "ignite" pace — over and over again for the duration of his 60-minute HIIT (high intensity interval training) class.
Akbar, 40, founded Empower Fitness Labs in Tanglewood just a year ago. A boutique fitness lab that specializes in scientifically designed HIIT classes — he offers HIIT, HIIT Boxing and HIIT Yoga — its popularity is such that this month, he's poised to open a second location double the size of his current one, with an expanded cycling studio, in Sawyer Heights.
Born in Galveston, Akbar's original plan after finishing undergrad as a health sciences major at Texas Southern — and then a master's in business and healthcare administration a St. Joseph's University in Philly — was to return to Houston and get a job in healthcare. On his first night back in the city, however, he was hired by Houston owners of the Orangetheory franchise. He spent the following three years helping them set up their multi-studio franchise with locations in Tanglewood, Sugar Land and West U, before parting ways to pursue his own dreams.
Unlike other studios, which might have one instructor teach up to 40 students, Akbar — who wakes up at 3am, is in the studio teaching by 5am, and in bed by 9pm to get ready for the next day — structured his classes so that there are never more than 10 students per trainer. This level of personalization is one of the key differentiators that make Empower Fitness Labs such a draw: Someone is always on hand to help you with your form or motivate you with words of encouragement.
The class equipment and program are also based on science. Treadmills are Woodway curved treadmills — medically certified un-motorized devices that require the runner to do the work, resulting in an increase in calorie burn of up to 30 percent. The MyZone heart rate monitors are considered the best in the industry for their 99.4 percent accuracy. And the classes are structured so that attendees utilize all three planes of motion — front-to-back, frontal and transverse — during each work out. The result? You never get the same workout twice, and you reduce your chances of injury due to repetitive stress.
People notice the difference. On the walls of his current studio, inspirational words are painted on the walls everywhere you look. Commitment. Power. Strength. Determination. "We make sure we empower you with words and confidence. We push you, encourage you. We don't give classes, we give experiences," he says. "Experiences people always come back for."
Wellness+Giving Back