Family Style
Not far from the party palace she designed for her brother, a decorator and her brood live in mod, colorful comfort.
Julie Soefer
"WHEN MY BROTHER and I were little, we'd get baby formula and sawdust all in one swallow," laughs native Houstonian Courtnay Tartt Elias. "Our parents were always moving and redoing houses."
---
The vivacious Elias, 50, credits her passion and gift for interior decorating to years of growing up in Houston around homerenovation projects — and then there's also the fact that after graduating from SMU, she attended a prestigious work-study program at Sotheby's in London, focused on 19th and 20th century decorative arts, as well as other design programs in France and Italy. She pulled all of that together and, in 2005, opened Creative
Tonic, a business Elias describes as "open-ended, with a creative bent which includes interior design, special events, fashion and architectural projects." And while decorating her developer brother Blake Tartt III's house was a labor of love — "we're very close," she says — the project dearest to her heart is the white stucco Tanglewood home, a bright contemporary stunner with classical embellishments and whimsical pops of color that she shares with her family. The brood includes her husband, Mark, 54, a private wealth management executive for UBS; their three sons, Baker, 21, Brooks, 20, and Sterling, 15; and their spunky King Charles Spaniel named Clemens. "It's constant in-and-out in our house, tennis shoes everywhere," says Elias, smiling. (Her client brother Blake's home is featured in "Oxford Calling" in this issue.)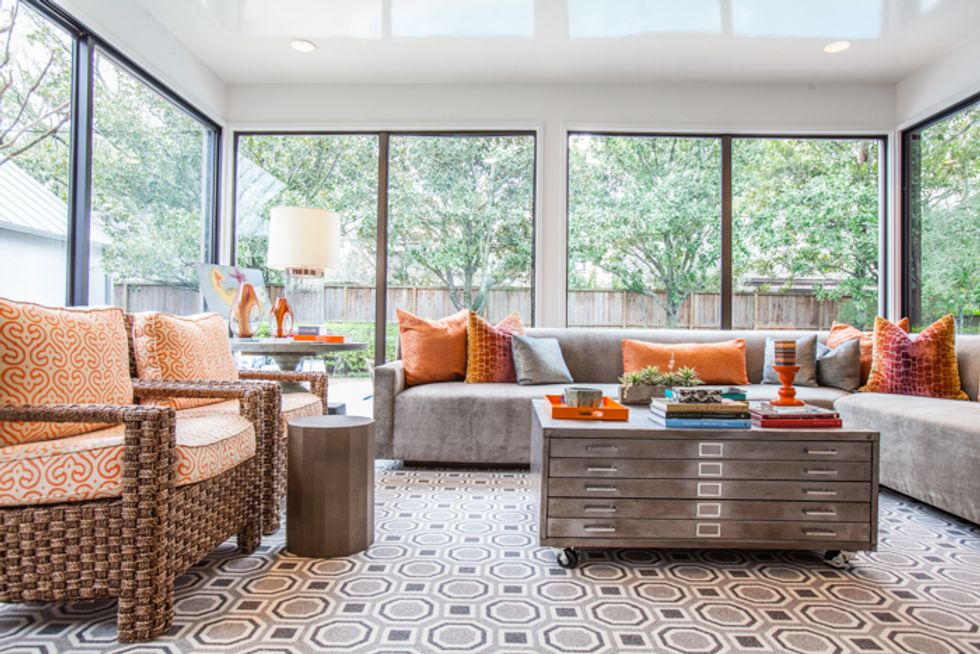 The family room, whose design was inspired by Japanese artists Shosuke Osawa, features a reflective white-lacquered ceiling.
When she and Mark purchased their 4,800-square-foot, twostory home, it had been vacant for a while and was in a state of disrepair. Still, the bones of the house were magnificent, says Elias. Houston architect Albert Pecore, who designed the home, provided the couple with his original drawings, and they got to work. "We knocked out walls to create open living areas," she says. "I didn't want hallways. I wanted our home to be sprawled out and a great place for the kids to ride their scooters."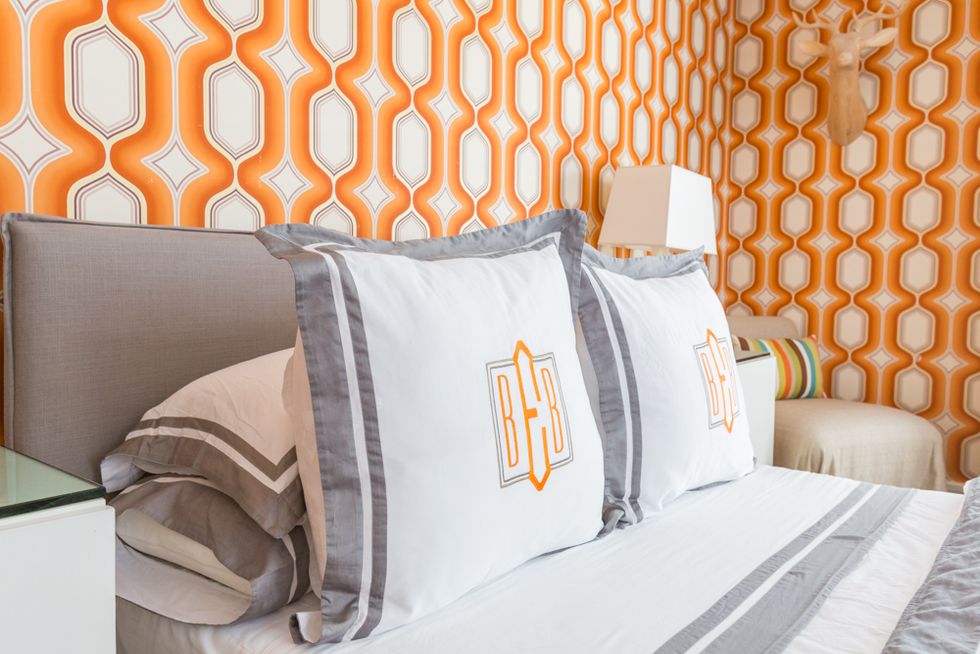 A bedroom incorporates vivid color
Overall, the home is comfy-chic with large, sturdy furnishings. Elias goes for neutral colors in her fabrics, and adds bright colors with pillows and contemporary art. She also weaves nostalgia into her décor: There's an Art Deco dining table in her family room that was a wedding gift from a professor who taught her in Paris. "It was in his and his wife's apartment," she explains. "I spent many days there studying at that table." And in the sleek, modern kitchen hangs a turquoise French glass chandelier that belonged to Elias' grandmother. "I like experimenting with my house," says Elias, who is constantly trying-out new looks.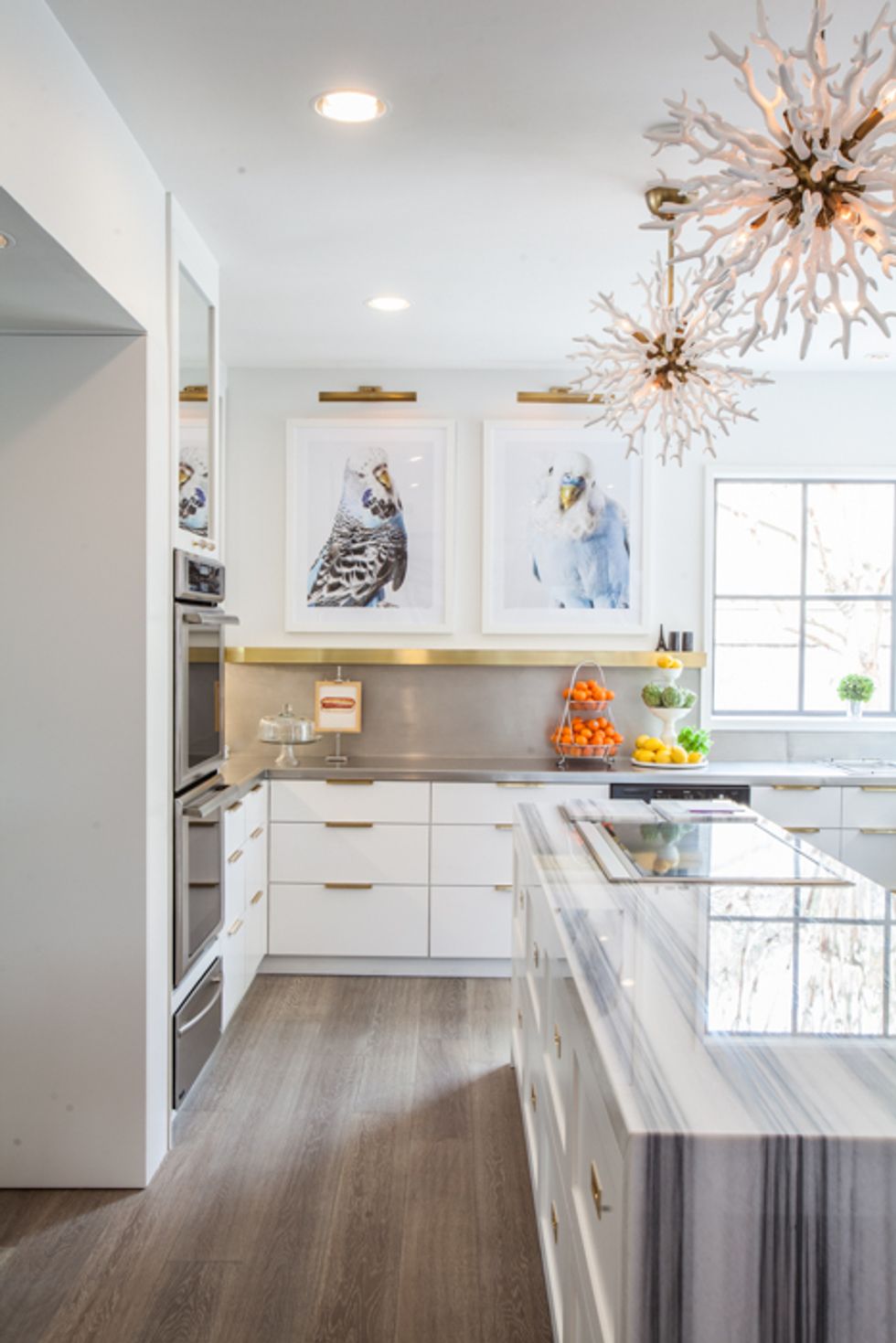 The kitchen is sleek and mod.
Elias and her husband, to whom she tenderly refers as "my lucky charm," are all about a casual family-and-friends-having fun atmosphere. There's the pool in the backyard, and their next project is building a wall around their large front yard to create an enclosed outdoor entertainment/dining area.
Still, this kid-friendly house exudes sophistication, with a collection of evocative abstract contemporary art that Elias has acquired over many years of traveling to Miami's Art Basel, as well as to Santa Fe's annual contemporary art exhibition SITE. Other art-collecting excursions include a recent trip to Cuba, where she and Mark visited the studios of emerging artists. The couple's passion for art and design is also reflected in their involvement with Rienzi and the MFAH — and their commitment to the community can be found in the Eliases' support of the Children's Fund.
[rebelmouse-image 24533006 alt="The home owner says the powder room's metallic Cole and Sons wallpaper is her "most favorite"" original_size="667x1000" expand=1]The home owner says the powder room's metallic Cole and Sons wallpaper is her "most favorite."
Children, family and creativity are cornerstones of Elias' life. She's currently collaborating with brother Blake on the renovation of a Galveston home that will soon be an Elias-Tartt family retreat for vacations and reunions. "Here we are again," says Elias of her brother and herself, "swallowing sawdust!"
Fashion+Home