Fantasy Phuket
Tucked into a hillside in a rainforest on Phuket Island, a quietly enchanting Thai resort is a counterpoint to the region's famed nightlife — and to reality itself.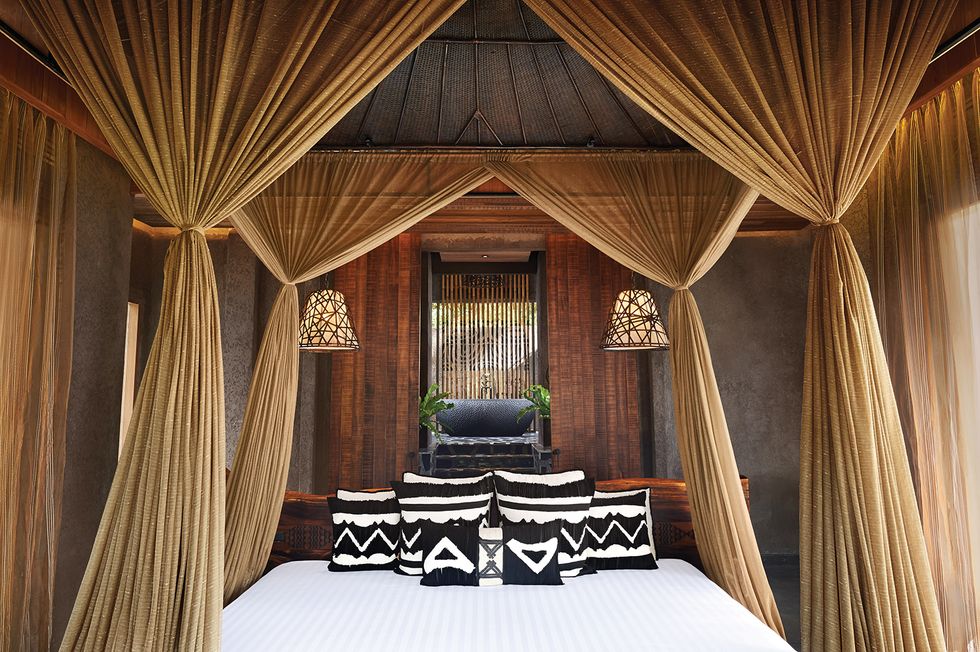 At first glance, Keemala does not look to be of this time or this world. A serene Thai village rising up from the sloping hillside of a rainforest on the northwestern coast of Phuket, its appearance is as fantastical and futuristic as the imaginary worlds of Avatar or Star Wars.
---
From the ground level, clusters of thatched roofs can be seen peeking above the treetops. Higher up, an assemblage of wooden rods form a collection of tree-house cottages that look like the Jungle Book version of a Mongolian yurt. Still further up, half-domes of tented gray canvas stretch atop structures with a glass-walled facade, while deeper into the woods, dwellings covered in timbered lattice amount to human-sized bird's-nest residences.
But Keemala is quite real — and welcome to it. Designated a Small Luxury Hotel of the World, the five-star boutique property features 38 villas fabricated from local island folklore. Here, four fictitious tribes rule, and the spirit of your accommodation is dictated by the affiliation you choose. Stay in a "clay pool cottage" to align yourself with the Pa-Ta-Pea (Earth) clan, craftsmen and laborers whose identities are tied to the earth. Reserve a "tent pool villa" with unobstructed views of both Kamala Village and the Andaman Sea below if your worldview is that of the nomad, or Khon-Jorn (Wanderers) clan.
Book a "tree pool house" suspended from the trees if you are a creative mind like the inventors and healers of the We-Ha (Sky) people. And if opulence and privacy are foremost on your list of priorities, plan to luxuriate in the secluded "bird's nest pool villa" of the intellectual Rung-Nok (Nest) people.
The fantasy is all encompassing once you have arrived at Keemala. Whether taking in the 180-degree views from the circular, open-aired tree-house welcome lounge, saying hello to the resident water buffalo or flock of ducks during a morning walk around the property, dining on world-class Thai cuisine at the Mala Restaurant, or experiencing raindrop therapy as a part of a spa ritual, this boutique resort envelops you in its theme "beyond enchanting."
The staff are available at the touch of a button and arrive within minutes to attend to every whim, a golf cart chariot in tow should you desire transport anywhere on property or to the beachfront just down the road.
The food is divine. It's local, organic and fresh cuisine like you would find in Napa Valley, utilizing indigenous ingredients. Indulge in a tasting-menu dinner to receive giant river prawns seared on a hot rock, or ice-cold desserts that arrive amid white clouds of smoky dry ice. Feast on a breakfast buffet that includes traditional Thai egg omelettes, fresh-pressed dragonfruit juice, a raw bar and freshly baked pastries. Then return to your room for an afternoon snack of sweet, ripe mangosteen and lush rambutan while sipping organic herbal tea.
And so, while many visit Phuket to experience its famous beaches and nightlife, to enter the world of Keemala is to be embraced by its gentle spirit and peaceful tranquility. The throngs of tourists, the flashing neon signs, the sweaty grittiness and excess of Patong Beach — just 10 minutes away by car — fade away. Phuket Old Town, while beautiful in its own right, with its Sino-colonial mansions, temples, Sunday night market and quaint cafés, feels distant and a little unrefined.
Is there anything as wondrous as bathing in your own private pool by moonlight, or feeling the cleansing rush of water from an open-air monsoon shower? To watch the day break from your plush king-size bed, with the patio doors open to a view of the valley and Kamala Beach below? The sounds of nature — gurgling water, birds chirping in the distance, leaves rustling in the breeze — will lull you in peaceful repose. The beautiful simplicity of the moment is a luxury in itself. It cleanses the soul, brings your inner chi into harmony, allows you to find the ultimate zen, however ephemeral.
Food+Travel