Yams? Leafy Greens? Erotica? Buy Something at the Farmers Market! The Farmers Need Us Now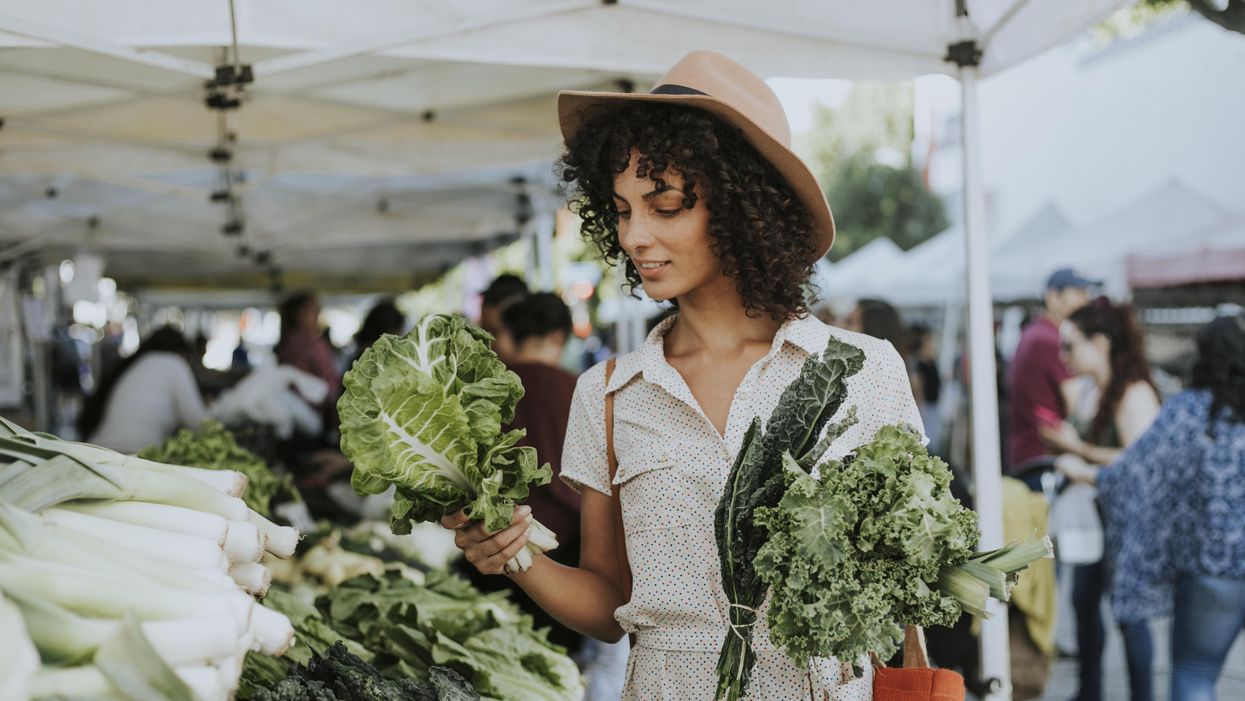 SPRING WAS REALLY showing off at the mid-March open-air fundraiser at the Ivy Leaf Farms in South Houston — almost as if it were trying to make up for its recent shortcomings. But can you really blame weather? Of course you could, but weather is weather. Weather will never learn to care about us, our travel plans, our comfort, our acres of blueberry bushes. Yet we're all obsessed. Did you hear what weather did? Boy, I wish he'd notice me.
---
At the fundraiser, a woman in her 50s approached me to ask what I was waiting for in line, and to be fair, it wasn't clear. I stood a social distance of 10 feet behind the next customer, which is two feet too many. I could have easily been waiting for a plant-based burger to the right or hanging basketball planter to the left. All nice things, but no, I was waiting to buy a book of erotic short stories written by local author Qynn Law. "It looks like she sells candles, too," I note.
Five minutes later and still ten feet from the booth, Lori's — that's the middle-aged lady's name, I learn— and my conversation had moved on to the topic of Sequoias. Lori isn't a traveler like her daughter, but long ago she saw a picture in a magazine of a Sequoia turned over, roots craggy, reaching two stories into the mist, and now I kind of need to see them too. As I listened, yes, other thoughts did pop into my head, like the dog I had committed to watch back home whose bladder I imagined as a battery blinking on low. It's just that the dialogue that emerges at an outdoor market is so damn pleasant — like Instagram rabbit holes, and manic moments in between deciding is it Netflix or Masterclass or pick up a book? What do I do with my free time, please somebody tell me.
The dog would be fine, I thought. And if not? Well, we've all been there.
I don't make it to the farmers market much, but when I do I'm always uplifted. In fact, we should all make an effort to go soon.
After the recent freeze, farmers need us now more than ever — and if they don't have those yams you've been yapping about, try something else, like their leafy greens, or even a sock puppet. Just buy something because while some growers have sprouts showing promise, others most definitely have lost everything. If a farm stand that used to sell vegetables now only sells sock puppets, that's a sign you should let them keep the change.
Even during the good times farmers markets tug on my heartstrings, turn that icy valve into soft serve, they do. Farmers wake up every single day at cock-a-doodle-thirty, early to bed, early to rise, just to grow honest produce for us city folk so we can live happy and healthy lives.
Visiting the farmers market is a little stressful because I want to make sure I say "what's up" to my friends and buy something of theirs, of course. And then there are the booths that I don't know, which I can't just walk past. Especially if their queue is empty. I take time to ponder the possibility of a teal crocheted rabbit hammock and ultimately tell them it's gorgeous and I'll have to think about it.
But then I wonder are they watching me go get in line for cookies three tents down? I didn't have to think too hard about buying cookies.
Oh, just take all my money. Split it up evenly, please. Take my social security number too, milk me like one of your French goats.
And while we can't realistically hand them all our cash, the least we can do is offer a smile or some wholesome chat — I'm convinced the farmers market is where small talk originated, an environment fortified by steel drum, hot coffee and tasty pralines for dipping.
Go ahead, ask your favorite goat farmer about their goats. How's their fiber? Do you ever catch them going through your wallet while you sleep?
Spot one of our talented local photographers hanging around — they're easy to find. Tell them you'd like to book a photo shoot. I'm serious, one of these days, and likely the next time I run into Emily Jaschke at the Urban Harvest Farmers Market on Saturday in the St. John's parking lot from 8am to noon, rain or shine, I'm going to pull the trigger on that tractor shoot somewhere out like Lufkin.
I can't believe I'm admitting this, but sometimes it's nice to slow down. A stroll at the farmers market will have you incubated in relaxation. Go ahead, have a casual gab with a stranger. And as you look through the oven window, licking your lips at that chunky chicken, schmaltz dribbling all over a spread of heirloom tubers, think, isn't this pleasant?
People + Places