Hope Blooms in Sunnyside
An urban-farm project a decade in the making is on the grow in south Houston. And, if its founder has her way, bringing fresh produce to one of the city's worst food deserts — and to H-Town's top chefs — is just the beginning.
Shannon O'Hara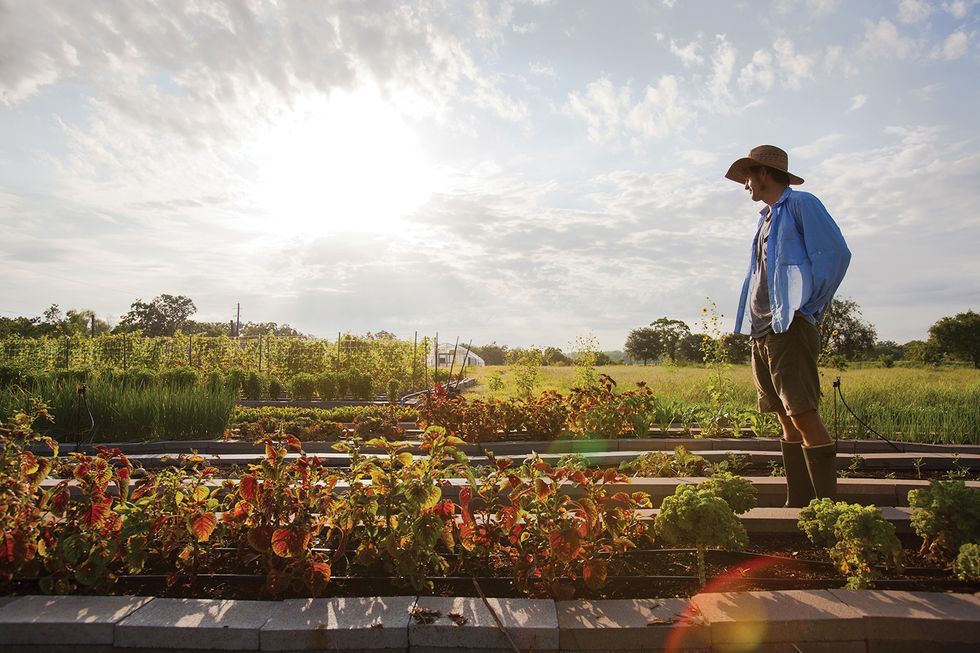 Editors Note: We first wrote about Hope Farms extensively in this beautiful photo essay and article in our September 2017 issue, just before Hurricane Harvey laid the then brand-new nonprofit agricultural project low. The farm, an initiative of philanthropist Gracie Cavnar's Recipe for Success, bounced right back, though, and CityBook went on to proudly sponsor several of the nonprofit's marketing endeavors — and even, in January 2019, made a coverboy out of one of the organization's (hunky) former-military farmhands. We're not surprised at all to learn that, even through the current crisis, Hope Farms continues growing its organic fair, delivering food shares. The weekly package — containing about a dozen varieties of veggies, fruits and herbs — is delivered to customers on Tuesdays. "With this small gesture, we continue to celebrate the power of a shared meal to build memories," says Cavnar, "and empower parents to feed our children healthy food."
---
On the corner of Scott Street and Airport Boulevard in the historic Sunnyside neighborhood in southern Houston, a garden blooms. Behind a chain-link fence, in a field formerly occupied by the now-torn-down Carnegie Vanguard School, lie row after cheery row of cherry tomatoes, eggplant, bell pepper and okra. On a bright day in July, the two currently cultivated acres of the seven-acre plot are being carefully tended to by a handful of workers — all U.S. veterans — who are just as eager to see the fruits of their labor at Hope Farms as Gracie Cavnar, of the nationally lauded and Michelle Obama-endorsed Recipe for Success. Cavnar is the founder of and visionary behind the urban vegetable oasis, which is bringing fresh and healthy produce to one of the city's largest food deserts.
Sunnyside, which was first platted in 1912, is the oldest African American community in this part of Houston. The neighborhood, which has a mixed rural and urban feel, has a median household income of $25,000. And while the neighborhood is home to about 25,000 people, it has only one grocery store, which forces many of its residents to either buy their food from drive-throughs and convenience stores, or take a daunting trek to the nearest supermarket. "Even people with the best intentions cannot put healthy food on the table for their kids," says Cavnar. "For some of these families, they have to get on the bus with their small children and ride for 45 minutes just to get to the grocery store."
It's a situation that people in wealthier areas of the city, where there are grocery stores aplenty, never have to deal with. In some parts of Upper Kirby and Montrose, there are half a dozen upscale grocers within as many blocks, or close to it. If Cavnar has her way, the residents of Sunnyside are going to have good access to good food, too.
Cavnar, whose grandparents were both farmers, has been interested in sustainable farming her entire life, and she's always tried to maintain a small vegetable garden at home — even if that meant, in a worst-case scenario, maintaining a micro garden on an apartment patio. In her Museum District townhome — which she shares with her energy-exec-turned-eclectic-entrepreneur husband Bob, famous for favoring kilts over tuxedoes for formal affairs — the fresh veggie maven is currently growing 14 types of vegetables, including nearly 100 different varieties of tomatoes. She also has a home in rural Vermont, where she is known to take a break from her busy summer social schedule to tend a much larger garden. It's important for her, she says, to try to grow as much fresh produce at home as she can, regardless of the circumstances.
Cavnar founded her nonprofit, Recipe for Success, back in 2005 after spending years researching best practices around the world concerning how communities are dealing with the obesity epidemic. She calls the organization a "three-legged stool," with a nutrition-education curriculum and programs for kids and community outreach making up the first two legs. The third leg is the establishment of urban farms, but until she received a $200,000 grant from Wells Fargo three years ago to make that happen, that last leg of the stool had been the wobbly one. The grant allowed Cavnar and her team to finally break ground on their urban garden in Sunnyside — on Earth Day, April 22, in 2016. "It's been a slow and winding road, a 10-year odyssey, to get here," she says.
So far, Hope Farms has two acres of land under cultivation, but in the near future Cavnar and Co. hope to increase that cultivation area to five acres, with the other space on the land being devoted to community-engagement efforts. Currently, every Saturday, Hope Farm plays host to an open-air farm stand, where fresh pickings are sold; Sunnyside residents get a reduced price. The farm, which dedicates 50 percent of its produce to locals, also has a "Rolling Green Market," which can be taken out into the neighborhood to better serve residents of the area, so they don't have to travel to the market to pick up their produce. "Where in the world is the Rolling Green Market?" laughs Cavnar, noting that they would like to also take the rolling farm into places like the Heights and the Woodlands. "We can literally do a pop-up farm stand anywhere."
Another 50 percent of the farm's produce is sold to local chefs and through "farm shares," which allow subscribed individuals to get a fresh share of veggies, which can be picked up at the farm or at the Recipe for Success headquarters in the Museum District, every week. This effort helps fund the nonprofit's other initiatives. Soon, Cavnar hopes to turn the spread into not just a working urban farm, but also into an education hub where people can learn about healthy eating.
As part of that goal, the farm is about to break ground on a large "gathering barn," which will house a permanent, covered farm stand as well as offices and space for educational programs and special events. In the future, perhaps five years on, Cavnar says the farm will also have a community center with a commercial kitchen, where people from across Houston will gather to learn about urban gardening and healthy eating.
In September, the farm will also start building a "Chef's Kitchen Garden," where local chefs like Chris Shepherd, Ryan Pera, Monica Pope and Claire Smith will create raised beds with their own favorite produce, allowing them to showcase their food sensibilities at the farm. Eventually these chefs — there are about a dozen currently involved, with many more on the waiting list — will participate in a regular Saturday morning schedule of free cooking classes on the farm, plus a quarterly "Chefs in the Field" series. The series will offer ticketed, three-course dinners featuring the creations of three different chefs, and will take place in the middle of the agricultural field. "Picture one long beautiful table out in the middle of the farm," says Cavnar. "Having a little bit of that rural wonderfulness right in the middle of the city is going to be pretty fabulous."
Cavnar has also made it a point to staff the farm with farmworkers who are all U.S. veterans. Houston is home to the second-largest veteran community in the country, and Cavnar knew when she established the farm that she wanted to give back to that community, as well, through a robust urban gardening training program for vets. The paid program allows interested vets to work on the farm either full-time or part-time while also taking a portfolio of classes at UH; the coursework is customized to help them start their own agribusiness at the conclusion of their one-year hitch, if they are full-time, or two-year plan, if they are part-time. "Our job is to teach them how to farm, the agricultural aspects of it," says Cavnar. "UH's job is to teach them good business practices. Together we teach them how to run a successful farm." Cavnar hopes that eventually graduates of this program will have their own urban farms spread out all over the city.
Once all of the farm's goals are achieved, Cavnar hopes it will become a much-needed educational and nutritional hub for Houston. "We envision Hope Farms to be a community center and a gathering place, not only for the neighborhood, but for the whole city."
AT TOP: The sun rises over Recipe for Success' Hope Farms, a sprawling new urban garden that serves the 'food desert' of Sunnyside. It is staffed by military vets. 
Food+Travel