Get Outside! Houston Botanic Garden Opens Tomorrow
A weekend of al fresco activities awaits at Southeast Houston's new, 132-acre park.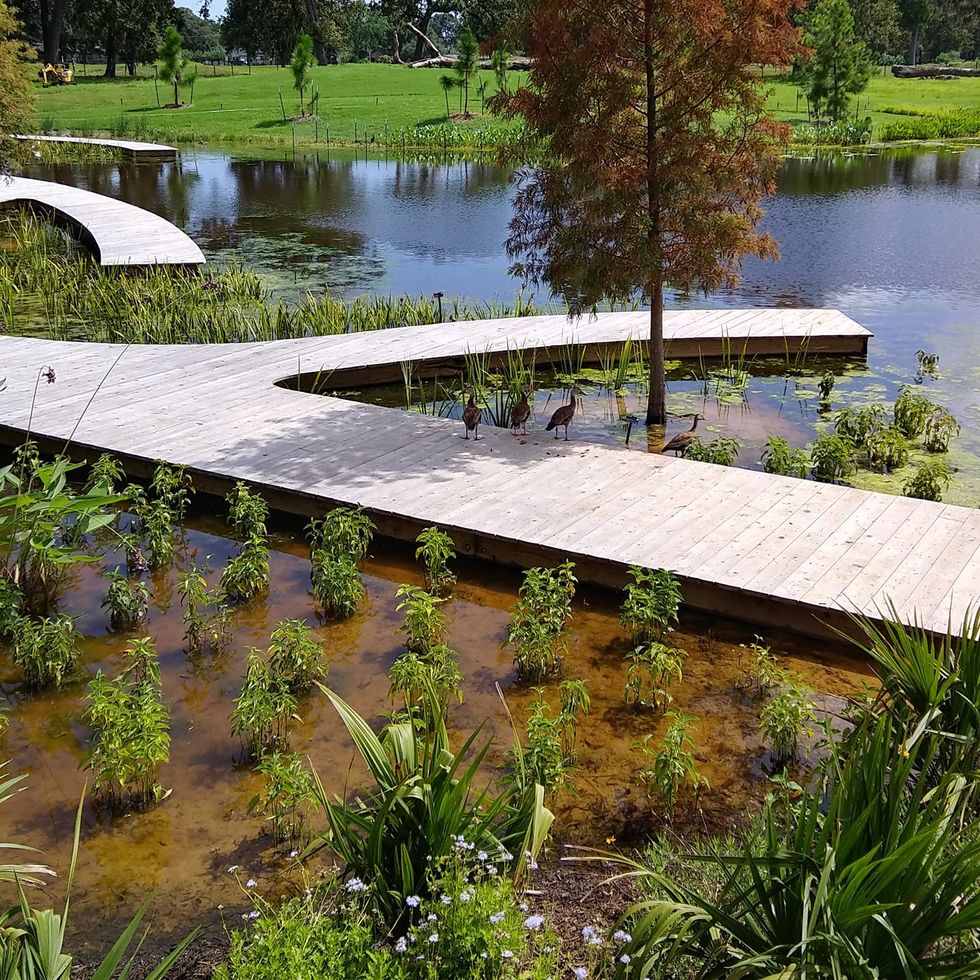 The Houston Botanic Garden opens to the public tomorrow, ahead of a slight cool front that will have Houstonians eager to get outside and soak up some fresh air! The project, now in full bloom after five years of development, is located along Sims Bayou in Southeast Houston, near Hobby Airport.
---
The Houston Botanic Garden — created on the site of a former municipal golf course — promotes itself as something of a "zoo for plants," noting that it houses more than 350 different species native to Southeast Texas and from around the world. There are several distinct areas, beginning at the entrance to the park, where a tree-lined drive leads Houstonians away from city life and into a more zen environment. Visitors are greeted by a grove of pine trees and a "water garden" to help set the tone.
The park is essentially divided in two, with Sims Bayou running right down the middle; the Island is on one side, and the South Gardens on the other, connected by a bridge. The Island is home to the three-acre Global Collection Garden, with plants that were hand-picked to represent the diversity of Houston — find species native to the Americas, the Mediterranean and Asia, all divided into ecosystems like "tropical," "subtropical" and "arid." There's also a Culinary Garden, spotlighting edible plants that are commonly grown in our region, as well as a picnic area and a stormwater drainage area that doubles as beautiful wetlands.
Across the bridge, in the South Gardens, there's a family discovery center with hands-on activities for folks of all ages, and a community garden tended to by volunteers and used for educational purposes.
As part of its opening celebrations and in honor of National Hispanic Heritage Month, the Houston Botanic Garden hosts a Celebrating Latin America weekend, inviting guests to learn about how members of different cultures utilize plant life. Saturday activities include a "cycle of coffee" demonstration, and nature-print-making workshops hosted by the Houston Center for Contemporary Craft. On Sunday, learn about traditional uses of various herbs, how to cook indigenous cuisine. Tickets are $15; facemasks required for entry.
AT TOP: The boardwalk in the Susan Garver Family Discovery Garden
Art+Culture