Glitter Givers
A sister-brother duo's India-inspired, Houston-conceived jewelry biz, now 10 years old, shines brighter than ever for the holidays.
Phoebe Rourke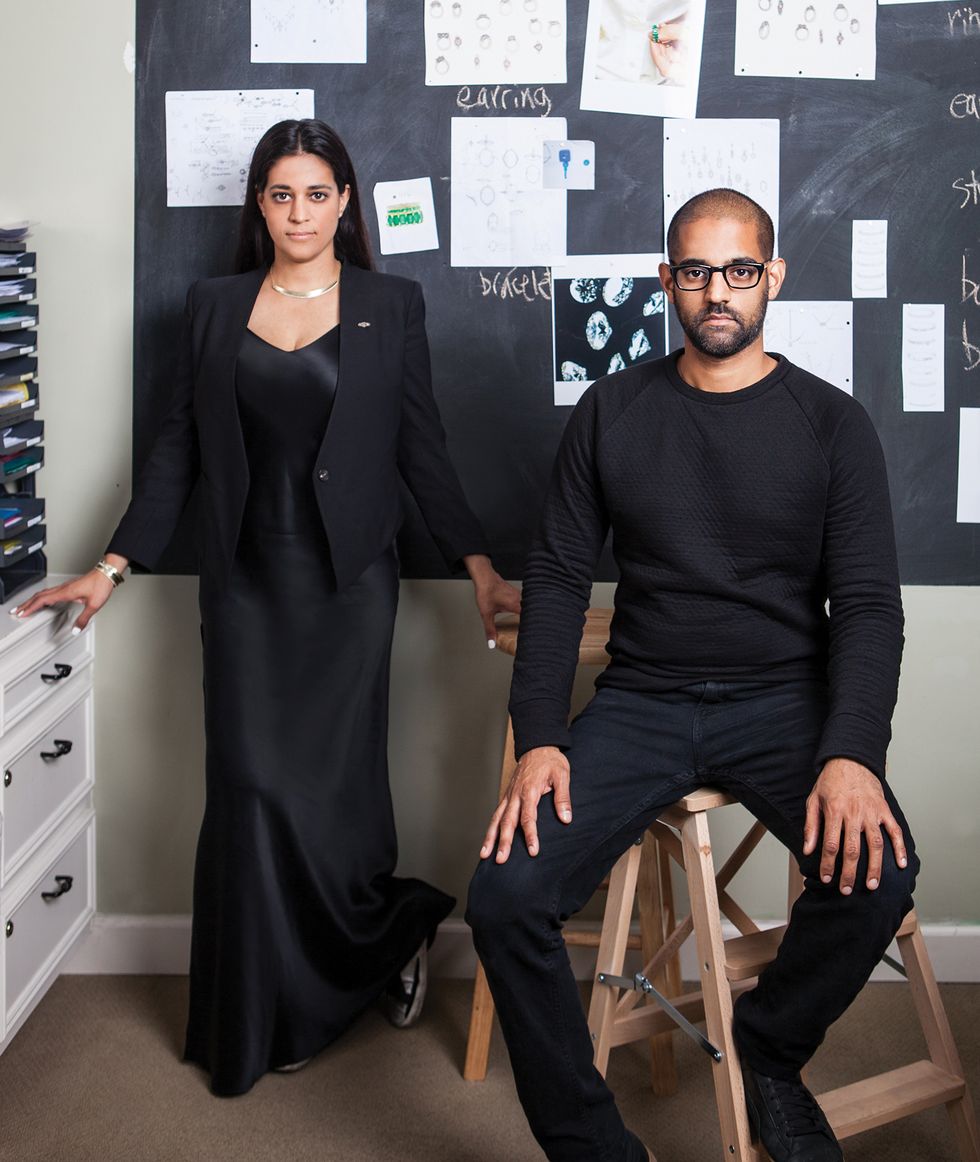 All that glitters is not just gold. For siblings and design team duo Ila and Vikas Sodhani, it's also sparkling sapphires, deep emeralds and diamonds as far as the eye can see. The pair, who grew up in a diamond-biz family, took a circuitous route to founding the fine-jewelry line ILA, which celebrates its 10-year anniversary this holiday season.
---
"Ila and I were on two very different paths," says the soft-spoken Vikas, 39, an MIT engineer grad whose dream to own a tech start-up busted with the dot-com bubble. A backpacking trip through India, where he took an apprenticeship in a diamond-cutting factory and enrolled in jewelry design classes in Mumbai, led him to follow in his family's footsteps. "The rich history with jewelry and diamonds runs deep in the culture in India," he says.
Meanwhile, Ila, 41, had given the corporate world a try, eventually opting to work for her family's diamond business. When Vikas returned to Houston, their wheels began turning. He says it was this "serendipitous, yet natural string of events" that led them to launch ILA a couple of years later.
Now, a decade hence, ILA releases two collections every year, and each piece of jewelry is constructed in their Galleria-area studio. The holiday collection is their largest, with gift options under $2,000 along with chunky, radiant statement pieces for black-tie affairs. This year brings the debut of the Boyfriend Bands, a play on his-and-hers that layers dainty gold bands with diamond rings. The seven-ring stack uses ILA's proprietary gold alloys, mixed locally in the Houston workshop to create a distinct shade of gold consistent throughout the line.
The gems are also special. "A major part of our buying process is to ensure that … the stones are sourced from sustainable mines," says Ila.
In the decade since its ambitious start, the brand has spread around the world, and can be found at Saks Fifth Avenue, BHLDN, Moda Operandi, Tomorrowland in Japan and the Bahrain Jewelry Center — and is newly available in Houston at the MFAH gift shop, as well as Kuhl-Linscomb.
As for the next 10 years? With a wealth of experience in the jewelry biz, Ila says she hopes to focus more on commissioned pieces with rare stones, while Vikas says he is "always incubating hair-brained ideas," like his dream to work on a lower-budget product. "One day, I would love to design my own sneaker line," he laughs. "I have a box of vintage sneakers that I am keeping around for when that day comes."
Uncategorized