High Art
Built to blend with the sleekly hallowed halls of the MFA and Asia Society, and animated with hip new art installations, the Southmore high-rise has arrived in the Museum District.
Jack Opatrany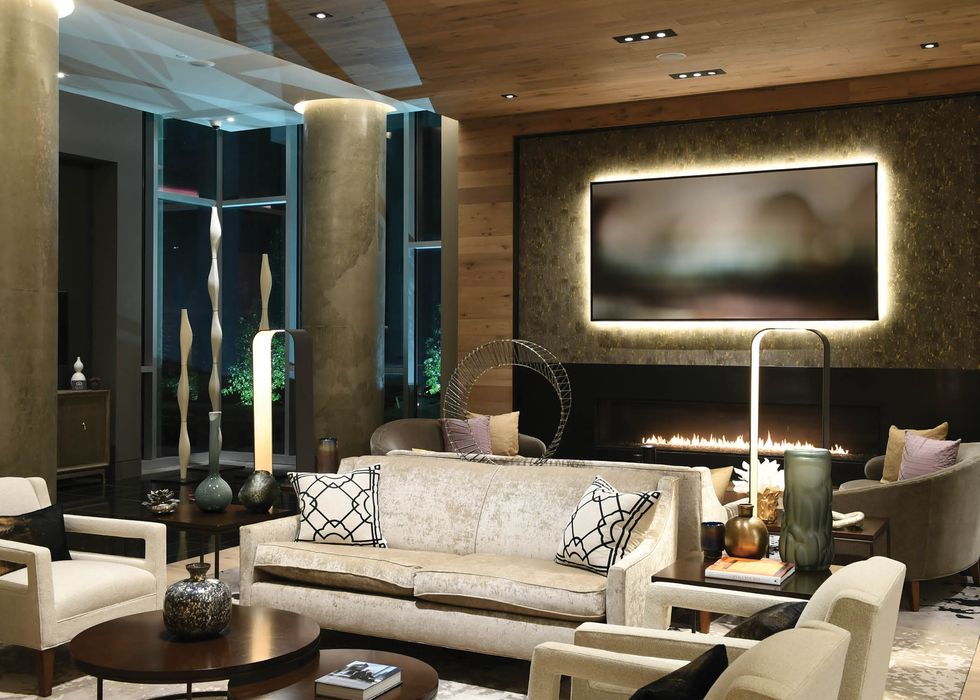 With tens of thousands of people moving to Houston each year, it's no surprise that the skyline is dramatically changing. After all, there has to be somewhere to put everyone. Houston is becoming more vertical than ever.
---
The Southmore, a new 24-floor residential high-rise project from the city's internationally notable real estate firm Hines, in partnership with Munoz + Albin architects and production architect Wallace Garcia Wilson, is situated just a few blocks from the Museum of Fine Arts Houston and Hermann Park. The development has everything the young, hip and affluent urbanite is after: high ceilings, soaring skyline views and amenities that aim to make life as convenient — and stylish — as possible.
"Our collaborative concept in creating The Southmore was to organically blend interior and exterior aesthetics, inspired by our cultural neighbors, and to celebrate the site's urban greenery and innate beauty," says Kevin Batchelor, senior managing director at Hines.
Interior design group Mayfield and Ragni Studio (MaRS) brought a contemporary look to the interiors of The Southmore. They sought inspiration from the nearby Asia Society — one of Houston's most significant cultural institutions, designed by Japanese architect Yoshio Taniguchi — located directly across the street. MaRS integrated Asian minimalism and soft modernism throughout the property, and commissioned site-specific art installations such as one in the wine-tasting room by artist Scott Gunderson. The mural of a woman with long flowing hair is made of 60,000 meticulously placed wine corks.
In the building's sports lounge, the ceiling is covered by a large black-and-white photograph shot by Wayne Levin and printed on fabric, depicting triathletes swimming in a Hawaiian competition. A large circular art installation — 13 feet in diameter — by Paul Fleming, repped by Barbara Davis Gallery, spans the wall in the resident lounge. Small cement-cast parallelogram shapes are filled with translucent layers of resin that appear to be glass-like pools.
An 11,000-square-foot pool deck on the 7th floor provides ample views of Downtown while the 10,000-square-foot private park is the perfect landing spot for an afternoon picnic. Other services range from valet parking to dry cleaning and concierge access. The lounge, coffee bar and conference room — clad with large stone columns, glass wall partitions, natural wood plank ceilings and gold-hued wallpaper — are a bonus perk to those who work from home and might need a change of scenery during the day.
Green spaces around and throughout The Southmore add to the neighborhood's verdant feel, as opposed to taking away from it, as urbanization often does. Gardens and pocket parks designed by Robinson & Company hide the service entrances to the building, and plenty of pathways exist for residents to navigate to the ZaZa for a drink or to Miller Outdoor Theatre. "These features culminate to make a building that is visually appropriate to its distinctive neighborhood, where art and culture meet a residential neighborhood," boasts architect Jorge Munoz of Munoz + Albin. "The Southmore represents the evolution of Houston's urbanism."
Uncategorized