The Houston Brass Quintet Pops Up and Pivots for the Holiday Season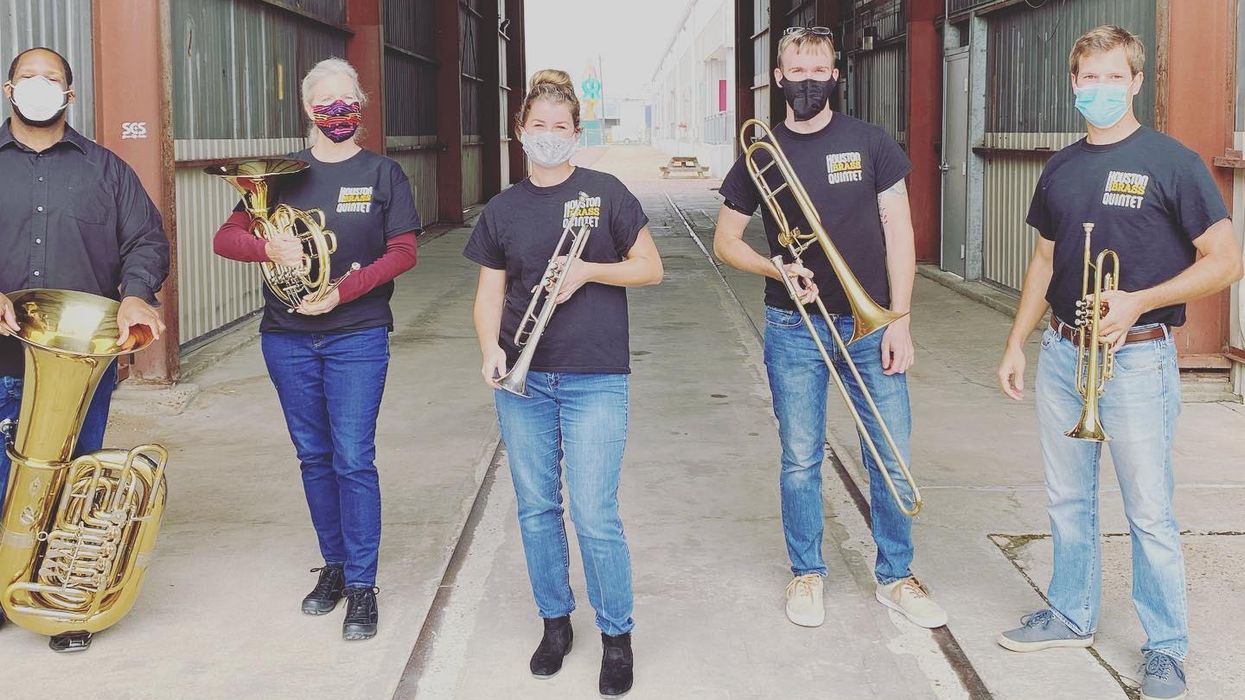 The performing arts have been brought to a screeching halt as a result of the ongoing pandemic. The Houston Brass Quintet, a local nonprofit music troupe, met the moment head-on with outdoor pop-up concerts around the city. Their perseverance has helped keep their heads above water, and the group is gearing up for a holiday season unlike any other.
The chamber group focuses on diverse music genres, prioritizes collaboration in the arts community, and gives back to the community through educational and service programs. Founding member and managing director Sarah Perkins beams as she discusses the service component of the quintet. "The group was originally formed as a one-off for a party," she says. "A gentleman approached me at the party and asked if I was interested in putting a chamber group together, and he gave us $5,000 to get started. With the seed money we got, we decided to make our group a nonprofit, because the mission aspect was important to me — to have a service component involved, with particular emphasis on the Alzheimer's and dementia community."
---
A full-time band director, Perkins explains that two members of the group found themselves out of jobs due to the pandemic. "Some artists are throwing in the towel, which I don't judge that choice," Perkins makes clear. "Russell [Hael] and Ryan [Rongone] are good examples of people who didn't skip a beat and changed to meet the moment. They started performing porch concerts, and then the quintet got involved. We played around our neighborhoods to help bring people outdoors and get peoples' minds off of things for a while." Perkins explains that these pop-up shows are all about community. "The porch concerts started to keep the art form alive. We ask for tips, even though we don't make a lot off of them. It's about playing and keeping it going for yourself. We find it so much more meaningful to play, which has kept us all going."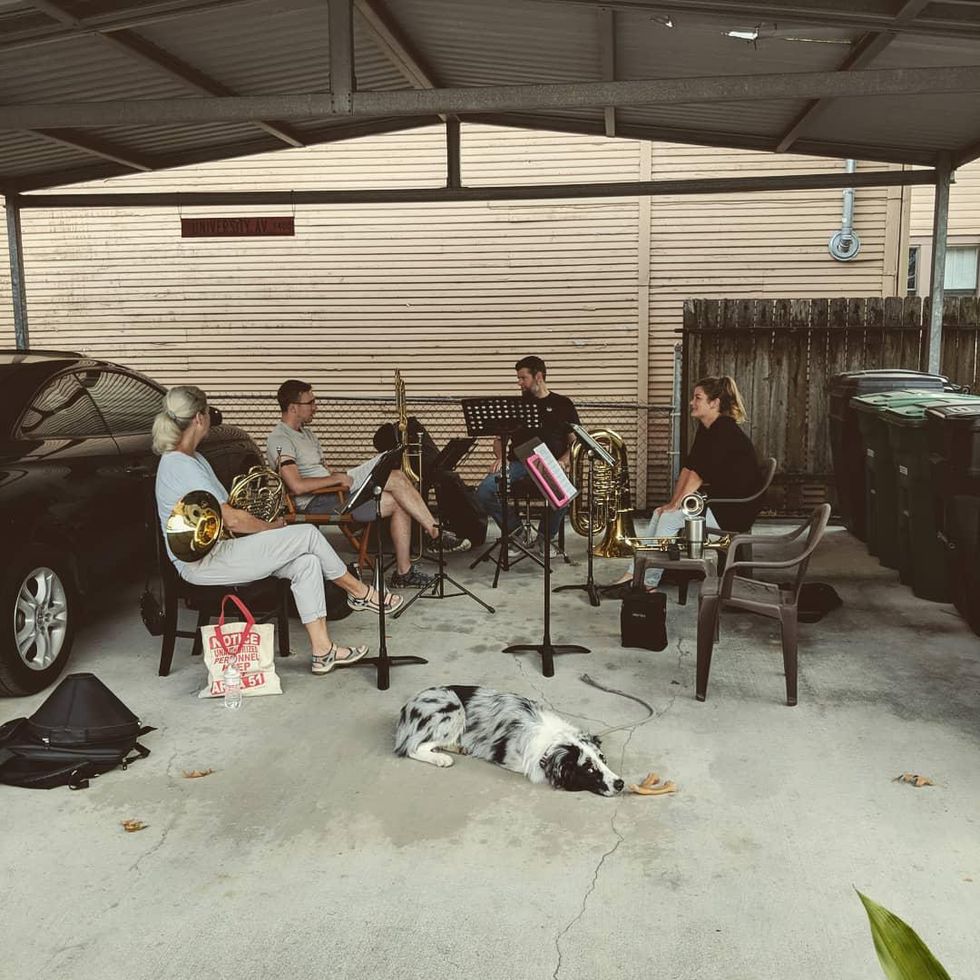 Quintet Rehearsal
According to Perkins, the group — which also includes Mary Gold and Allyn Lindsey — is grateful for the one event they will be playing this holiday season, despite that in previous years their calendar would be packed with back-to-back Christmas events. "Covid is so crazy. Usually during the Christmas season we are playing every Saturday and Sunday until Christmas. This year, Chapelwood [United Methodist Church] is it. We're super grateful for our one gig," Perkins says. The ever-changing landscape of the pandemic leaves lots up in the air, but Perkins notes the gig is tentatively set for Dec. 17 at 7:30pm. "It'll be all Christmas music, and we are still working out details with attendance, but we're excited that it will be live-streamed."

The Houston Brass Quintet is also slated to play a pop-up concert in the Heights on Dec. 5 at 4pm; it will be live-streamed from the HBQ Facebook page as well.
The ensemble looks forward to eventually getting back to its roots of performing for audiences. Perkins asserts that while they love playing for and working with the community, it's the group's bond that will keep them going well beyond this moment. "When we've gone about choosing players for the quintet, we always choose the performer who has the personality we need and look for, so that it all clicks."
Art + Entertainment