Houston Saves Sex? Inside the City's Steamiest Medical Research!
Sexual medicine was once a dirty little secret, considered, at best, a vaguely lascivious pseudoscience about which decent people should only whisper. But times are changing fast, as Houston's top docs and savviest entrepreneurs lead the world with groundbreaking treatments and promising new research. Here's the latest and greatest in H-Town sex Rx.
Traci Ling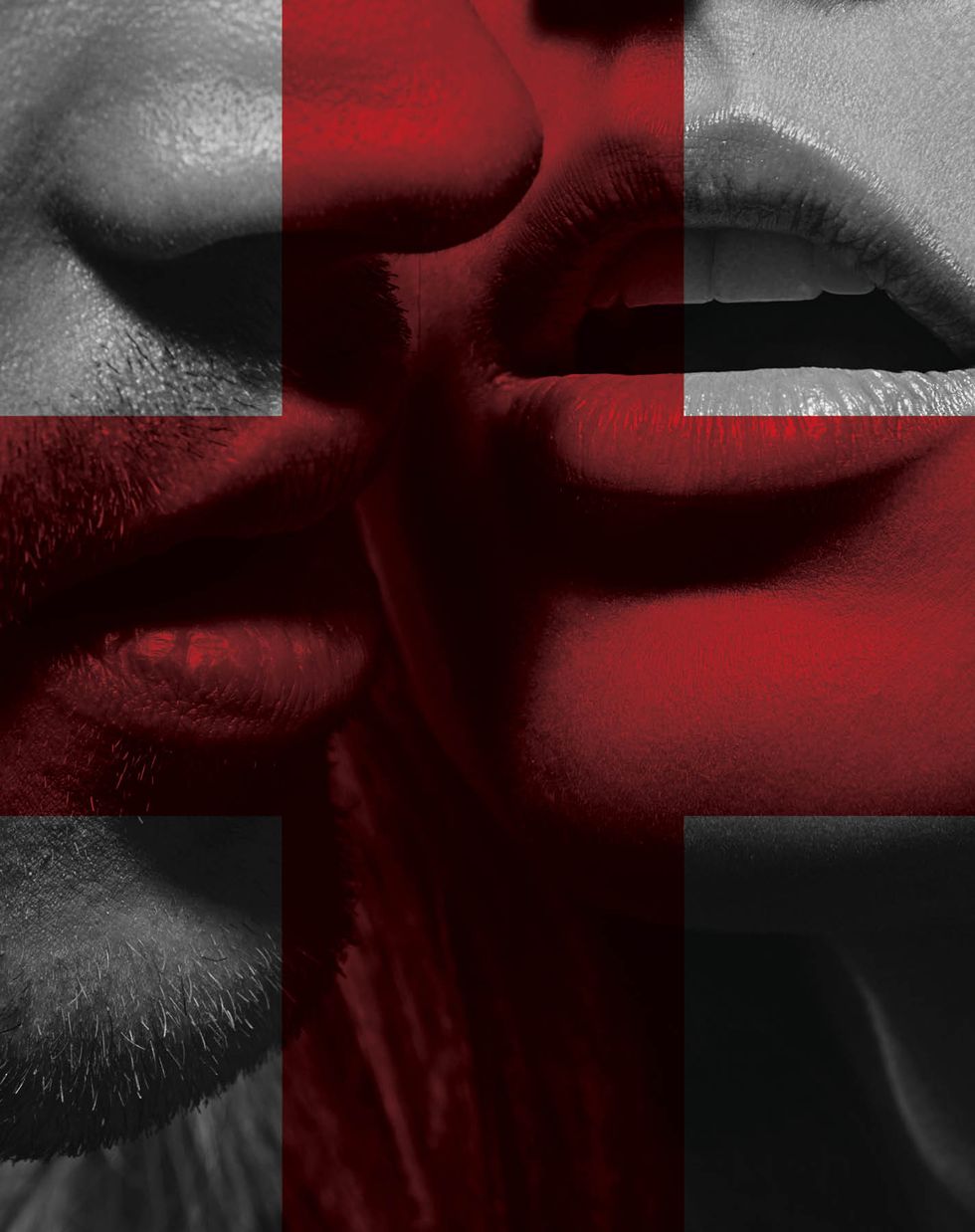 Editors' Note: The world has taken renewed interest in Houston and its Texas Medical Center as the global leader in medical research, with many Houston-based experts appearing routinely on TV as experts on the coronavirus — and with multiple possible vaccines in development here. As we reported in our Sexy Issue in summer 2017, H-Town has also been a leader in another area of research and treatment that's usually only whispered about, sexual medicine, for years.
---
Texans may be known, in mythology anyway, for women with large hair and big chests to match, but it might just be that the men's, er, augmentations are even more noteworthy. In the early 1970s, F. Brantley Scott, a professor at the Baylor College of Medicine and chief of urology at St. Luke's Episcopal Hospital, developed the first inflatable penile prosthesis, single-handedly creating an industry. It has since helped millions of men cope with erectile dysfunction, and assisted some transgendered men in their transition from female to male.
To this day, Houston remains at the center of research into sexual health and vitality, with several research projects underway — and with top doctors working from the city's most renowned medical institutions to shape the future of human intimacy in what amounts to a $10 billion business annually. Baylor, in particular, is a fertile ground for Sex Rx.
Robert J. Cornell, who completed his residency at Baylor, is the self-proclaimed "E.D. doc" and performs some 150 penile prostheses surgeries annually, many to offer relief from symptoms related to prostate cancer operations and other difficulties. Larry Lipshultz is the professor of urology at Baylor and is known for having pioneered several microsurgical procedures, including one for reversing vasectomies, which he's performed for 3,000 men.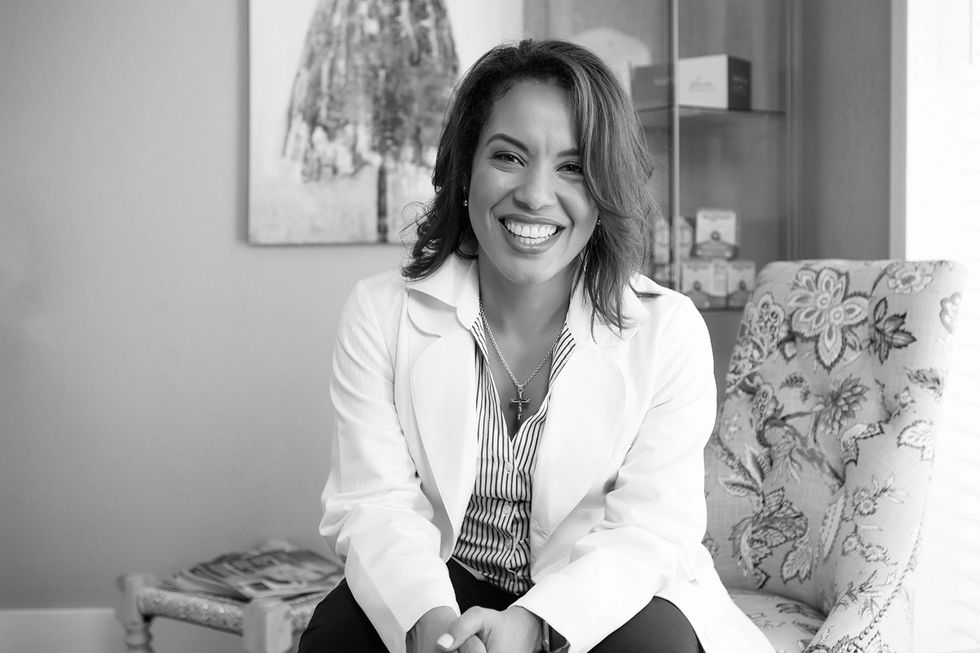 Urogynecologist Terri-Ann Samuels
One of Lipshultz's former students is Mohit Khera, now an associate professor of urology at the school, who also serves as the secretary of the Sexual Medicine Society of North America. Khera is another of the city's best-known surgeons, performing some 50 to 60 penile implants a year. But, says Khera, the procedure is one option; a good doctor will offer many more.
And, to one degree or another, most men will need those options at some point. "As men get older, they experience a 1-2 percent decrease in testosterone annually, starting at age 35," he says. "And as those numbers go down, as we all know, there is decreased libido, increased fat and depression, poor sleep. It's a slow decline, very analogous to menopause."
Khera is a local guy through and through, having graduated from Strake Jesuit and with his kids now studying at St. John's. Today he's aggressively seeking answers and alternatives for his Houston patients. In fact, he runs the only lab in the United States focused on using stem cells to reverse erectile dysfunction. "We have 30 patients in the study," he says. "We extract stem cells, inject them into the penile tissue, and are seeing results." Khera's lab is also soon to take on shockwave therapy, the same technology used to eliminate kidney stones. "The fact is that Viagra is not a cure. It is a Band-Aid on a problem, and we are seeking a cure."
The doc — who points out that E.D. is a natural part of aging, with 40 percent of men in their 40s having experienced it, and 50 percent of men in their 50s, and so on — has also consulted on the development of Stronvivo, a new nutritional supplement aimed at increasing nitric oxide production in the body, which potentially helps with increasing libido and combating E.D. The supplement contains off-the-shelf ingredients — magnesium, zinc and others — that have been combined in a single pill.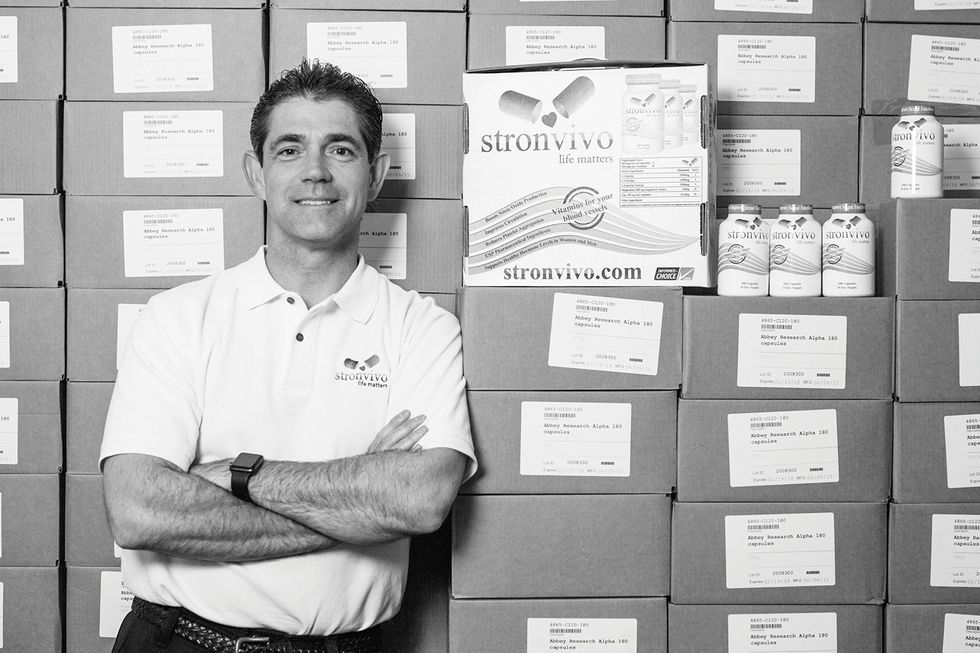 Stronvivo entrepreneur Ron Merrill
The product was the inspiration of local entrepreneur Ron Merrill. "I met Dr. Khera when I went in to get my testosterone tested, and he explained what was happening to me as I aged," says Merrill over lunch at Heights butcher shop Revival Market. "And he told me my testosterone was pathetically low." Dressed in a snug, muscle-bearing polo shirt and with a full head of hair, Merrill looks the picture of a virile middle-aged Houston male. "He told me that it was often busy people like me who were suffering the most from the symptoms of age. Stronvivo came out of that experience."
Stronvivo retails on Amazon for $180 for a three-month supply. And since a daily dose is six pills — three in the morning, three in the evening — it's not a small commitment. "But you know what, I'm a member of several men's organizations around town. There's a big age range, from mid-40s to 80-year-olds, and I've gotten many of them on Stronvivo," says Merrill. "I can't tell you how many of them have thanked me."
In the fast-evolving world of sexual medicine, of which Houston remains the epicenter, there are no doubt lots of grateful men. Men now have more than 30 pharmaceutical treatments for E.D., not to mention the aforementioned penile prosthesis, which today is essentially a tiny pump in the scrotum that's squeezed by hand to firm up a pair of tubes in the shaft, and budget-conscious $4 injections that produce results for two hours.
Conversely, when it comes to treating FSIAD — female sexual interest/arousal disorder — there is just one drug, Addyi, which was approved by the FDA just two years ago and has so far proven a bit problematic. Several doctors note that you can't drink alcohol and take it, so for many, it isn't much good for date night; one physician pointed out that the drug's main side effect is lethargy, "so you end up horny but lazy, which isn't a formula for hot sex."
Research into women's sexual health is far less prevalent than that which directly concerns men's issues, and the outcomes are far less clear, says Mary Jo Rapini, one of America's leading sex therapists. The petite brunette runs a private practice from an office in West U, and is the co-author of Re-Coupling: A Couple's 4-Step Guide to Greater Intimacy and Better Sex with Baylor's Khera. "Every woman is different, that is no secret," she says, "and there's no baseline for what 'normal' female sexuality looks like."
According to Rapini, as many as 40 percent of women have some sexual complaint, be it a lack of interest, or an inability to self-lubricate or reach orgasm. "This is not good for humanity," she says. "A healthy, satisfying sex life is an important contributor to happiness and, increasingly, it is being viewed as a right, and not a privilege."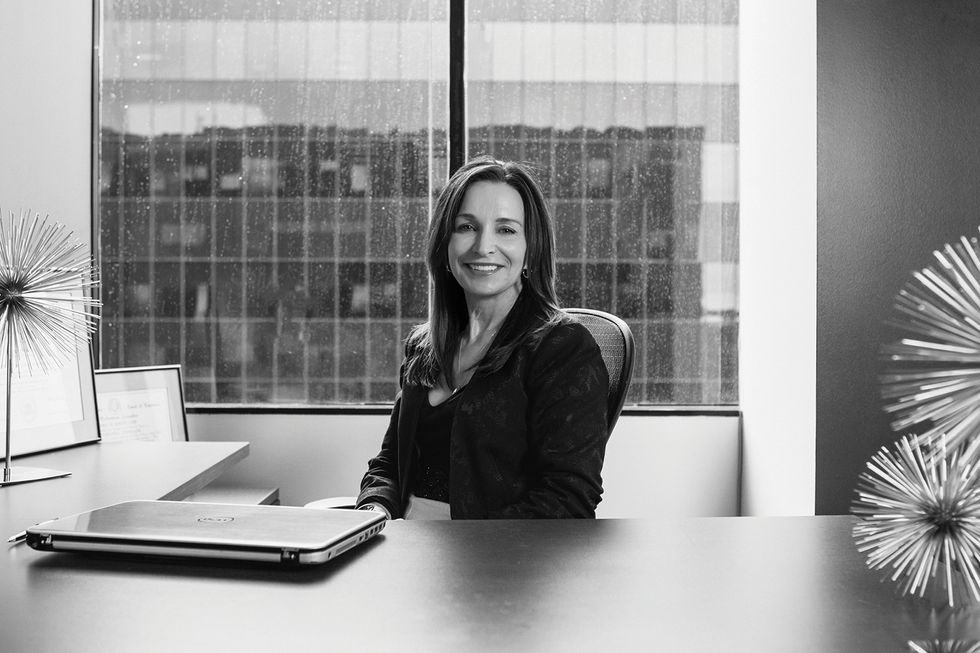 Leading sex therapist Mary Jo Rapini
Rapini, whose husband Ronald is the chairman of dermatology at the University of Texas Health Science Center and M.D. Anderson, says women's sexual-health travails start with society, which encourages girls — and, consequently, women — to be suspicious of their bodies and wary of sex. "A big part of my job," she says, "is working with women to understand themselves and the relationship between what they are thinking in their heads and what they feel down there, and hopefully getting the two to work together. But a lot of it is about permission: Women need to know they have permission to have fantasies, to seek pleasure, and that they ultimately have even more power than a man in a sexual relationship."
The therapist adds that women need to be as willing as men are to seek sex help. "We can credit Bob Dole for making it acceptable to talk about erectile dysfunction," she says, "but we haven't progressed as far in talking about women's health."
By some accounts, Texas women have an even greater challenge, given that being ladylike can sometime seem at odds with talking openly about intimate matters — which is less of a problem in other parts of the country, apparently. "I did my residency at Mount Sinai hospital in Manhattan," says brutally honest Jamaica-born and England-trained physician Terri-Ann Samuels, "and, there, my women would sit down, and throw their feet up on my desk, open their legs and say 'make this look pretty again.'"
Samuels, an urogynecologist who performs what's called cosmetic gynecology, enthuses about her Houston practice over lunch, drawing curious stares at times from nearby tables at Ruggles Black restaurant. She uses the latest laser technology to help her patients feel more confident by reconstructing their vaginas and facilitating self-lubrication. "Sexual dysfunction is often linked to a woman's self-image," says Samuels. "Maybe it's something their partner said to them that they can't stop thinking about, or they've had a child or two and sex hasn't felt the same since. I can help with that."
The young doc says she knows her subject not only from her medical training, but also from personal experience. "I'm a woman in my late 30s and have had three children myself, so I know what some of the issues can be," she says, "and I've had the same therapies I recommend to my patients performed on me."
Samuels doesn't recommend women who are unhappy with their lady parts immediately turn to laser treatment. There are other options. "There's a great little product called Fiera, which is like a tiny mouse that … can help with arousal. Look it up!" She also says some over-the-counter products such as Rephresh and Replens can help with pH balance and moisture. (Suzy Ginsburg, a Houston-based publicist, serves as a national advocate for both products; she jokes that her career took her from "oil-and-gas-industry lubricants to feminine lubricants.")
One point on which all therapists and physicians seem to agree is that, for any sex therapy to work best — whether surgical, pharmaceutical or psychological, and whether targeted to men or women — what's crucial is that the partners be sync. "It's important for both partners to have the same level of libido," says therapist Rapini. "You really don't want to take the risk of running into trouble. If you raise one, you really need to raise the other.
"And honestly, otherwise, where's the fun in that?"
Business+Innovation