Kid in the Kitchen
In a beautiful new tome — part memoir, part cookbook — a prodigal son tells the surprising story of the beloved neighborhood restaurant that bears his name.
Debora Smail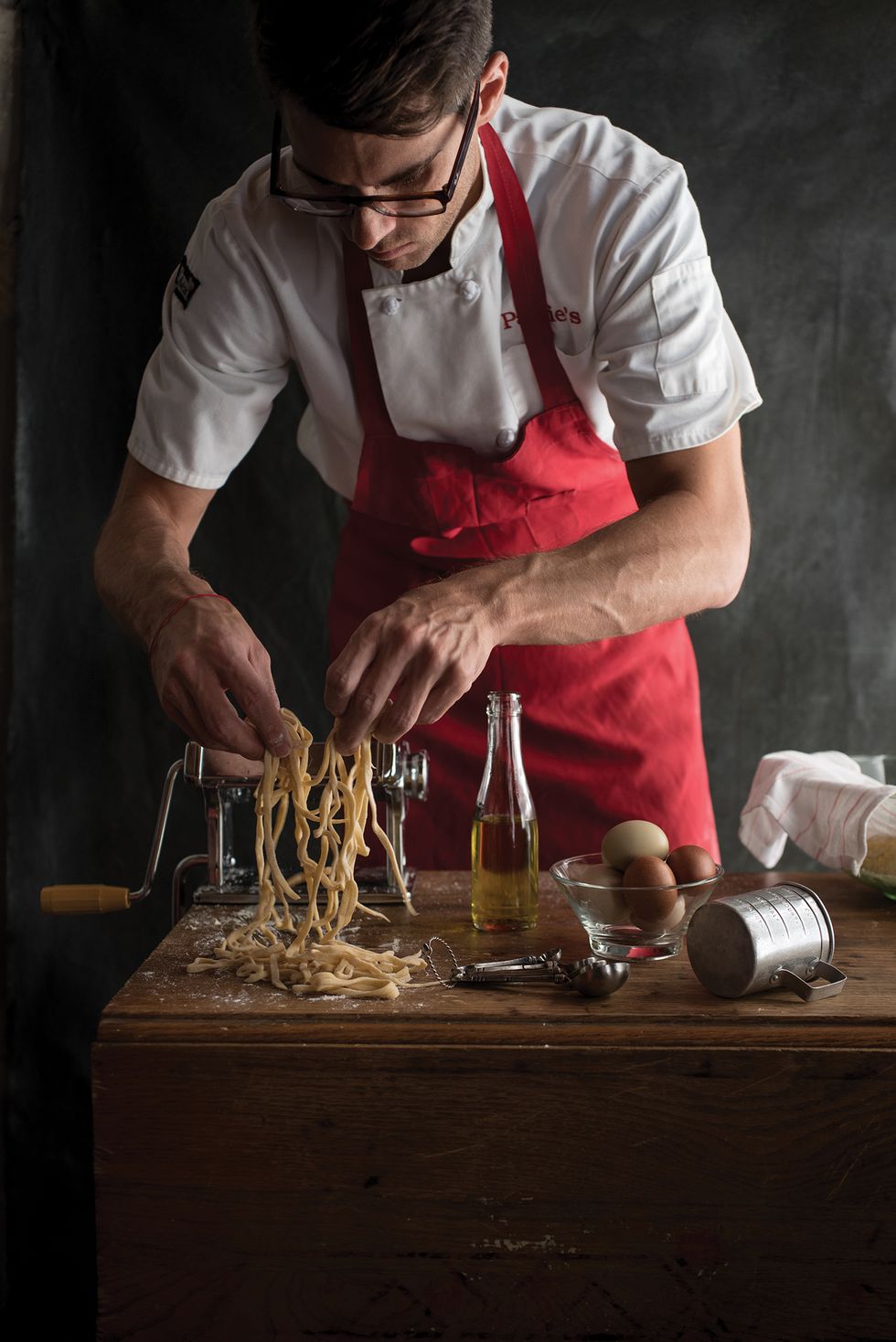 It was far from assured that Paul Petronella, 40 — scion of Houston's most prolific extended food family, including Mandolas and Carrabbas and others — would ever run the charming little Italian restaurant in Montrose his parents opened and named after him in 1998. But the would-be mad man — he'd dreamed of being an ad exec — not only took over but also became a leader in the city's culinary world, spinning off a hot wine bar and helping create the million-dollar charity/bar OKRA. In his new book, Paulie's, soon available at Paulie's restaurant and on Amazon, the chef-author tells all. Here, an excerpt.
---
My family has been in the restaurant business. In the late 1970s, my uncle Charles teamed up with his cousins Nash D'Amico and Damian Mandola to open their own place. This was D'Amico's, located on Westheimer Road, near Kirby Drive. When I was only about four years old and about three feet tall, I was already running around the kitchen, weaving in and out of line cooks. I spent more time ducking under counters and dodging quick-moving kitchen staff than I ever did on a playground.
At D'Amico's, and later at my uncle Charles' restaurant, Rocco's, I spent nights snuggled up to the bar with a Cherry Coke and a mouthful of cocktail vegetables. At an early age, I was being conditioned to the irregular restaurant schedule. I was often covered with the scents of garlic, tomato sauce, and smoke, and I grew to love those smells. They represent my childhood.
At D'Amico's, we made all of the classic Italian-American sauces and dishes that I still love, such as clam sauce, veal Parmigiana, picatta, scampi, vodka sauce, lobster ravioli, saltimbocca, and puttanesca. My favorites were always a simple scampi with fettuccini, pasta with red sauce, and lobster ravioli.
My father, Bernard, and my stepmother, Kathy, developed a business plan for their own restaurant in the 1990s. I remember the day a name was chosen for the restaurant: Paulie's, after me. I was flattered, but I was also wary of what this could mean for my future. Was this the seed being planted for me to someday take over the family business? I was in business school in San Marcos at the time, majoring in marketing, and honestly, I never thought I would choose this career path. Having grown up around restaurants, I knew the struggles. I wanted a corporate job with benefits, vacation and weekends off.
I was two years into college when Paulie's opened, in April 1998. The spring semester had just ended, and my dad asked me to work the counter. As much as I wanted to say no, I couldn't. What's the big deal? I thought. I'm just working at my family's restaurant during the summer; it's not my career. 
You could hear crickets in there for the first few months, which caused tension and stress among the family. Every detail was scrutinized: what we said to customers, how we said it, overly generous portions, and the consistency of every plate. My parents emptied their bank accounts and took on a good deal of debt to open the restaurant. It was a big risk. In their minds, this had to work.
About six months after opening, we received our first review from the HoustonChronicle, from food writer Kathi Mosbacher. Overall, it was positive and inspirational. After that day, Paulie's has seen consistent business. Severe weather and emergencies aside, we never had a day like those first six months again.
I changed my mind about working in the restaurant after that first summer working there. When I finished college, I returned, armed with a business degree and ready to take over the family business. But I got cold feet. I wasn't sure about running a business at such a young age; I didn't feel I had enough experience. I decided to put my degree to use in advertising. I started as an unpaid intern, soaking up as much as I could at that agency, and then moved on to a higher-profile ad agency. I busted my ass, and when I felt I was seasoned enough to run my own business, I came back to Paulie's.
I worked the line for lunch, then, on my break, I would take inventory and order goods or pay invoices or tend to maintenance issues, shove food in my face, and get back on the line for dinner. I did this six days a week for three or four years. It was mentally and physically taxing, but I am glad I did it. I found out who was on my side and who wasn't. It made our kitchen bond stronger.
I am humbled and grateful for all the customers and staff that stuck with Paulie's. We had good years, and we had transitional years, and there are so many faces that stuck with us through it all. It's pretty damn amazing.
Since its inception, Paulie's has fed millions of mouths, created jobs for hundreds of people, and given back thousands of dollars to the community. Paulie's will never receive a James Beard award; our biggest accomplishment, to me, is operating consistently for 20 years. We survived a national financial crisis, numerous floods, Hurricane Rita, Hurricane Harvey, countless break-ins, and a gluten-free epidemic. I hope that Paulie's thrives for as long as I am alive, and I hope our community continues to support us. At Paulie's, we plan to continue to give the city consistent and delicious food.
Food+Travel