Kimono Queen Tina Zulu is All Wrapped Up in Round Top!
MARKETING MAVEN AND kimono queen Tina Zulu is the creative force behind the local comeback of the exotic — and undeniably glamourous — flowing Japanese kimono. With help from well known artists, her company Kimono Zulu produces unique wearable art repurposed from vintage kimonos. This month, the fashionista is taking her bespoke show on the road to Round Top for Spring Antique Weeks with a new kimono line and happenings for the arty-party set. Catch her show through April 2 at Tutu & Lilli in Round Top Village, and March 24-April 2 at Denverado's Disco Alley, where she'll also host a DJ-spun soiree on March 26. In our Q&A, Tina dishes on all things creative in the world of Zulu!
---
What inspired you to debut Kimono Zulu? My introduction to Japanese culture started with a childhood obsession with Hello Kitty, which I've been collecting since the mid-'70s. Through Sanrio and their characters, I was introduced to Japanese design, lifestyle — and the kimono, often worn by Hello Kitty. My fashion background in styling and appreciation for handmade garments, textiles and couture led to my obsession with kimonos. The kimono is a timeless design that I view as magical and as wearable art that should be celebrated.
What's unique about your kimonos? The kimono becomes a canvas for another artist, whether it's painting, beading or completely redesigning, and the result is unique, thoughtful and often playful. Through fashion styling with Page Parkes, fashion-show production work with DJ Sun, and involvement in Houston's art community, I've collaborated with local fashion designers and artists including GONZO247, Shelbi Nicole, David Adickes, Judy Masliyah and others. These artists appreciate the art of the kimono, but always take it to the next level with their own unique touch!
Who are a few of your personal fashion icons? Coco Chanel, Sarah Jessica Parker and Nicole Richie.
Where have your kimonos been featured? Have they been worn by any celebrities? The Museum of Fine Arts Houston Shop had a trunk show featuring the kimonos and they have been sought after by kimono-obsessed collectors and stylish celebrities such as Nene Leakes. Houston tastemakers who wear Kimono Zulu include Monica Pope, Theresa Roemer, Chris Goins, Cindy Lisica and Sydney Dao, to name a few.
What led you to showing your line in Round Top? Festivals and pop-up markets provide an opportunity for me to share my love of kimonos and help shoppers find special pieces that resonate with them. Every kimono in our collection is a one-of-a-kind antique and has a story behind it, so collectors and avid art lovers are drawn to that amazing energy.
Our first showing at Round Top was during the Fall show last year (2021). Despite an unexpected tornado that hit our tent last year, we are excited to return this Spring with a new Sassy Southern collection created with Shop 1988 and to add #KimonoFever to one of the world's most famous treasure hunts! (If you go, here's Houston CityBook's list of where to eat and drink in Round Top.)
Where can they be found in Houston? Kimono Zulu is available online at www.kimonozulu.com and currently in local stores The Pop-Up Co-Op and Magpies & Peacocks. Since our inventory is constantly changing and every piece is one-of-a-kind, the best way to view a larger selection is at our pop-ups and trunk shows.
You've also run a creative marketing and PR agency with your husband Josh since 2006. Who are a few of your fave clients? When the Tcholakian family came to us to promote Phoenicia Specialty Foods, they had a great variety of unique products — 15,000 from more than 50 countries — a cult following from its original location, and a new Downtown opening. As some of the most humble, hard-working people you'll ever meet, we knew they weren't telling their story.
Another account, Converse, tapped Zulu to publicize "Chucks by You," the brand's first-ever, pop-up installation at the Houston Galleria that allowed fans and shoppers the opportunity to tell their style story by customizing any new pair of Converse Chuck Taylor sneakers.
But we specialize in marketing, PR and brand development for lifestyle businesses that serve niche markets. Food, fashion and creativity always equals fun!
Tina Zulu in Round Top with Kimono Zulu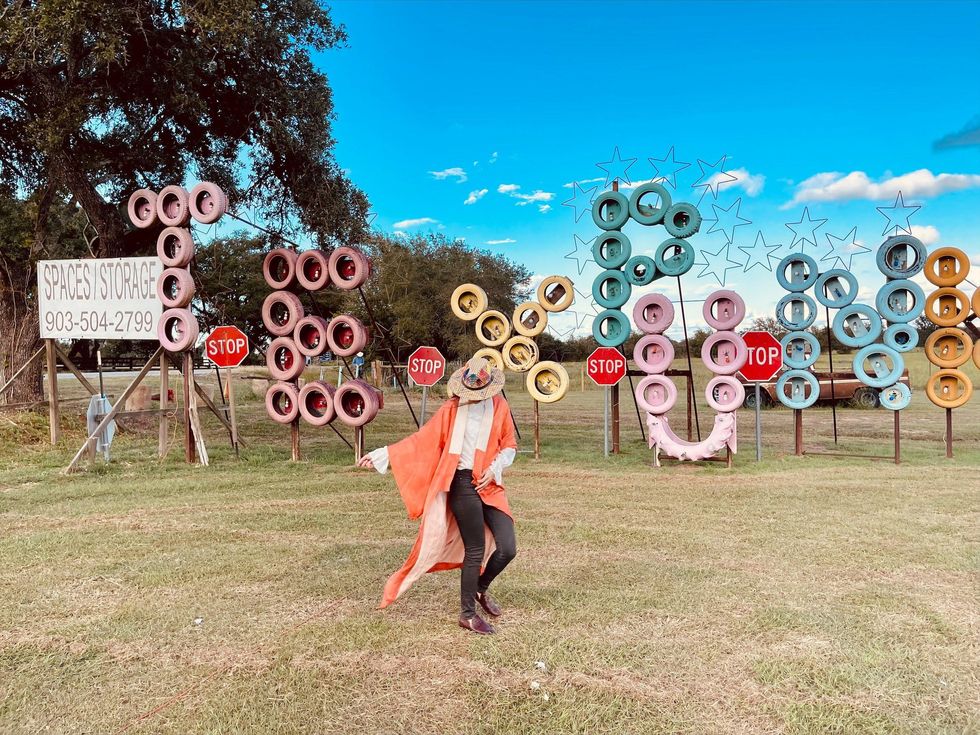 Kimono Zulu dance party Round Top Texas
People + Places