How the Garden Grows! MFAH's Le Jardinier Ushers in Spring Menus and Expands Hours
Alex Montoya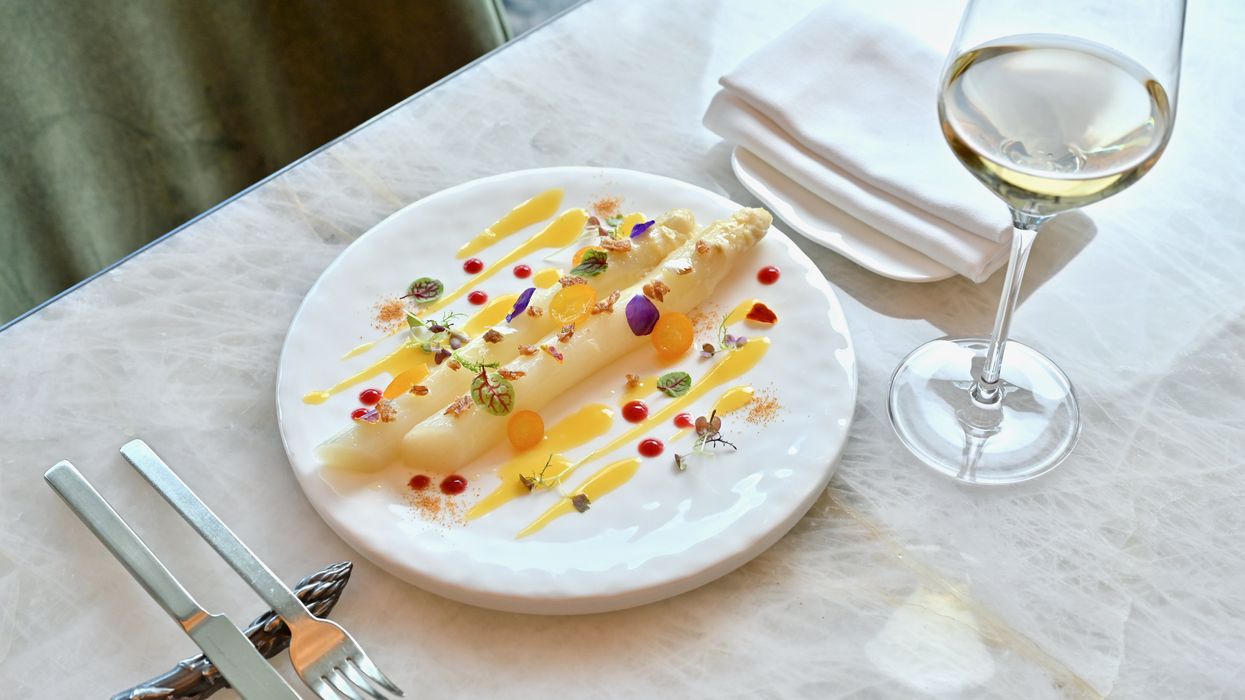 SPRING IS THE most beautiful time of the year to dine with artful outdoor views or alfresco style before our weather gets steamy. While catching the latest museum exhibitions, why not make a day of it by sampling the new brunch, lunch or dinner menus at the MFAH's signature Le Jardinier? Always impressive for celebrations, the enchanting restaurant also offers more casual patio dining and seating in the bar area for solo guests, if desired.
---
Bastion Collection culinary director Alain Verzeroli graced Houston last week to oversee the direction of the kitchen. The Michelin-starred chef is in town every few months to check in with the chef de cuisine and perfect the evolving menus. "We like to change the menus and add local flavors every season. It gives our guests something new and fresh to look forward to," Verzeroli tells CityBook.
Classics remain, including French white asparagus and Murray's burrata with rhubarb compote, while newcomers have joined the party through spring. Dishes executed by chef de cuisine Felipe Botero are light and bright but always taste indulgent made with prime ingredients. Botero, who worked at Le Jardinier in New York City before moving to Houston, is dishing out poached shrimp with cucumber herb yogurt as well as crawfish bisque and spring onion risotto with blue oysters and morel mushrooms. Mains include grilled swordfish with black garlic coulis and beef tenderloin with braised turnip and broccolini and horseradish.
For a culinary trip, opt for the five-course Seasonal Expression tasting menu: Flavors of the Islamic World ($185). Highlights include spiced roasted lamb with aubergine (eggplant) mousse and basmati rice and delicately seared Ora King salmon crowned with smoked trout roe. For dessert, go for the artisanal selection of fine cheeses, or something sweet like the passion fruit cream and citrus pavlova. Courses can be paired with wine for an additional fee. Note that Le Jardinier newly offers Monday dinner service from 5-9PM, which means the restaurant is now open nightly.
And then there's the weekend, which means brunch. "With wall-to-wall windows overlooking the sculpture garden, the space is ideal for brunch and lunch as well as beautiful evenings. Daytime brings a colorful, fun atmosphere," culinary director Verzeroli told Houston CityBook. Tuck into the smoked salmon rillette Benedict and asparagus; garden salad with avocado, shaved vegetables and tarragon vinaigrette; beef tenderloin, or spinach mushroom omelet. The whimsical Key lime tart finale with coconut ice cream offers the perfect balance between tart and sweet with stunning plating.
With Mother's Day right around the corner, now you know where to go — hint, hint!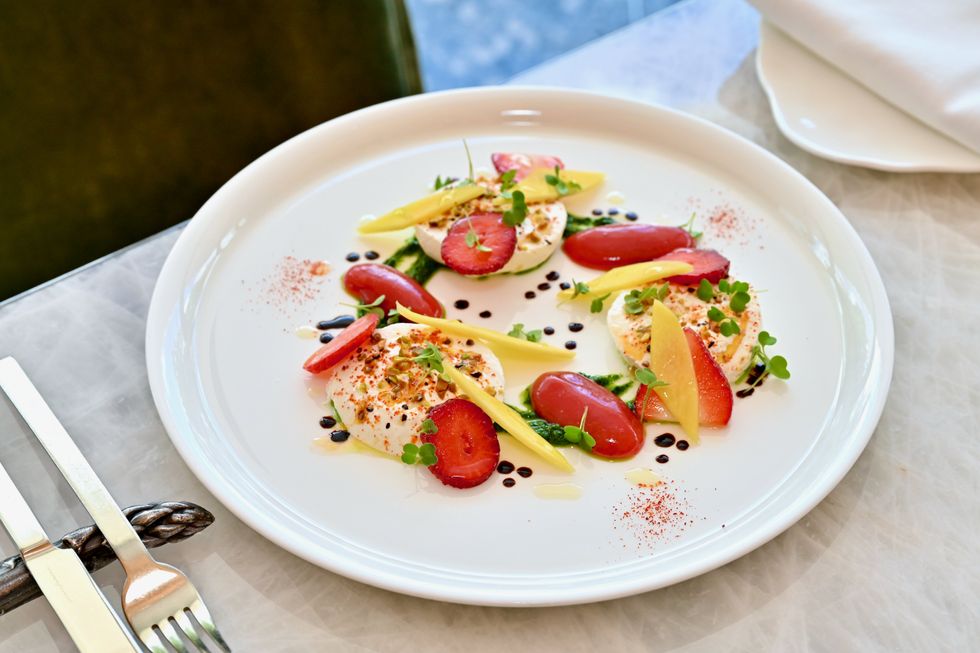 Murray's burrata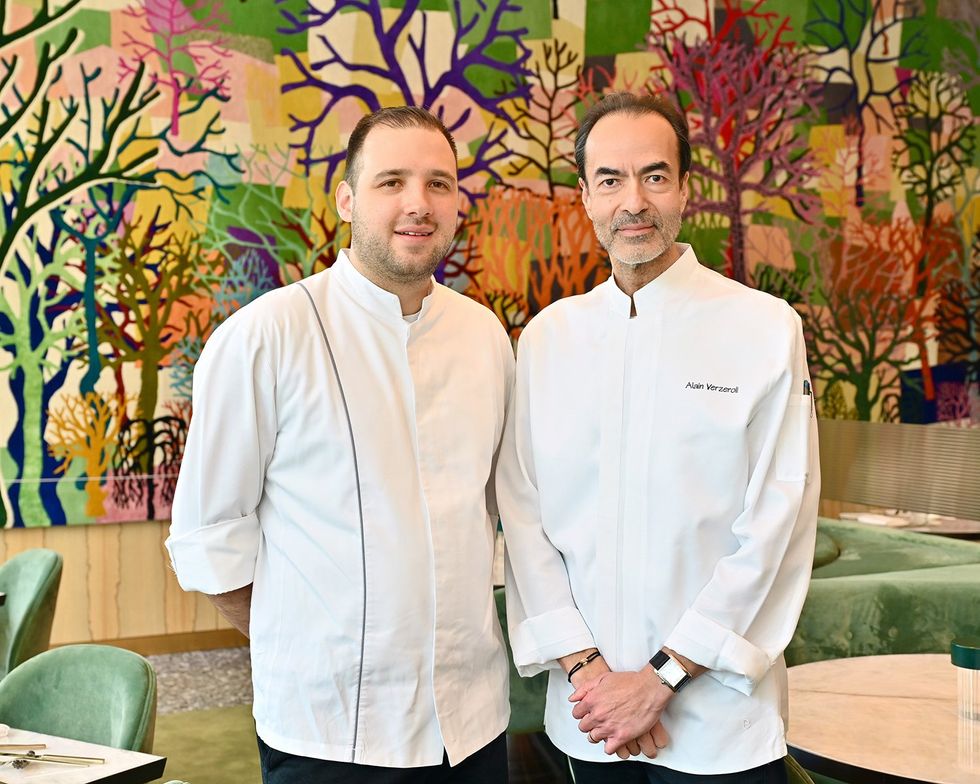 Felipe Botero and Alain Verzeroli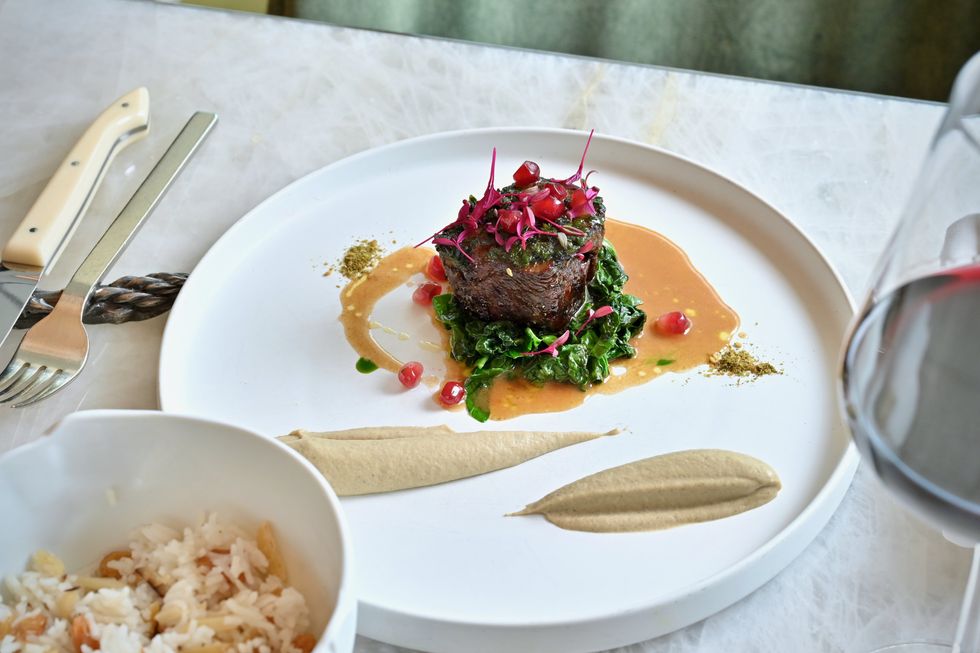 Spice roasted lamb
Food